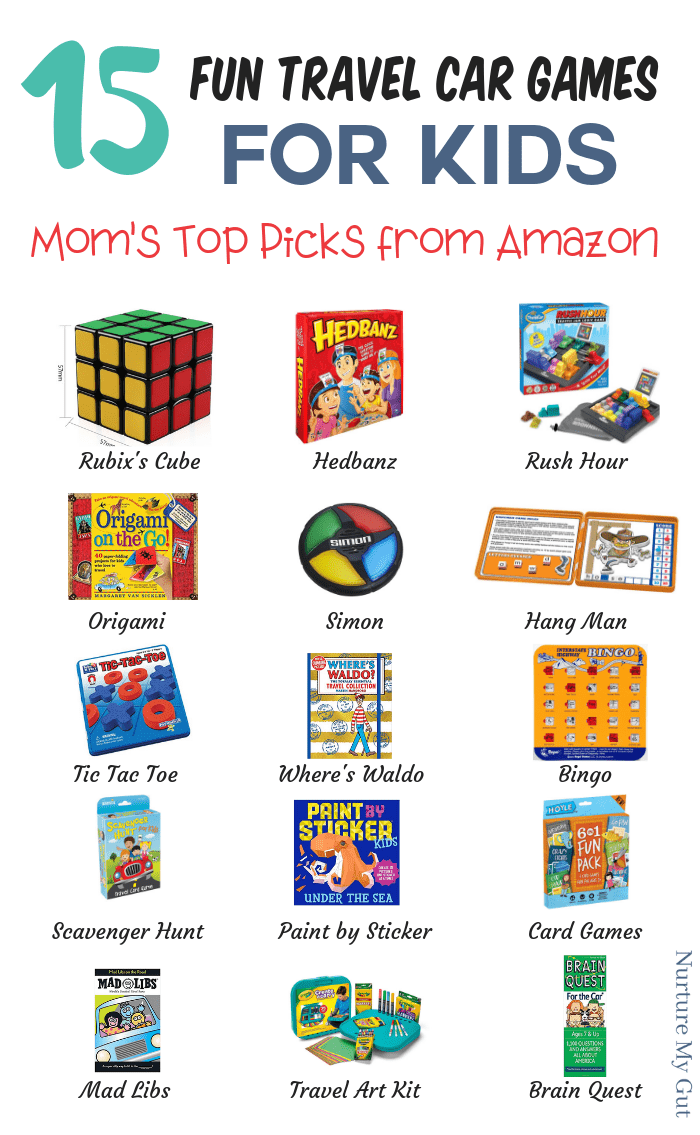 Looking for Fun Travel Car Games for Kids?  Need to keep kids off of screens while traveling? Here you will find my "Mom's Top Travel Car Game Picks from Amazon".  Most of these can be purchased through Amazon Prime so if you are looking for last minute travel games and activities, you have come to the right place!  These are all top rated and most have already been tested by my kids!  Let's keep our kids brains interested and stimulated with these fun activities.
The Rubix's Cube is a fun game to play in the car. Check out this easy beginners tutorial for solving the Rubix's cube.  My son and I learned how to solve the cube with this video and now he is onto the mastering the Dreampark speed cubes.  They are a lot of fun and perfect for traveling in the car. Perfect for ages 6+.
This is a fun guessing game where kids have to figure out what cartoon is on their head.  Is it an animal, a food or man-made object.  Kids ask yes or no questions and have to race against the sand timer.  This is one of my kids favorite games. Can be 2-4 players. Perfect for ages 7+.
A great STEM toy for kids.  Rush Hour is a classic traffic jam solving game.  This logic single player game includes 40 challenges from beginner level and up. Kids develop critical skills removing a red car out of a traffic jam.  This award winning game has won dozens of awards including a MENSA Select award including a Toy of the Year nomination.  Perfect for ages 8+.
Origami on the go has 40 easy-to-follow fun origami projects such as a Rainforest Turtle, Chinese Opera Hat and a beautiful Peacock.  Including over 100 sheets of custom-designed origami pages. A great travel activity for the fun loving artist. Perfect for ages 9+.
A fun fast paced memory game that is great for single player and more.  Perfect for ages 8+.
This Take N Play Hangman is magnetic and perfect for 2 players while traveling in the car.  It includes both letters and body parts and tons of fun! Perfect for ages 5+.
This classic 2 player Tic Tac Toe game is now in travel size magentic form.  Ideal for the younger kids.  Perfect for ages 4+.
This is an ideal single player travel activity for the Waldo aficionado.  It features all 7 of Waldo's renowned excursions. Perfect for ages 6+.
This travel Bingo is ideal for 2-4 players.  What I love about this game is you do NOT need any tokens in this game.  The markers are already built in, well they are actually shutter windows.  When a kid gets an item on their card, they just slide the shutter window closed on the pictures and 5 shutter windows in a row calls BINGO!  It is super easy and fun! Perfect for ages 5+.
The Scavenger Hunt for Kids is a #1 Best seller in travel games. In this fun card game, kids get to hunt for objects while looking out the window.  This game includes 54 cards with items such as a red car, a license plate with the letter "Z," or a stop sign.  This game is for 2-4 players. Perfect for ages 7+.
Paint by Sticker is a fun creative activity where kids create 10 vibrant full color designs.  These "paintings" need to be put together by kids by peeling the geometric polygon sticker shapes and placing it on the corresponding number.  Kids enjoy the pleasure of peeling and sticking and watching their image come to life! An ideal Fun Travel Car Game for Kids! Perfect for ages 5+.
Playing cards are a classic kids game that can easily played in the car.  The Hoyle Kids fun pack includes 6 classic card games: Go Fish, Slap Jack, Memory, Matching, Old Maid, and Crazy Eights.  Great for 2-4 players.  Perfect for ages 5+ although some 3 year olds can master Go fish 🙂
Mad Libs is a fun travel game where kids fill in the blank with words such as adjectives, plural nouns, and body parts.  Then, kids read the entertaining pre-filled story.  It is super funny and ideal for 2 players. Perfect for ages 8+.
This Create and Carry Art Kit with Lap Desk is the complete artist travel kit designed by Crayola.  It includes 16 Construction Paper Crayons, 8 washable Gel-FX Markers, 8 Classic Fine Line Markers, 12 Short Colored Pencils and 30 sheets of Construction Paper.  It also includes a storage case plus lap desk which makes it the perfect travel car activity for doodlers and artists.  I recommend you get one for each artist!  These are amazing!   Perfect for ages 5+.
 If your kids love learning American trivia then this is the game for them! It includes questions from the O.K. Corral to Dr. Seuss, state capitals to Mount Rushmore.  It is curriculum based from first through 6th grade plus it aligns with state and national standards.  A great travel car game for kids!  Ideal for 2+ players. Perfect for ages 7+.
Latest posts by Ester Perez
(see all)