25 Gluten Free Snacks for Kids-these easy and healthy snacks are completely gluten free, super yummy and kid approved!  If you have been wondering what to feed your hungry kiddos then you have come to the right place!  These gluten free snacks will keep your kids nourished and healthy!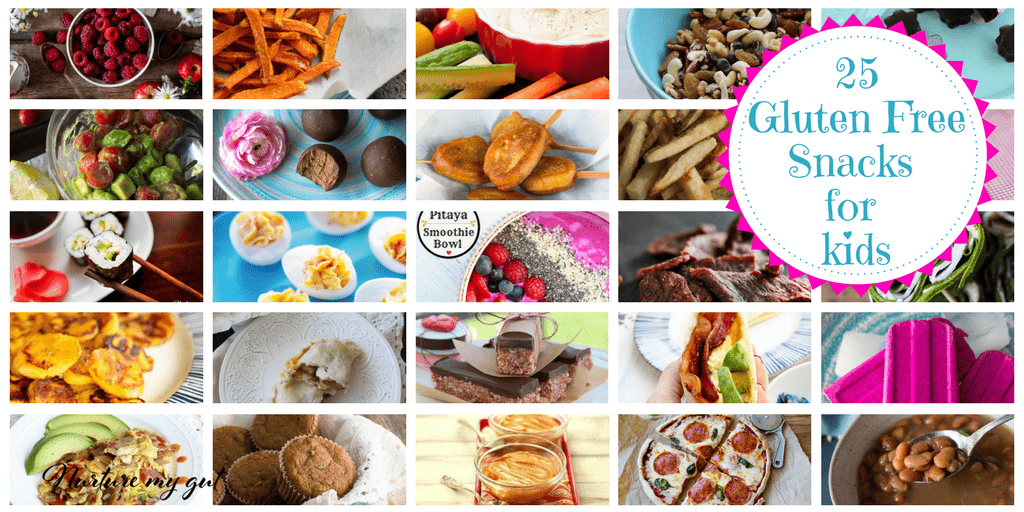 1)Bowl of Fresh Berries
Serve blueberries, blackberries, strawberries or raspberries in a cup or bowl.  Berries are full of anti-oxidants and fiber, keeping your kiddos immune system strong and digestive system flowing!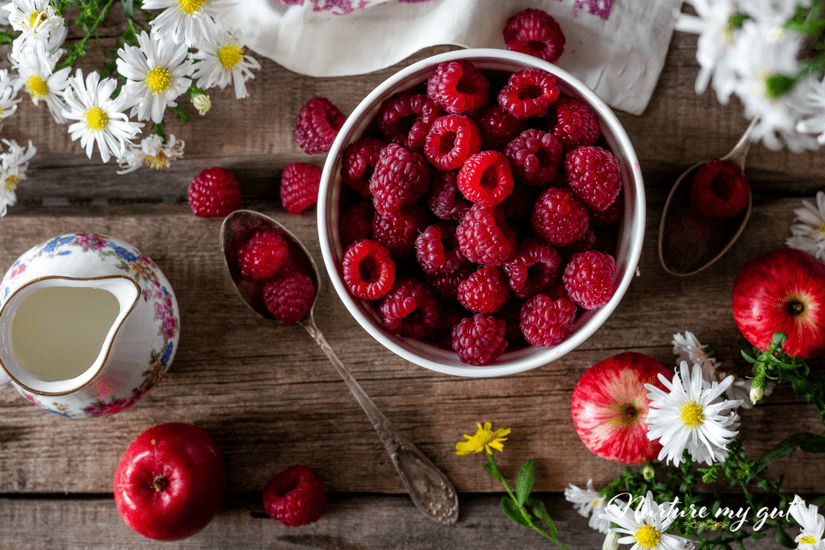 (This post contains affiliate links for your convenience. Click here to view my full Disclosure Policy.)
2) Baked Sweet Potato Fries
Crispy Baked Sweet Potato Fries are one of my kids favorite gluten free snacks!  They are an excellent source of Vitamin C, fiber and Vitamin A.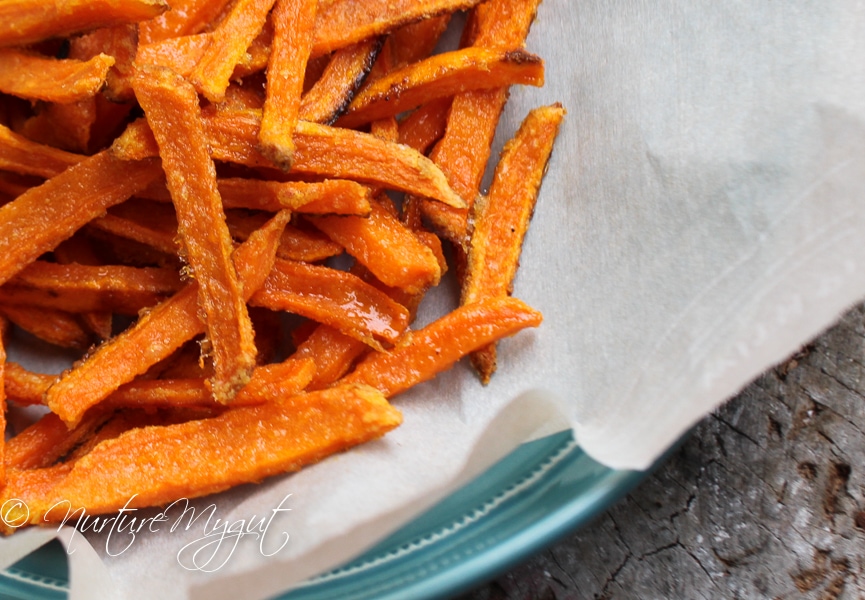 3) Raw Veggies with Hummus
Serve hummus with carrot sticks, cucumber slices and cherry tomatoes.  This is an easy way to get your kids daily serving of veggies.  Picky eaters are more likely to eat vegetables with a familiar tasty dip!  Try different flavors of hummus until you find your child's favorite!  Raw veggies dipped in hummus are a very healthy gluten free snacks for kids!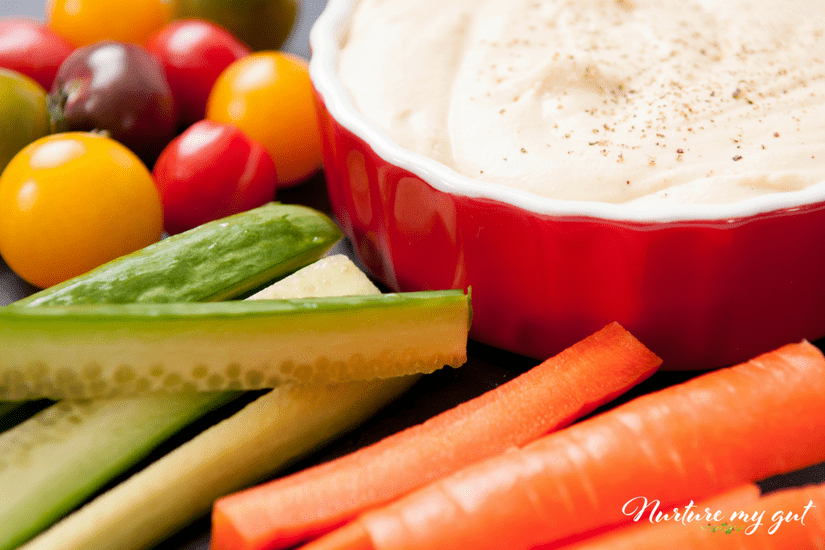 4) Trail Mix–
This Ultimate Paleo Trail Mix is one of my kids favorite gluten free snacks!  It takes only 5 minutes to make and they always go back for seconds!  Nuts are high in protein making them a great snack to curb hungry kiddos!  Plus, they are an excellent source of Omega 3 fatty acids, extremely important for brain health!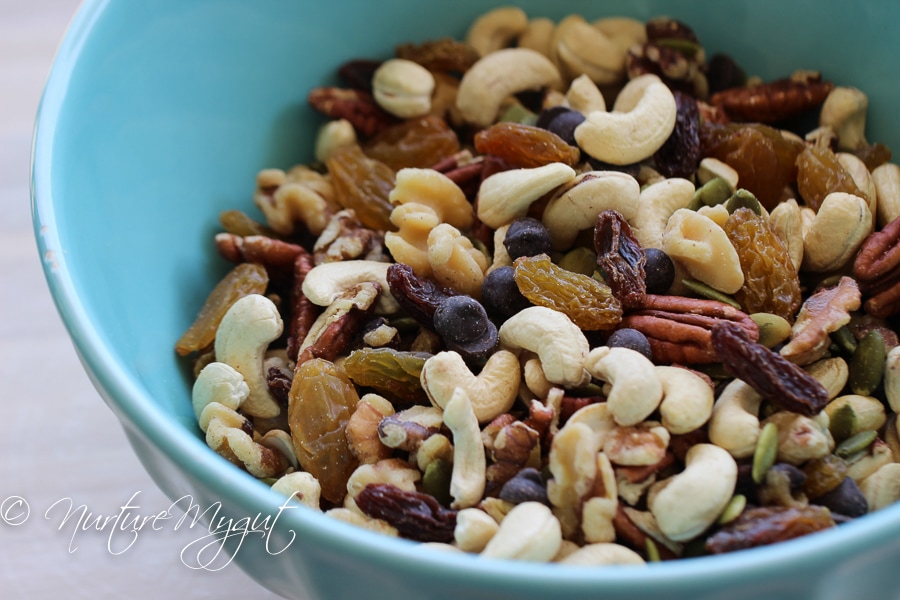 5) Homemade Healthy Fruit Snacks
Homemade Healthy Fruit Snacks are not only fun and chewy for kiddos but they are full of gelatin that is extremely nourishing to the gut lining and skin.  Studies have also shown that gelatin helps people fall asleep!  Try giving these to kids after dinner for a healthy snack!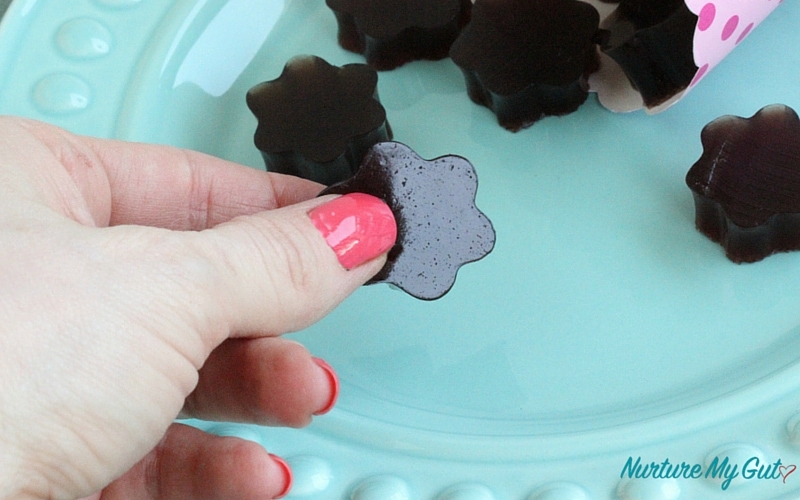 6) Guacamole
Lazy Guacamole is an easy healthy snack for kids.  Avocados are the only fruit that provides an amazing amount of healthy monounsaturated fatty acids, great brain food for kiddos.  They are chock full of nearly 20 vitamins and minerals!  Serve with corn chips or homemade pita chips!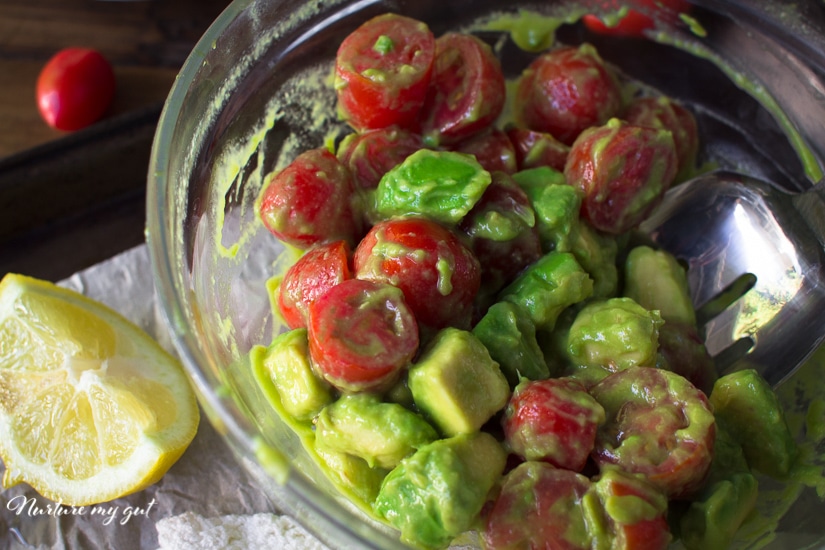 7) Energy Bites
No-Bake Strawberry Dark Chocolate Energy Bites are a delicious healthy grab and go gluten free snack made with cashew butter, freeze dried strawberries and protein powder.  These are great for packing in a zip-lock baggy and heading out for sports!  The protein and natural sugars will give your kiddos energy to keep up with busy activities.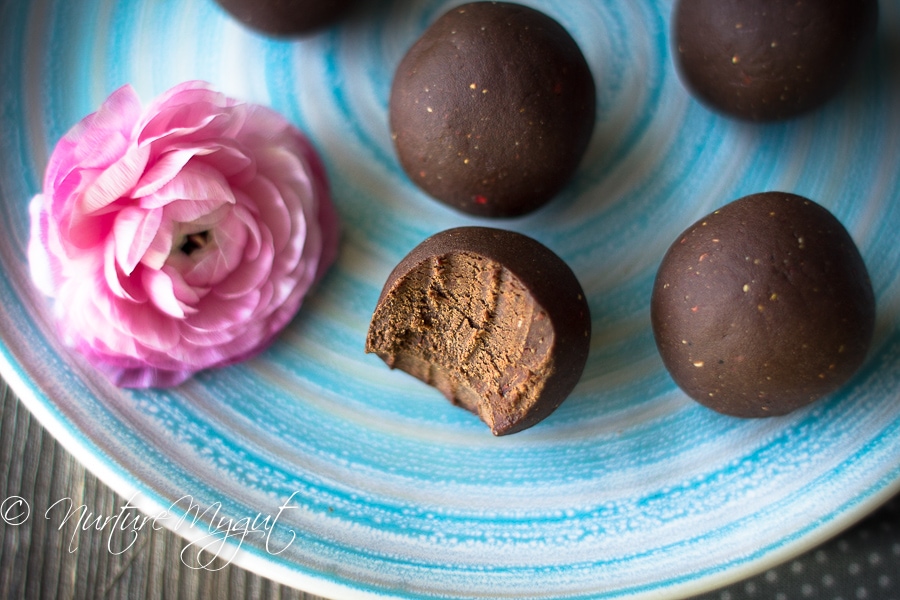 8) Mini Corn Dogs
Homemade Gluten Free Mini Corn Dogs are a delicious and crispy protein filled gluten free snack that kiddos love!  These are far better than the real thing!  They are made with organic corn flour, gluten free all purpose flour and organic hot dogs, much healthier than any other corn dog your kiddos have ever eaten.  They are free from refined sugars and can be made nut free.  You can whip these yummy gluten free corn dogs up in 25 minutes!  Trust me, they will beg for seconds!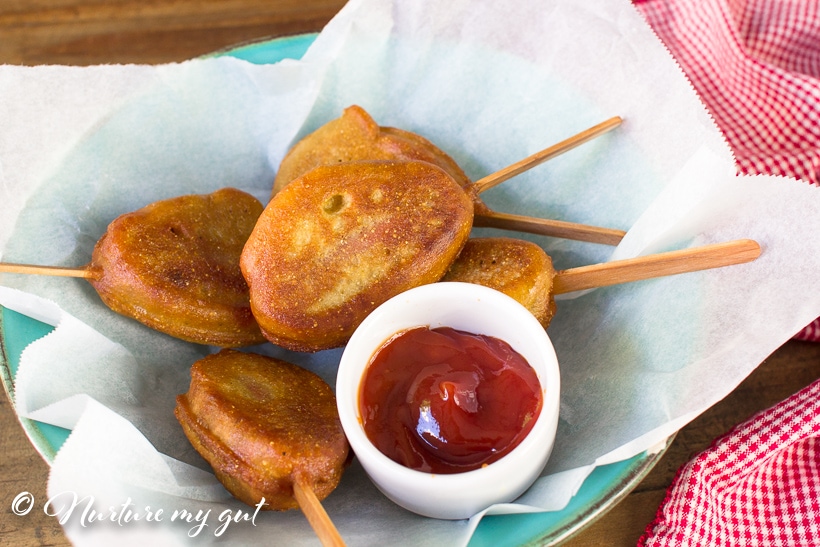 9) Baked French Fries
Crispy Baked French Fries are a yummy flavorful gluten free snack and made with only 2 Tablespoons of avocado oil, making them a much healthier version than the traditional deep fried french fries.  Leave the skins on, they are loaded with disease-fighting nutrients and weight-friendly fiber!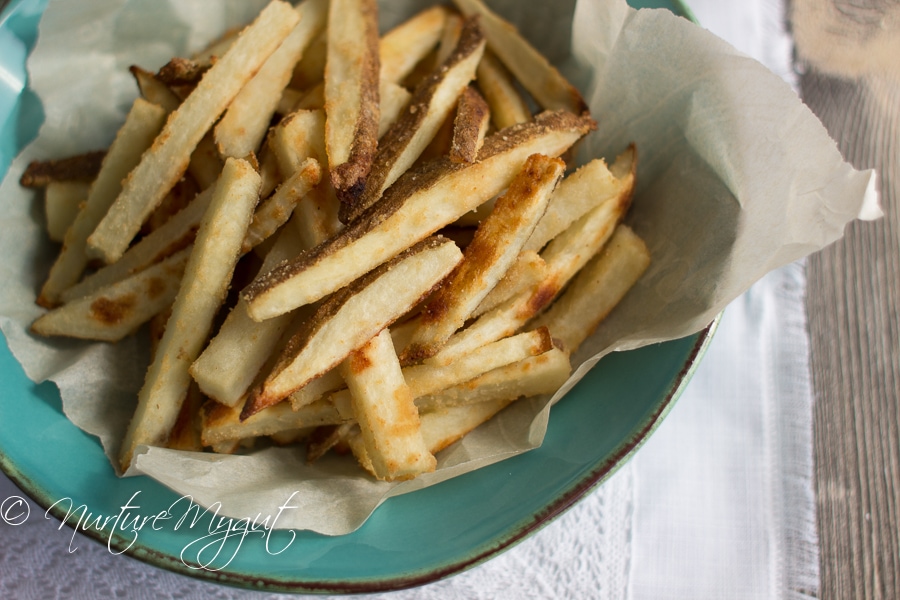 10) Homemade Fruit Sorbet
Watermelon Sorbet is one of my kiddos favorite sorbet recipes!  It is super easy to make!  Watermelon has significant levels of vitamins A, B6 and C, lots of antioxidants and amino acids, making this an extra healthy gluten free snack!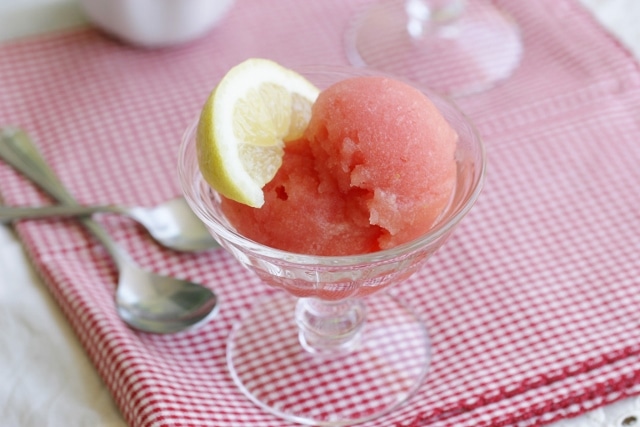 11)Avocado Roll
Avocado rolls are a delicious finger food that many kids love!  Be sure to look for ones that are filled with avocado and cucumbers or real crab!  Many rolls are made with imitation crab that is NOT gluten free so please read the label!  Also, throw away the soy sauce packet if it contains wheat and use gluten free tamari at home instead.  Give kids chopsticks to make it more fun when eating this!  Seaweed is full of vitamins, minerals and iodine which is important for thyroid function.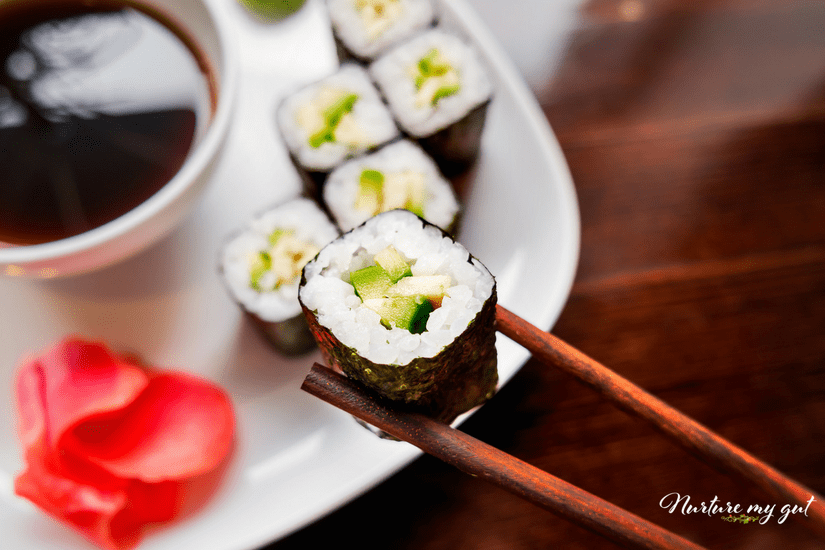 12) Deviled eggs
Honey Flavored Deviled Eggs are my kids favorite!  To make, boil 5 organic free range eggs for 12 minutes, rinse in cold water and peel.  Slice in half.  Place yolk in a bowl with 3 tablespoons of homemade mayonnaise, 1 Tablespoon of mustard, a teaspoon of  honey and a sprinkle of salt.  Blend until creamy.  Taste for desired flavoring.  Top egg halves with yolk mixture and sprinkle with paprika.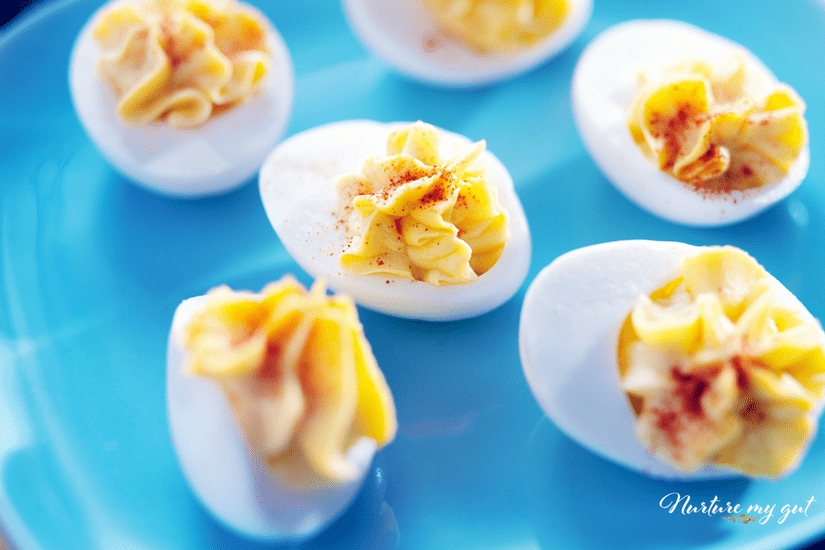 13) Smoothie Bowl
A Pitaya Smoothie Bowl is a yummy healthy and colorful gluten free snack that kids love!  Let them pick their own toppings such as shredded coconut, mixed berries and chopped nuts.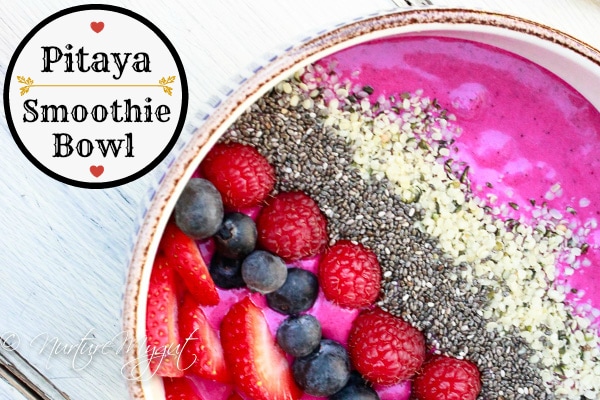 14) Beef Jerky
Beef jerky is a great protein filled grab and go snack!  My kiddos favorite gluten free beef jerky is the one from Trader Joes, it is also organic! A second favorite is the Krave gluten free turkey jerky, it is a basil citrus flavor.  Yum!  For a homemade recipe, checkout this healthy Smoky Beef Jerky .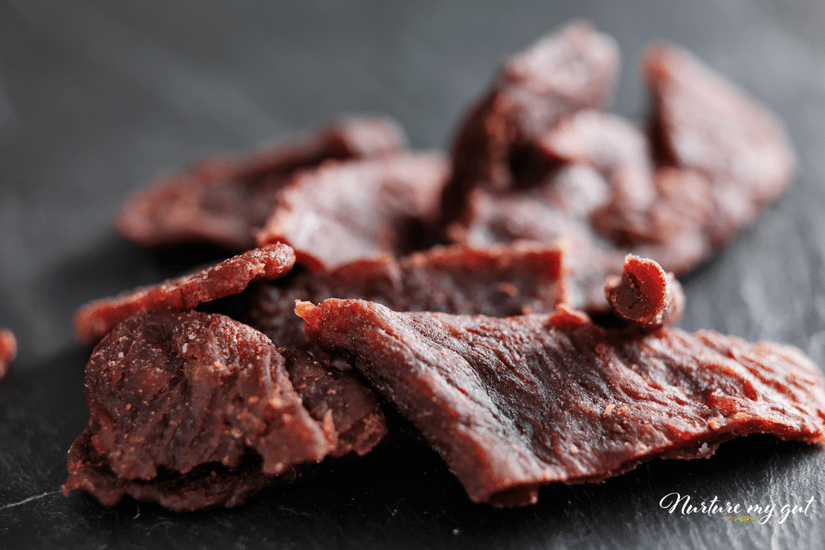 15) Turkey Rolls-Ups
Gluten Free Spinach Turkey Cucumber Roll-Ups are a quick and easy recipe made with gluten free spinach tortillas, turkey, cucumber slices, cashew cream cheese and fresh spinach.  Perfect for a healthy nourishing snack!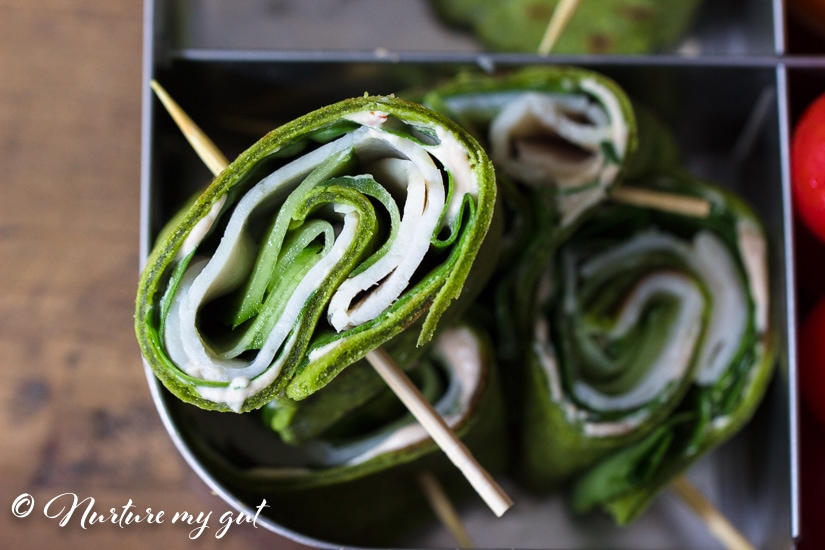 16) Fried Plantains
Pan Fried Plantains are very healthy and traditionally given as a nourishing meal to infants and the elderly.  They are high in potassium, magnesium, Vitamin C and B6.  They have a delicious sweet flavor and taste fabulous fried in coconut oil.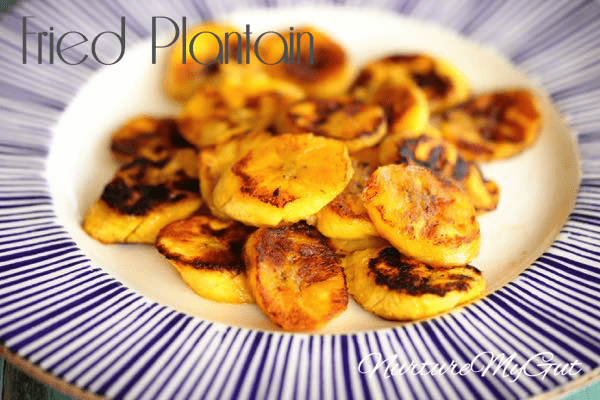 17) Gluten Free Empanadas
Homemade Gluten Free Empanadas are a filling  and nourishing snack!  These do take a bit more time to make, but once you have a batch on hand, just pop them in the oven for a healthy and delicious snack!  Your kiddos will love these!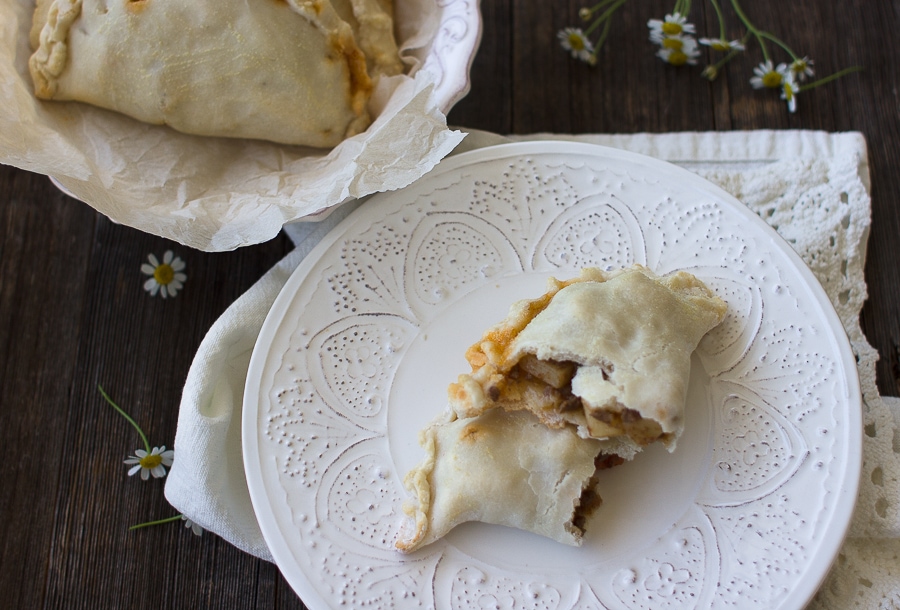 18) Gluten Free Bars
Homemade Strawberry Bars are fun and easy to make!  My kiddos beg me to make these!  They are full of shredded coconut, nuts and dairy free dark chocolate.  A yummy snack full of protein and good fats for when you are on the go!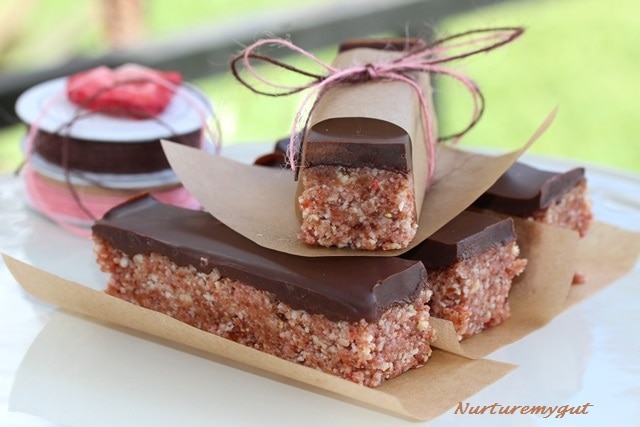 19) Pita Pockets
Homemade Pita Pockets are an excellent filling snack that can be stuffed with your kids favorite foods!  My kids love these filled with scrambled eggs, bacon and avocado or even avocado by itself!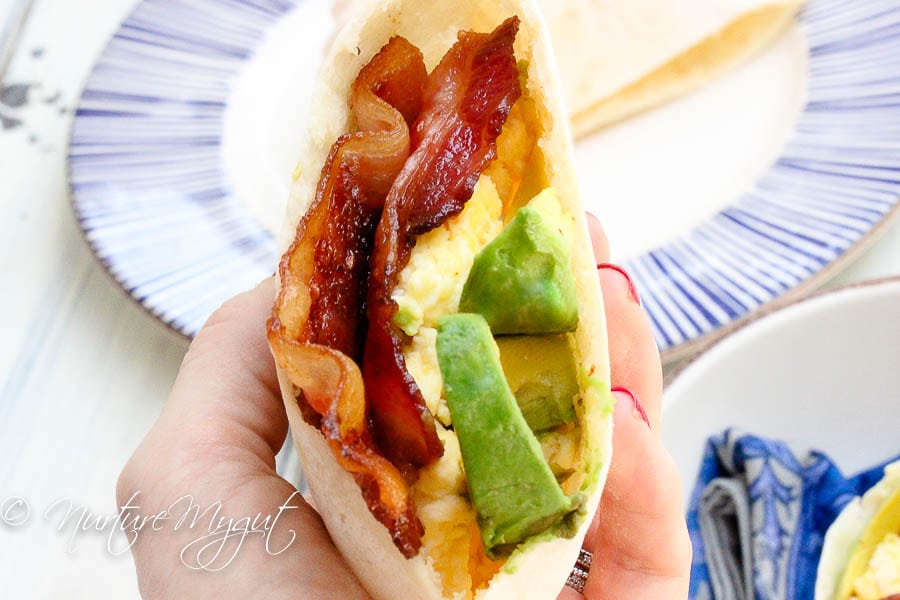 20) Homemade Frozen Fruit Pops
Dragon Fruit Popsicles are a healthy, fast and delicious snack!  These brilliant pink popsicles are full of anti-oxidants, vitamin C and good fat for fueling brain cells!  Getting your kiddos to snack on these tropical super food pops will be a cinch!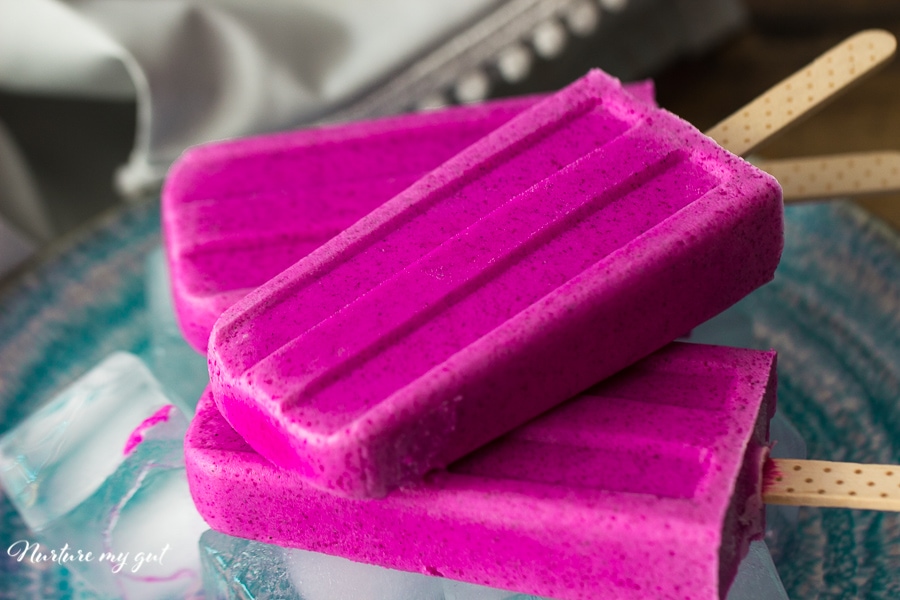 21) Corn Tortilla with Scrambled Egg
My Grandmother calls this "Migitas Con Huevo."  You heat a pan to medium heat, add 1 Tablespoon of avocado or olive oil, cut up 3 corn tortillas, preferably organic or Paleo Tortillas into little pieces and add to oil.  Once tortillas are crispy flip with a spatula.  Crack 2 organic free range eggs in a bowl and whisk.  Pour eggs over the tortillas and stir with a wooden spatula, lower heat to a low-medium flame and stir until eggs are cooked through.  Sprinkle with salt and serve with sliced avocado.  My kiddos love to eat this with ketchup, and I love it with hot sauce or salsa.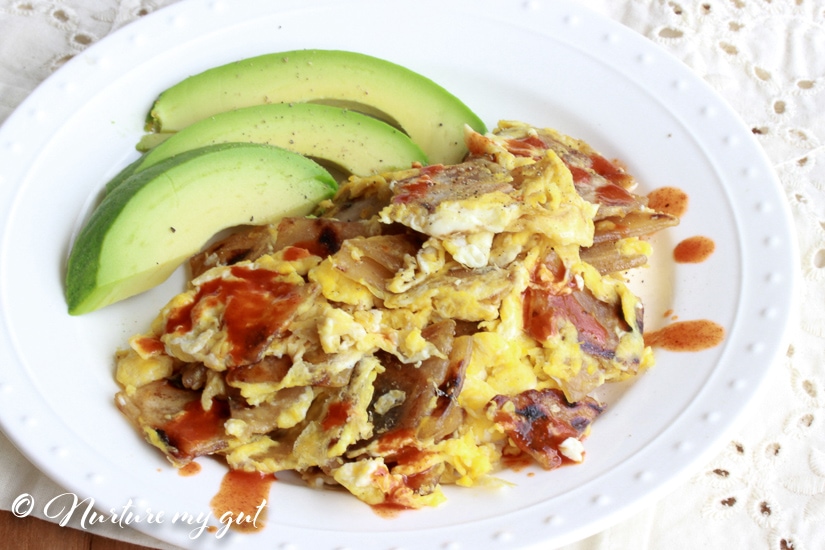 22) Secret Veggie Filled Muffins
Paleo Harvest Muffins are a healthy, veggie packed grab-n-go snack for anytime of the day. My kids did not even realize that there were veggies concealed inside!  These Paleo Harvest Muffins are made with freshly grated zucchini, carrots and apple.  If you are trying to get your kids to eat more vegetables, I suggest you try this recipe!  They won't even know they are eating them!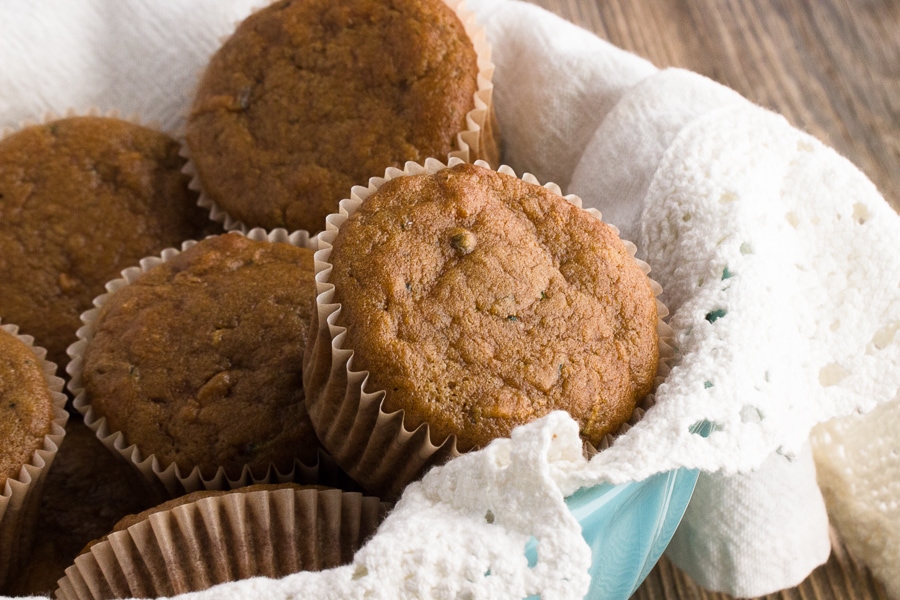 23) Yam Pudding
Yam Pudding tastes like pumpkin pie on a spoon!  To make, bake 2 large yams with skins on at 450 degrees for 50 minutes.  Allow to slightly cool.  Peel yams and add to a food processor or blender with 1/4 cup almond milk, 1 teaspoon cinnamon, pinch of Celtic Sea Salt, a few drops of vanilla stevia or a drizzle of maple syrup and blend.  Makes 2 cups.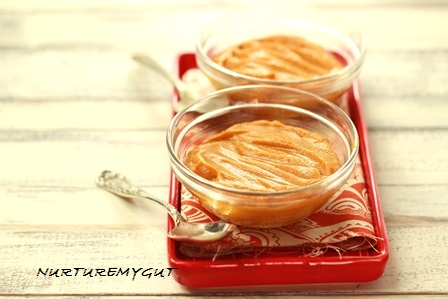 24) Pizza
Homemade Gluten Free Pizza is my son's ultimate favorite snack and he insisted I add it to this 25 Gluten Free Kids Snacks Round-up!  I have a grain free everything dough that I use for this recipe that magically turns into pita bread, panini bread, empanadas and more!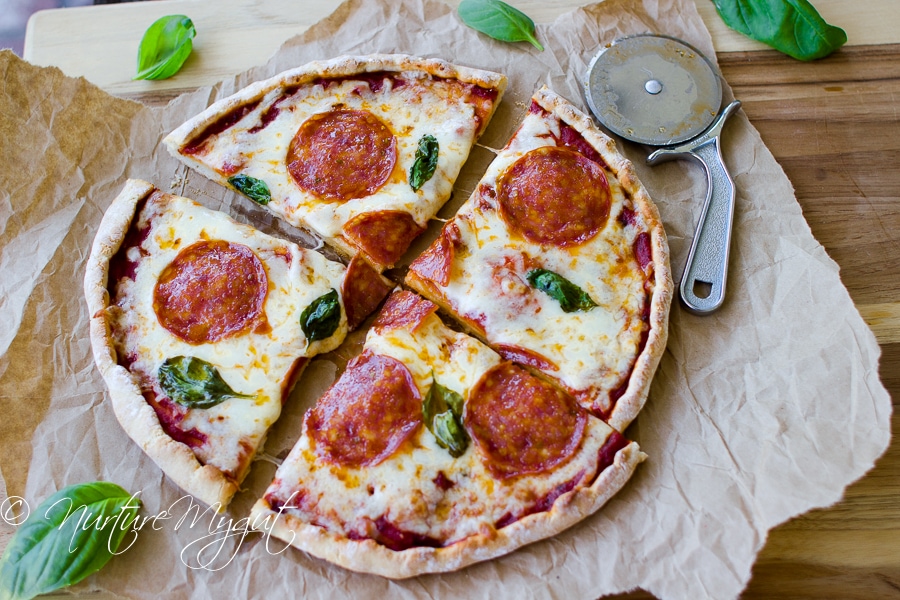 25) Beans w/corn chips
Ultimate Instant Pot Pinto Beans are something I make every week!  We serve these as an after school snack regularly with corn chips and avocado.  These are so easy to make in the Instant Pot! The instant pot is an easy and safe pressure cooker and it has made my life so much easier I tell everyone I can about it!  It is a set it and forget it method!  Beans are full of fiber, iron and protein.  Such a healthy gluten free snack for your kiddos!  You can even make a bean burrito with my Homemade Gluten Free Tortilla recipe.  My daughter loves her bean burritos with cheese.  You may even want to add a little bit of bacon and avocado into your kiddos burrito if they are big bacon fans!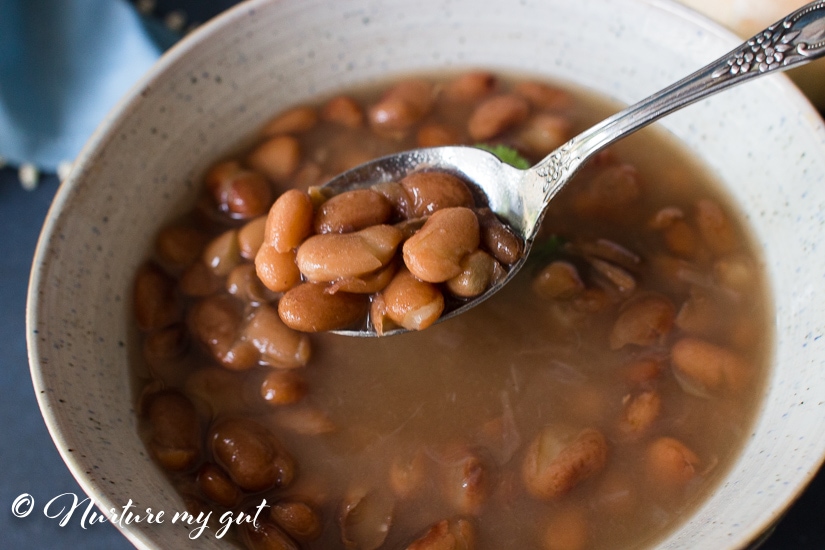 I hope you have enjoyed these 25 Gluten Free Snacks for Kids, if you want some yummy lunch recipes for kids, then I know you will Love my 25 Gluten Free School Lunch Ideas Round-Up!  Check it out and let me know below what is your kids favorite snack!
For more delicious healthy gluten free/Paleo-ish meals, please subscribe below.  You will get my free Paleo Breakfast E-Book as my gift to you and new recipes straight to your inbox!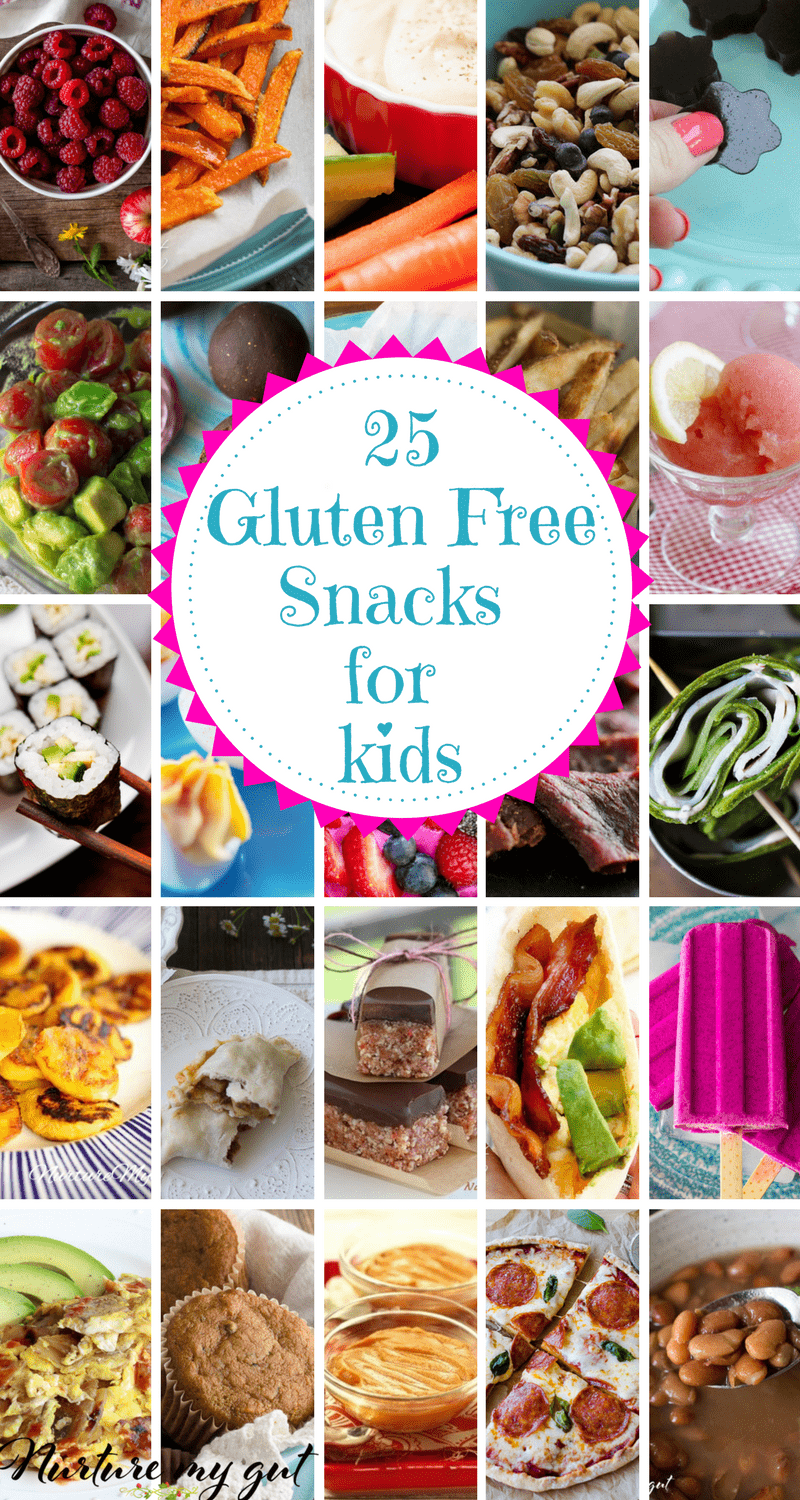 Latest posts by Ester Perez
(see all)