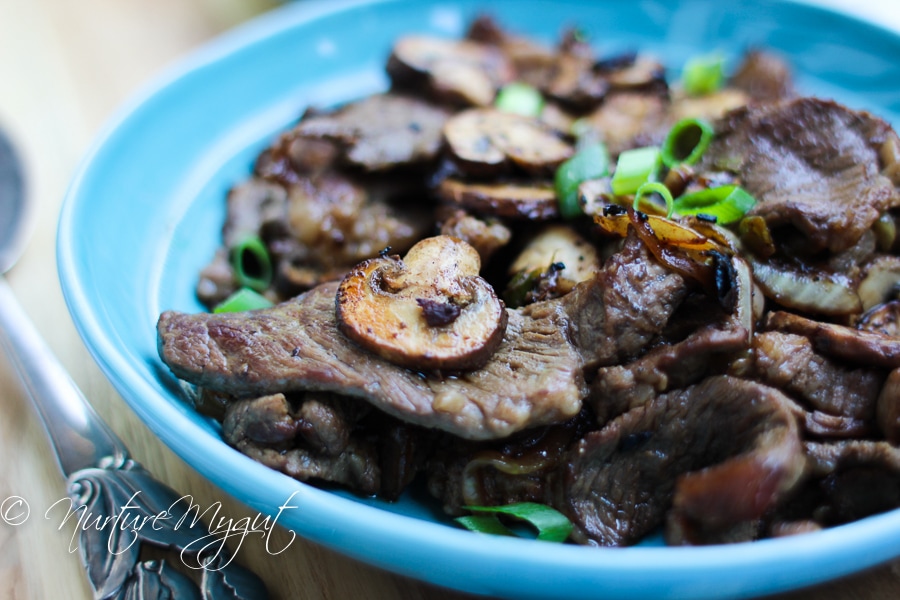 If you are a big fan of Korean BBQ then you will absolutely love this recipe!  This Authentic Gluten Free Korean BBQ is made with succulent prime rib, mushrooms and a marinade that is so good, you will be asking for seconds!
I have made this Gluten Free Korean BBQ Recipe recipe several times and as I write this, I am craving it again!
I want to give a big shout out to my friend Carloyn for teaching me how to make this Authentic Korean BBQ  marinade and allowing me to share this on Nurture My Gut for all of you!
My daughter kept telling me how Carolyn makes the best Korean BBQ and to ask her to teach me.  I kept attempting to make it on my own, but my daughter said it was not at all like Carolyn's.
I asked Carolyn to please teach me how to make her Korean BBQ!  So one day, when we went over to visit for playdate, she showed me how to make the marinade and to my surprise, gave it to me to take home!   How generous of her!
Although my daughter loves it with chicken, she said, it tastes even more delicious with thinly sliced prime rib.  So I stopped at my local Sprouts market on my way home and got some grass-fed prime rib.
I followed her instructions and it was so delicious, I ate 3 servings!  I know, that is a lot!  There was none left for my husband when he got home!  I promised to make him some the next day and I did!  He absolutely loved it!
It has become a favorite meal in our home!  My kids prefer this Korean bbq marinade with chicken and I prefer it with prime rib.
As Carolyn told me, it is very easy to make!  Let's get started!
The first thing you will do is prep your veggies.  Slice your mushrooms, thinly slice half of a yellow onion and cut a green onion lengthwise and then again into slices at a 45 degree angle.
In a large mixing bowl or Foodsaver Quick Marinator, add gluten free Tamari or soy sauce, water, coconut sugar, toasted sesame oil and salt.  Whisk until thoroughly combined.  Add yellow onion, green onion, garlic and mushrooms.  Toss in marinade.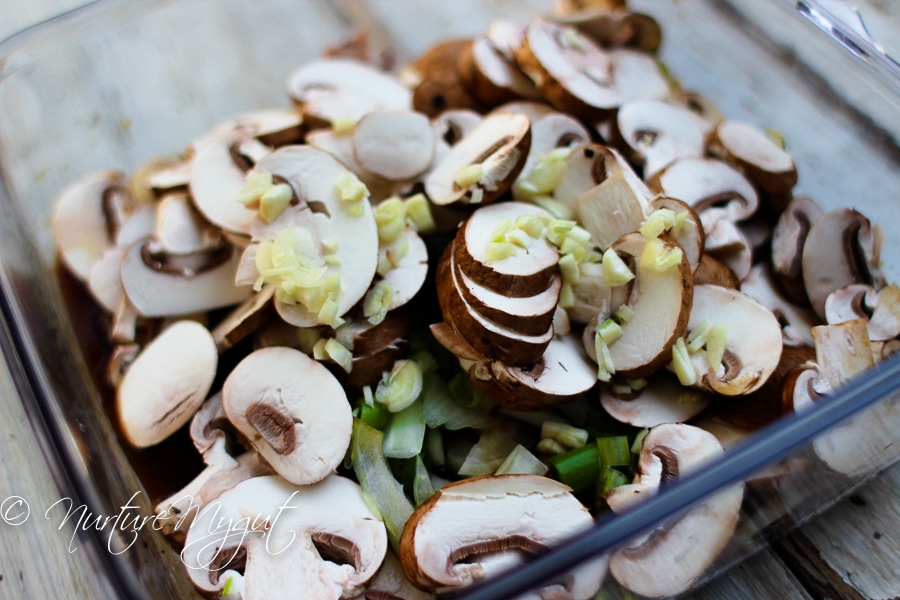 Add thinly sliced prime rib and toss in marinade with tongs or your hands.  Cover and allow to marinate at room temperature for 15 minutes.  I have a Foodsaver system so I like to use my Foodsaver Quick Marinator for this recipe because it draws the marinade into the meat faster, but any container will work too.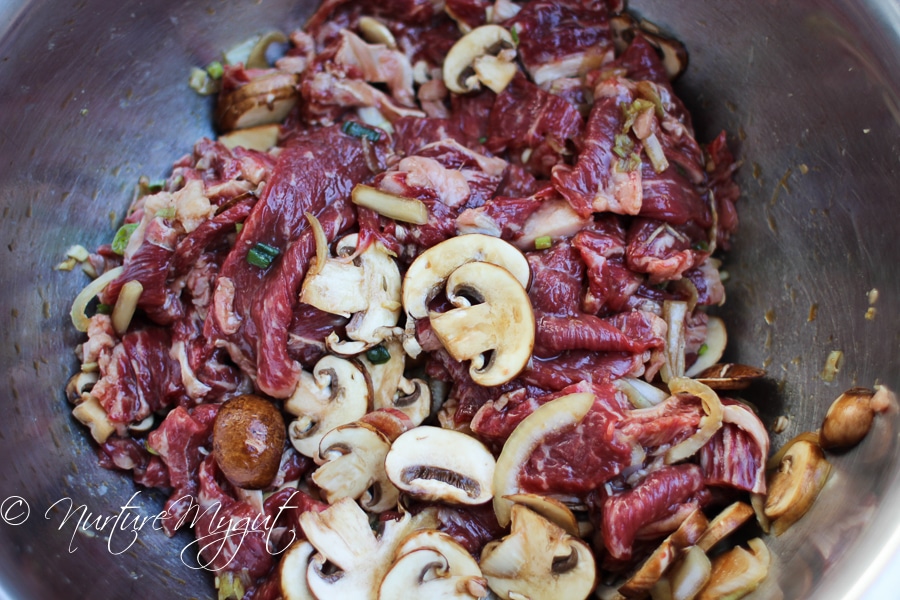 Once your meat has marinated, heat a large 12" cast iron skillet or large saute pan to medium high heat.  Using a slotted spoon, scoop up some meat and vegetables and scatter throughout your pan in an even layer.
Be sure to allow the marinade to drain through the holes in the spoon, you do not want to pick up too much marinade or the meat will not brown.  Do not crowd your pan.
Cook each side for 1-2 minutes depending on how you like your meat cooked.  My husband likes his meat rare so I cook his less time and on high heat for a nice sear on the outside.  It is best if you taste a piece and see if you want to cook it more or less time.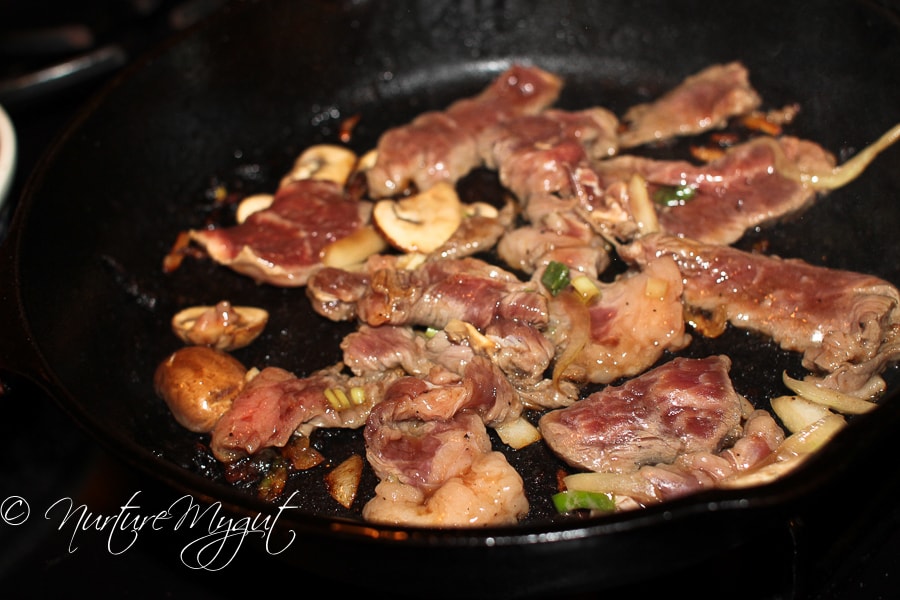 Repeat with the remaining meat and place it in a container or tupperware and allow the meat to rest for 2-3 minutes to allow the juices to be released.  (Use this time to set your table).
Then, stir those juices back into the meat.  This will guarantee a very flavorful Korean BBQ.  Now taste for seasoning.  If you want to add more salt and pepper, you can do so before serving.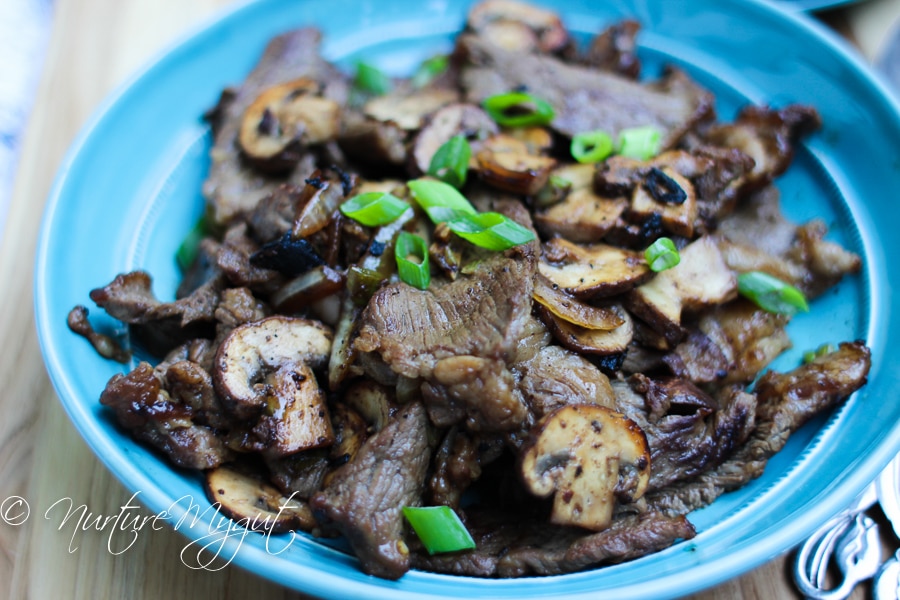 After making this recipes several times, my favorite way to eat this is to fill a bowl with chopped romaine lettuce and top with this yummy Authentic Gluten Free Korean BBQ.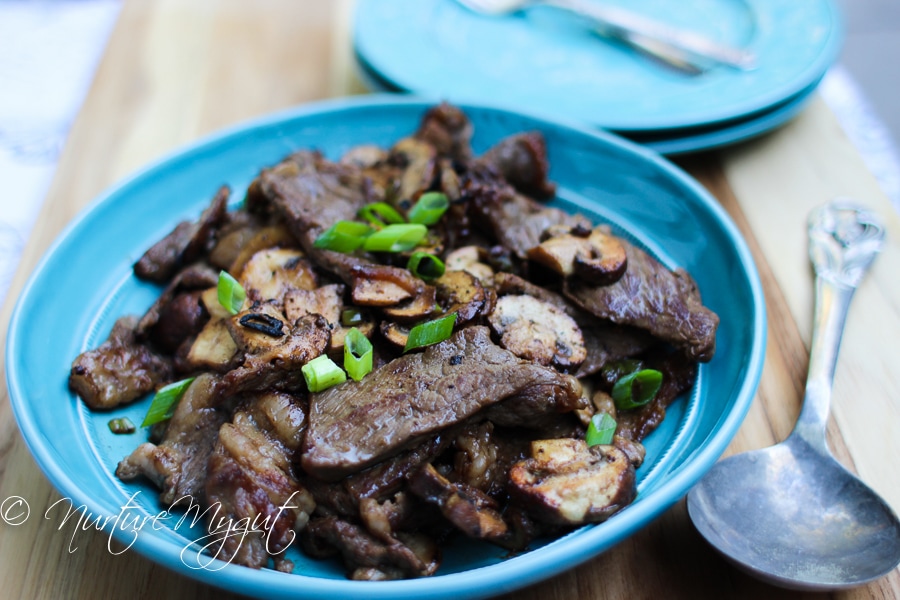 My kids favorite way to eat this is with steamed Organic Jasmine rice.  I put the rice in the rice cooker right before I start the marinade and since this recipe is pretty fast, both are ready at about the same time.  A yummy meal ready in 30 minutes or less.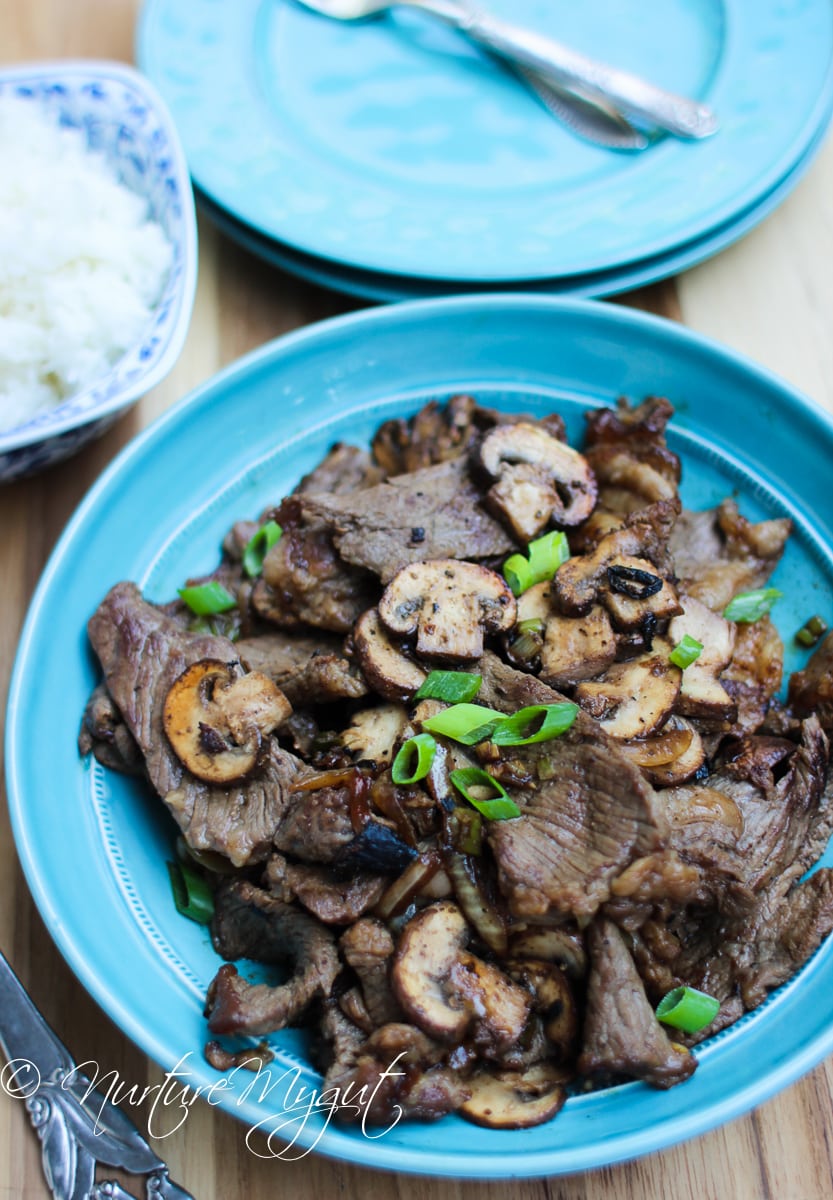 This is also a great recipe for entertaining with guests and can be made a day ahead.  I have doubled this recipe before and leftovers taste wonderful!
For more delicious healthy gluten free/Paleo-ish meals, please subscribe below.  You will get my free Paleo Breakfast E-Book as my gift to you and new recipes straight to your inbox!
Looking for more quick & delicious gluten free meals, check out these popular posts:
Homemade Chili Recipe with Kidney Beans
Nutty Strawberry Cucumber Salad
Print
Authentic Gluten Free Korean BBQ Recipe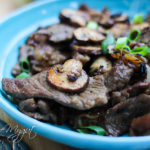 Author:
Prep Time:

20 mins

Cook Time:

15 mins

Total Time:

35 minutes

Yield:

4
Ingredients
2 lbs prime rib, thinly sliced
1/2 cup gluten free soy sauce or Tamari
1/2 cup water
1/2 cup coconut sugar or brown sugar
1 Tablespoon sesame oil
1/2 teaspoon salt or (more to taste)
1/2 medium yellow onion, thinly sliced
1 green onion cut lengthwise and chopped
3 cloves garlic, minced
8 ounce package sliced mushrooms
a pinch of freshly ground pepper
Instructions
In a large bowl or tupperware, whisk together Tamari, water, coconut sugar, sesame oil and salt. Taste for desired flavor, if you want more salt, feel free to add another 1/4 teaspoon. Stir in yellow onion, green onion, garlic and mushrooms. Add prime rib and using your hands or tongs, coat all of meat with marinade. Cover with plastic wrap and marinate at room temperature for 15 minutes.
Heat a cast iron skillet or large saute pan to medium high heat. With a slotted spoon, scoop out the meat, mushroom and onion mixture, allow the marinade to drip through the slotted spoon into the container so you do not pick up too much marinade.
Drop the meat and vegetables onto pan. Do not crowd the pan. Separate the meat and vegetables throughout the pan so that it browns evenly. Once the underside is slightly browned, flip. Do not overcook the prime rib. Taste a piece of meat to see if you want to cook it more or less time. This is personal preference. Depending on your pan, this will take only 1-2 minutes per side. Place cooked meat in a container to allow juices to be released.
Repeat with the remaining meat and vegetables in batches until all meat and vegetables are cooked. Discard remaining marinade.
Allow the meat to sit for a few minutes in the container to allow juices to be released. Stir the cooked meat into the juices that have been released and taste meat for desired flavor. Add more salt and pepper if needed. You can top with additional green onions if desired and serve over salad or steamed rice.

I'm a loving wife, mother of two healthy children, andI am obsessed with teaching people how to make delicious and mouth-watering gluten-free/Paleo friendly foods that nurture your gut!
Latest posts by Ester Perez (see all)