Breakfast Zoodle Ratatouille with Italian Sausage-a bright and delicious breakfast made in 15 minutes or less!  This summer ratatouille is made with spiralized zucchini, onions, cherry tomatoes and Italian sausage.  This anti-inflammatory breakfast is Whole30 friendly, gluten free, dairy free & Paleo.  
After a fun-filled holiday weekend, full of family and friends, it is time to get back into my healthy eating routine. We all tend to eat differently around the holidays, right? I certainly do, even when I try not to. With so many food options at BBQs and family gatherings, it can be hard to resist. I try to limit my intake of certain foods and in the end I am always left feeling ready to kick my healthy eating back into gear!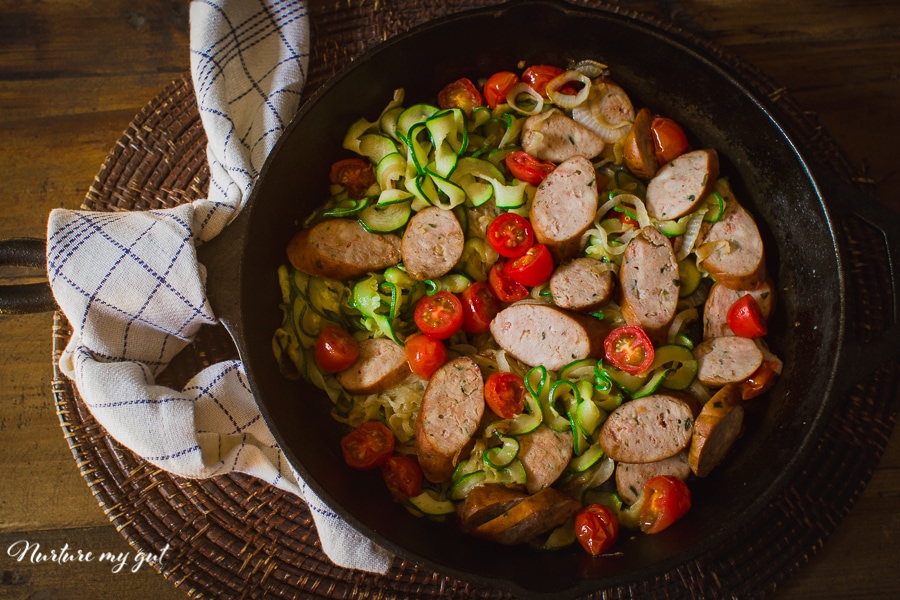 I find it easier to cook in the summer (and stay on track with healthy eating) when there are a plethora of fresh, seasonal ingredients at my fingertips. This recipe includes vibrant summer vegetables like zucchini, onion, and tomatoes, that you can find locally at a farmers market or in your home garden. You can whip up this quick Whole30-friendly dish in no time!
(This post contains affiliate links for your convenience. Click here to view my full Disclosure Policy.)
Why I lean toward eating Whole30 recipes
I find myself always leaning towards Whole30 recipes when I need to give my gut a fresh start. Eating Whole30 friendly foods has been my saving grace for dealing with Hashimotos Hypothyroidism.  If you have ever had to deal with Hashimotos, then you know it is no easy feat to recover from.  I ended up throwing my thyroid out of whack after visiting family for a few days and eating one too many meals that had gluten free grains.  As a result, I threw my thyroid off and felt so nauseated I had to stay in bed for the 4th of July instead of celebrating with my family.  Not exactly the holiday I was planning on.
I immediately began the Whole30 protocol of no grains, no legumes, no corn, no added sweeteners, etc.  You can read about my husbands and my own Whole30 cleanse experience here.
This Breakfast Zoodle Ratatouille with Italian Sausage was the first meal I made and to be honest, I felt better within 24 hours!  It is amazing how my thyroid goes back into balance with the right foods!  I can handle gluten free grains once in a while, but not on a daily basis.  This meal was my saving grace!  I had it twice and felt SO much better!  It is not only delicious but healing from the inside out.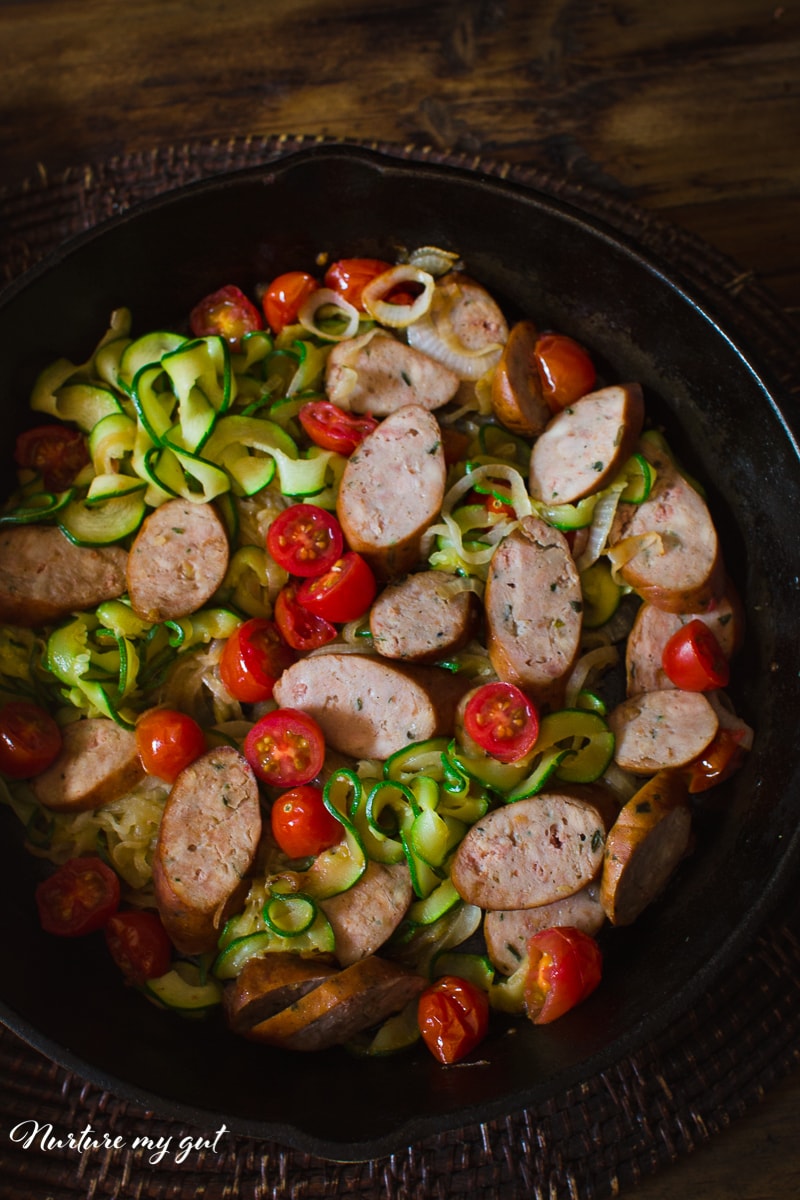 Nutritional Benefits of Zucchini (Zoodles):
Zucchini noodles or zoodles, as they are called, are the base for this easy on the gut dish. While all of the ingredients in this dish are Whole30-friendly, you can use zoodles as a base in any dish that calls for pasta!
Zucchini is extremely healthy for you and has numerous benefits, like the ones listed below:
High Source of Antioxidants and Vitamin C.
Has Anti-Inflammatory Properties that Can Improve Heart Health.
High Source of Potassium.
Help Improve Digestion.
Low in Calories and Carbs.
Helps Maintain Eye Health.
Good Source of Energizing B Vitamins.
(Source: https://draxe.com/zucchini-nutrition/)
How to Make Breakfast Zoodle Ratatouille with Italian Sausage
I tend to gravitate more toward recipes that are healthy, quick, and kid-friendly. This recipe checks all those boxes and more! It is also great to serve for an easy brunch because you can easily double the recipe to accommodate a larger crowd, make it in a pinch, and it has a gorgeous presentation!
I also love being able to use a spiralizer! Using the spiralizer makes this recipe a cinch!  Only 15-20 seconds to spiralize an onion with no tears! And 15-20 seconds per zucchini!  I like to use this spiralizer from Amazon. My vegetables spiralize quickly and it has easy to clean parts that are dishwasher safe.
Start by spiraling the onions and zucchini. This is actually my favorite part, besides eating this delicious dish! It is like confetti in your bowl!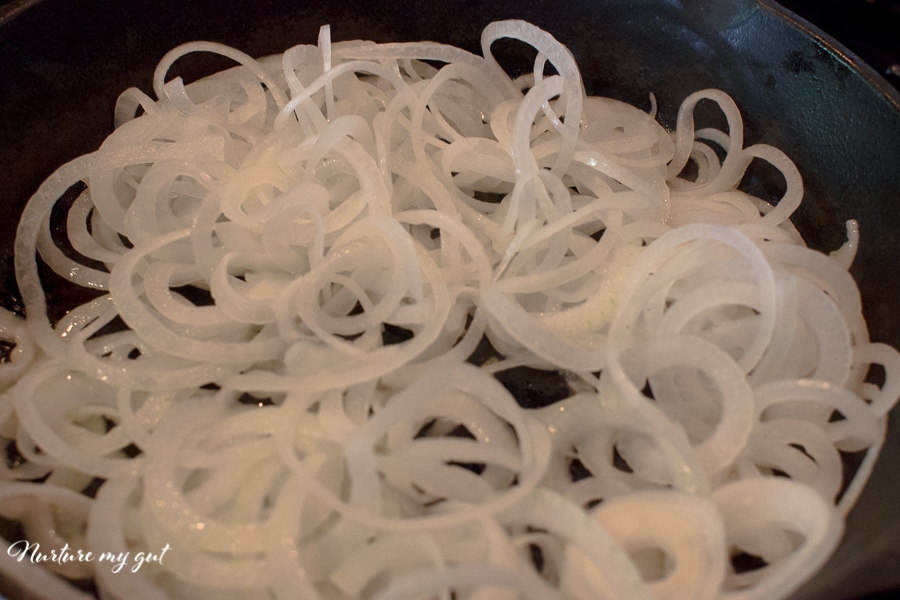 Next, chop the cherry tomatoes in half and slice the sausage on an angle. Tomatoes and sausage add great flavor, texture, and color to the dish.
Then add oil to a large skillet; I love to use a 12.5 inch cast iron skillet for quick and easy heat distribution.  Heat to medium heat.  Add spiralized onions and saute 5 minutes.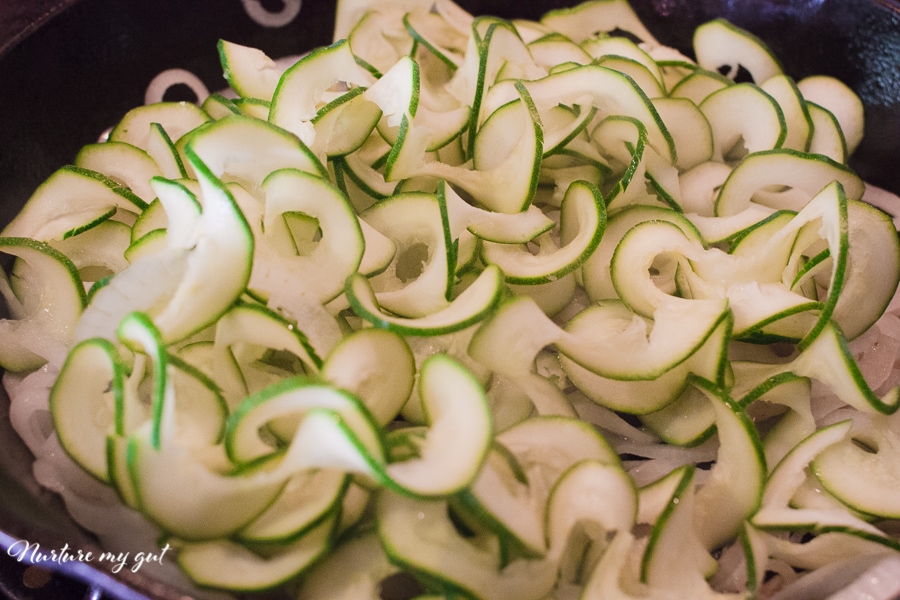 Add zucchini, tomatoes and sausage.  Stir 3-5 minutes or until sausage is warm.  Do not over cook zucchini or it will wilt.  Add salt and pepper to taste. Serve immediately and enjoy!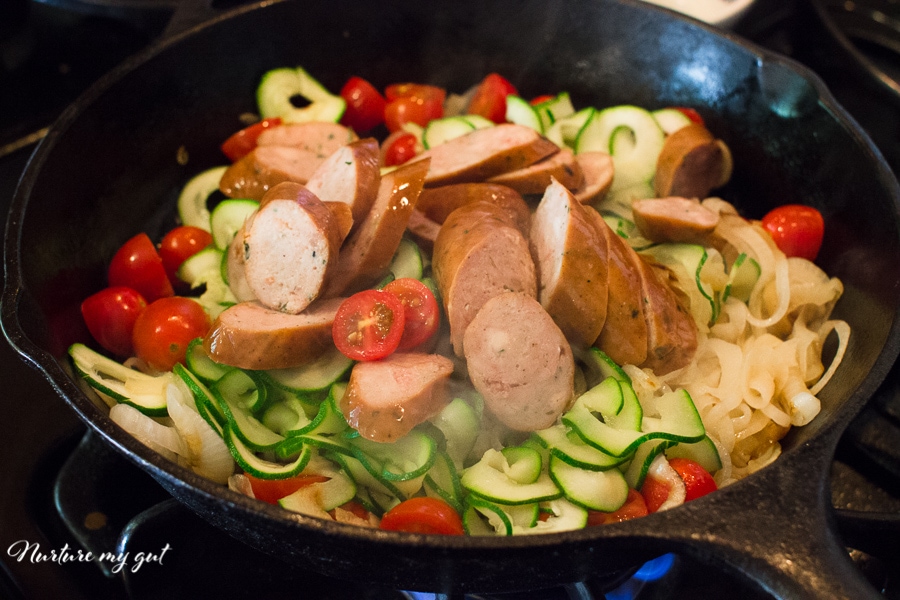 Healthy, easy, and beautiful- what's not to love?
Remember to listen to your body, especially when it comes to the food you are eating. You can learn what food to shy away from, but also what foods your body needs. Food is medicine and can definitely put you back on track to feeling healthy!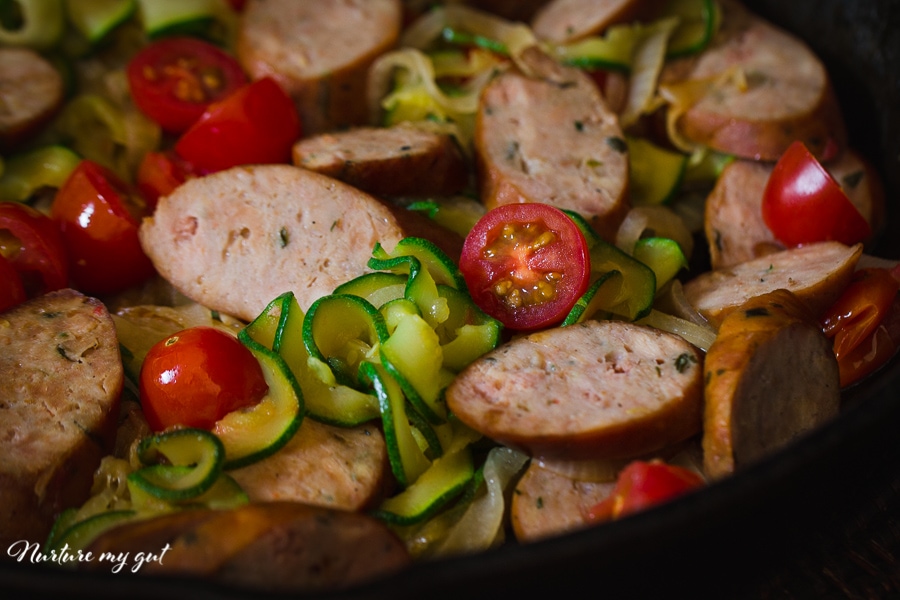 Another favorite zoodle recipe I love is the 5-Minute Dreamy Vegan Alfredo Sauce w/Zoodles. You can thank me later. 🙂
For more deliciously healthy gluten free & dairy free recipes, be sure to subscribe below!  You will get my free Delicious Paleo Breakfast E-Book as my gift to you!
Print