I am very excited to introduce you today to my dear friend and Holistic Health Coach, Rola Masri, HHC.  For the last several years, she has been heavily researching the effects of Wifi on children and gut health.
She has been working relentlessly on turning off WIFI at our public schools to reduce carcinogenic load on our children.  Did you know that WIFI is actually a class 2B carcinogen alongside lead, DDT and engine exhaust???  I know… pretty shocking!!  So what can we do to keep safe levels of radiation for ourselves and our families??
Read her post below for the answer, then sign her petition at Move On-Turn Off Wifi In Our Schools.  

**Guest Post by Rola Masri, BS, HHC**
www.healthymamahealthyfamily.com
It is not well known why certain  people develop allergies while others don't. Allergic reactions can range anywhere from sneezing, runny nose, fatigue to autoimmune diseases, anaphalaxis and death. In this post I hope to shed some light on allergies and autoimmune diseases and their possible link to wireless technology.
Every organ in our body is protected by tissue barriers that prevent the outside environment from leaking in.  Examples of these barriers include the gut barrier that prevents undigested foods from leaking into the blood or the blood/brain barrier that prevents toxins in the blood from leaking into the brain. Other barriers include those found in nasal mucosa, the lungs, outermost layer of living skin cells, etc.  The strength of these barriers are essential for health.
Dr. Olle Johansson, an associate professor at the Department of Neuroscience at the Karolinska Institute and a professor at the Royal Institute of Technology in Sweden, says that the skin and the gastrointestinal tract are the major borders between us and the rest of the universe.
"These borders must be guarded and protected since any damage to them could be fatal." Dr. Olle Johansson
He writes that Radio Frequency (wireless technology emissions) can cause leakage in these barriers and set the body on a series of chain reactions that can lead to life threatening allergies and autoimmune diseases.(1)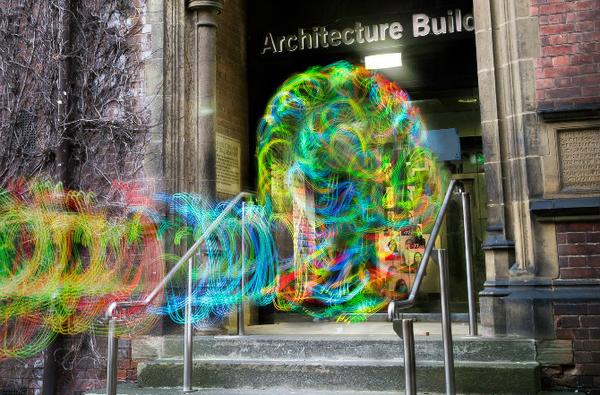 (Image taken by Luis Hernan, PHD, Newcastle University UK,  www.iflscience.com)
This is a picture of a person talking on a cell phone while entering a building. This picture was taken with a help of an instrument called Kirlean Device created by Luis Hernon a Ph.D. student in Newcastle University in the U.K.  This Device can map wireless networks using beams of light.
Dr. Andrew Goldsworthy is retired scientist and lecturer.  He spent many years studying how tissue and organisms are affected by electrical fields.  He found that radiation from wireless devices can penetrate the body and cause organ tissue to be more permeable and cause leakage.
"The current massive increase in allergies and allergy-related illnesses can be attributed to our rising exposure to electromagnetic radiation.  By increasing the permeability of all the barriers that normally protect all of our body surfaces, it enhances the penetration of foreign chemicals and allergens and increases our sensitivity to them" – Dr. Andrew Goldsworthy
Goldsworthy talks about Calcium ions being a key element that creates strong and healthy bonds in tissue barriers.  He explains that radiation emitted by wireless technology has the power to penetrate the body and with it's negative charge act like a magnet and remove the positively charged calcium ions in tissue barriers.  As compensation the body replaces the calcium ion with much weaker Sodium or Potassium ions.  As a result the weaker tissue barriers begin to leak leading to allergies and autoimmune diseases. (2)
Leakage of foreign matter into the blood or organ system creates an environment that the body does not recognize.  As a result the body fights back by releasing a substance called histamines to fight off the enemy (pollen, peanuts, dairy etc.).  The result is inflammation which can lead to all types of reactions depending on the location.
Dr. Peter French has shown that exposure to radio frequency emitted from cell phones significantly increase the production of histamines.  Histamine is a substance that is released into the blood during an allergic reaction.  This study, done in 1997, predicted a sharp increase is asthma in children as a result of wireless technology proliferation.(3)
15 years after Dr. French's study, an executive summary written by the World Allergy Organization(4) states:
"The prevalence of allergic diseases worldwide is rising dramatically in both developed and developing countries…. This increase is especially problematic in children, who are bearing the greatest burden of the rising trend which has occurred over the last two decades. "
– World Allergy Organization White Book On Allergy 2011-2012
Exposure to wireless technology is unavoidable but there are ways to limit it whenever possible.  These are just some tips to start with:
1. Turn off all cell phones, iPads and laptops or put them on airplane mode before going to sleep.
2. Never place cell phone directly on your ear. Use a wired ear piece or put it on speaker mode.  Keep your cell phone at a distance whenever possible.
3. Turn off WiFi routers when not in use.  Try using a timer to automatically shut off WiFi at night.
4. Opt out of utility smart meters. Smart meters are highly emitting devices that utility companies have placed on a lot of homes to determine utility usage for billing.  Opting out is a simple way to reduce exposure.
5. Do opt for wired computers for children. Ethernet cables instead of WiFi will eliminate wireless emissions.
6. If choosing wireless devices for children download the information they need in advance and let them use it while on airplane mode.
7. Turn off WiFi, GPS, bluetooth and network antennas on your cell phone when not in use.  Only turn them back on when you need them.  Most of the time your device is emitting unnecessary radiation when you are not even using these features.
If you have any questions or comments please don't hesitate to email me at [email protected]
 "Generation Zapped"is an eye-opening documentary on the health consequences related to wireless technology.  It is a documentary in the making and a worthwhile cause that will affect the future of each and every one of our children for many years to come.  Please consider making a tax deductible donation:
 Click here and give what you can even if it's only $1.
For more information on the health effects of wireless technology please visit The National Association for Children and Safe Technology at:
A great book to read is "Overpowered" By Dr. Martin Blank
Warmly,
Rola Masri, BS HHC
(1) http://www.bioinitiative.org/report/wp-content/uploads/pdfs/sec08_2007_Evidence_%20Effects_%20Immune_System.pdf
(2) http://www.hese-project.org/hese-uk/en/papers/cell_phone_and_cell.pdf
(3) http://www.worldallergy.org/publications/wao_white_book.pdf
(4) French, P., et al (1997): Electromagnetic Radiation at 835 MHz changes the morphology and inhibits proliferation of a human astrocytoma cell line.
http://www.healthy.net/Health/Article/SECOND_OPINION/6452
Thank you for reading this informative article by Rola Masri.
For delicious healthy gluten free/Paleo-ish meals, please subscribe below.  You will get my free Paleo Breakfast E-Book as my gift to you and new recipes straight to your inbox! 
Check out these yummy gluten free recipes:
Best Paleo Chocolate Chip Cookies
Latest posts by Ester Perez
(see all)