Craving grilled chicken but too busy to start the grill?  I have a solution!  Make Cast Iron Grilled Chicken!  This delicious grilled chicken marinated in garlic and lemon tastes just as if it was hot off the grill.  It is effortless to make and cooks in less than 15 minutes.  Here is my step by step method: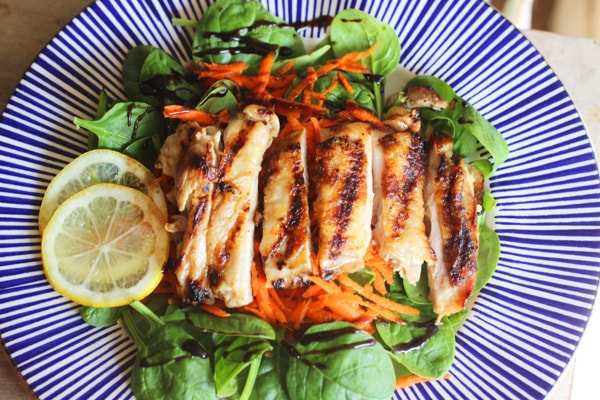 First, mix together the juice of 1/2 lemon, 1 1/2 teaspoons of salt and 6 minced garlic cloves.  Add into a large mixing bowl and set aside.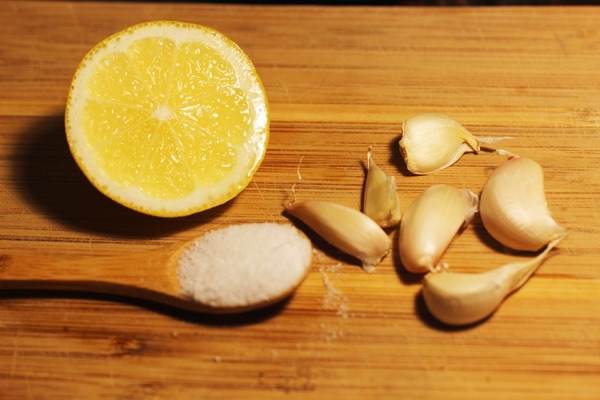 Next, rinse and dry your chicken and remove the bones with some kitchen shears.  You can also have your butcher do this.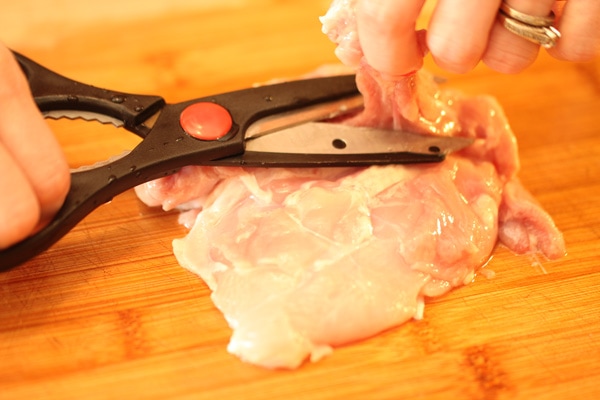 Don't throw away those bones!  Put them in a zip-lock bag and store them in the freezer.  When you are ready to make stock, pull them out and make magic!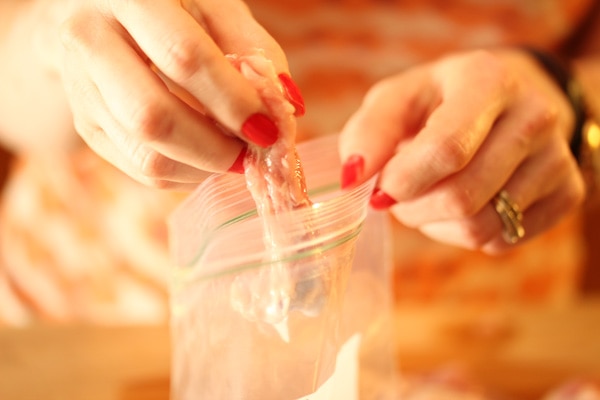 Next, put your chicken thighs skin-side up.  Cover with a large sheet of plastic wrap and pound with the flat side of a meat mallet until it is even.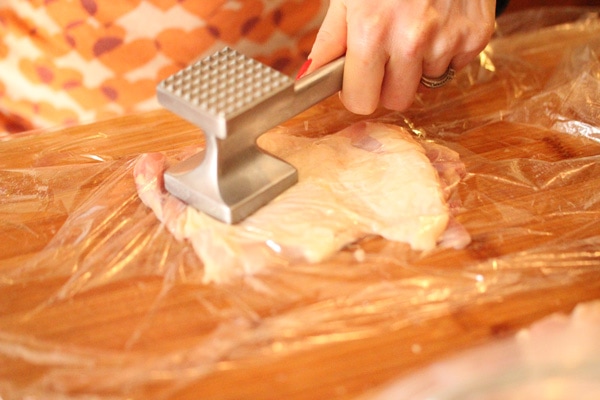 It should look like this.  Approximately 1/2 inch to 3/4 inch thick.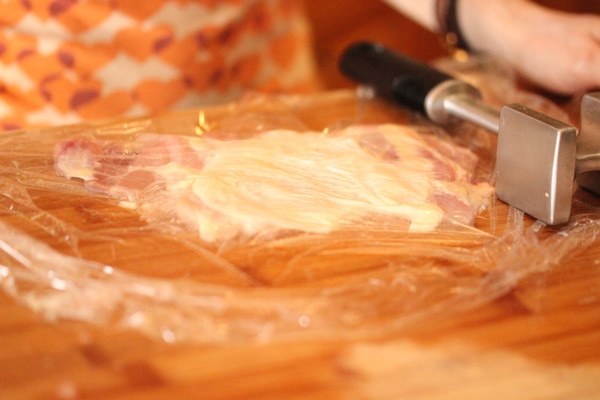 Place chicken in the garlic-lemon-marinade, and coat all the sides.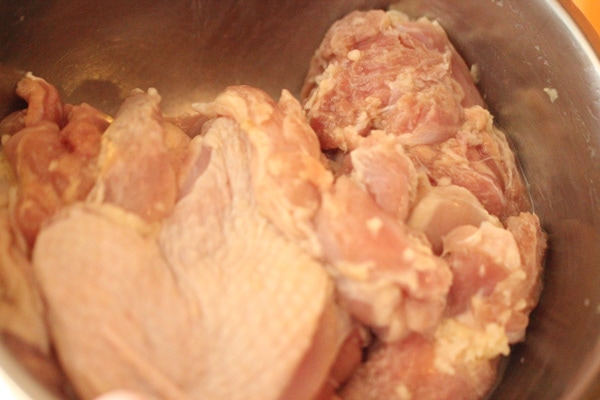 Heat up your Cast-Iron Griddle
 to medium heat with the grill sides up.  I got mine at Amazon and I cannot tell you how much I love this griddle.  One side has grill marks and the other is flat for pancakes or tortillas.  I could go on and on about why I love cast iron!  It heats evenly, you get a dose of iron, plus a well seasoned pan is non-stick without harmful chemicals!  If you don't have one of these, you should seriously consider it!  Plus, you can make cast iron grilled chicken!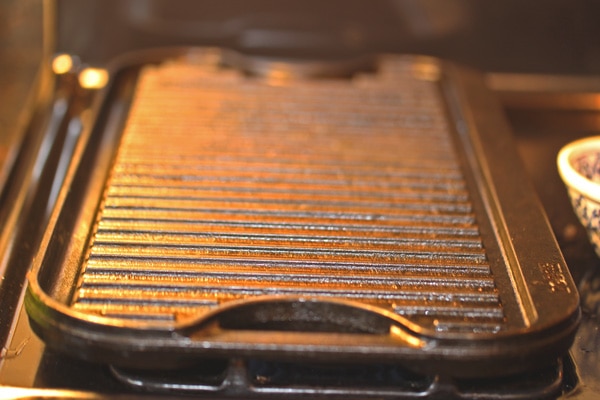 Once your cast iron griddle is hot, add your 6 chicken thighs skin side down.  Do not touch them!  Set your kitchen timer for 8 minutes and then flip over with kitchen tongs.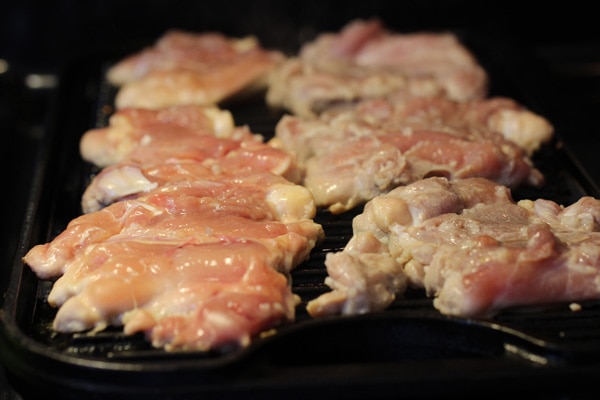 Heat up on the underside for 5 more minutes.  Ooh, grilled aroma will kick start your taste buds!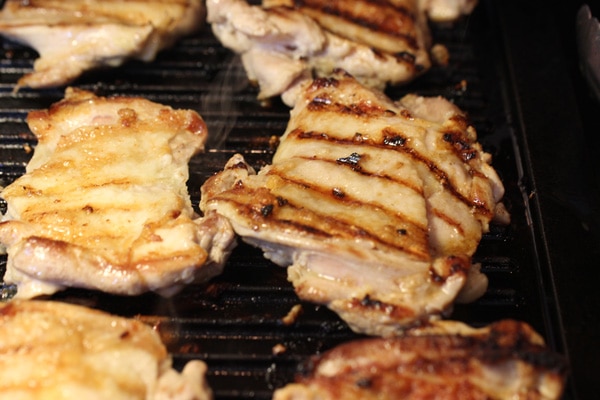 Let your chicken rest for a few minutes to allow the juices to set in.  I stack them up on a plate or in a container.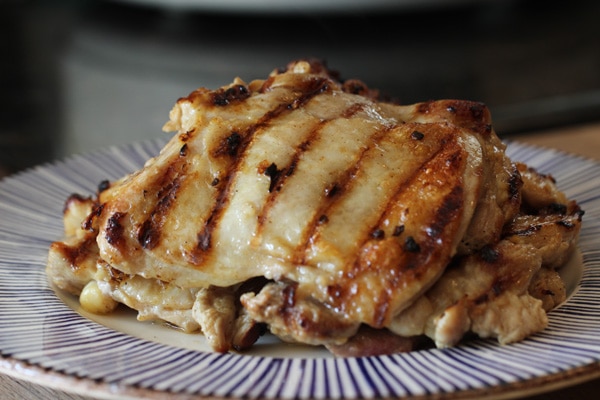 Slice them into strip or cubes with a sharp knife, (I love my Cutco Chef's Knife!).  These are perfect on salads or in tacos.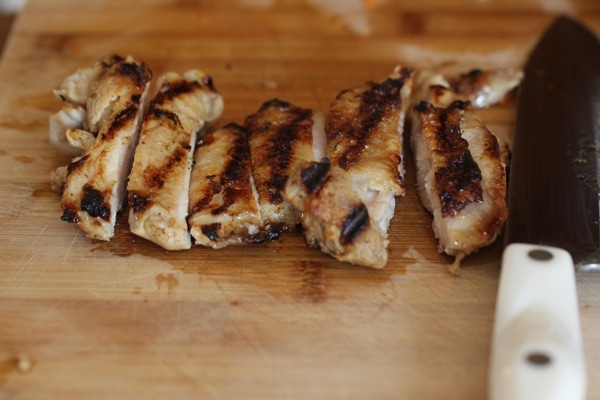 I am on day 6 of Whole30 so I am having this on a bed of spinach and shredded carrots with a strawberry balsamic dressing.  The chicken tastes perfect on its own but I am crazy about lemon so I squeeze a little on top!  This cast iron grilled chicken tastes AMAZING!  It reheats really well too!  Both my kids who are picky eaters loved it!
Looking for a great guide for going Paleo with delicious healthy quick recipes, I highly recommend my friend Louise's book, The Essential Paleo Cookbook.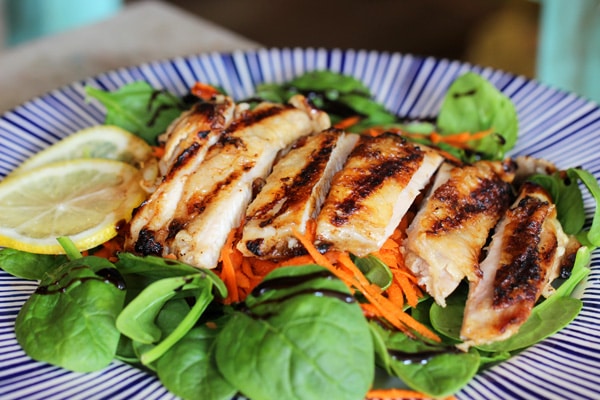 If you love this Cast Iron Grilled Chicken recipe, SUBSCRIBE on the TOP RIGHT for more gluten-free deliciousness straight to your inbox!
For more delicious healthy gluten free/Paleo-ish meals, please subscribe below.  You will get my free Paleo Breakfast E-Book as my gift to you and new recipes straight to your inbox! 
Check out these yummy gluten free recipes:
Best Paleo Chocolate Chip Cookies
Print
Cast Iron Grilled Garlic Chicken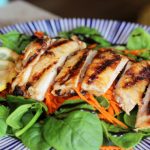 Author:
Prep Time:

12 mins

Cook Time:

13 mins

Total Time:

25 minutes

Yield:

4-6

Category:

Main
Ingredients
juice of half lemon
6 garlic cloves, minced
1 1/2 teaspoons sea salt
6 chicken thighs with skin on
lemon wedges (optional)
Instructions
To make marinade add lemon juice, garlic and salt to a large mixing bowl. Stir and set aside.
Remove bones from chicken thighs with kitchen shears. Place bones in a zip-lock bag, freeze and reserve for making chicken stock.
Place chicken thigh on cutting board skin side up. Cover with plastic wrap and pound with flat side of meat mallet until chicken is even, about 1/2" to 3/4" thick. Place flattened chicken in marinade and coat on all sides. Repeat with remaining chicken.
Heat cast iron griddle to medium heat.
When cast iron is hot, place chicken skin side down and grill 8 minutes. Using tongs, turn chicken over and grill another 5 minutes.
Remove chicken and let rest 3-5 minutes. Slice and serve with lemon wedges.

I'm a loving wife, mother of two healthy children, andI am obsessed with teaching people how to make delicious and mouth-watering gluten-free/Paleo friendly foods that nurture your gut!
Latest posts by Ester Perez (see all)