Christmas Money Tree-a brilliant way to give cash for Christmas.  Giving cash with this decorative Christmas money tree is memorable, personalized and meaningful.  It is a way to give cash that will definitely be remembered!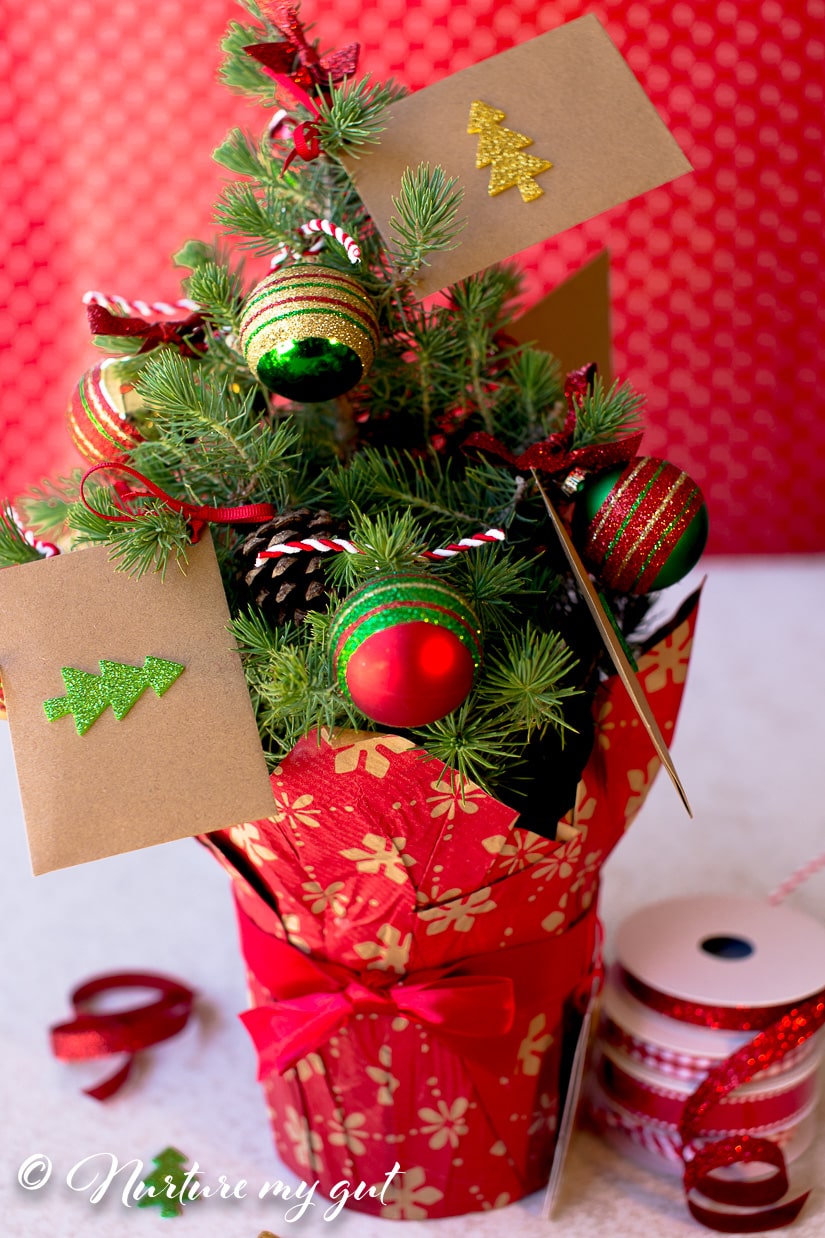 This year for Christmas, I was given the opportunity to put together a class gift for my son's class…(yup..I am a co-room Mom?).  Don't ask where I find the time to do all these things, because I honestly don't know myself?
I didn't want to do gifts cards due to the increase in stolen cards…yup, it happens.  I know several people who have had gift cards stolen, including my son's birthday gift card-and I did not want to take that chance.
So I wanted to figure out a way to give the cash I collected from the class in a special and meaningful way.  I have to admit I did not come up with this idea fully on my own.  My co-room Mom had originally suggested we get a mini Christmas tree and fill it with origami shaped money in those ornaments that open.
Well, I hunted for those clear ornaments and they were all out!  So onto plan B!!!  Another friend had told me about cute little envelopes for stuffing money inside and I ran with that idea.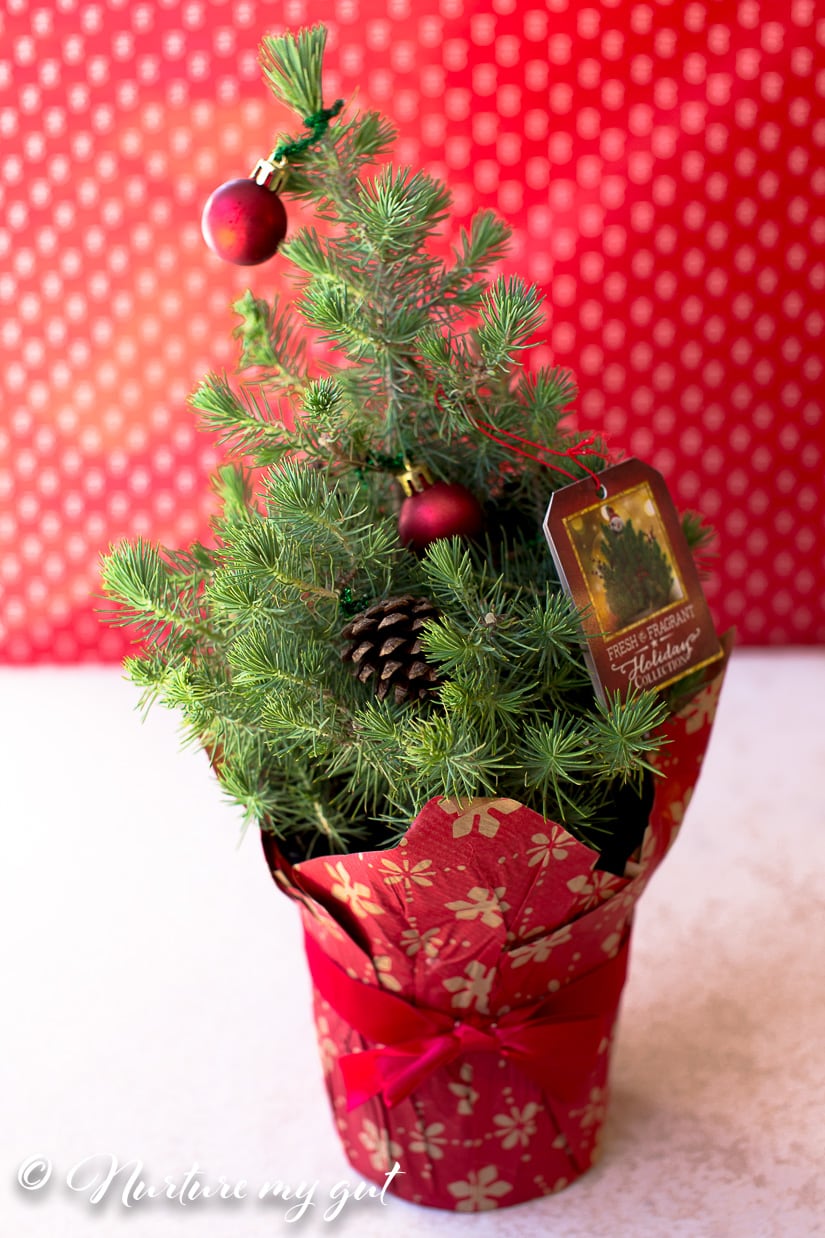 I thought, what if I buy mini ornaments and get cute envelopes, decorate them, tie them with twine and make them ornamental?
So I looked for mini envelopes and lo and behold, I found these cute little mini brown envelopes that are typically used for writing notes.
Next, I looked for stickers and I found these cute puffy Christmas trees that I stuck on the front.  Then, I found mini ornaments that coordinated with the envelopes and stickers and found some festive ribbon and twine.
It all came together as I walked up and down the aisles of Michaels Craft Store!
The funny thing is, I did not even have my mini Christmas Tree yet!  When my co-room Mom went to get the trees, they were out! ?  NO, I am not kidding!
Luckily, my husband was at another market and I called him to look for mini Christmas Trees.  Seriously, he is a lifesaver!
They were fully stocked with three types of mini Christmas trees!  Yay!  My husband sent me pictures, (thank you cell phones?)  I chose this one because I thought it would hold up ornaments better.
My suggestion is to pick one that is not too prickly, the pine needles can hurt when tying bows.
Below I will give you a brief step by step tutorial for making this lovely Christmas Money Tree, it is easy and trust me, well worth it!
(This post contains affiliate links for your convenience. Click here to view my full Disclosure Policy.)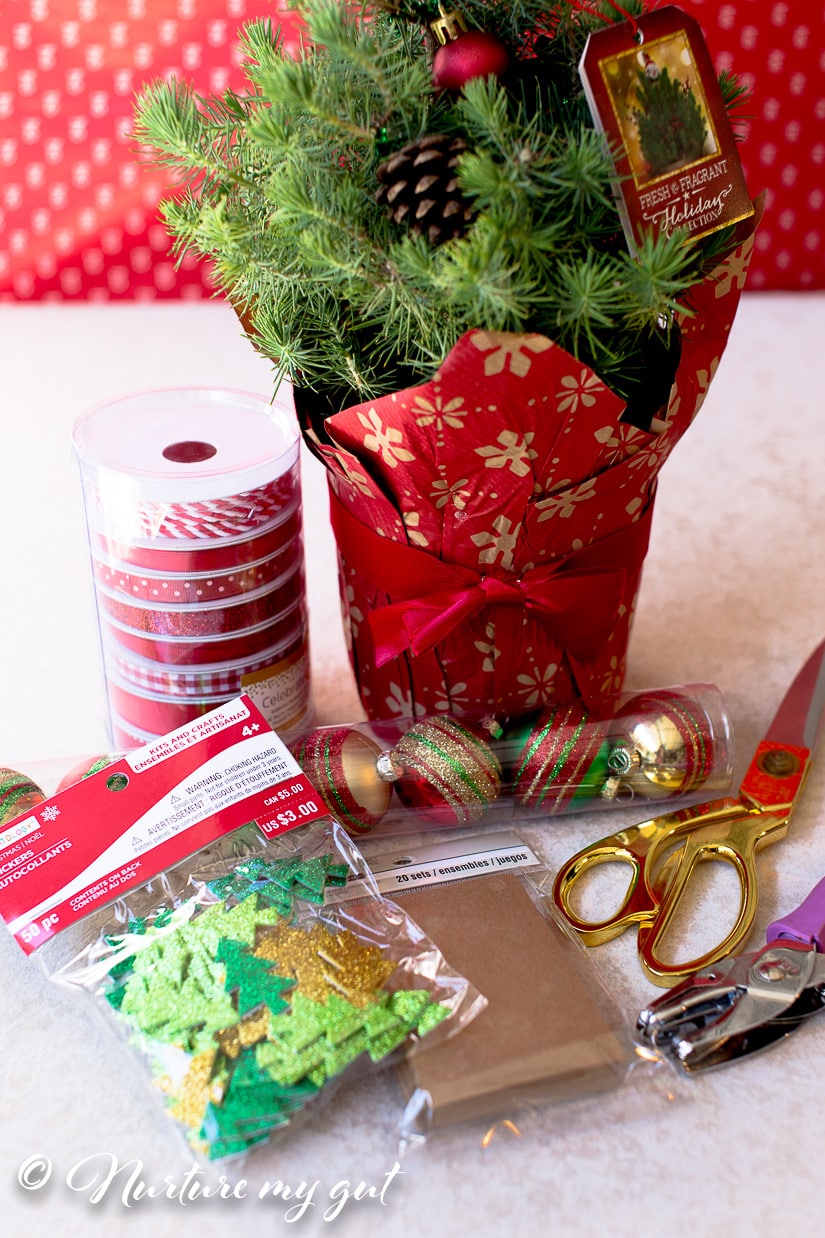 How to Make Christmas Money Tree
Supplies Needed:
mini Christmas Tree: pine, fir, rosemary
cash
Christmas stickers
thin red twine or ribbon
mini ornaments (red & green are best)
scissors
Step 1:
Select 6 mini envelopes and place a decorative Christmas sticker on the front.  I suggest a puffy sticker like a candy cane, christmas tree or ornament.
Step 2:
Punch a hole in the corner and run a thin ribbon through.  A red ribbon will stand out best.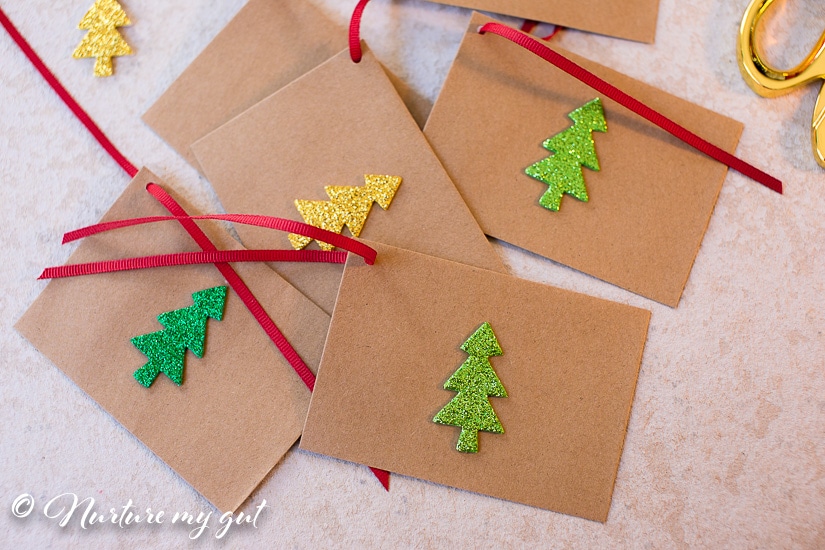 Step 3:
Fold your cash in thirds and divide into 6 piles.  Fill the envelopes with cash and seal.  Tie those envelopes to the mini Christmas tree.  Space the envelopes a few inches apart and opposite each other so they look even throughout the tree.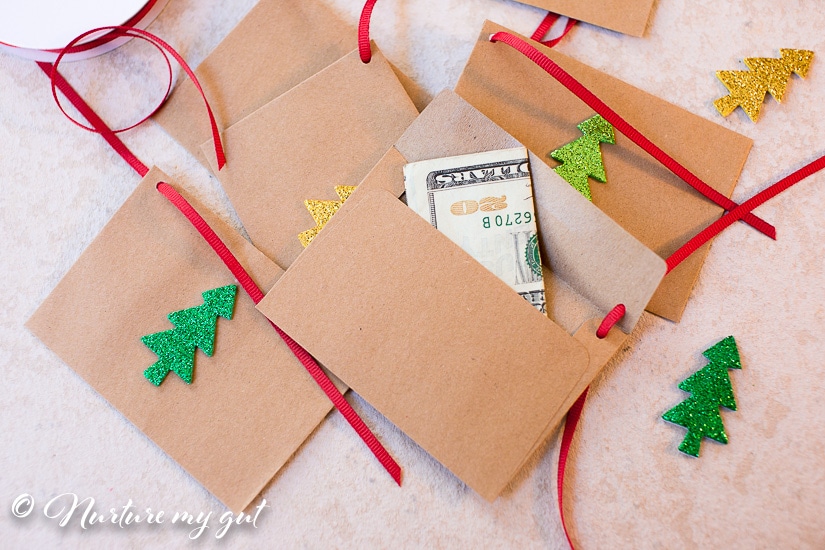 Step 4:
Finally, cut more twine or ribbon and run through mini ornaments and tie onto tree.  You can make a ribbon or simply make a little tie.  Be sure to also space your ornaments evenly throughout your Christmas Money Tree so it looks full and you don't have empty spaces.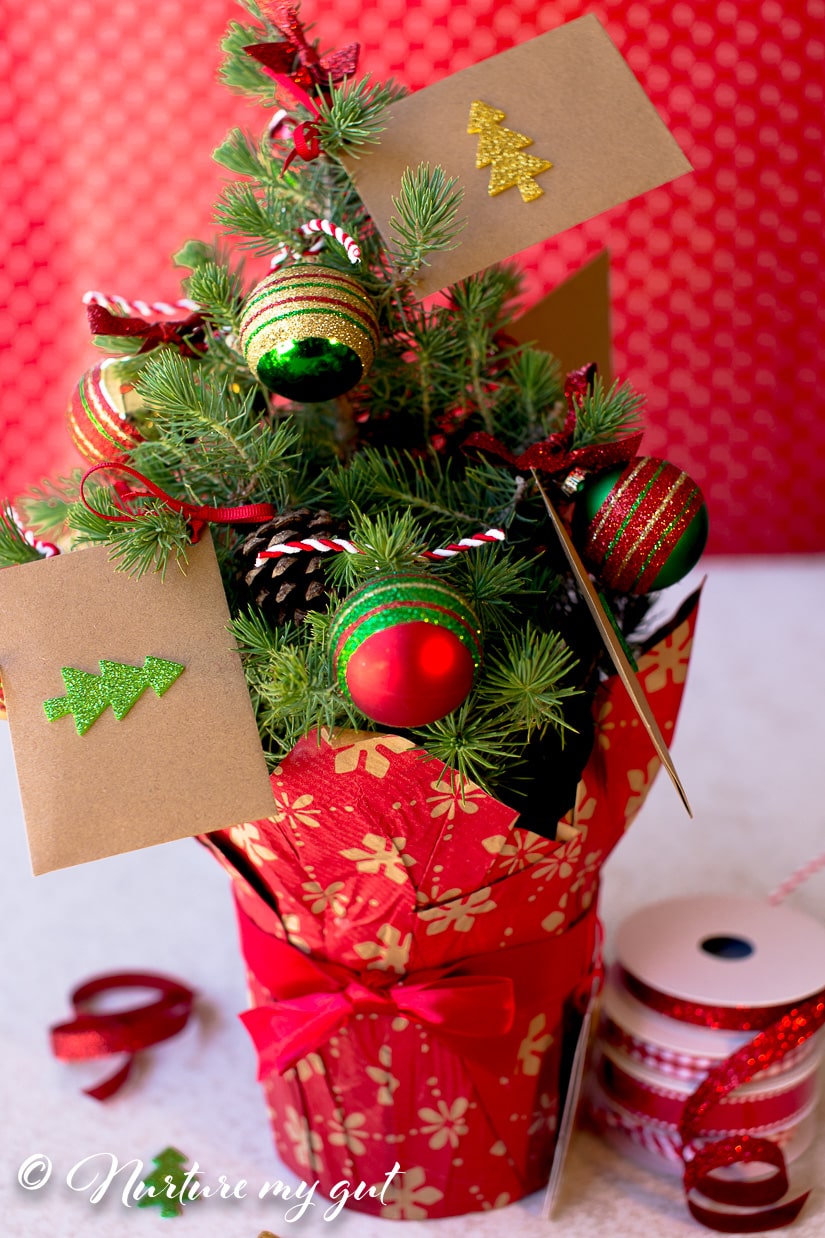 Now, if you want to go the extra mile, you can personalize this even more and add a special ornament.  Like, a favorite animal or their name with the year.
This Christmas Money Tree can be make in about 30 minutes.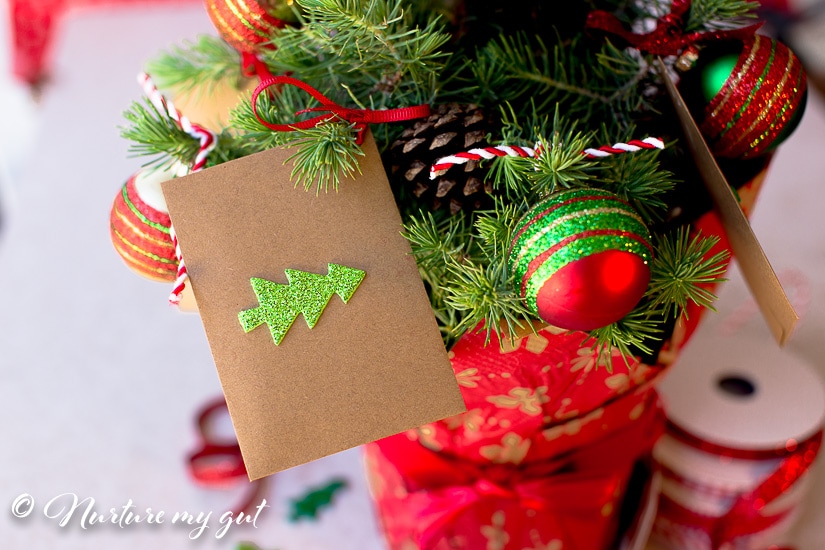 Below you can see that I made two Christmas Money Trees.  One for my son's amazing teacher and one for her fabulous teacher's assistant!
We presented these Christmas Money Trees today and they were absolutely floored with delight!  It warmed my heart to see how happy they were with the thoughtfulness of the gift.
I know that when you make this tree for that special person it is meant for, they will really appreciate it with all their heart.
This Christmas Money Tree can be given as a Teachers Gift, a gift for kids, family or friends.  You can personalize it and make it your own!  It will be a heartfelt and memorable gift!  There isn't anything like this available anywhere, it is a one of a kind Christmas Money Tree!  A gift to remember!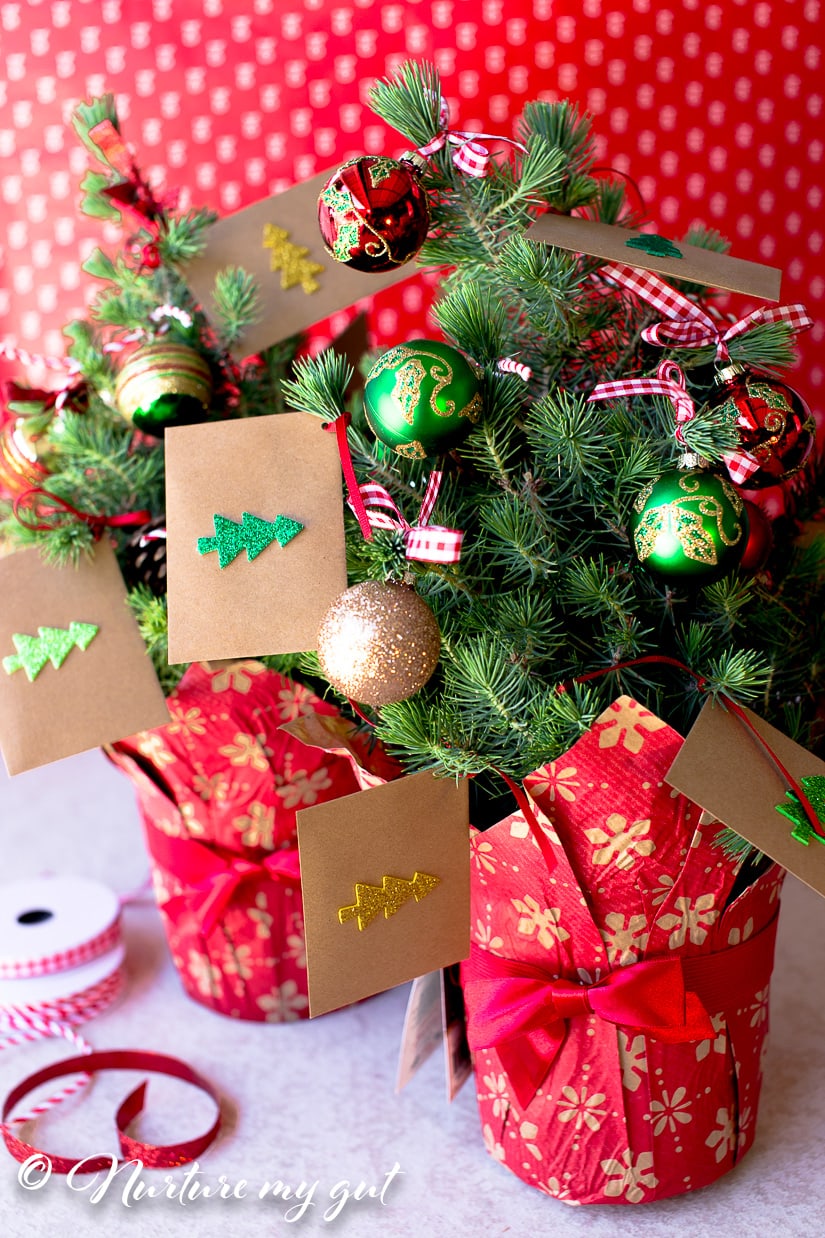 On my blog you can find the occasional holiday craft and yummy gluten free recipes.  Be sure to subscribe so you never miss a post!  You will get my delicious Paleo Breakfast ebook as my gift to you!

Latest posts by Ester Perez
(see all)