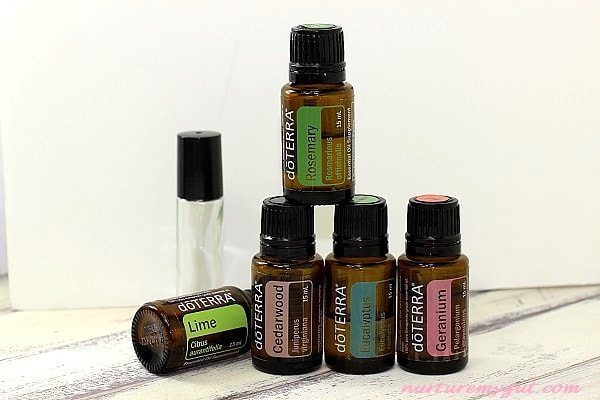 I gave up using anti-perspirants and mainstream deodorants years ago.  Anti-perspirants work by clogging, closing, or blocking the pores with aluminum salts in order to prevent the release of sweat.  Aluminum is a human neurotoxin and is known to cause nerve and tissue damage.  If you think about it, what is next to your armpits?? Yes, your breasts.  Could there be a connection between breast cancer and the use of anti-perspirants??  I prefer to be on the safe side.  On another note, sweating is the bodies natural way to cool itself down and rid itself of toxins.  If my body wants something out, why hold it in???  It does not make any sense  to block your bodies natural process of cooling down and cleansing.
What about deodorants?  Deodorants are supposed to suppress, mask or neutralize odors.  Unfortunately, most deodorants, even the natural ones have petroleum based ingredients, another No, No.  So what in the world can we wear to neutralize body odor???
My favorite recipe is an Essential Oil Deodorant.  You can carry this tiny little roller bottle with you in your purse and not only does it neutralize odors, but you will smell amazing!  This recipe is comprised of several essential oils that are all natural cleansing agents and have an uplifting aroma.  It includes Cedarwood, Lime, Eucalyptus, Rosemary and Geranium essential oil plus a little fractionated coconut oil.  If you want a more manly scent, leave out the Geranium.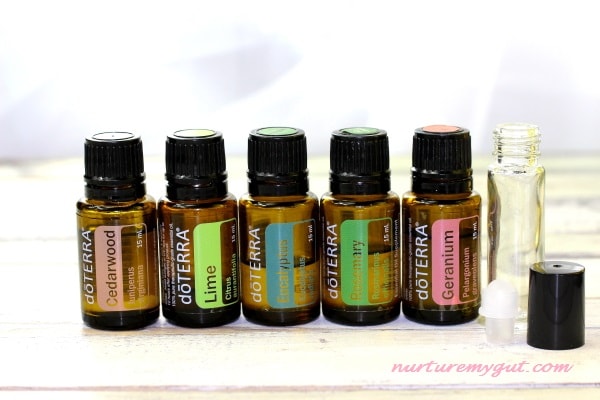 Here are some therapeutic qualities of each oil:
Cedarwood Essential Oil-historically used for purification
Lime-stimulating and refreshing
Eucalyptus-cooling to the body
Rosemary-analgesic and antioxidant
Geranium-refreshing and relaxing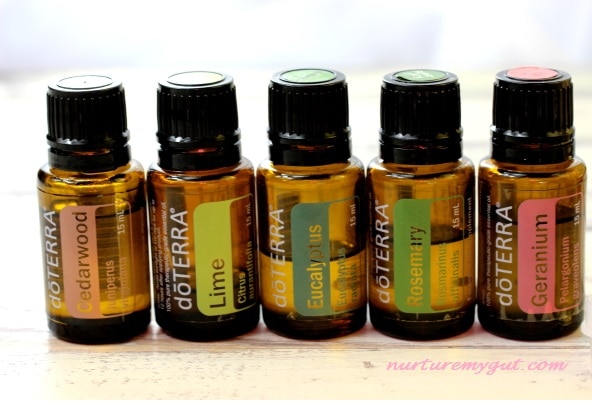 A little Tip For Getting Rid of Body Odor is I started putting a drop of Lemon and Peppermint essential oil  in my glass water bottle every morning for the last few weeks and my body odor is almost non-existent!
One thing you must know about essential oils is that not all essential oils are created equal. In fact, most of them have fillers and are not pure. When buying essential oils make sure they are certified pure therapeutic grade. If you want to order the brand I trust and personally use, you an order HERE or email me at nurturemygut@gmail.com to order or learn where to buy them.
I hope you like this recipe, if you have your own favorite homemade deodorant recipe, please share it below!
For delicious healthy gluten free/Paleo-ish meals, please subscribe below.  You will get my free Paleo Breakfast E-Book as my gift to you and new recipes straight to your inbox! 
Check out these yummy gluten free recipes:
Best Paleo Chocolate Chip Cookies
Print
DIY: Essential Oil Deodorant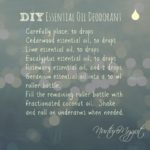 Author:
Prep Time:

5 mins

Total Time:

5 mins
Instructions
Carefully place 10 drops Cedarwood essential oil, 10 drops Lime essential oil, 10 drops Eucalyptus essential oil, 10 drops Rosemary essential oil, and 2 drops Geranium essential oil into a 10 ml roller bottle.
Fill the remaining roller bottle with fractionated coconut oil.
Snap roller ball top into place. Careful not to smash the roller ball down or you will block the outlet for the oil to release.
Apply to underarms 2-3 times a day or when needed.
I'm a loving wife, mother of two healthy children, andI am obsessed with teaching people how to make delicious and mouth-watering gluten-free/Paleo friendly foods that nurture your gut!
Latest posts by Ester Perez (see all)