This DIY St. Patrick's Day Felted Green Glitter Heart Headband is an adorable fun project that can be made in less than an hour.  These pretty sparkly hearts are painted onto felt with glitter glue so your hair won't get a bit messy.  It will surely keep you or your daughter pinch proof on St. Paddy's Day.  Let me show you how fun and simple it is to make this headband.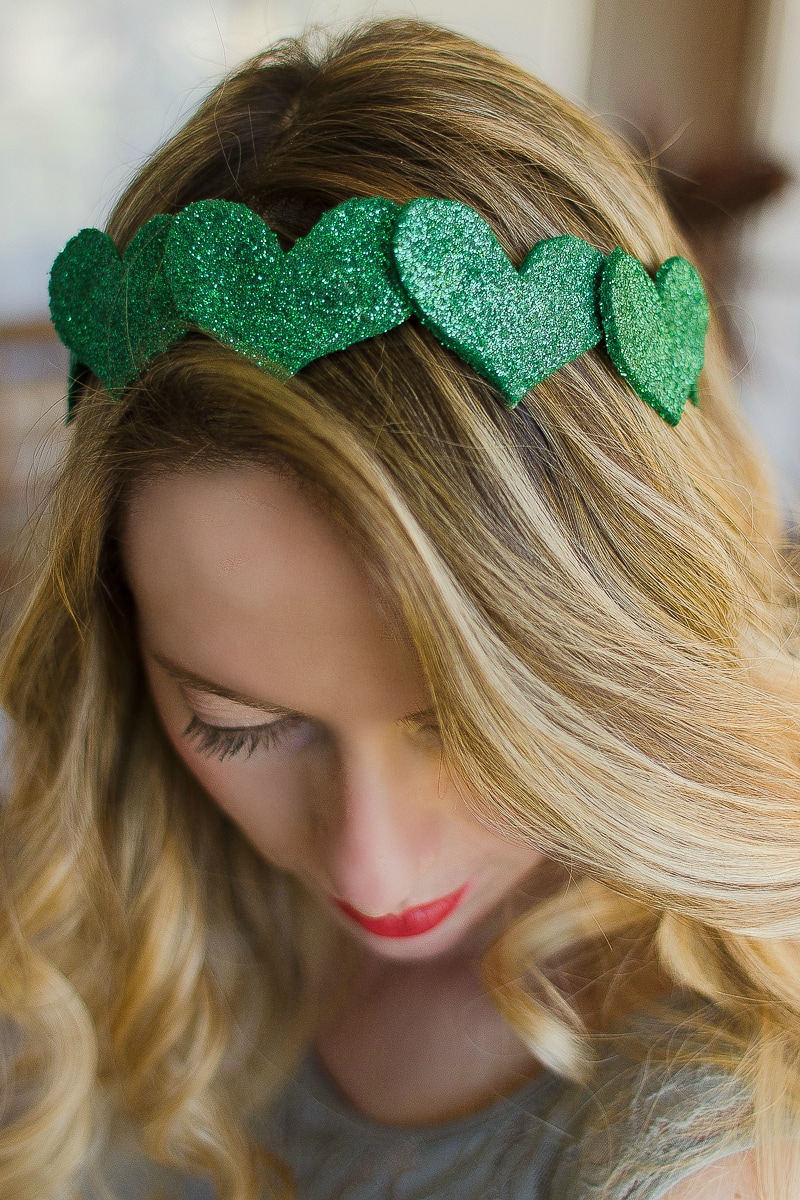 Supplies needed for DIY St. Patrick's Day Felted Green Glitter Heart Headband:
(This post contains affiliate links for your convenience. Click here to view my full Disclosure Policy.)
2 sheets of green felt with adhesive backing
double sided tape
scissors or sewing shears
hot glue gun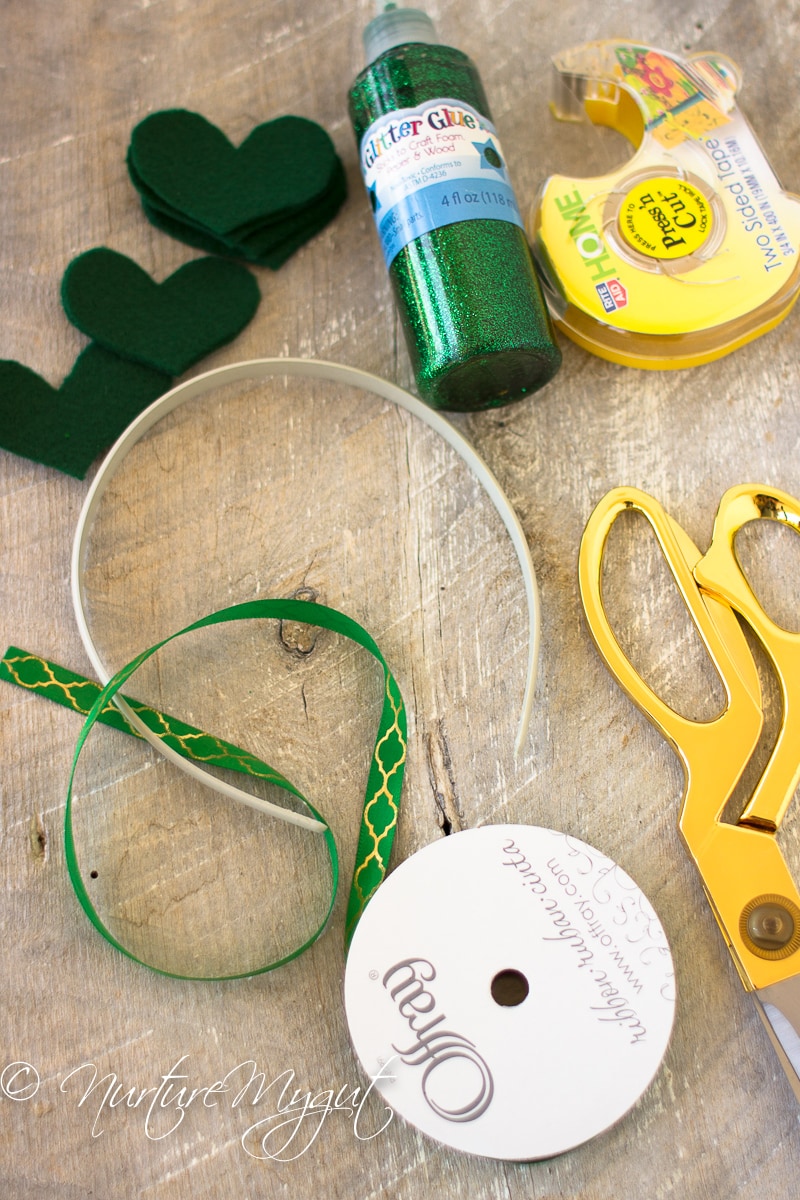 Step 1:
place double sided tape on each end of headband and place a small piece of ribbon over both edges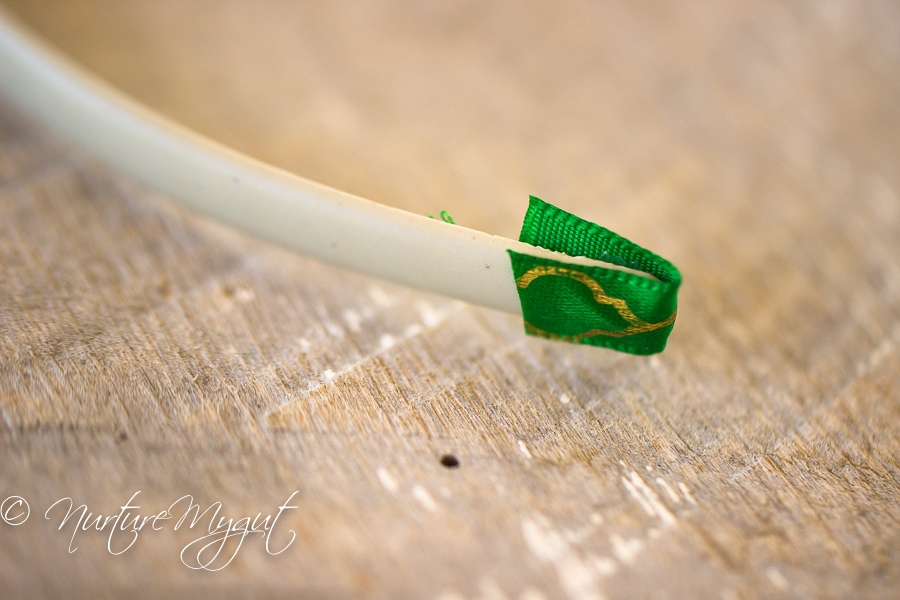 Step 2:
wrap ribbon tightly over headband at a slight angle.  Keep placing pieces of double sided tape onto plastic headband so it keeps ribbon in place when wrapping.  Continue till the end.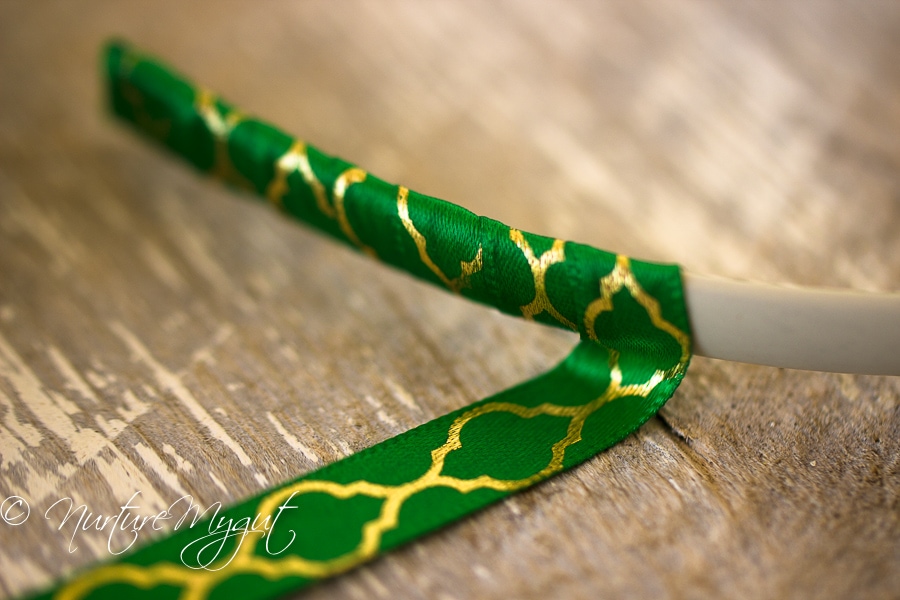 Step 3:
Leave a small piece of ribbon when you get to the end and place a small drop of hot glue on inner edge of headband and wrap ribbon.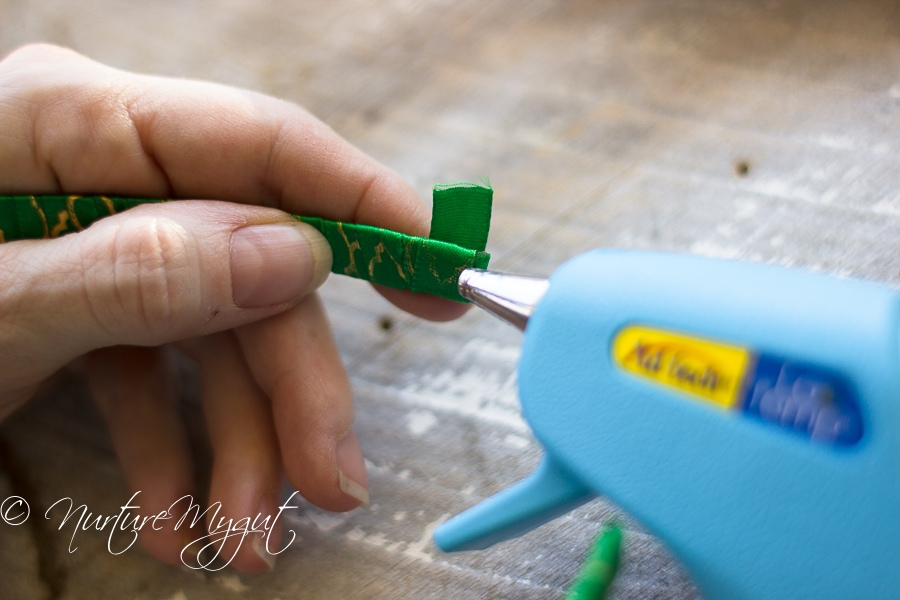 Step 4:
Seal edge over and headband should be fully covered in ribbon.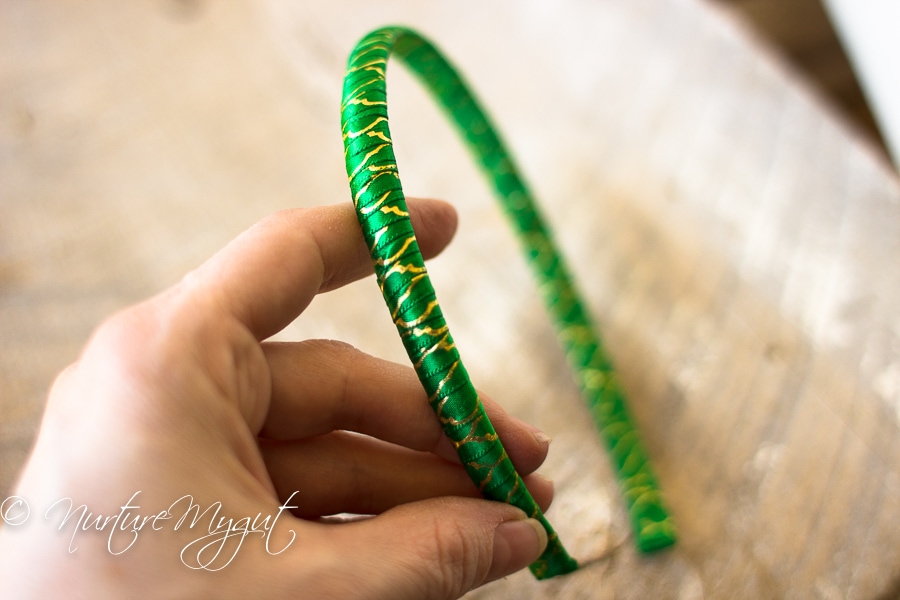 Step 5:
Measure headband onto head and measure where top of ears end.  This is where your hearts will end.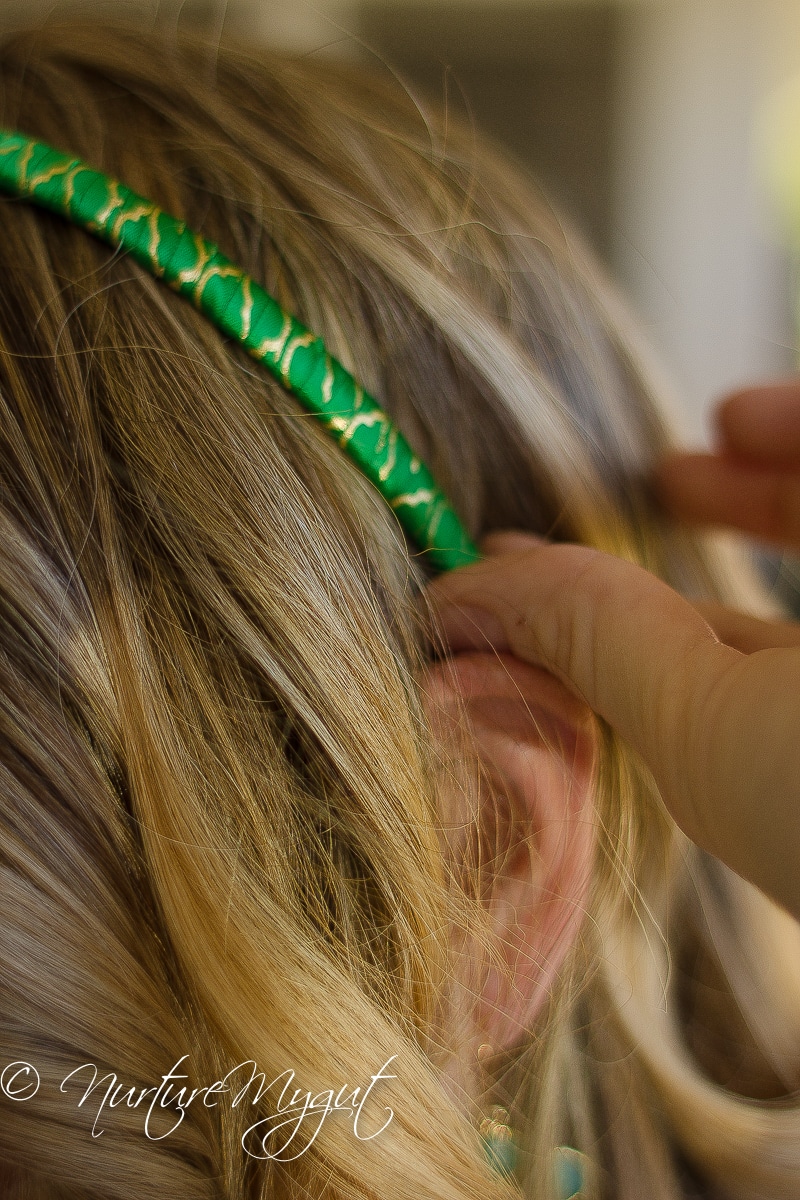 Step 6:
 I stuck two green sheets of green felt together that have adhesive backing and cut out 6 equal sized large hearts. You can make 6 large hearts or 12 small hearts.  Lay them out on a paper plate or sheet of paper.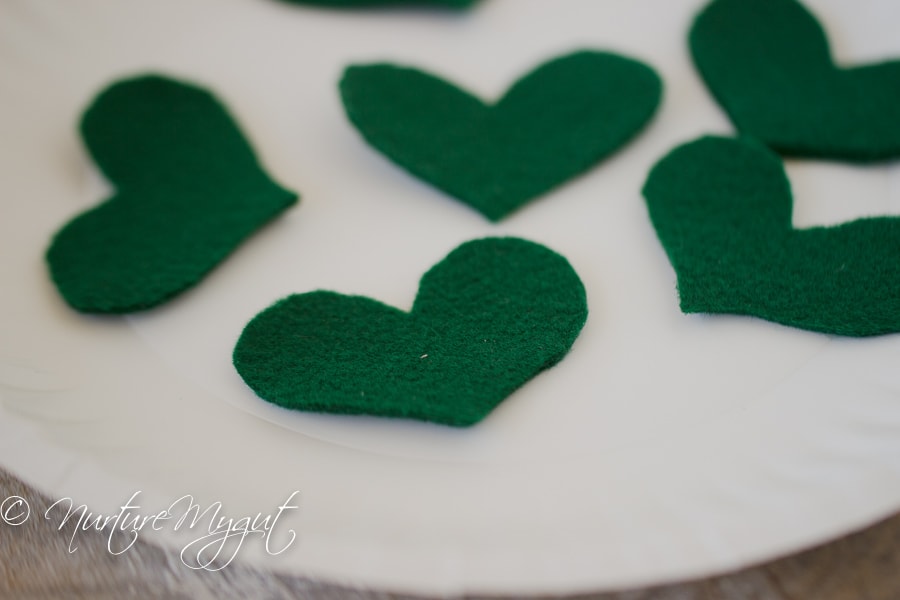 Step 7:
Create a visual layout of how you want the hearts to look.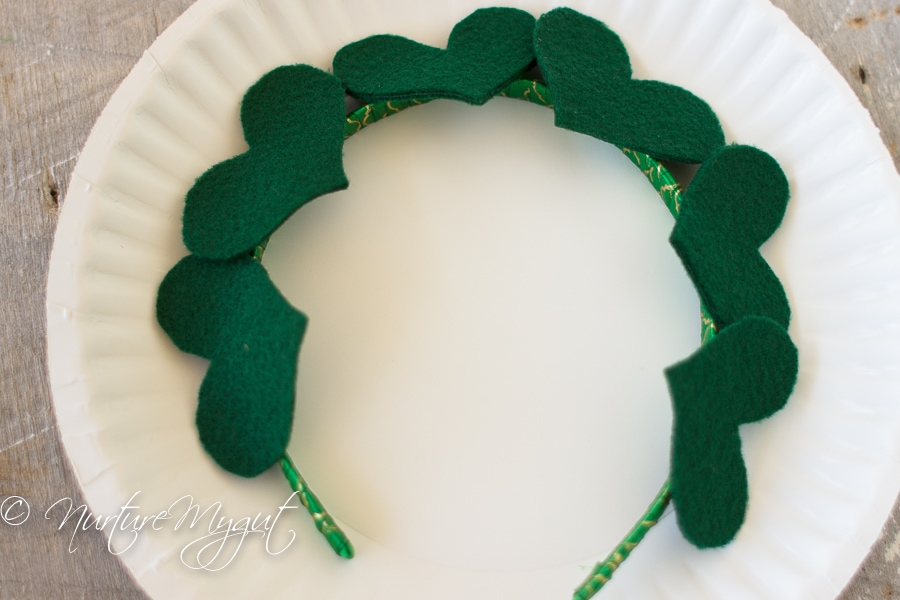 Step 8:
Place a large drizzle of glitter glue on a heart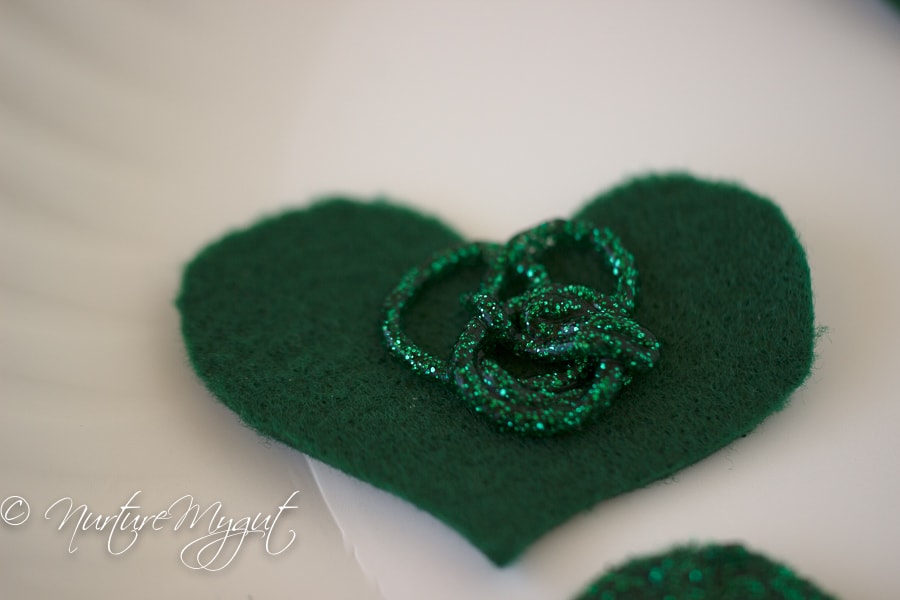 Step 9:
Using a paint brush, spread glue around.  You can hold the heart in place with a toothpick so your heart does not slide all over the place.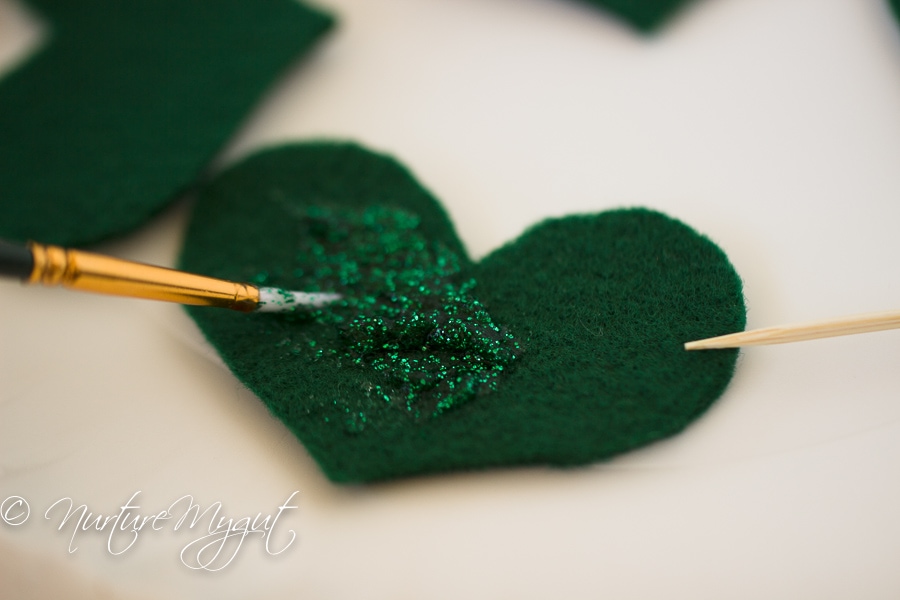 Step 10:
Repeat with remaining hearts.  Dry with a blow dryer until the glue is dry, about 15-20 minutes or allow to dry overnight.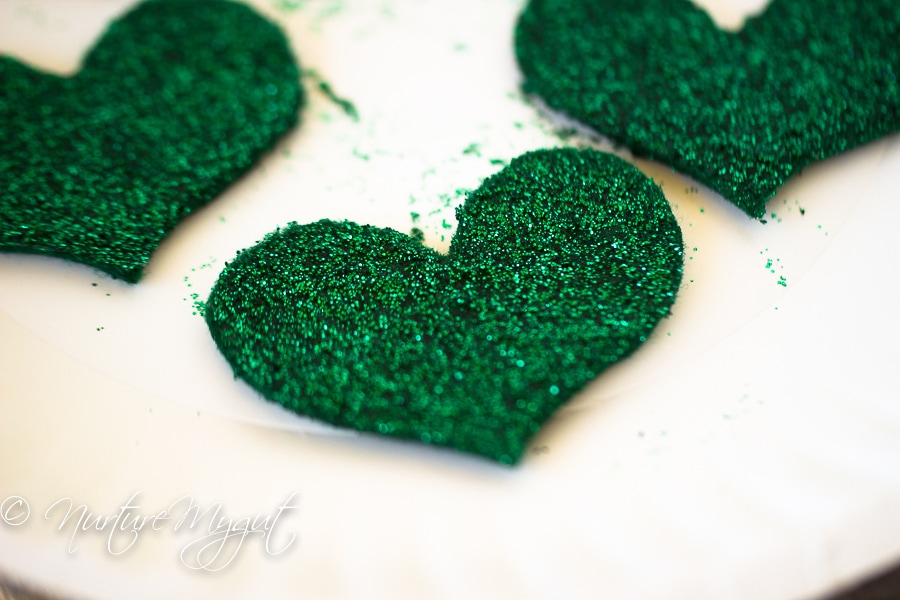 Step 11:
Add hot glue onto headband above area where ear ends.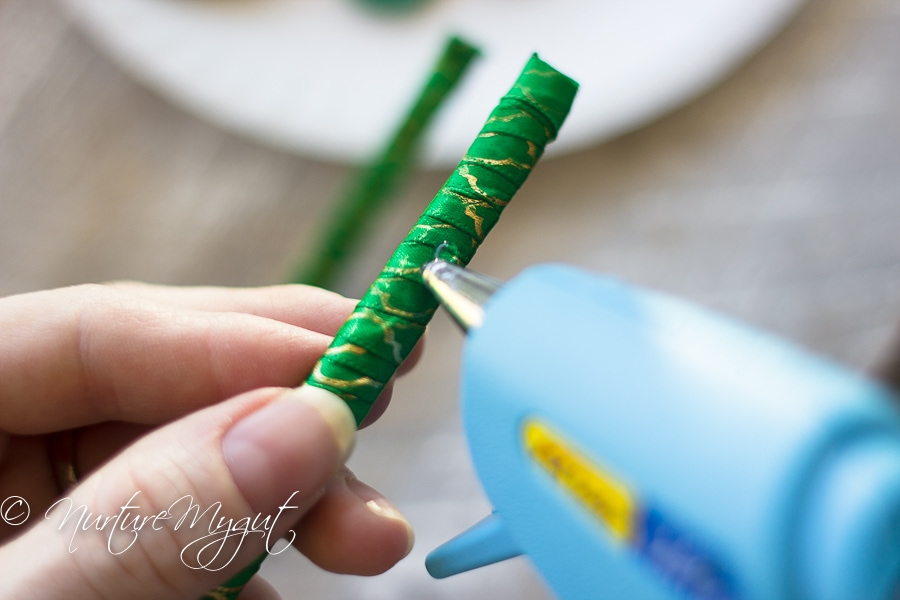 Step 12:
Place heart on hot glue and press to adhere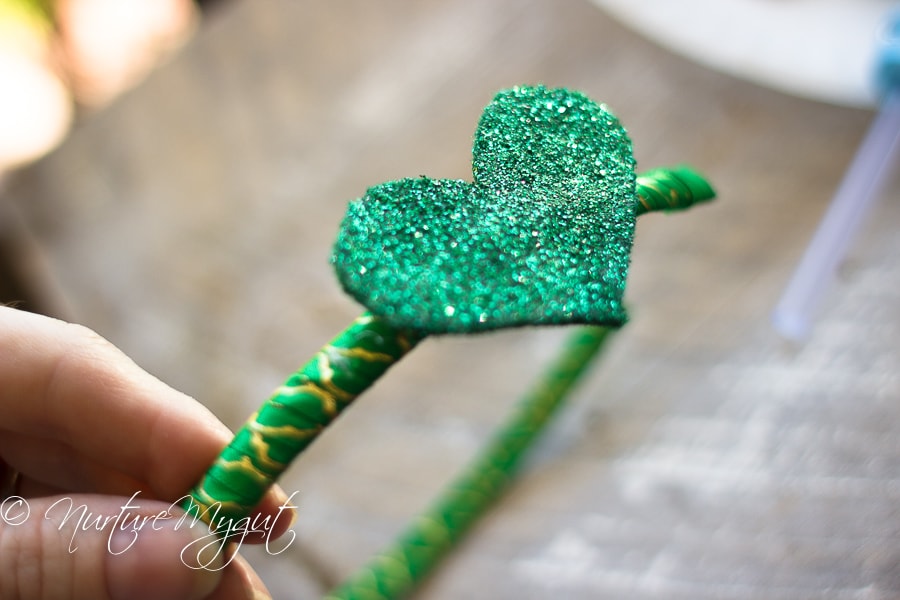 Step 13:
Repeat with other side and make sure hearts are facing in the same direction.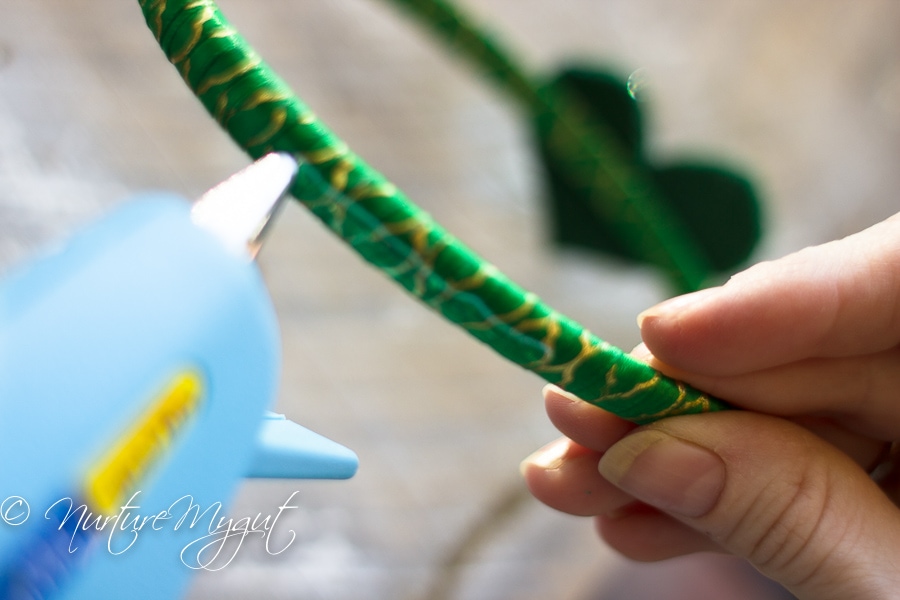 Step 14:
Repeat with remaining hearts.  Be sure to glue them evenly across headband.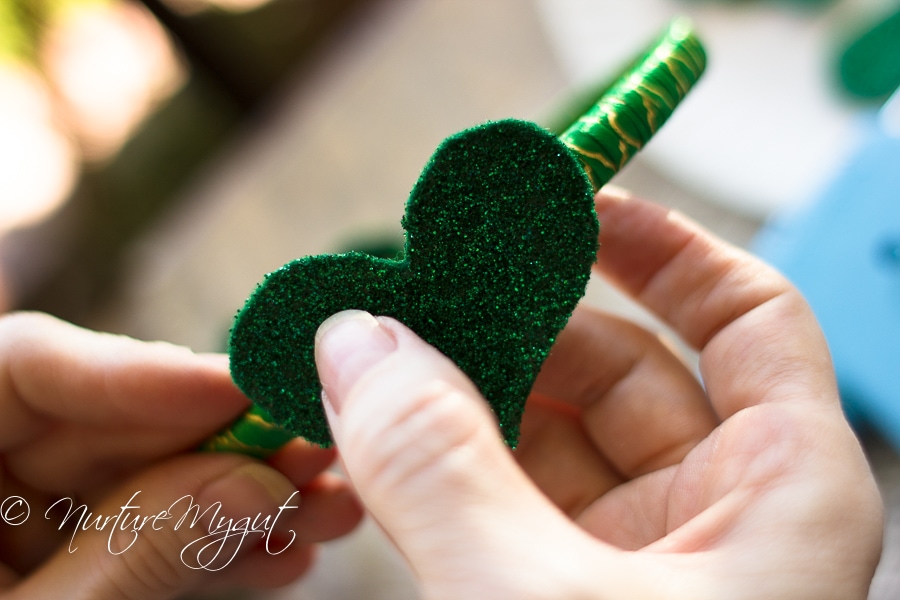 You can overlap your hearts if they are large like mine is.  They look really pretty overlapped.  If you wear it with the tips of the hearts toward your face, it looks like a crown…just like a princess!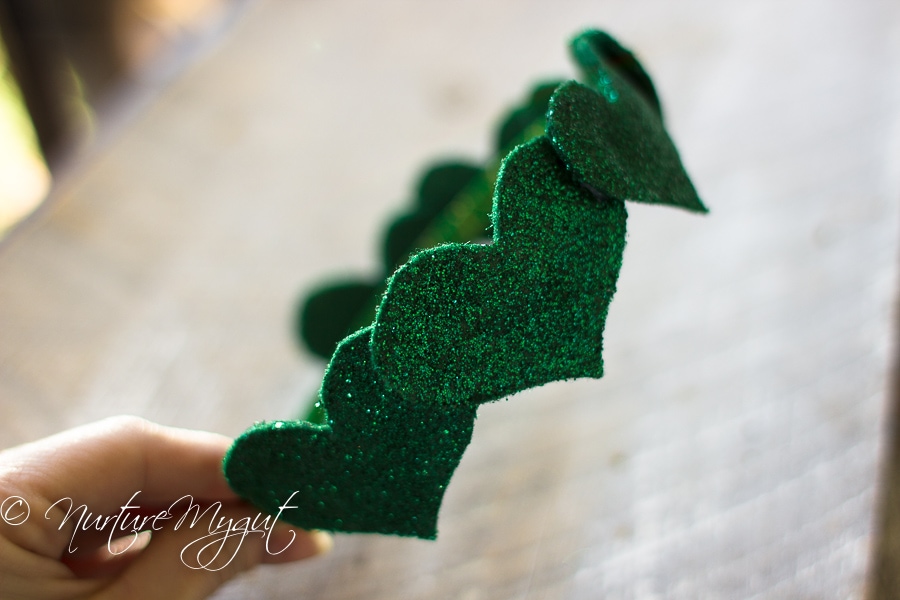 This DIY St. Patrick's Day Felted Green Glitter Headband was a really fun thing to do!  This is my first craft project on Nurture My Gut and I hope that you enjoy it as much as I do!  If you did not know already, it is National Craft Month in March and a great time to get crafty!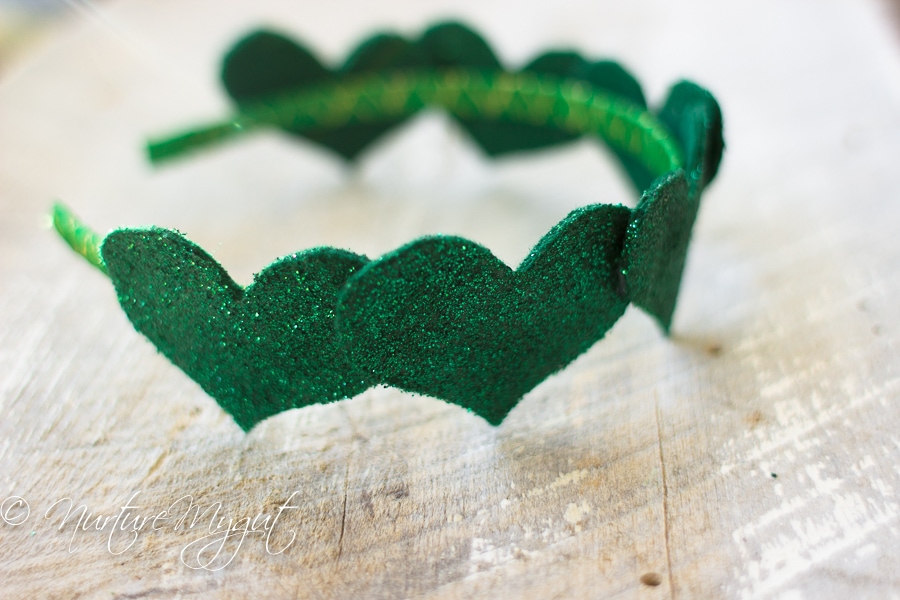 Be sure to make this DIY St. Patrick's Day Felted Green Glitter Heart Headband to keep you pinch proof from those sneaky Leprechauns!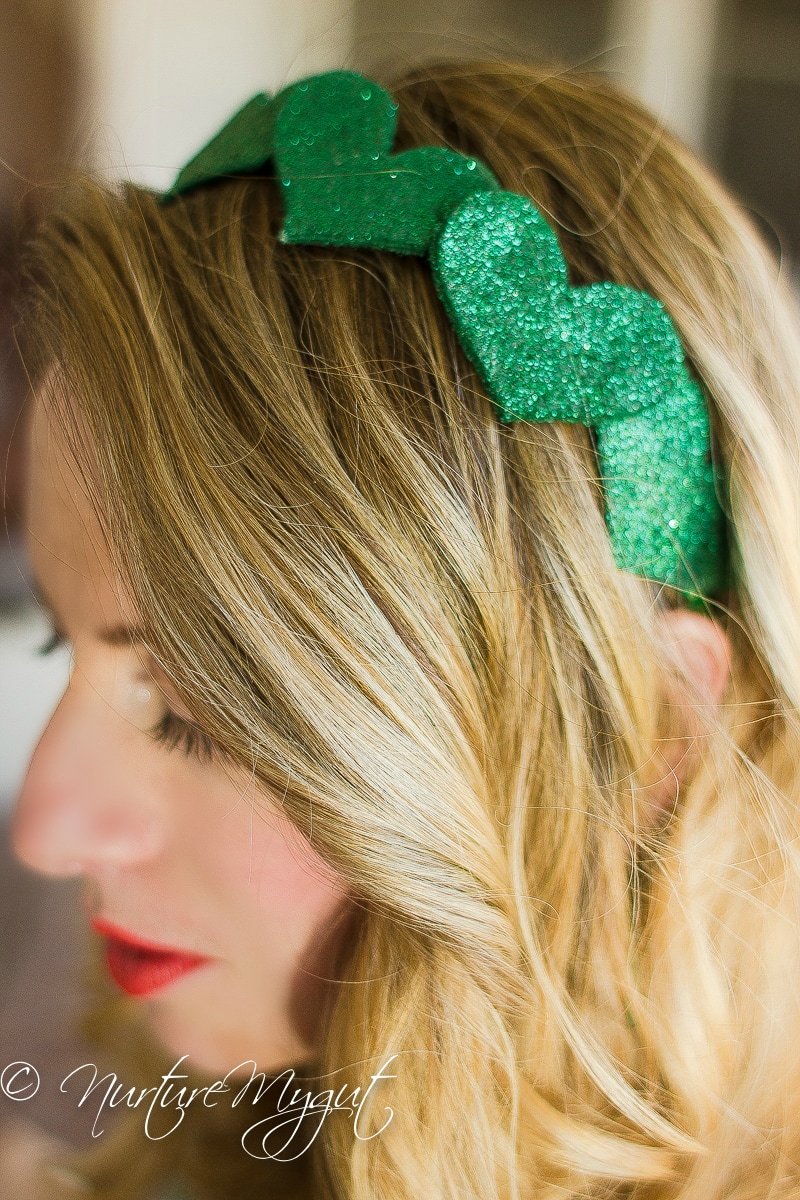 Latest posts by Ester Perez
(see all)