This Easy and Effective Home Remedy for a Dry Persistent Cough has been used in my household for the last 6 years.  Your Grandmother may have told you about this remedy when you were a child.  Unfortunately, many of us forget these simple, easy remedies.  We just used this remedy last week and sure enough, it still works!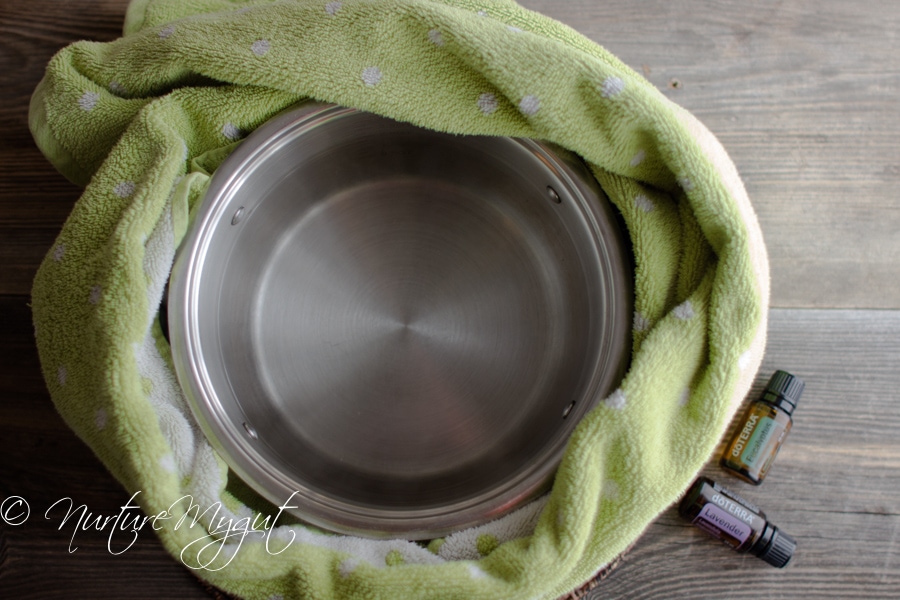 Let me explain how I found out about this remedy for a dry persistent cough.
When my daughter was a toddler, she started getting dry coughs around winter time.  They were mild during the day and got worse at night.  We tried everything we could.  From medical intervention to natural intervention.
We took her to the doctor and used cough syrup, Tylenol, vapor-rub, not to mention all the natural cough remedies and all with very little relief.  At one point, her cough lasted 3 months!  Her pediatrician said coughs can last that long!  I thought that was absurd!  A cough lasting 3 months!  You can only imagine how little sleep we were all getting with her waking up every 3 hours coughing for 15-20 minutes at night.  During her coughing fits, my dear husband would pat her on the back for 20 minutes until she fell asleep.  It was a rough 3 months!
One day, I decided to take her with me to Hot Bikram Yoga.  She had finally turned 4 years old and I thought, well maybe yoga will do her some good.  The room gets between 95-105 degrees Fahrenheit but it is humid hot.  You sweat a lot!
She did the last 30 minutes of Bikram Yoga, the floor series which is what is recommended for young children starting out a Bikram Yoga practice.  She really enjoyed it and for the first time in months, she did not cough through the night.  Oh what a relief it was to finally get a good nights sleep!  I brought her back several times to Bikram yoga and her dry cough cleared up for good, at least till next year.
(This post contains affiliate links for your convenience. Click here to view my full Disclosure Policy.)
Sure enough, the next year she had the cough.  I brought her back to Hot Bikram yoga and her cough cleared up quickly, but I started to wonder, how can I duplicate the benefits of the hot yoga at home?  She was in school and it was tricky getting her to a class.  I wondered, what was it from the yoga that was helping her get better.
After putting a lot of thought into it, I thought it must be the hot steam that is helping her cough.  So I decided to create a similar environment at home.  It was remedy for dry cough experiment 101.
Together, we made a fort with chairs and blankets and put a hot vaporizer inside the fort.  I even added a nice diffuser with lavender and eucalyptus essential oil for an added therapeutic benefit.  I put a little portable DVD player inside the steamy fort so she could sit still and watch a movie.  When the fort was nice and steamy, had her go in.  I gave her a water bottle with some electrolyte water to stay hydrated and had her sit in there for 30 minutes, just like the yoga.  I sat in there with her to make sure she was not too close to the vaporizer, didn't get too hot and to keep an eye on her.
This absolutely did the trick!  The steam tent worked just as good as the Hot Bikram Yoga!  I repeated the steam tent remedy for her dry persistent cough twice a day for a few days until her cough cleared up.  She got excellent results!  The only downside is that the blankets used will get wet due to the steam so they need to be laid out to dry.
Now that she is almost 10 years old, I have simplified the remedy for a dry persistent cough even more, which is probably what your Grandma used to do.  I also use this remedy myself for head colds and it works wonders for decongesting.
Easy and Effective Home Remedy for a Dry Persistent Cough
First, I boil a small pot with water.
Next, I place the pot of boiling water on a large coaster on my dining table.
Next, I add two drops each of lavender and eucalyptus oil.
Then, I drape a towel around the pot so it reduces the risk of getting burned by the pot.
Next, I drape a large bath towel over my head and inhale through the mouth.  I make sure to not put my face too close to the steam.  I put my arms up holding the towel up on both sides and allow a little bit of steam to escape.  For my daughter, I have her sit under this steam tent for 5 minutes, for myself, I sit under for about 10-15 minutes.  If you are congested, be sure to keep tissues nearby because your nose will start to decongest and drain.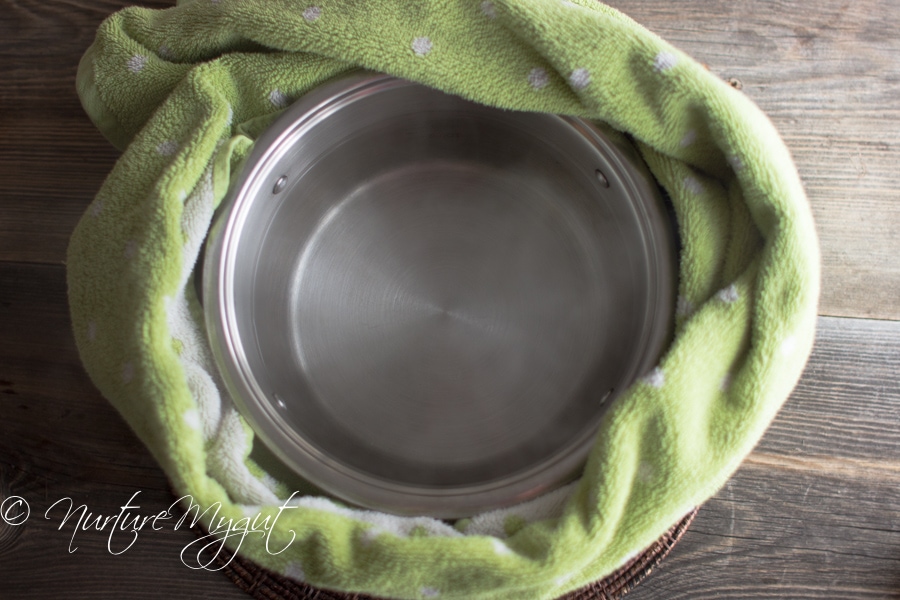 (Photo above: I placed the coaster on table and a towel around pot to prevent getting burned by the hot pot)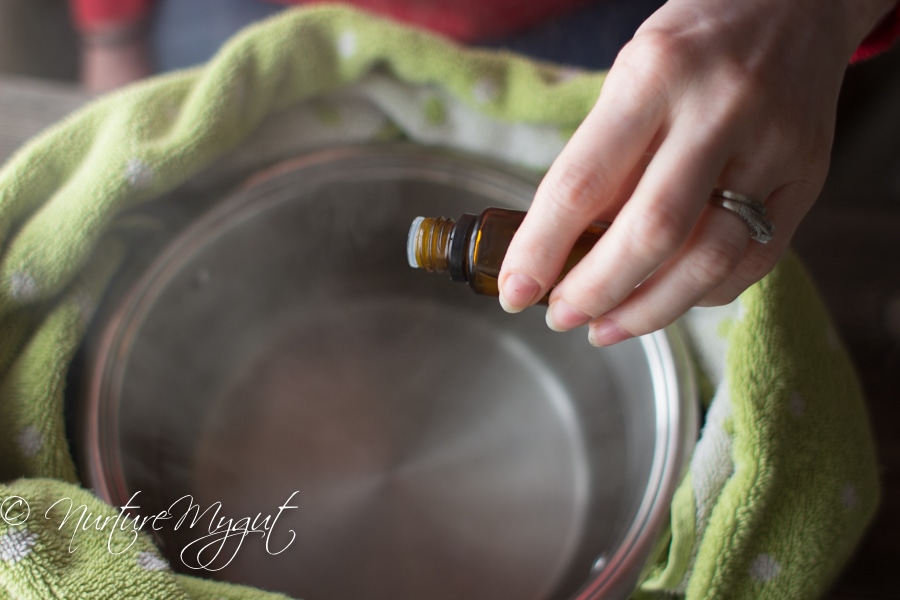 (Photo above: Place 2 drops each of lavender and eucalyptus essential oil into the steaming hot pot of water.)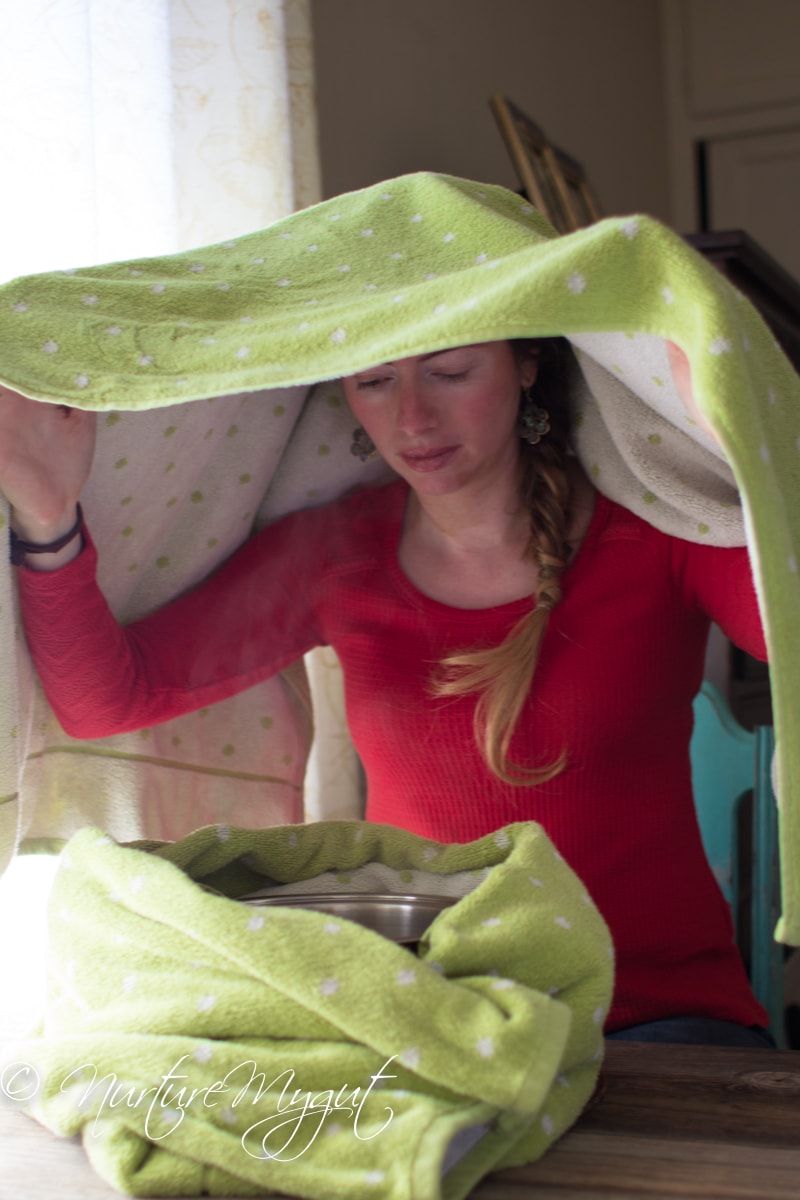 (Photo above: Drape a large towel over your head and keep your arms up so you create a tent and steam does not burn your face.)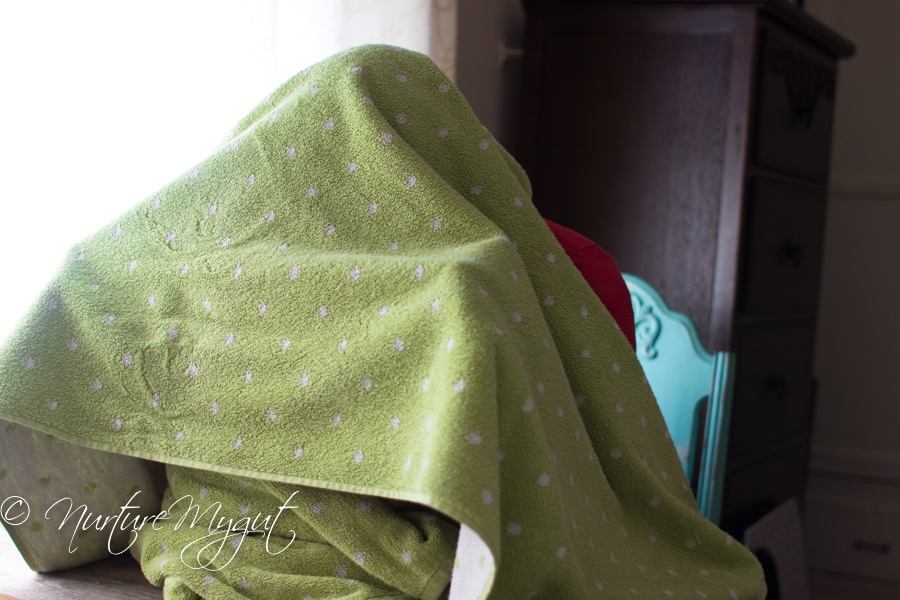 (Photo above: Lower down to create a mini steam tent.  Breathe in through your mouth for a dry cough and in through your nose if you have a head cold.)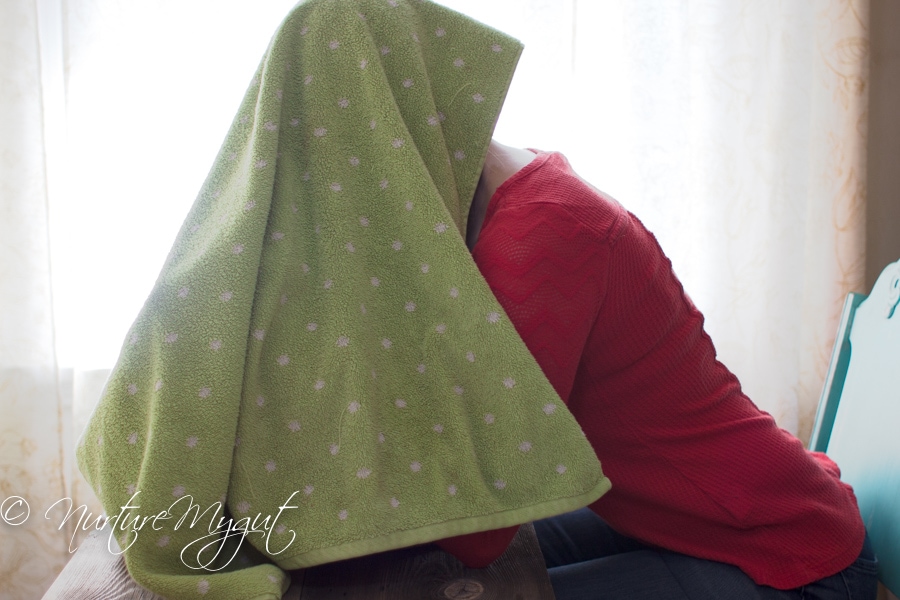 (Photo above: Be sure to place elbows on table to rest and keep arms and fingers straight to create a tent.  Allow a small amount of steam to escape from the sides of the towel so the steam does not burn your face. Breathe and relax for 10-15 minutes.)
Your Grandmother may have done this for you as a child.  It is a well-known remedy to boil water, add eucalyptus leaves , put a towel over your head and inhale.  That would work great too.  It is mainly the steam that will help loosen the dry mucus so you can have a wet productive cough.  Nevertheless, adding either fresh eucalyptus leaves or essential oils will have added therapeutic benefits.
Last year, my sister called me miserable with a dry persistent cough that had lasted for over two weeks.  She had not slept and was at the end of her rope.  I came over, made her a pot of boiling water.  Dropped some essential oils in of Lavender and Eucalyptus and made her a little tent as described above.
She sat under the steam tent for about 10 minutes and felt instant relief!  I told her to keep doing the steam tent 2-3 times a day until her cough cleared up.  She called me the next day and told me she slept through the night without coughing!  She kept up with her steam tent and sure enough, her dry persistent cough was gone in a few days!
Please let us know how this easy and effective home remedy for a dry persistent cough has helped you.
Please note that this article is not intended to treat, cure or diagnose any disease.  This is a natural remedy that has worked for my family, friends and health coaching clients for relieving a dry persistent cough.  It is always best to go to a doctor first to get a diagnosis to make sure that there is nothing more serious going on.  When my daughter has a cough, we always get her tested to make sure she does not have strep throat, which can be extremely dangerous if left untreated.  Please be extremely careful with using hot steam around young children.  When my kids were young, I did not let them sit near the hot steam vaporizer, I supervised them at all times.  Also, I do not recommend using the pot method for squirmy young children.  My daughter is very mature, sits still and I sit by her to supervise while she is doing the hot steam tent remedy.  I cover the pot with a towel so she does not burn herself.  I set the timer for 5 minutes and then remove the towel from her head, have her carefully get up and I remove the pot carefully from the table.  Please use extreme caution with any of the above remedies.
For healthy gluten free recipes and natural remedies, please subscribe below.  You will get my free Paleo Breakfast E-Book as my gift to you.

Latest posts by Ester Perez
(see all)