Easy Instant Pot Steel Cut Oats-a fast and delicious nourishing breakfast that takes only 2 minutes of prep time! This fool proof recipe will guarantee a creamy and delicious oatmeal that the whole family will love!  Gluten free, vegan and whole grain!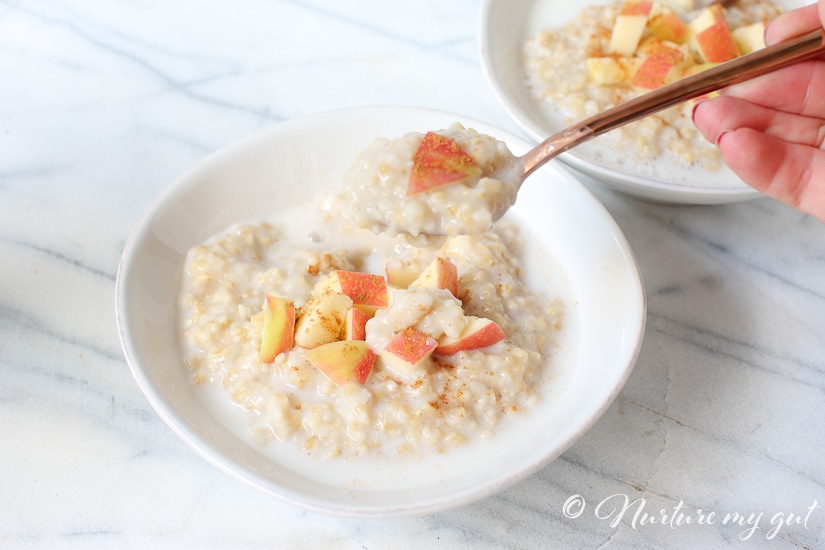 If you are a busy parent with young children like I am, then you know that the morning routine can be pretty hectic.  Getting a fast AND healthy recipe for breakfast is not typically easy…until NOW!
The Instant Pot has truly been a game changer for me!  I can whip up recipes with only a few minutes prep time, including this fabulous easy Instant Pot Steel Cut Oats recipe.
(This post contains affiliate links for your convenience. Click here to view my full Disclosure Policy.)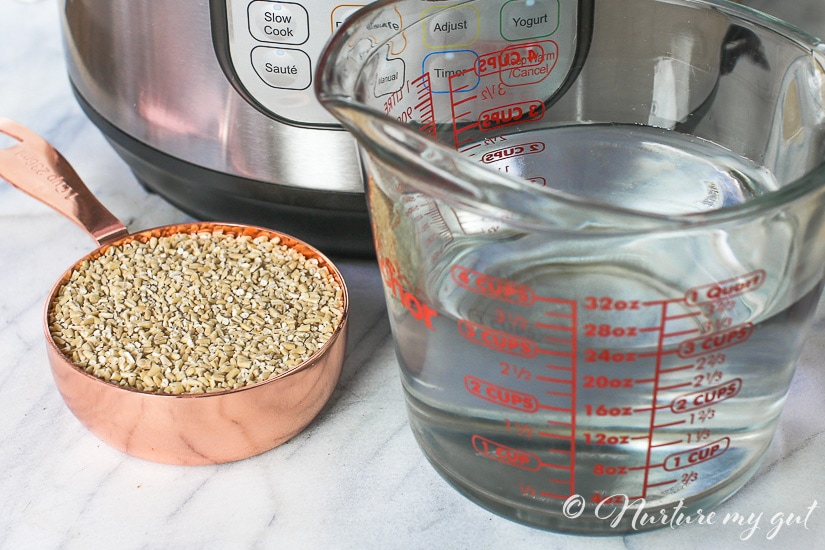 This recipe needs only 2 simple ingredients, gluten free steel cut oats and water.  It's that simple!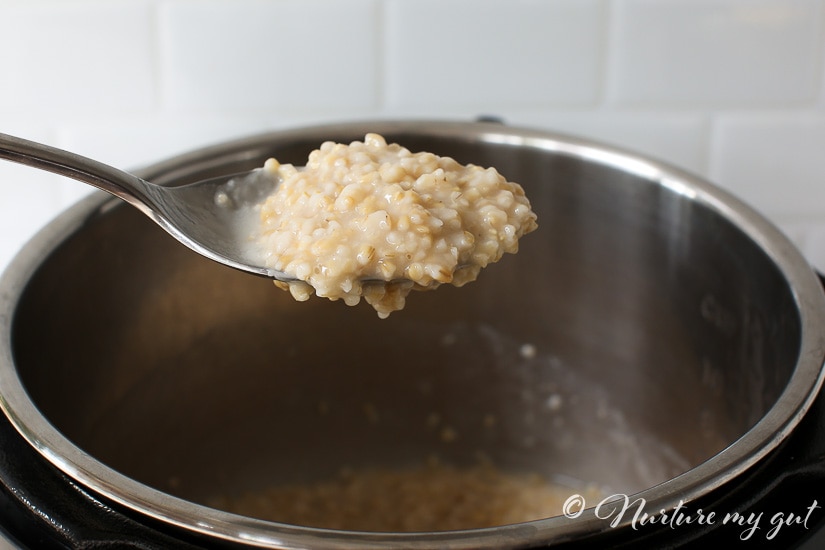 This Easy Instant Pot Steel Cut Oats Recipe has become a "WEEKLY STAPLE" in my home.
I prefer to make this Monday mornings when no one wants to get out of bed, you know what I mean right? The alarms go off, I tell the kids it's time to get ready for school and I hear crickets…yeah, you know those days.
To be honest with you, I don't even want to get out of bed Monday mornings.  So what I do is set my alarm for 7am, head to the kitchen and in 2 minutes, I have prepped breakfast!
I go and snuggle with each child for a bit and when my Instant Pot beeps, I go and chop some apples or bananas, get the almond milk, cinnamon, bowls, spoons and sweetener ready.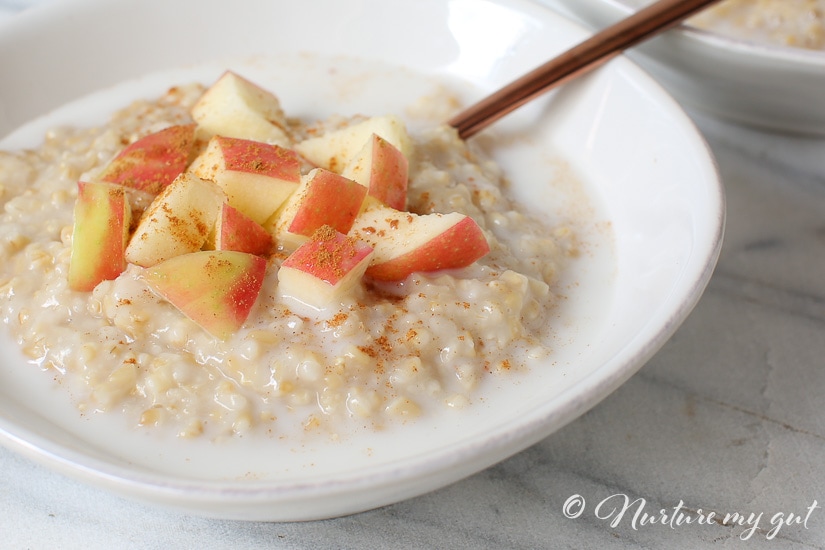 After 5 minutes, I release the pressure, open the lid and there I see the most PERFECT INSTANT POT STEEL CUT OATS!
I give the oatmeal a stir, pour it into each bowl, top it with cubed apples, cinnamon, almond milk and sweetener.
This Easy Steel Cut Oatmeal is creamy, nourishing and comforting!  It is full of fiber, potassium, magnesium and iron.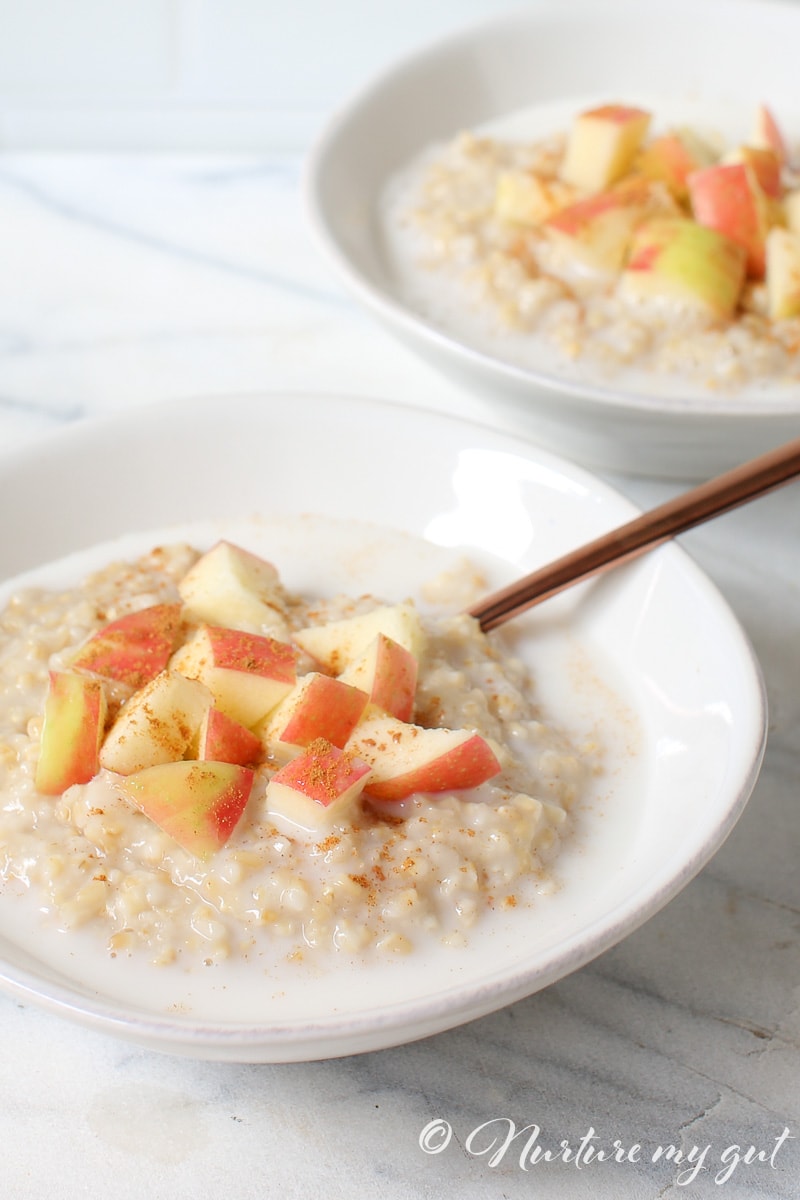 This recipe is absolutely effortless although it looks like you have been stirring away at the stove all morning!
Just be sure to turn off the Instant Pot after you serve because the oatmeal will dry out if you leave it on the warm setting all morning.
Once your oatmeal cools, store it in a sealed container in the fridge for up to 4 days.
I know you will love this Easy Instant Pot Steel Cut Oat Recipe as much as my family has.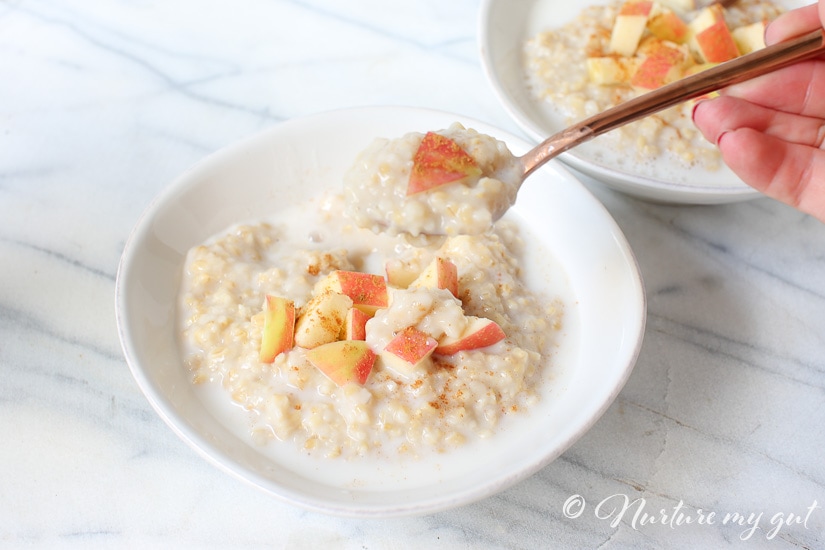 For more delicious breakfast recipes, check out my top breakfast recipes:
Gluten Free Oatmeal Breakfast Cookies
If you try this recipe, let me know what you think! Leave a comment, pin it, and don't forget to tag a picture @nurturemygut on Instagram. I love to see your kitchen skills in action!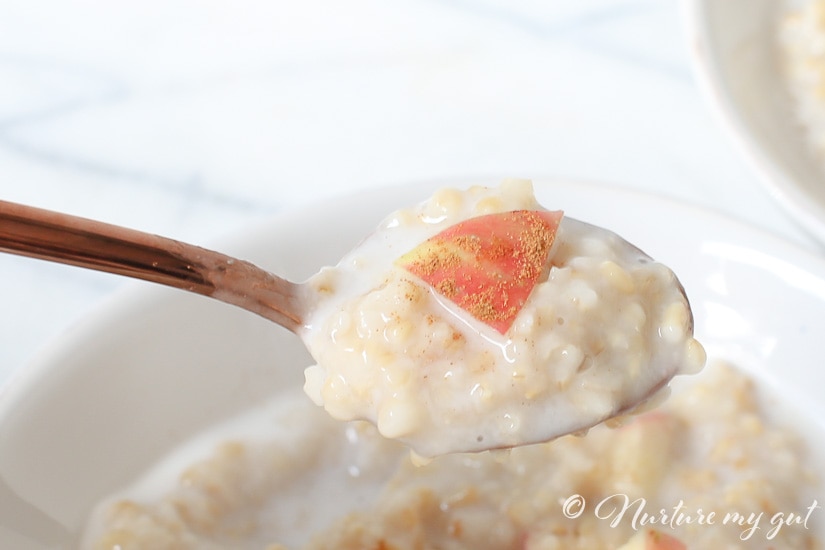 For more delicious healthy gluten free recipes, please subscribe below.  You will get my free "Instant Pot Soups/Stews & More E-Book" as my gift to you and new recipes straight to your inbox.
Print