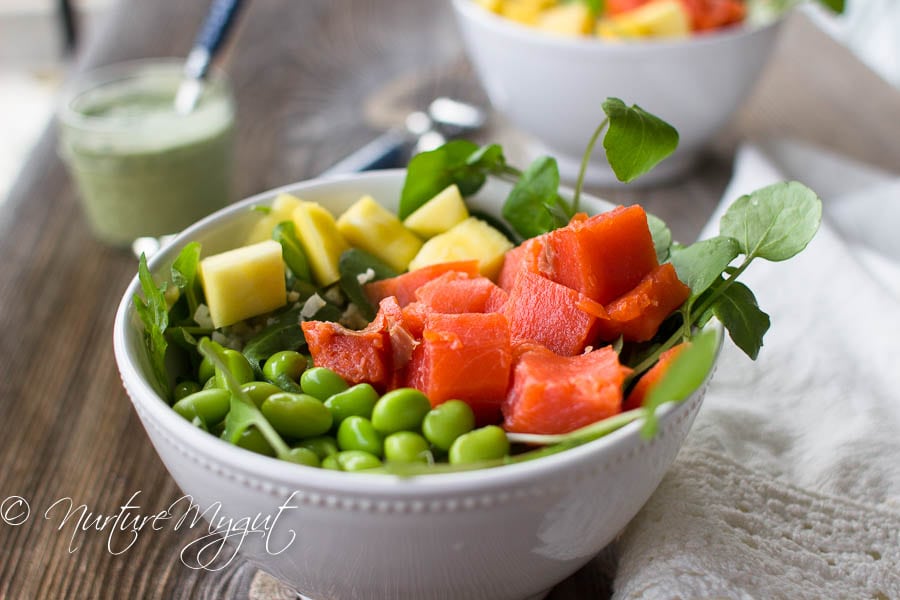 This Easy Smoked Salmon Poke Bowl with Cilantro Cream Dressing is a quick healthy meal made in 10 minutes or less.  Follow these simple steps to create your own colorful DIY Poke bowl.  It is made with gently sauteed cauliflower rice tossed in arugula, watercress, mango, edamame, smoked salmon and a vibrant dairy free cilantro cream dressing that gives a hint of sweetness to bring all the flavors together.
This Easy Smoked Salmon Poke Bowl with Cilantro Cream dressing is free from gluten, dairy, grains and corn.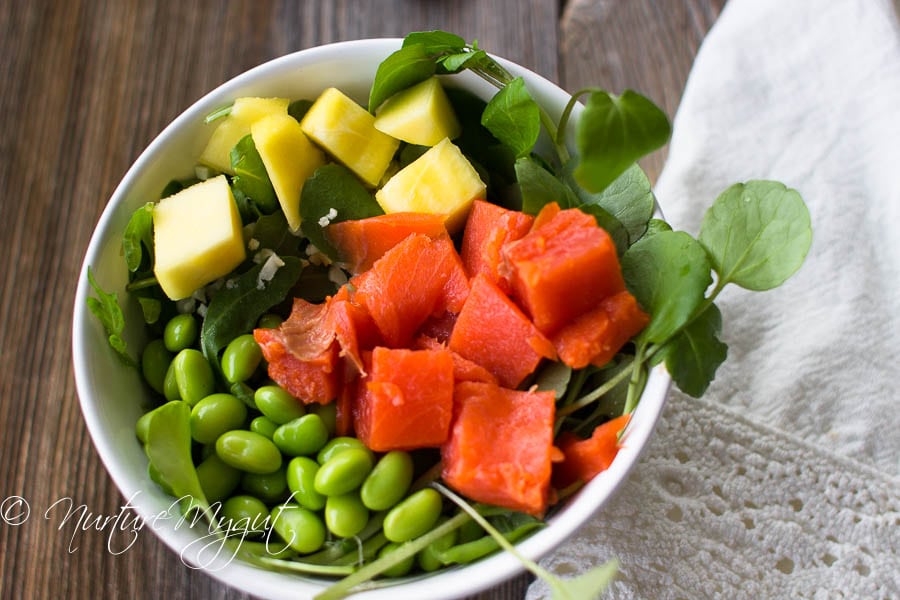 Poke Bowls, pronounced "POH-keh" have been a staple in Hawaii for centuries.  They have become very popular in Southern California so I decided to give them a try.  I went to my local Poke Shop to see what all the rage was.  There was a long buffet of cubed fruit, pretty cut veggies, a variety of dressings, different types or sushi grade fish or ceviche and a base of grains or leafy greens.
I ended up going with a leafy green base, some ceviche scallops, raw salmon, cubed mango, edmamae, avocado and a miso dressing.  It was all very yummy!
I got very inspired by this meal and wanted to create something simple, fresh and healthy at home.
How to Make a DIY Poke Bowl
Create a Base:
You can use leafy greens, quinoa, brown rice or steamed rice.  I decided to use cauliflower rice to make it grain-free and extra nutritious along with arugula and watercress.
2. Add Veggies, Edamame or Avocado:
Any veggie you like can be used.  I used edamame.
3. Add cubed Fruit
cubed mango or pineapple are traditionally used in Poke Bowls.  I added cubed mango.
4. Add Protein:
Traditionally, very fresh raw salmon or ahi tuna is used.  I used smoked salmon.
5. Dress it up: 
Traditionally a drizzle of shoyu and sesame seeds was used, but now, Poke Shops have Green Goddess Dressing, Sweet Miso, wasabi aioli and many more!  I made a dairy free version of Green Goddess.
(This post contains affiliate links for your convenience. Click here to view my full Disclosure Policy.)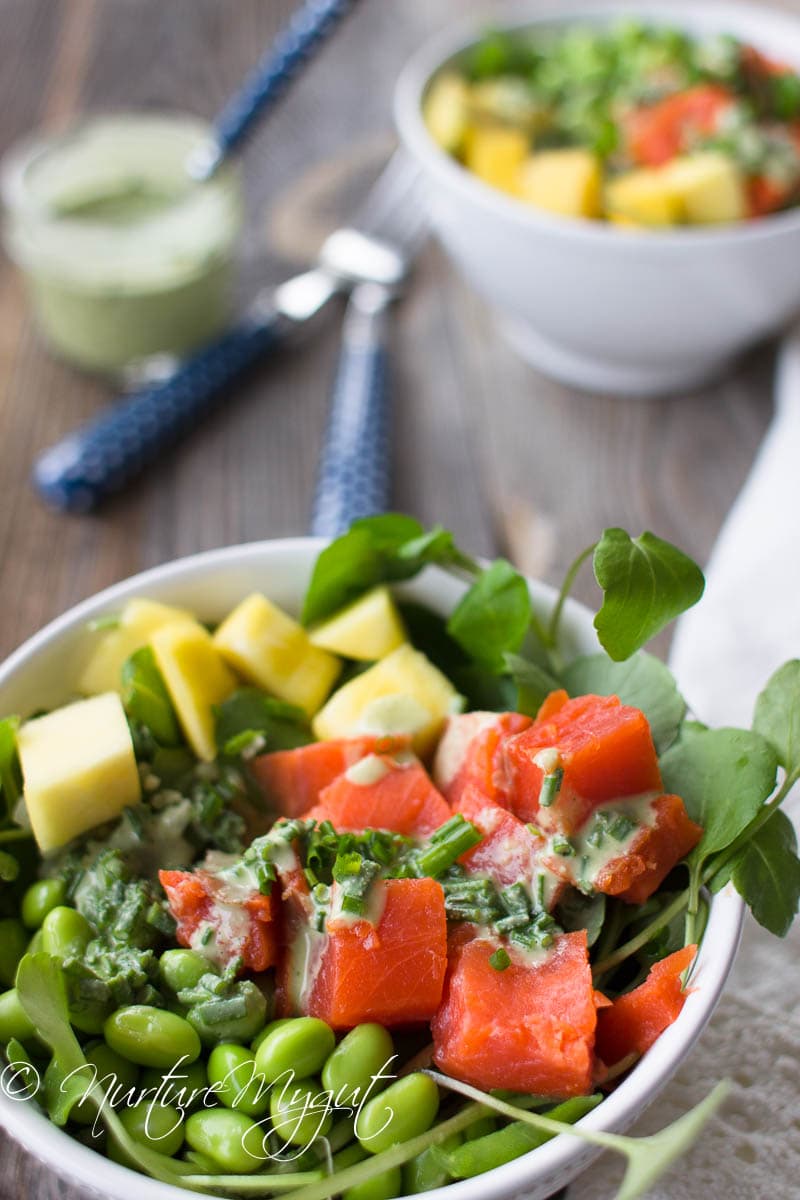 To create the Cilantro Cream Dressing, I whipped up some raw cashews, full fat coconut milk, fresh lemon juice, garlic, date syrup, cilantro and salt in a Vitamix.
A mini prep food processor would also work in this recipe but I would suggest soaking your cashews in hot water for 30 minutes to soften them up.
Just blend all ingredients for 30 seconds on high and you have a perfect dressing for this yummy Poke Bowl.  I then folded in some chopped chives for added flavor, but honestly, it is amazing even without the chives!
Isn't this a healthy and easy recipe you can whip up for lunch?
Ever had a Poke Bowl?  I would love to hear what are your favorite ingredients!
Be sure to subscribe below to get the next recipe straight to your inbox!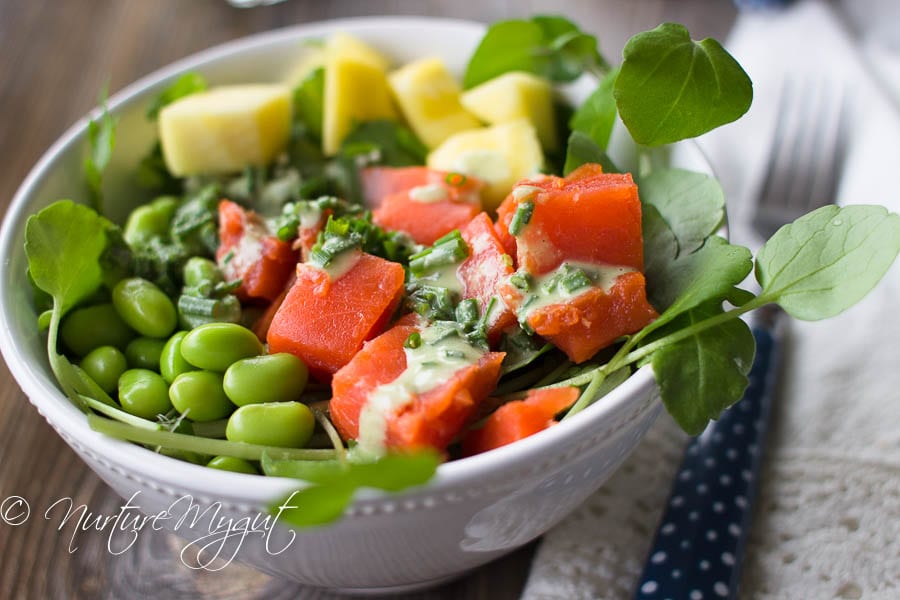 Print
Easy Smoked Salmon Poke Bowl w/Cilantro Cream Dressing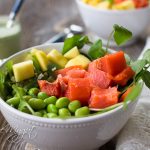 Author:
Prep Time:

4 mins

Cook Time:

1 min

Total Time:

5 minutes

Yield:

2

Category:

Main
Ingredients
drizzle avocado or olive oil
2 cups cauliflower rice
2 cups packed arugula
1/2 cup lightly packed watercress
4 Tablespoons edamames
4 slices mango
3/4-1 cup chopped smoked salmon
Cilantro Cream Dressing (Recipe Below)
Instructions
Heat a saute pan to medium heat. Add oil and cauliflower rice. Saute for 1 minute. Turn off heat and fold in arugula, leave in pan and set aside.
Chop mango and salmon into 1 inch squares. Set aside.
Get two large bowls ready and divide cauliflower & arugula mixture between bowls. Arrange watercress to one side. Top with chopped mango, edamame and smoked salmon.
Drizzle with Cilantro Cream Dressing and serve immediately.
Notes
Nutritional data below includes 2 Tablespoons dressing per serving.
Print
Cilantro Cream Dressing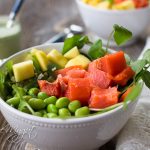 Author:
Prep Time:

5 mins

Total Time:

5 mins

Yield:

2 1/2 cups

Category:

dressing
Ingredients
1 cup raw cashews
1 can full fat coconut milk (13.66 ounces)
3 Tablespoons lemon juice (from 1 lemon)
1 peeled clove raw garlic
1/2 cup packed cilantro
1 teaspoon salt
2 Tablespoons maple syrup or date syrup
1/4 cup chopped chives
Instructions
Add cashews, coconut milk, lemon juice, garlic, cilantro, salt and sweetener to a food processor or high speed blender. Blend on high until smooth and creamy.
Fold in chives and serve immediately. Leftovers can be stored in the fridge in a mason jar.
Notes
Dressing will become texture of soft cream cheese in the fridge due to the coconut milk. This will make a great dip for veggies too.

I'm a loving wife, mother of two healthy children, andI am obsessed with teaching people how to make delicious and mouth-watering gluten-free/Paleo friendly foods that nurture your gut!
Latest posts by Ester Perez (see all)