These Flakey Paleo Biscuits are here to save the day!  When you bite into these, you will experience a crispy exterior, a warm & flakey center and a pop of miniature seeds that will bring flashbacks of bread from long ago.  Could these possibly be gluten free biscuits?  Yes, even grain and dairy free!
They are the perfect paleo biscuits and would be delighted to be accompanied by mashed potatoes and gluten free gravy.
These will be snatched off the table in the blink of an eye by hands large and small, only to be devoured in a flash!
(This post contains affiliate links for your convenience. Click here to view my full Disclosure Policy.)
These grain free biscuits are made with blanched almond flour, tapioca flour and potato starch and grain free xanthan gum.
Be sure to use Nutiva organic vegetable shortening for these paleo biscuits.  It is a blend of coconut and palm oil and gives these biscuits a buttery texture and taste.  If you do not have a dairy allergy, then by all means use butter!
I attempted about half a dozen biscuit combinations until I got the perfect texture and believe me when I say, these are the best paleo biscuits I have tasted!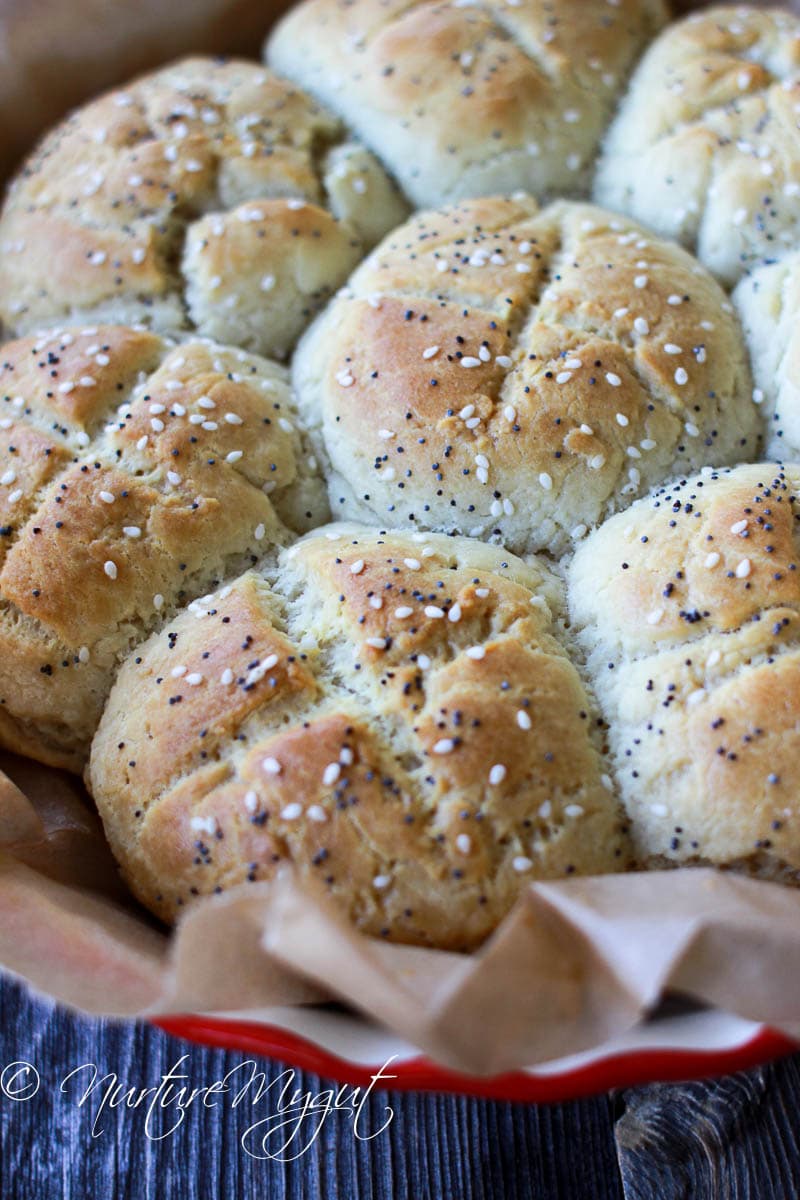 This delightful paleo biscuit recipe is a sneak peak from my Paleo Baking Fall Recipes Ebook where you will find delicious Paleo/grain free recipes for the holidays.  There is a Cinnamon Sage Stuffing and Bread Pudding drowning in Caramel Sauce.
Oh, I could eat that Bread Pudding every day for breakfast!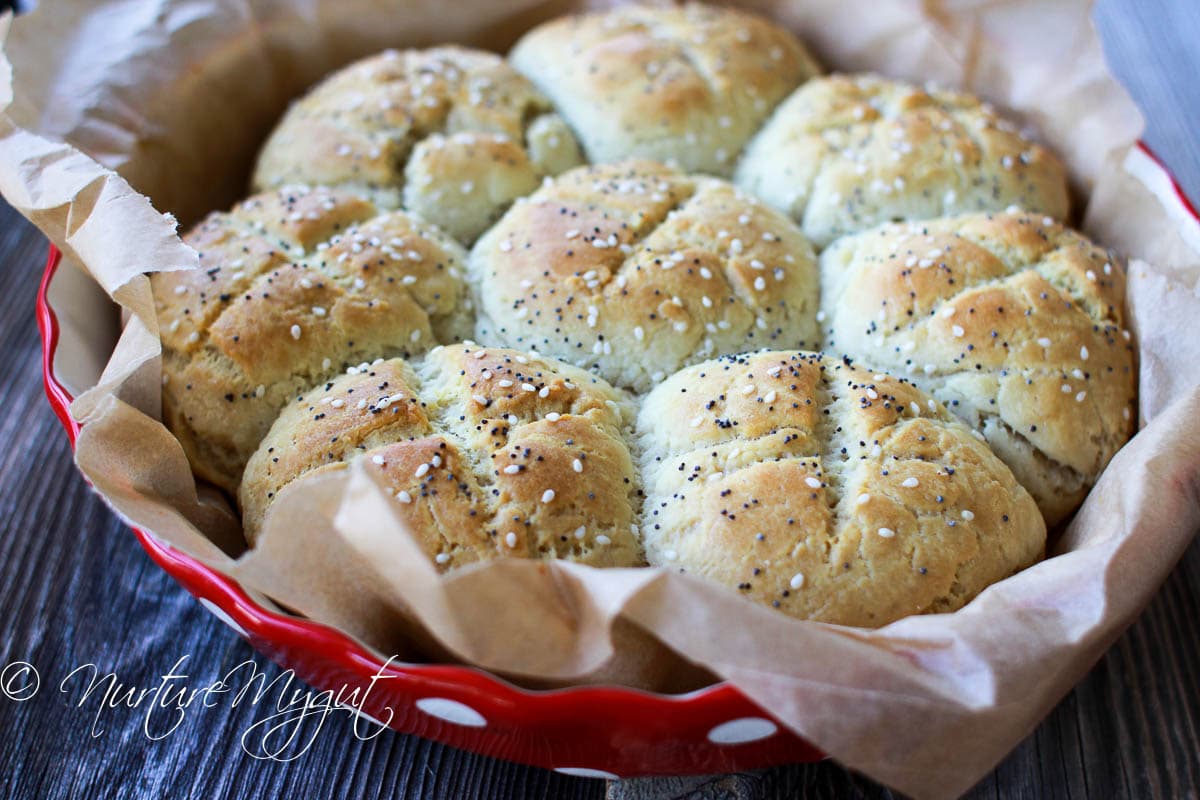 A huge thank you to all who have already purchased my ebook!  You guys are awesome!  Please share your favorite recipes and comments below!  Any other recipes you would like to see on Nurture My Gut?  I am eager to hear from you!
Print
Flakey Paleo Biscuits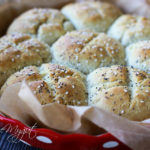 Author:
Prep Time:

20 mins

Cook Time:

28 mins

Total Time:

48 minutes

Yield:

8 rolls
Ingredients
1 TBSP. YEAST
1/4 CUP HONEY
1/2 CUP WARM WATER
2 CUPS BLANCHED ALMOND FLOUR
1 1/2 CUPS TAPIOCA FLOUR + 2 TBSP. FOR ROLLING
1 CUP POTATO STARCH
2 TSP. XANTHAN GUM
1 1/4 TSP. SALT
1 TSP. BAKING SODA
1/2 CUP SHORTENING
3 LARGE EGG WHITES
1 TSP. APPLE CIDER VINEGAR
1 BEATEN EGG FOR EGG WASH
SESAME SEEDS & POPPY SEEDS
Instructions
PREHEAT OVEN TO 350 DEGREES.
IN A SMALL BOWL, STIR YEAST, HONEY AND WARM WATER. SET ASIDE.
WHISK TOGETHER ALMOND FLOUR, TAPIOCA FLOUR, POTATO STARCH, XANTHAN GUM, SALT AND BAKING SODA.
ADD SHORTENING AND MIX.
ADD EGG WHITES, YEAST MIXTURE AND APPLE CIDER VINEGAR. BEAT UNTIL SMOOTH. DOUGH WILL BE STICKY.
DUST SURFACE AND HANDS W/TAPIOCA FLOUR. 7. SCOOP DOUGH OUT ONTO DUSTED SURFACE. DIVIDE INTO 8 EQUAL BALLS, AND PLACE INTO A PARCHMENT PAPER LINED 9" BAKING DISH.
BRUSH EACH BALL WITH EGG WASH AND SPRINKLE WITH SESAME & POPPY SEEDS.
BAKE FOR 25-28 MINUTES OR UNTIL BISCUITS ARE GOLDEN BROWN & A TOOTHPICK INSERTED IN THE CENTER COMES OUT CLEAN.
SERVE WARM.
Notes
Bake on parchment paper so that they do not over brown on the bottom.

I'm a loving wife, mother of two healthy children, andI am obsessed with teaching people how to make delicious and mouth-watering gluten-free/Paleo friendly foods that nurture your gut!
Latest posts by Ester Perez (see all)