Garlic Chicken with Greek Cucumber Noodle Salad-a delicious, fast and healthy recipe.  These refreshing crunchy cucumber noodles go perfect with this greek salad dressing and finger licking garlic chicken!  It is a perfect combination made in 30 minutes or less.  Paleo, Gluten Free, Grain Free, Dairy Free, Keto and Whole 30 friendly.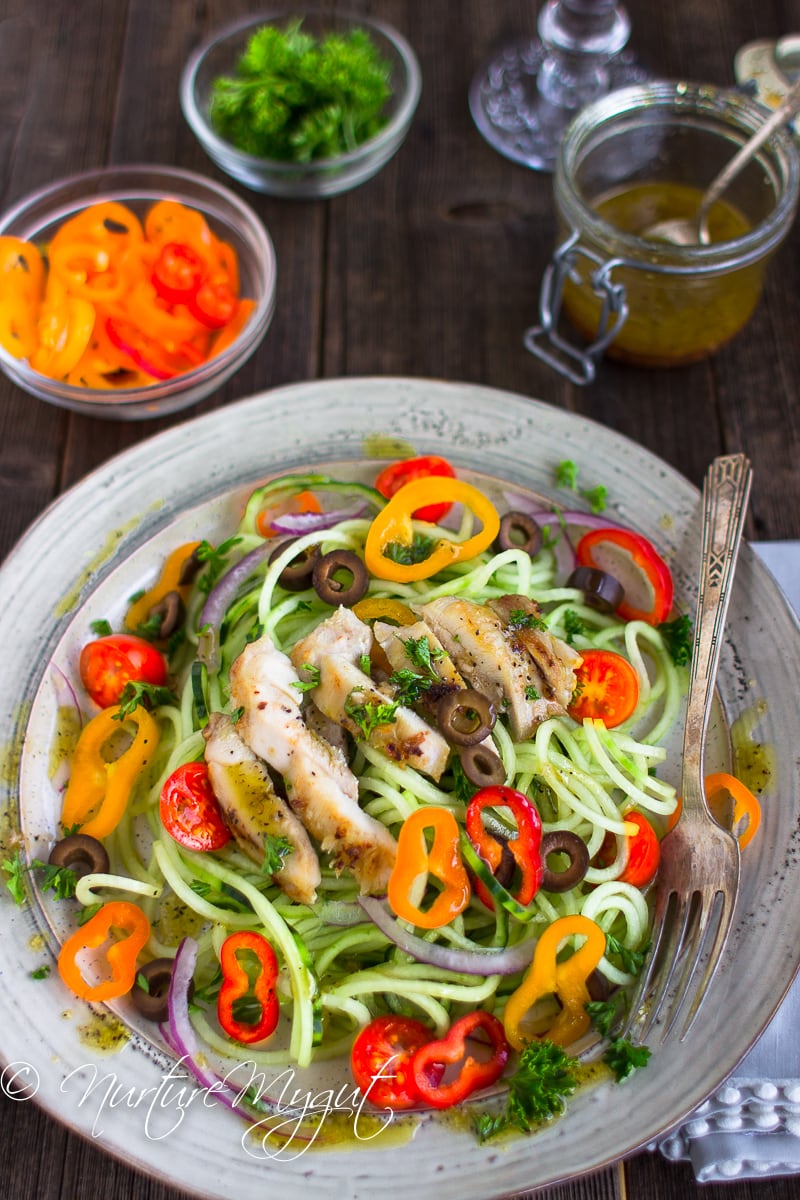 If you are a busy Mom on the go like me, then having healthy, homemade fast and delicious meals is the best way to be efficient in the kitchen!  It keeps all of us healthy and allows me to get more things done in the day.  I love to cook and be in the kitchen, but lately, my time has been limited to all of the different kid activities, Mom responsibilities and duties I have.  So healthy, delicious and efficient is IT right now!  This Garlic Chicken with Greek Zucchini Noodle Salad fits that bill!
(This post contains affiliate links for your convenience. Click here to view my full Disclosure Policy.)
I discovered this simple Garlic Marinade a few years back,  (very similar to my Cast Iron Grilled Chicken Recipe) and it has now been my go to marinade for chicken.  This chicken is finger-licking good!  It goes perfect with the cucumber noodles and even my kids like how much fun these are to eat!
Last week, I got inspired by a Greek Zucchini Noodle Salad in the  May 2017 Paleo Magazine and thought that would be a great idea for a Cucumber Noodle Salad.  I absolutely LOVE Cucumber Noodles.
If you have not tried my Thai Cucumber Noodle Salad, then it must be your next go to recipe for cucumber noodles!  I go over several health benefits of eating cucumbers, it will want to make you switch over from pasta to cucumber noodles in a flash!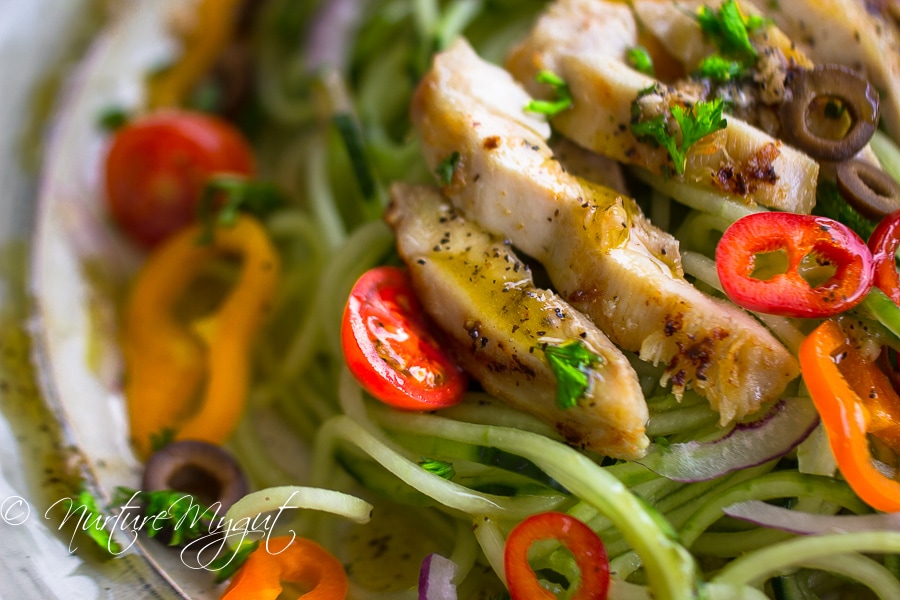 How to Make Cucumber Noodles:
A Greek Cucumber Noodle Salad is very easy and fast to make!  You will need a julienne hand slicer julienne hand slicer or spiralizer to make Cucumber Noodles.  My favorite way to make cucumber noodles is by using the spiralizer.  The spiralizer takes only seconds to make the noodles!  It is pretty much an effortless recipe!
There is no need to peel the cucumber.  Just chop off the ends and run it through the spiralizer and it magically turns your cucumber into noodles!  It is amazing!
It is best to put your noodles in a colander to drain out any excess liquid while you chop the other vegetables and make the dressing.  They will always release a bit of liquid so be sure to drain them out before serving the salad.
Here is a video tutorial for How to Make Cucumber Noodles: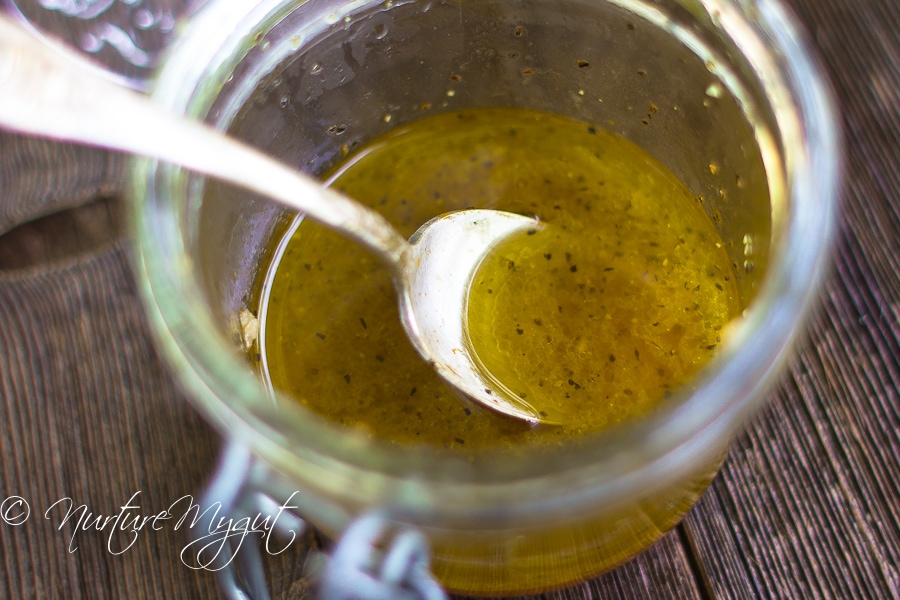 How to Make Greek Salad Dressing:
The marinade for this Greek Cucumber Noodle Salad Recipe is very easy.  It is basically olive oil, red wine vinegar, minced garlic, salt and pepper.  I like to use a garlic press to release the juices in the garlic and make the pieces very small.  It is one of my favorite kitchen gadgets!
Next, put all the ingredients into a small glass jar and shake.  Now pour this delicious dressing over your  Greek Cucumber Noodle Salad!
It literally takes about 2 minutes to make this Greek Salad Dressing!  I do suggest you double the recipe if you want to have some left over, it's that good!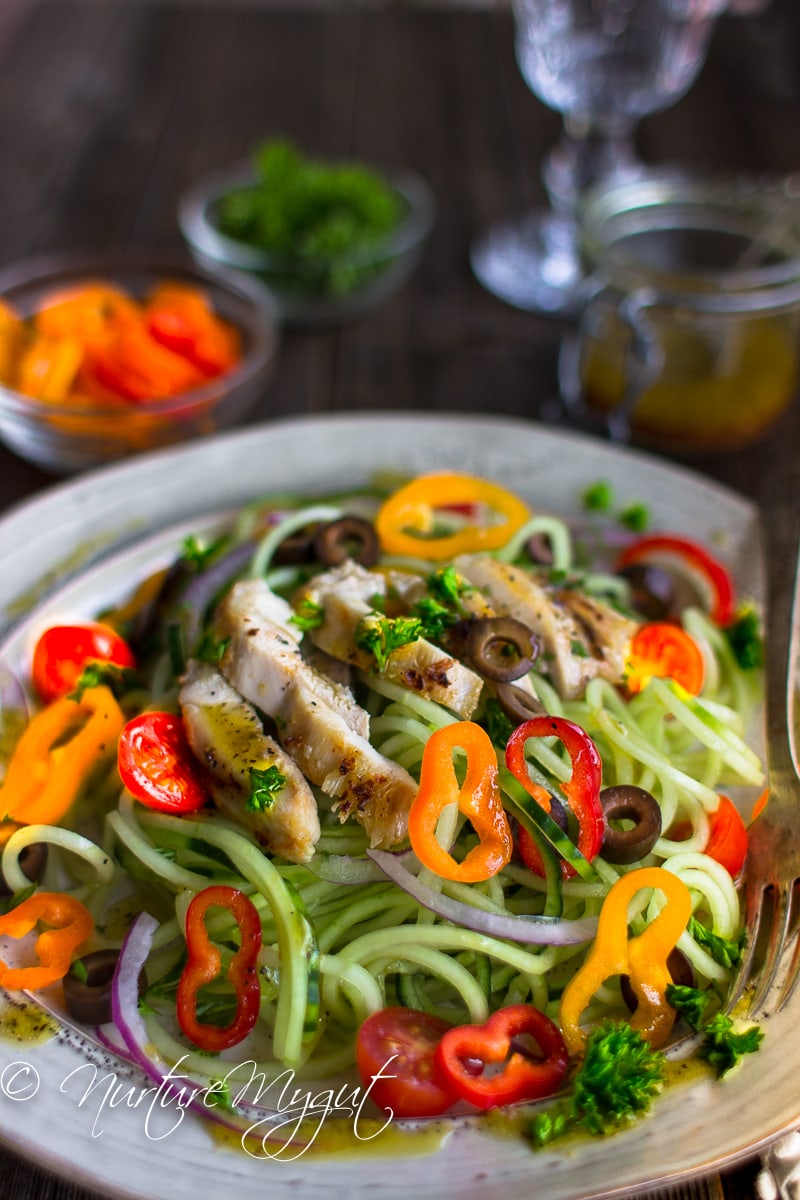 What Kind of Cucumbers Do you Need to Make Cucumber Noodles?
Long and Wide English Cucumbers work best for making Cucumber Noodles in this recipe.  They produce less water so the cucumber noodles stay crunchy.  The wider the cucumbers, the more noodles you will get from the spiralizer.  If you are using narrow cucumber noodles, you will get lots of short noodles, if you use wider cucumbers, your noodles will be long and never ending!  That means you get a huge long noodle per cucumber!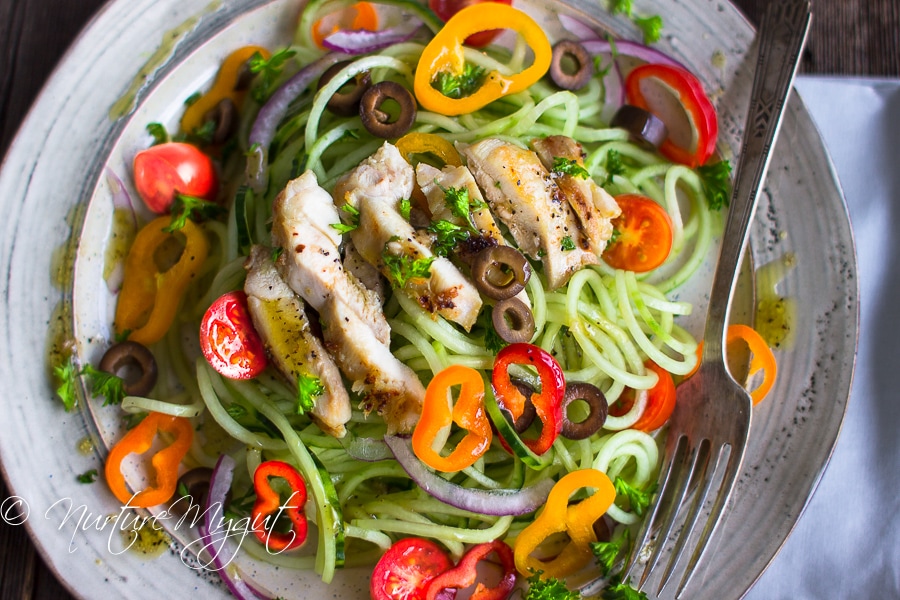 Cucumber Noodles are Kid Friendly
Even kids like cucumber noodles!  They are fun to eat, the spiralizer creates these really long noodles and the kids are just amazed at how long they are!  They keep eating and eating the "never ending cucumber noodles!"  You know how much kids love to play with their food!  These cucumber noodles make dinner eating fun!  I like to make some steamed rice for my kids and place the cucumber noodles and chicken on top.
Be sure to make this healthy, delicious and efficient Garlic Chicken with Cucumber Noodle Salad Recipe.  Your whole family will love it and you will spend very little time in the kitchen!  Your kids will enjoy the sweet, light and crunchy never ending cucumber noodles with this finger licking garlic chicken!  This meal will be a hit!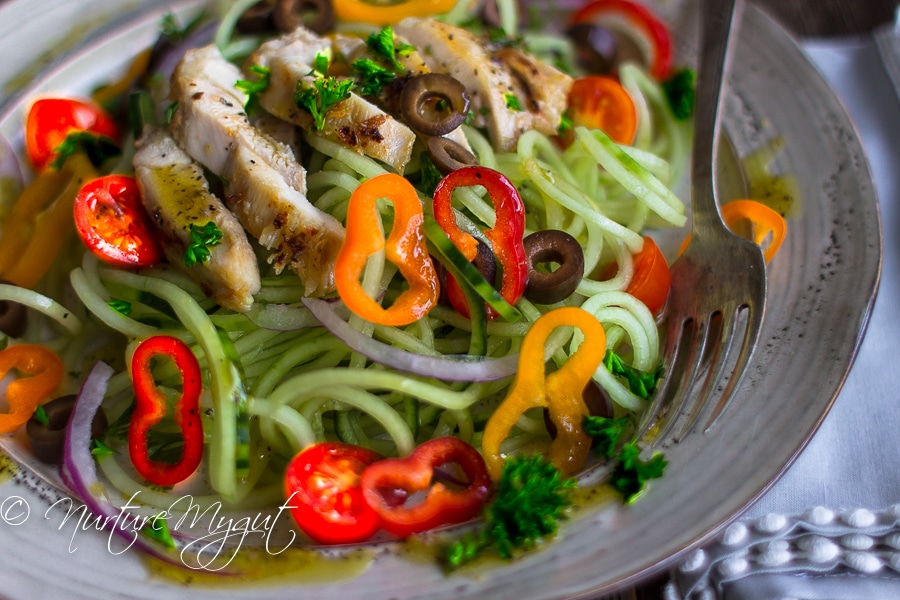 For more delicious and healthy gluten free recipes, please subscribe below.  You will get my Free Delicious Paleo Breakfast E-Book as my gift to you!
Print
Garlic Chicken with Greek Cucumber Noodle Salad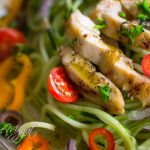 An easy Garlic Chicken recipe with Greek Cucumber Noodle Salad.  Whole30 and Paleo friendly.  No dairy. Made in 30 minutes or less!
Author:
Prep Time:

20 mins

Cook Time:

10 mins

Total Time:

30 minutes

Yield:

4 servings

Category:

Lunch
Ingredients
For the Chicken:
1 lb skinless boneless chicken thighs
5 garlic cloves minced (I use a garlic press)
3 Tablespoons avocado or light olive oil
1/2 teaspoon grated lemon peel
1 teaspoon salt
For the Salad:
2 large English Cucumbers
1 cup sliced bell peppers
1/2 cup sliced black olives
1/2 cup diced cherry tomatoes
1/4 cup thinly sliced purple onion
2 Tablespoons chopped parsley
For the Dressing:
6 Tablespoons olive oil
3 Tablespoons red wine vinegar
1 garlic clove finely minced
1/2 teaspoon salt
1/4 teaspoon black pepper
Instructions
In a mixing bowl, add marinade for the chicken: minced garlic, oil, lemon peel and salt. Whisk and add chicken. Allow to marinade for 5 minutes. Heat a cast iron skillet or griddle to high heat and cook chicken on each side until lightly golden, about 4-5 minutes per side. Once cooked, set aside in a closed tupperware to rest. ( You can make salad while chicken is cooking)
For the salad, run the cucumbers through the spiralizer and place in a large mixing bowl. Add bell peppers, olives, cherry tomatoes, purple onion and parsley. Toss well.
To make the dressing, add olive oil, red wine vinegar, minced garlic, salt and pepper to a small jar and shake well.
To serve, divide salad onto 4 plates, chop the chicken and divide among cucumber noodle salad plates and drizzle dressing on the top and serve.

I'm a loving wife, mother of two healthy children, andI am obsessed with teaching people how to make delicious and mouth-watering gluten-free/Paleo friendly foods that nurture your gut!
Latest posts by Ester Perez (see all)