Print
Gluten Free Banana Spice Cake w/Vegan Cream Cheese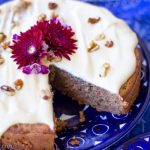 Author:
Prep Time:

15 mins

Cook Time:

35 mins

Total Time:

50 minutes

Yield:

12
Ingredients
DRY INGREDIENTS:
1/2 cup coconut flour
1/2 cup potato starch
1/2 cup coconut sugar
1 teaspoon cinnamon
1 teaspoon allspice
1/4 teaspoon nutmeg
1 teaspoon baking powder
1/4 teaspoon baking soda
1/4 teaspoon salt
WET INGREDIENTS:
2 mashed bananas
5 eggs, separated
1/2 cup light oil such as avocado or grapeseed
1 teaspoon vanilla extract
1/2 cup chopped walnut pieces plus more for sprinkling onto cake
Vegan Cream Cheese for frosting (Recipe Follows)
Instructions
In a large mixing bowl, whisk dry ingredients together until all lumps are removed.
In a separate mixing bowl, whisk together mashed bananas, egg yolks, olive oil and vanilla extract.
Stir dry ingredients into wet ingredients. Add walnuts to batter and stir.
In a dry mixing bowl, beat egg whites until soft peaks form.
Fold 1/2 of egg whites into batter gently with a rubber scraper. Fold remaining egg whites into batter.
Add batter into a greased and lightly floured 9" spring form pan lined with parchment paper. Bake in a 350 degree preheated oven for 35 minutes or until toothpick comes out clean after inserted into the center of the cake.
Allow cake to cool and pour Vegan Cream Cheese Frosting before serving. Top with chopped walnuts. Serve immediately.
Notes
Nutritional data below includes 2 Tablespoons vegan cream cheese per serving.