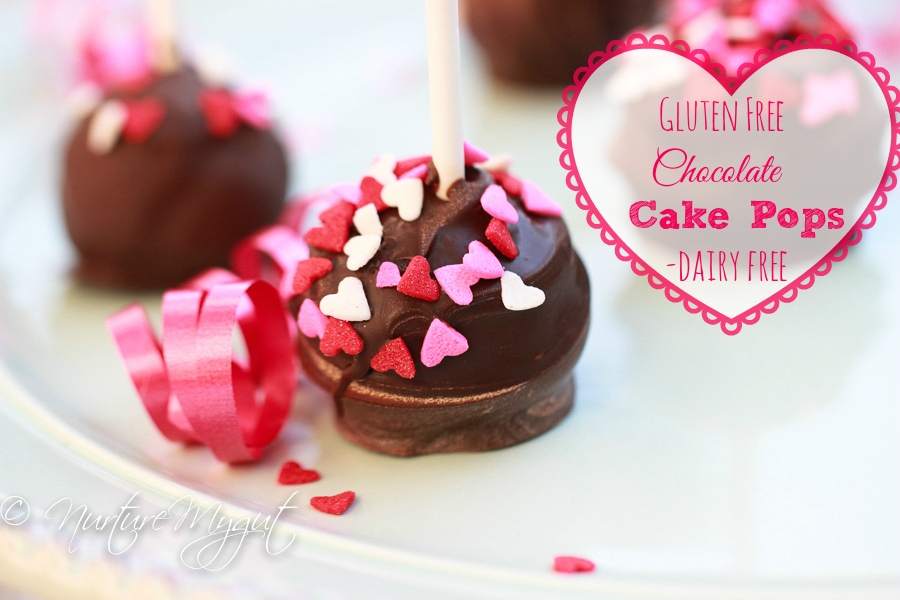 My son wanted Gluten Free Chocolate Cake Pops for his Valentine's Day class party.  They're sprinkled with pretty colored hearts and are dipped in vegan chocolate.  Yes, they are not only gluten free, but dairy free too and they taste like a chocolate dipped brownie!  I am so glad that they were successful on the first try!  For sure I will be making these for other special occasions.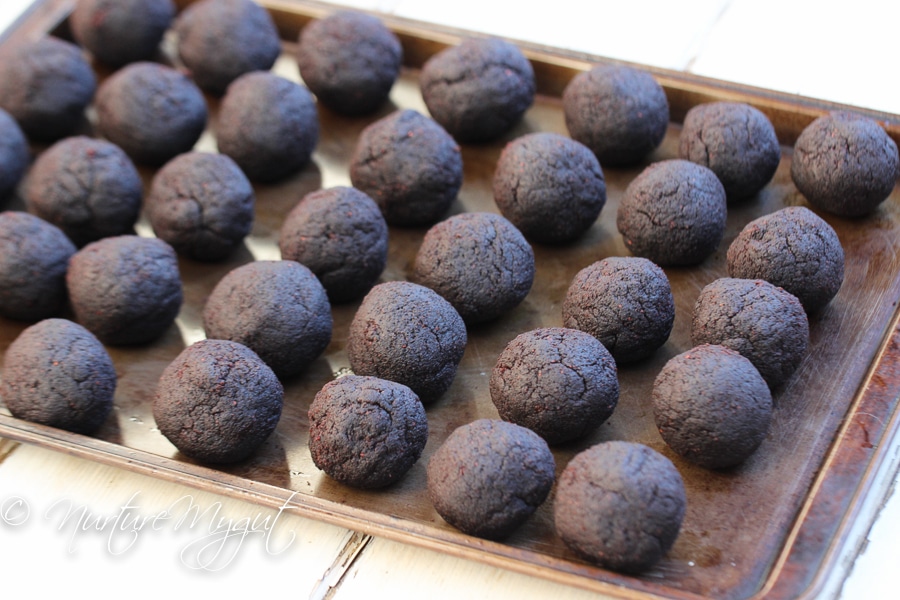 These work well with my Best Gluten Free Chocolate Cupcakes Recipe.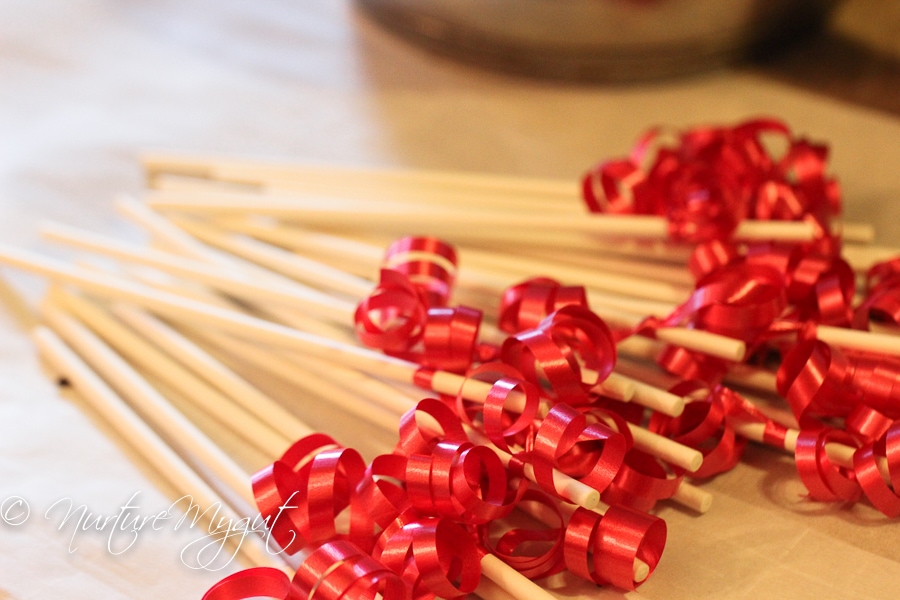 I added some ribbon to the ends of the popsicle sticks to add a nice decorative touch.  I did not have a cake pop tray so I decided to keep these with the sticks standing up.  To add a nice touch I found some red ribbon and curled the ends and tied them to the tops of the sticks.  It looked very cute!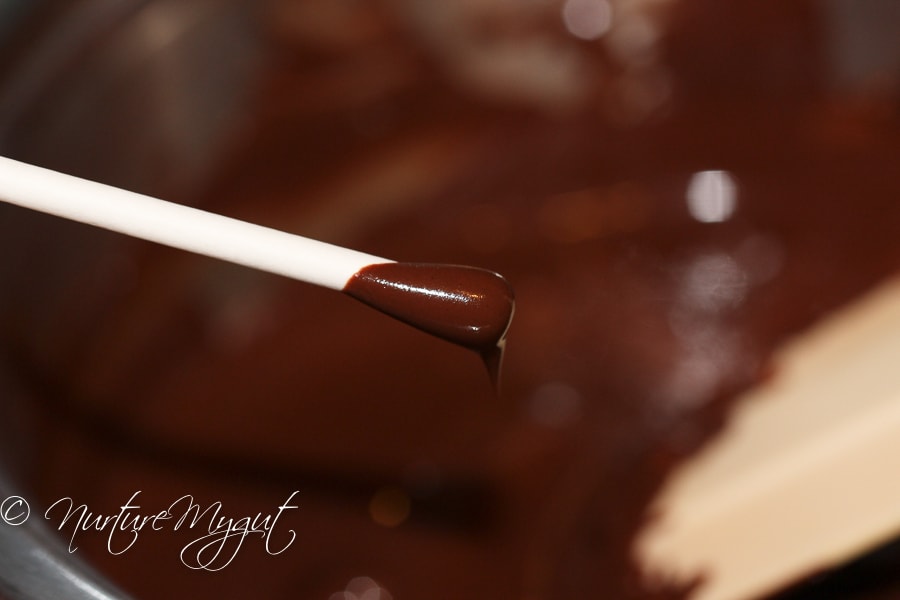 (This post contains affiliate links for your convenience. Click here to view my full Disclosure Policy.)
Then I dipped the end of the stick in the melted chocolate.  I used Enjoy Life Semi Sweet Chocolate Mini Chips
 (affiliate link!), they are dairy free and my favorite chocolate to use for frostings.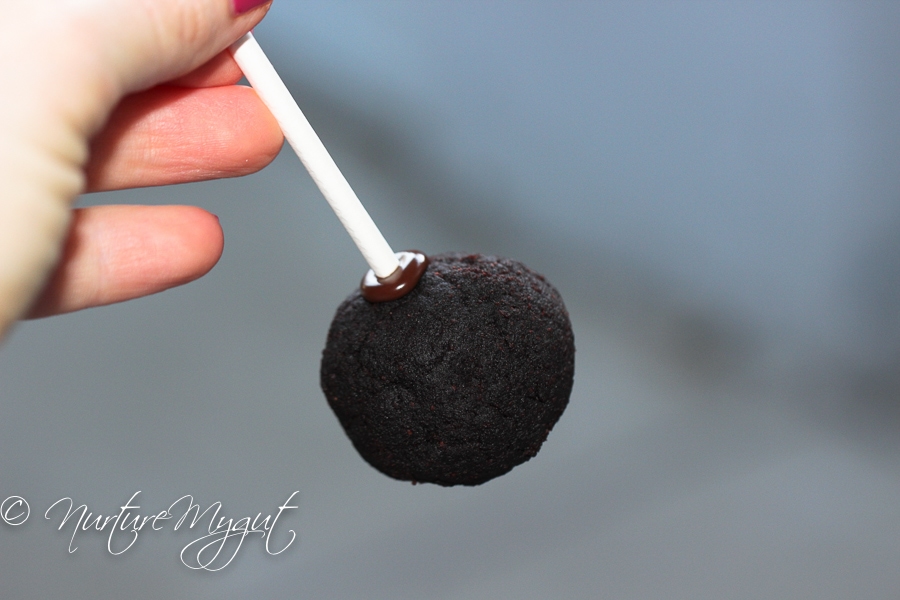 Then, I stuck the end of the stick into the cake ball and let it harden a bit in the fridge.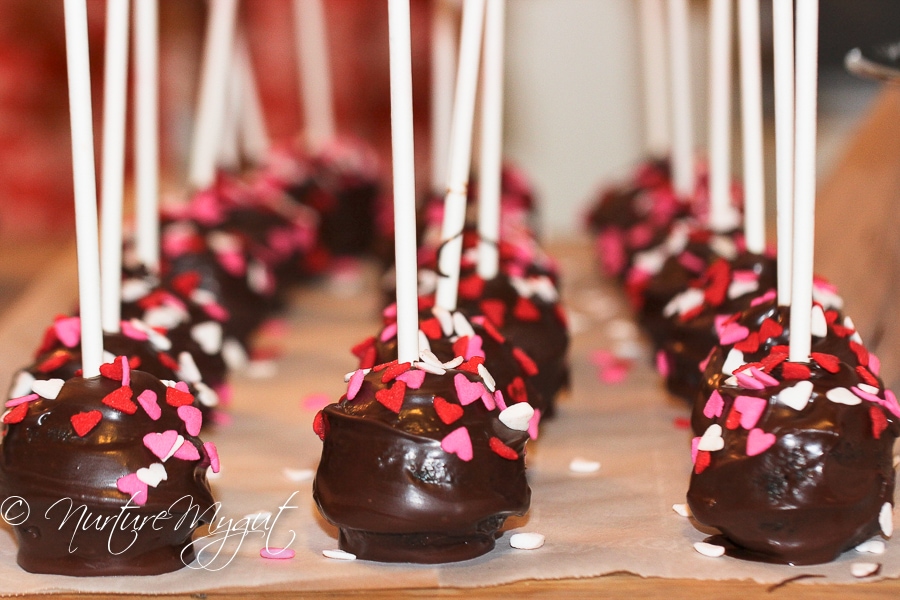 Next, I dipped each cake pop in melted chocolate and placed on parchment paper.  I added heart sprinkles.  Once the chocolate hardened, I placed them back on the tray and set them in the fridge until they were ready for the Valentine's Party.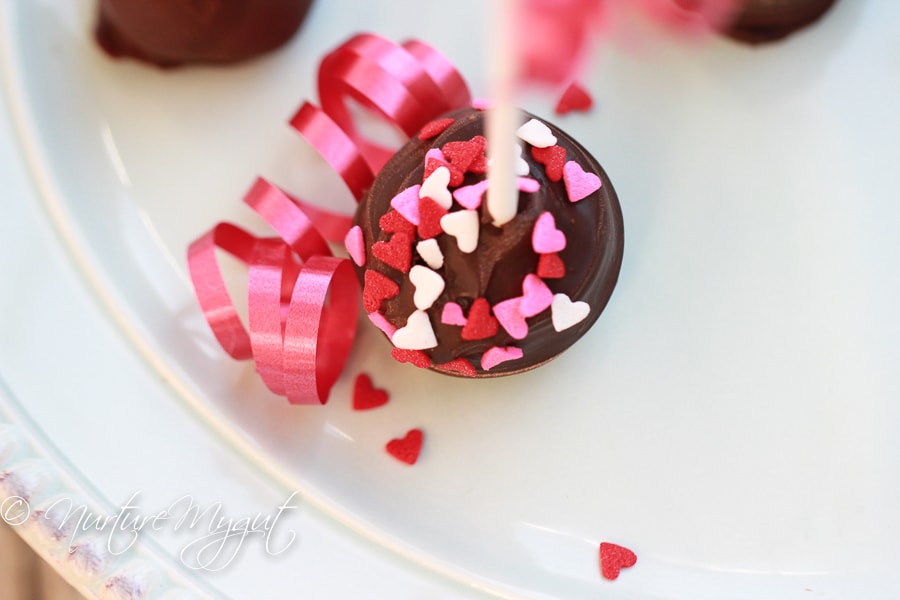 These came out perfectly!  They look and taste like a brownie!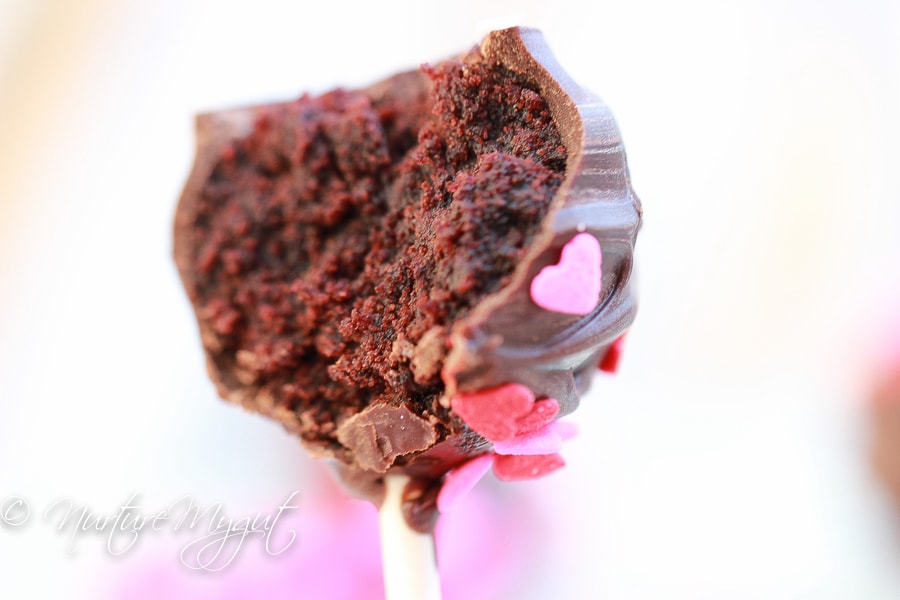 I think these are the perfect recipe to serve at a birthday or holiday party!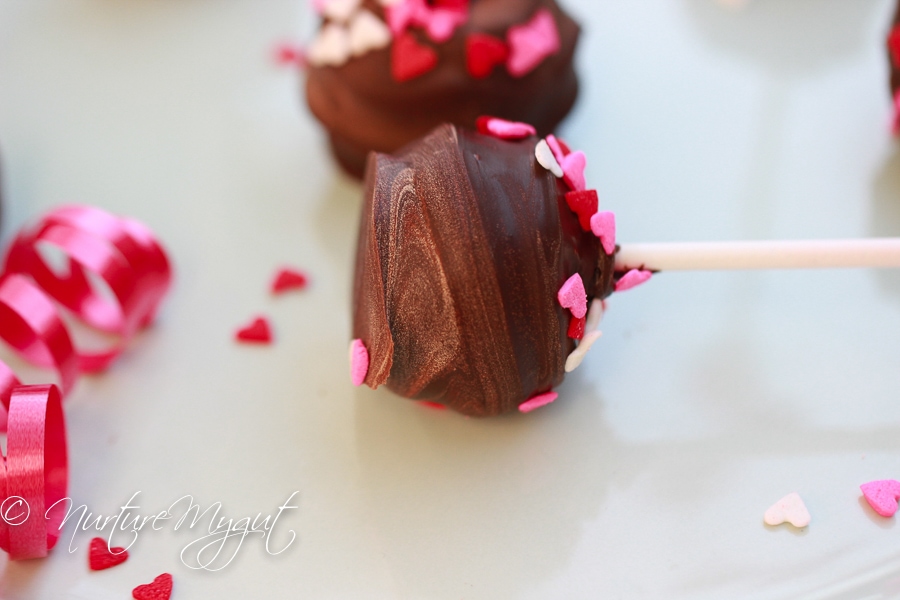 I had several of these cake pops left over in the fridge and they suddenly disappeared!  My husband said that you can't eat just one!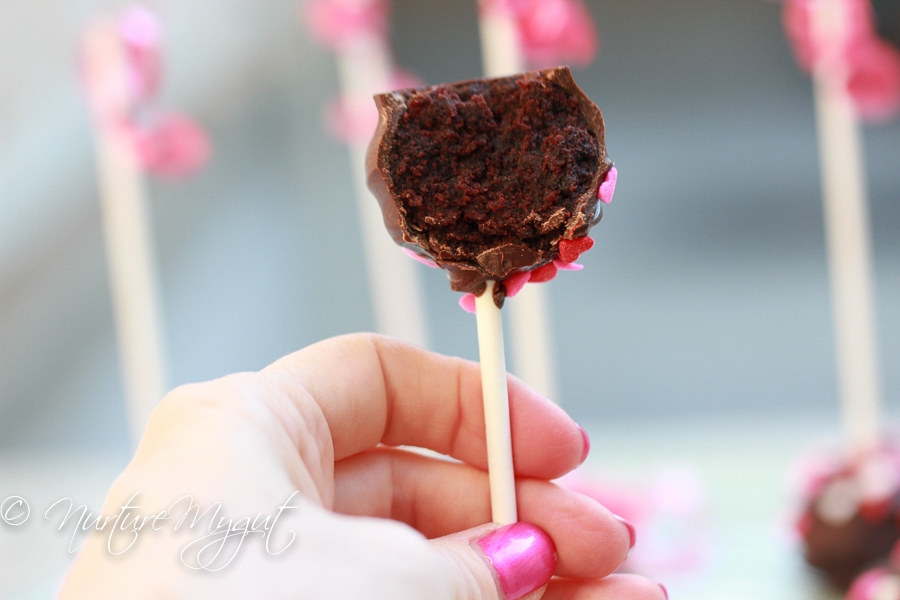 I think I just earned some points with my husband 🙂  He does have a sweet tooth!!!
For delicious healthy gluten free/Paleo-ish meals, please subscribe below.  You will get my free Paleo Breakfast E-Book as my gift to you and new recipes straight to your inbox!
Print
Gluten Free Chocolate Cake Pops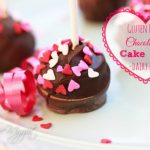 Author:
Prep Time:

60 mins

Cook Time:

25 mins

Total Time:

1 hour 25 minutes

Yield:

35 cake pops

Category:

Dessert
Ingredients
2 large eggs
1/3 cup grape seed oil
1 1/2 cups hot filtered water
1/2 cup homemade chocolate vegan frosting (see recipe below)
15 ounces Enjoy life Chocolate chips, Melted
Instructions
Follow cupcake directions. Preheat oven to 350 degrees.
Spray a 10 inch square cake pan and bake for 20-25 minutes or until a toothpick inserted in the center comes out clean.
Allow cake to cool.
While the cake is cooling, start frosting recipe. See recipe below.
After the cake is cooled, crumble the cake into a large mixing bowl. Avoid any crispy corners.
Add all the frosting, you will have 1/2 cup plus 1 Tablespoon.
Mix well with your hands.
Use a mini cookie scooper to get an even amount of cake dough. This is 2 tablespoons. Squeeze the cake dough and roll into balls. Place on a cookie sheet.
Repeat to make approximately 35 cake balls. Refrigerate for an hour.
In a small saucepan, melt 15 ounces of dairy free chocolate on low. Set aside.
Remove cake balls from the fridge.
Place a popsicle stick in the melted chocolate and press straight into cake ball while it is on the cookie sheet. Repeat with remaining cake balls. Place back in the fridge for 5 minutes so the chocolate will harden. Remove from fridge.
Dip each cake ball into melted chocolate. Gently twirl cake pop while scraping off excess chocolate with a spatula and place on a sheet of parchment paper. Add desired sprinkles. Repeat with remaining cake pops.
Once chocolate has hardened, place back on cookie sheet and store in the fridge. I remove my cake pops from the fridge 2 hours before serving so that they have time to soften. Enjoy!
Notes
Nutritional info includes frosting for each individual cake pop
Print
Dairy free cake pop frosting
Author:
Prep Time:

15 mins

Cook Time:

5 mins

Total Time:

20 minutes

Yield:

1/2 cup

Category:

Dessert
Ingredients
1/2 cup Enjoy life dairy free chocolate chips
1/4 cup grape seed oil
1 Tablespoon maple syrup
1 teaspoon vanilla extract
Instructions
Add all ingredients to a small saucepan and heat on your lowest heat until chocolate is melted and smooth.
Let pan cool and place in the fridge for 15 minutes. Be sure to whisk the frosting every 5 minutes until it is the consistency of a thick creamy frosting.
This is now ready to be added to the crumbled cake mixture.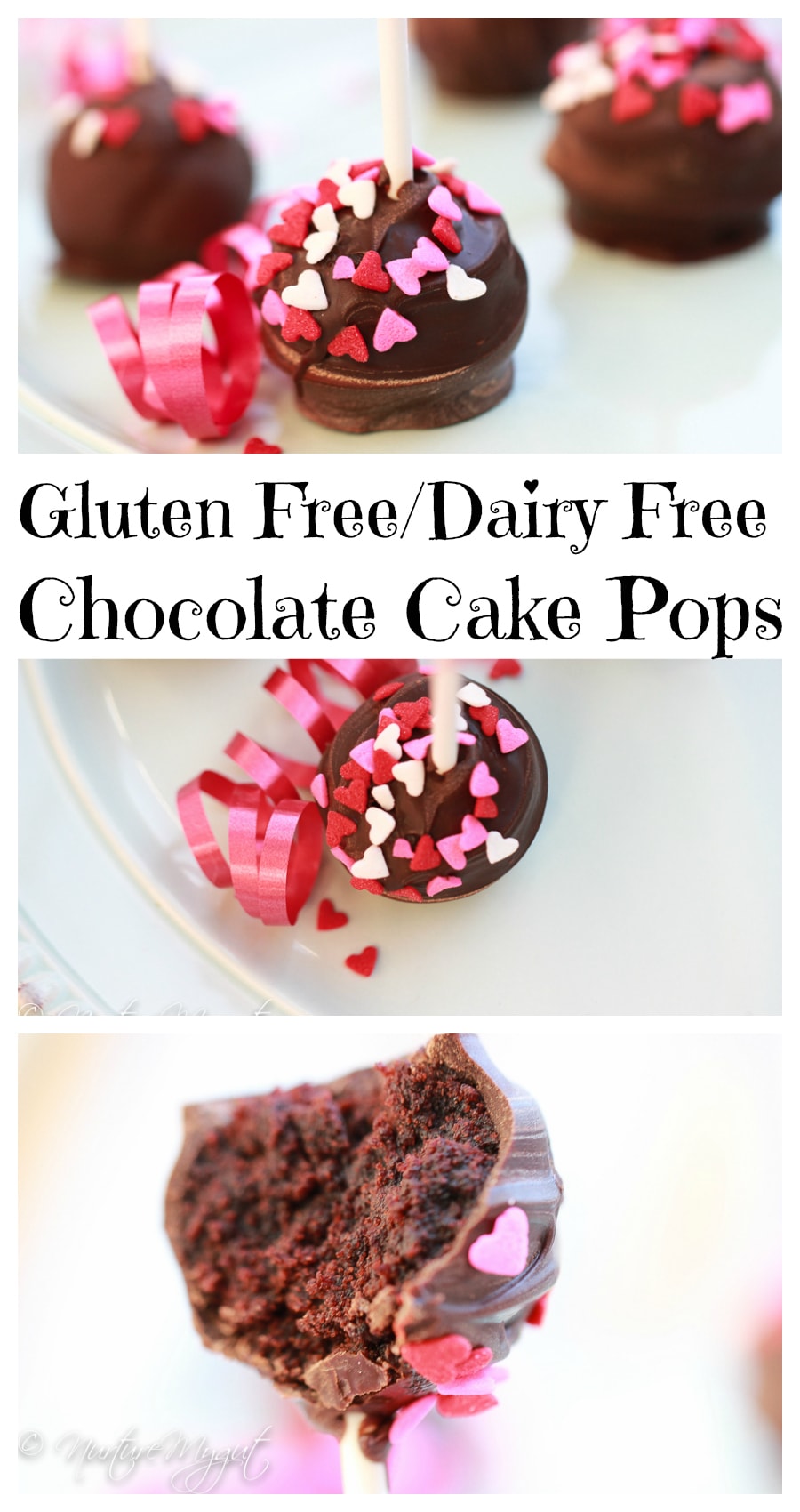 I'm a loving wife, mother of two healthy children, andI am obsessed with teaching people how to make delicious and mouth-watering gluten-free/Paleo friendly foods that nurture your gut!
Latest posts by Ester Perez (see all)