I recently went to a birthday party and my friend made an amazing gluten free lavender cake which is a mix made by Wholesome Chow.  I was very inspired that I decided to come up with my own grain free lavender pound cake version.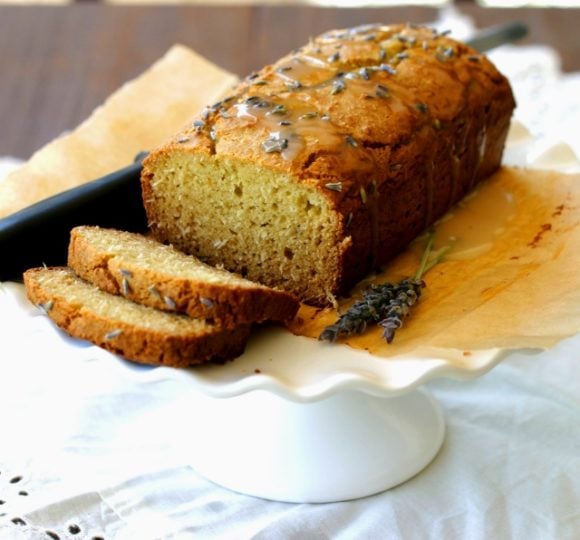 This recipe came out great!  I am totally in love with this Gluten Free Lavender Pound Cake and I believe that you will too.  It is so simple to make and would be wonderful to take to a tea party and share with friends.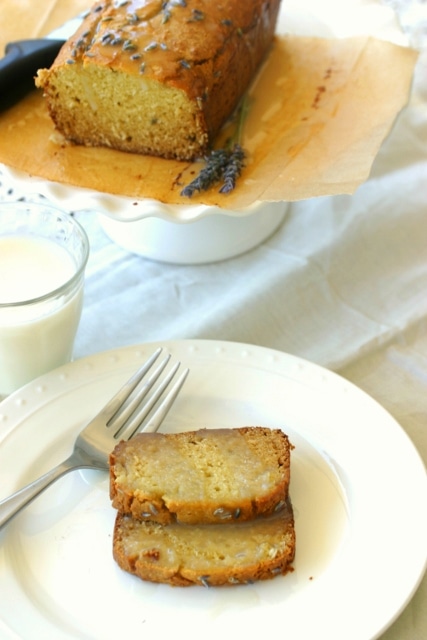 Lavender is one of those herbs that has the ability to calm the nerves.  I will be honest, I am not sure if this cake will calm and relax you but I am sure it will awaken your taste buds and make you smile.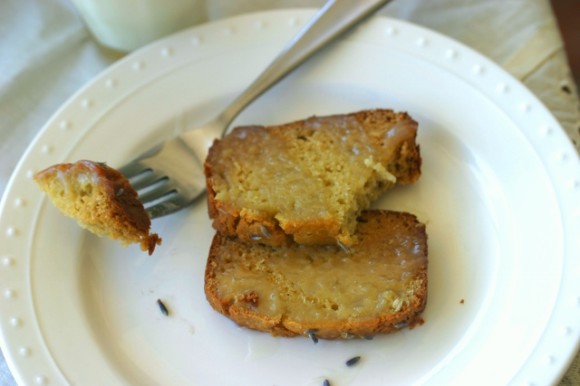 For more delicious healthy gluten free/Paleo-ish meals, please subscribe below.  You will get my free Paleo Breakfast E-Book as my gift to you and new recipes straight to your inbox! 
Check out these yummy gluten free recipes:
Best Paleo Chocolate Chip Cookies
Print
Lavendar Pound Cake (Grain-Free)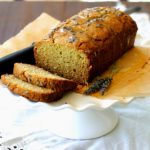 Author:
Prep Time:

10 mins

Cook Time:

35 mins

Total Time:

45 minutes

Yield:

6
Ingredients
4 large eggs
1/3 cup melted coconut oil plus 1/8 teaspoon to grease sides of loaf pan
1 teaspoon of apple cider vinegar
1/4 teaspoon of lemon flavor
1 teaspoon of vanilla extract
3 Tablespoons of raw honey
1/2 teaspoon of baking soda
1/2 cup of coconut flour
1/3 cup of shredded dried unsweetened coconut
1/2 teaspoon of dried French lavender buds plus 1/8 teaspoon to sprinkle on top
Instructions
Preheat oven to 350 degrees F.
Line a medium size loaf pan with parchment paper covering the longer sides. Grease the shorter sides of loaf pan with 1/8 teaspoon of coconut oil.
Place all ingredients in order mentioned into blender except French lavender buds. Blend until batter is smooth, about 10-15 seconds.
Fold in French lavender buds and pour into medium sized loaf pan or a paper loaf pan. ( I used a Rectangular Baking Mold Loaf Pan, sized at 6″ x 2 1/2″ x 2″ )
Sprinkle remaining 1/8 teaspoon of lavender buds over batter.
Bake at 350 degrees F for 33-35 minutes or until a toothpick inserted in the center comes out clean. Cover with foil the last 5 minutes of baking to prevent the top from over browning.
Allow to cool completely and top with Lemon Lavender Glaze before serving.
Print
Lemon Lavendar Glaze (Grain-Free)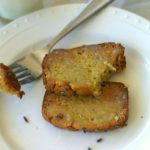 Author:
Prep Time:

5 mins

Total Time:

5 mins
Ingredients
3 Tablespoons of filtered water
1 Tablespoon plus 1 teaspoon of raw honey
1 Tablespoon of coconut butter also known as coconut manna
1/4 teaspoon of lemon flavor
1/4 teaspoon of French lavender buds
Instructions
Whisk all ingredients in a small glass bowl and pour on top of Lavendar Pound Cake before serving.

I'm a loving wife, mother of two healthy children, andI am obsessed with teaching people how to make delicious and mouth-watering gluten-free/Paleo friendly foods that nurture your gut!
Latest posts by Ester Perez (see all)