Best Gluten Free Pizza Crust!
This gluten free pizza crust is soft in the inside, has a crispy crust and soft and flexible.  It is absolutely perfect!  Paleo/Gluten Free/Grain Free/Dairy Free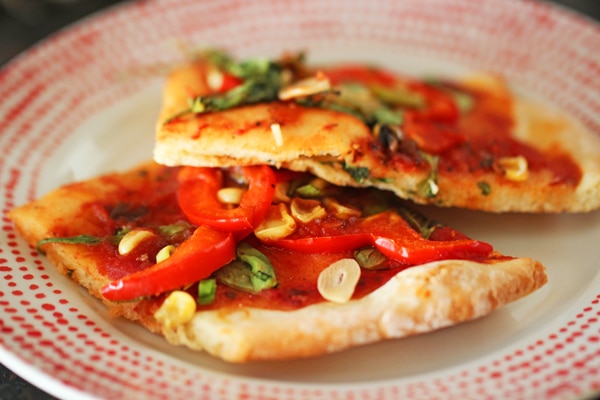 I have been highly disappointed with the gluten free pizza crusts that I have eaten at restaurants because they are either too hard, too thin and almost always have burnt edges.  For the last 3 years I have been working on the perfect gluten free pizza crust recipe.  This is it!  This is the best gluten free pizza crust!  It is soft yet crispy, and has the perfect center.  Leftover pizza reheats up perfectly in only 5 minutes.  It tastes just as good as it did fresh out of the oven!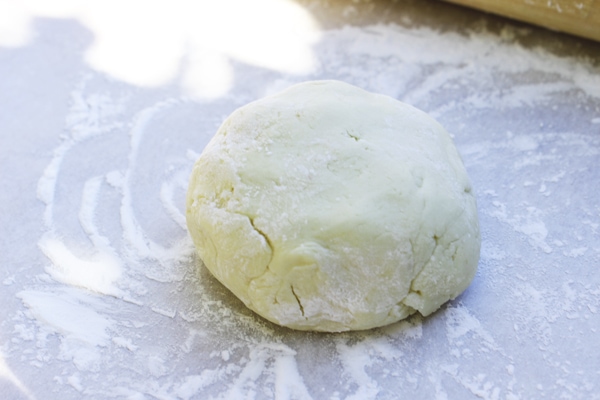 Another great thing about this gluten free pizza crust is that you can divide the dough into four balls and make 2 pizza's during the week and save the rest of the dough for the weekend.  I stored 2 balls of gluten free dough in the fridge in a zip-lock bag and dusted my surface with extra tapioca flour when rolling.  Oh, how I love this gluten free pizza dough!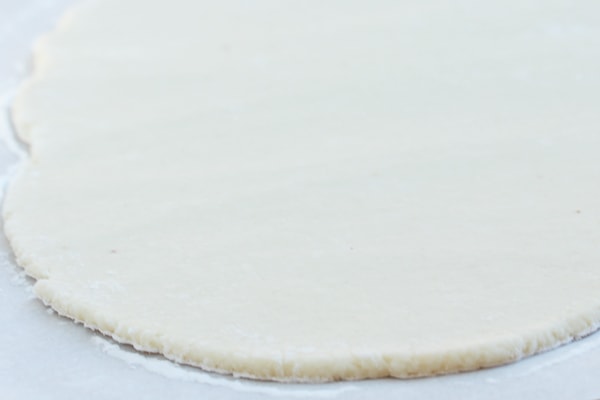 I rolled it out to 1/4 inch thick to make a gluten free New York Style pizza crust.  I baked it for 10 minutes; it puffs up really nice along the edges.  Then, add your toppings and bake another 8 minutes, it's really that easy!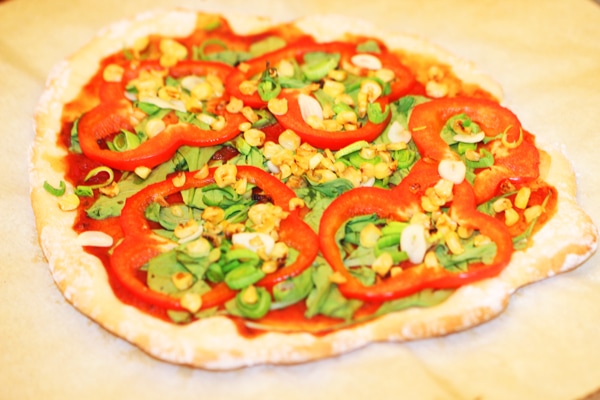 I topped this gluten free pizza crust with marinara, arugula, roasted corn, bell peppers and garlic slices.  Then I baked it for 8 minutes and drizzled it with gluten free bar-b-q sauce before slicing.  Yum!  I made a plain cheese pizza for my 7 year old daughter and boy did she love it!  She gave it a 10 out of 10 rating!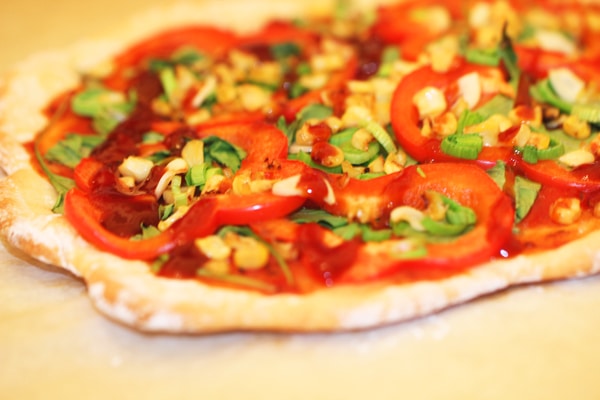 I used blanched almond flour, tapioca flour and potato starch.  The potato starch is what pulled all the ingredients together, it lighten's up the mix.  I also used a Pizza Stone
 that I got from Amazon which I absolutely LOVE for making pizza's!!  I put my pizza on parchment paper and slide it onto the stone for an easy clean-up.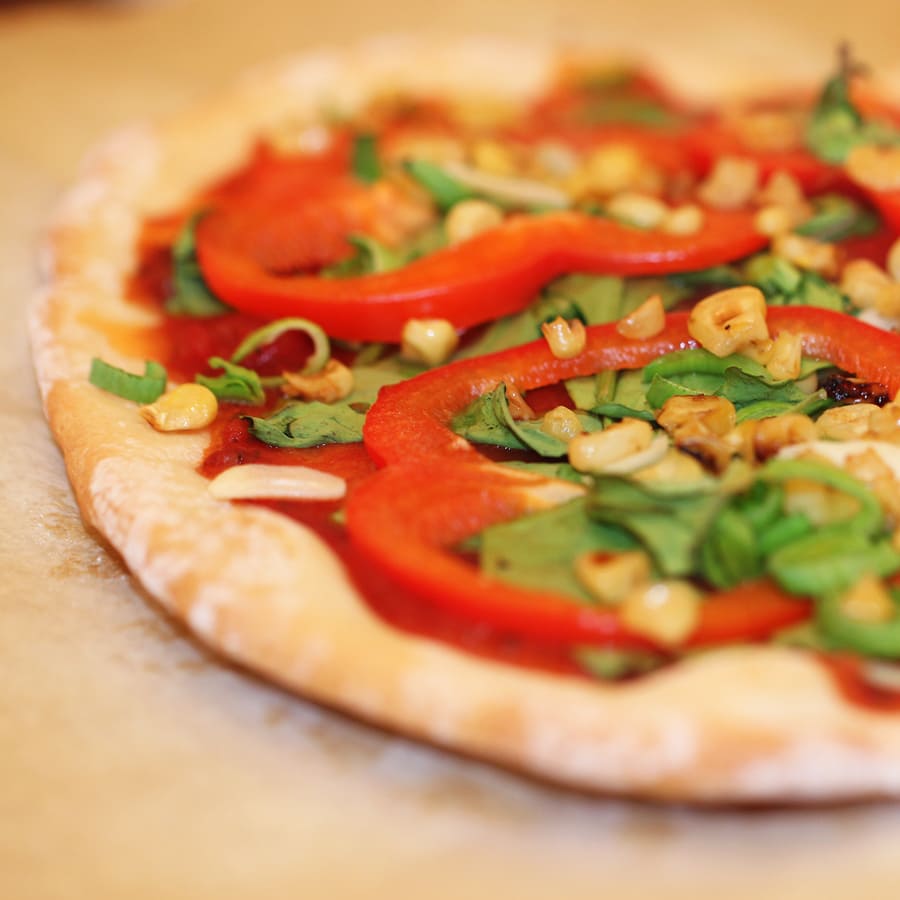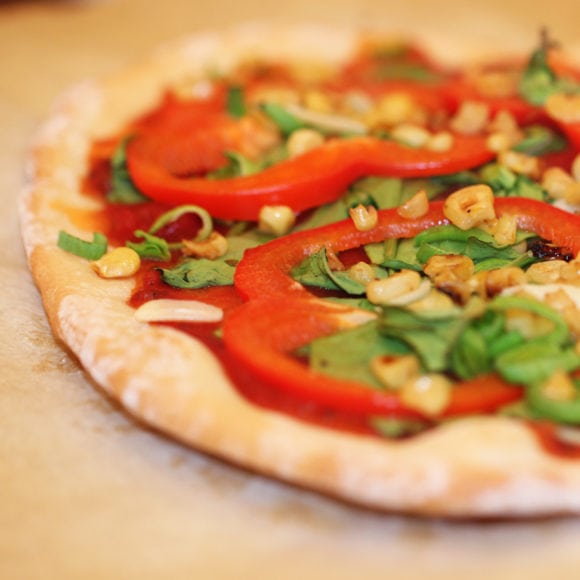 I did not make a perfect circle when I rolled out the dough.  The edges were a bit wavy and it gave this pizza an artisanal look.  This is now my favorite gluten free pizza crust recipe for Friday pizza night!  I snuggle up on the couch with my honey and our 2 kids, watch a movie and have pizza.
For more delicious healthy gluten free/Paleo-ish meals, please subscribe below.  You will get my free Paleo Breakfast E-Book as my gift to you and new recipes straight to your inbox! 
Check out these yummy gluten free recipes:
Grain Free Everything Pizza (Updated)
Best Paleo Chocolate Chip Cookies
Print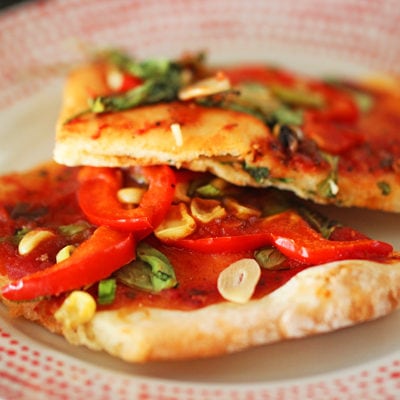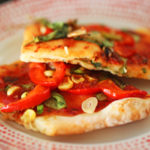 Gluten Free Pizza Crust
---
Author:

Ester Perez

Prep Time:

25 mins

Cook Time:

18 mins

Total Time:

43 minutes

Yield:

6

-

8

1

x
Description
Best Gluten Free Pizza Crust!
This gluten free pizza crust is soft in the inside, has a crispy crust and soft and flexible.  It is absolutely perfect!  Paleo/Gluten Free/Grain Free/Dairy Free
---
Scale
Ingredients
1 cup

warm water

1 Tablespoon

dry active yeast

1 Tablespoon

honey

2 cup

s blanched almond flour

2 cup

s tapioca flour plus more for dusting & rolling

1 1/4 cup

s potato starch

2 tsp

. xanthan gum

3/4 tsp

. sea salt

2

egg whites

2 Tablespoon

s olive oil
---
Instructions
Place warm water, yeast and honey into a small bowl. Whisk and set aside.
In a large mixing bowl. Whisk together almond flour, tapioca flour, potato starch, xanthan gum and sea salt. Whisk well until all lumps are removed.
Add egg whites, olive oil, water & yeast mixture.
Mix with a dough whisk and let dough come together. It will look like regular pizza dough.
Put out 2 large squares of plastic wrap and dust with tapioca flour. Use 4 squares if making 4 individual sized pizzas.
Divide into 2 large balls for 2 Extra- Large Pizzas or 4 smaller sized balls for four regular 11" pizzas.
Place dough onto plastic wrap, dust more with tapioca flour and coat dough so it does not stick to plastic. Seal in plastic and let dough rest for 15 minutes. This dough holds well in the fridge and can be stored for the next day. Put in a ziplock bag if storing for later.
In the meanwhile, preheat oven to 400 degrees fahreheit. Place pizza stone in oven and prep topping for your pizzas.
When dough has rested. Dust a large sheet of parchment paper with tapioca flour. Place dough in the center and dust with a pinch of tapioca flour and roll out to a 1/4 inch thick circle or rectangle. It does not have to be a perfect shape.
Bake on parchment paper on pizza stone or baking sheet at 400 degrees for 10 minutes.
Remove pizza crust from oven, add toppings and bake for another 8 minutes.
Remove pizza from oven and cut pizza into slices and serve.
Store leftovers in a ziplock bag.
To reheat pizza, place in a 350 degree oven for 5 minutes. This pizza holds well and reheats wonderfully!
---
Notes
If dough is too wet, just add more tapioca flour a Tablespoon at a time.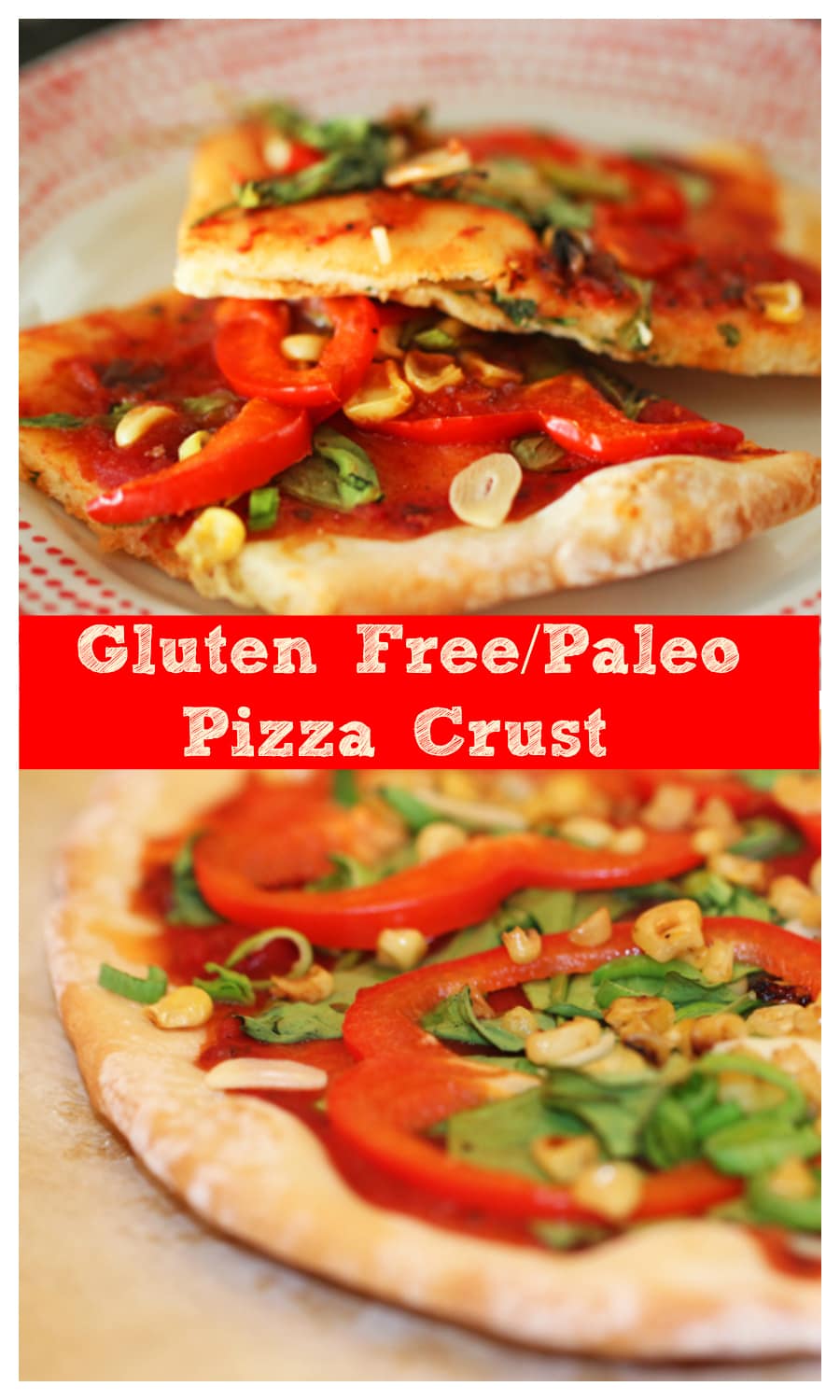 Latest posts by Ester Perez
(see all)