Gluten Free Spinach Turkey Cucumber Roll-Ups– a quick and easy recipe made with gluten free spinach tortillas, turkey, cucumber slices, cashew cream cheese and fresh spinach.  Perfect for a quick lunch, packing in kid's lunch boxes or as a delicious appetizer.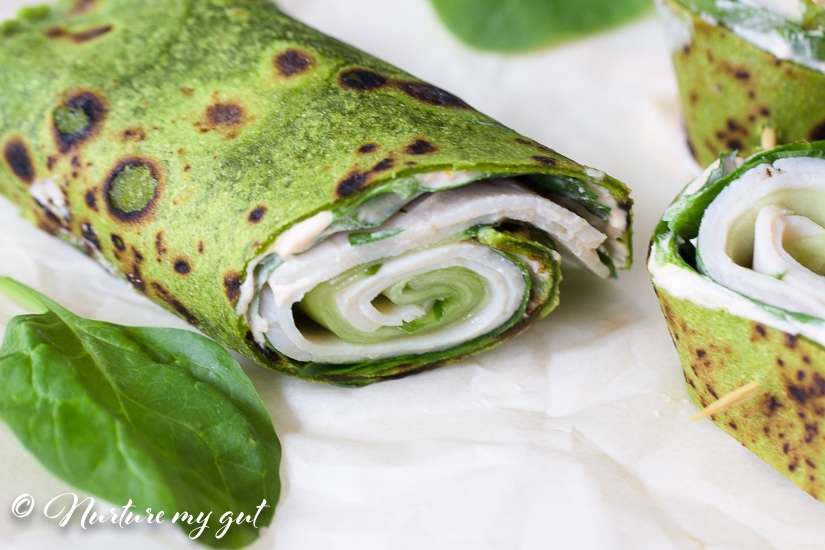 Back to school is upon us and I am always looking for easy gluten free options to pack in my kid's lunches. Kid friendly meals that can be stored in a lunch box are not always easy to find. So I wanted to create a healthy, gluten free recipe that my kids will love throughout the school year and these fit the bill perfectly!
These yummy, Gluten Free Spinach, Turkey, Cucumber Roll-ups are made with my Homemade Gluten Free Spinach Tortillas.  
I was inspired to make these after looking for gluten free options at the market and saw some delicious-looking wraps. My daughter loves wraps but we were both disappointed to find out that none of the wraps were gluten free (sigh & light bulb idea)! That disappointment led me to create my own recipe.
After my kids and I went gluten free, I vowed to myself to make whatever we missed, gluten free, healthier and taste amazing!  I am up for any challenge!  So this time I decided to come up with a healthier version of a tortilla wrap- full of spinach!
I ended up transforming my Paleo Tortillas 2.0 recipe for these gluten free spinach tortillas and they worked out perfectly!  They stayed soft and flexible, even after hours at room temperature!  We've got a winner!
After coming up with the Gluten Free Spinach Tortillas, I thought about what ingredients would hold well for a few hours.  I decided to leave tomatoes and avocados out of the recipe because they will not hold well and make a soggy wrap.  I opted for cashew cream cheese, although a roasted red pepper hummus would work great, too. Topped with spinach, turkey and cucumbers sliced thinly with a vegetable peeler.  Just be sure to use the part without seeds so that it does not release water and make your wrap soggy.
Below I will show you how to assemble your Gluten Free Spinach, Turkey, Cucumber Roll-Ups easily!
How to make Gluten Free Spinach, Turkey, Cucumber Roll-ups
Ingredients:
Hummus or cashew cream cheese my (Dairy Free Ranch Dip works great w/a splash of Sriracha) (1-2 Tablespoons)
5-6 baby spinach leaves
1 thin slice of turkey
4 thin slices of Persian cucumbers (use potato peeler)
Tools I Use:
Start by gathering your ingredients for the roll-ups. I like to use fresh spinach, thinly sliced turkey, and Persian cucumbers that are free of seeds. My daughter loves the cashew cream cheese added in this recipe, but feel free to add any spread you (or your kids) love!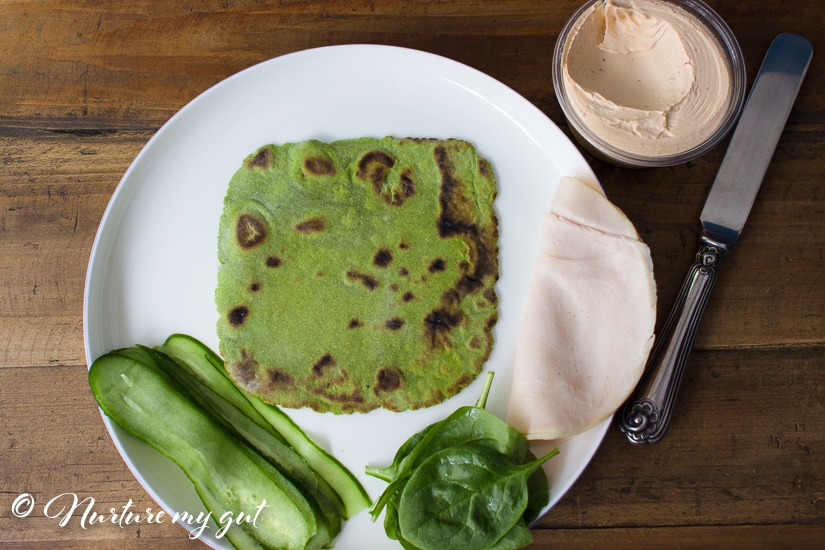 A vegetable peeler is the best way to slice your cucumbers and use the part without seeds to keep your wrap dry.
First, lay your spinach tortilla on a flat surface. Then apply a thin, even layer of hummus or cashew cream cheese to the spinach tortilla. Leave ½-1" edge on the spinach tortilla. Add a bit of Sriracha to your cashew cream cheese for a little kick as shown in the photo below.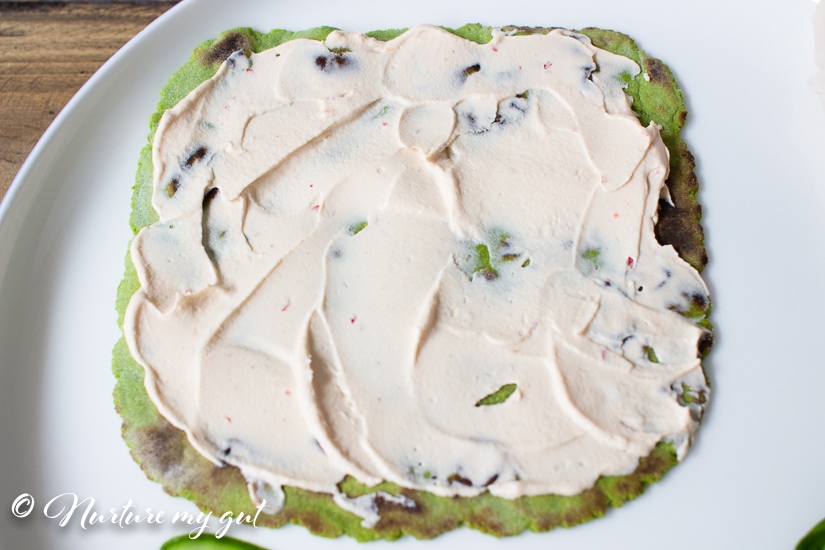 Next, layer 5-6 spinach leaves on top of the cashew cream cheese, evenly.  I like to use baby spinach leaves.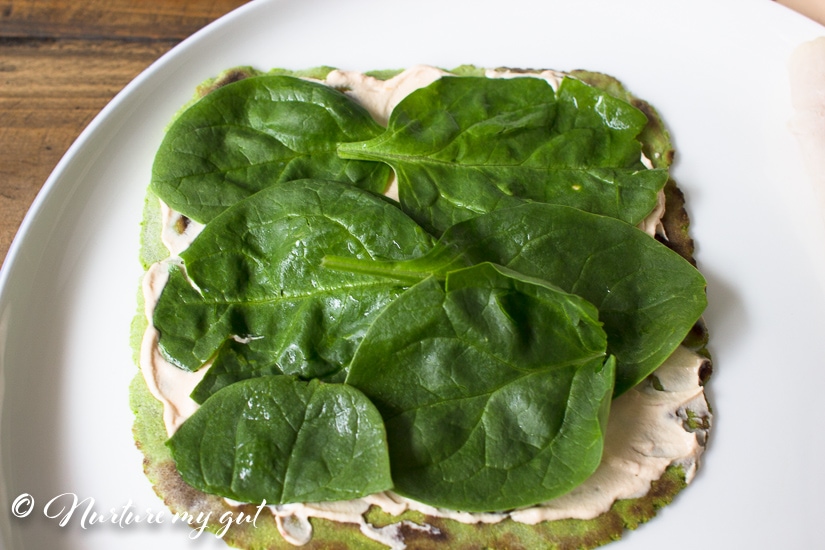 Then layer on fresh turkey that is gently folded in half. This allows the turkey to fit nicely within the roll-up. Lay thinly sliced cucumbers on top of the turkey.
Once all of your ingredients are on the wrap and before you roll it, gently move the wrap onto a paper towel. Use the paper towel to roll your wrap and keep the ingredients nice and firm.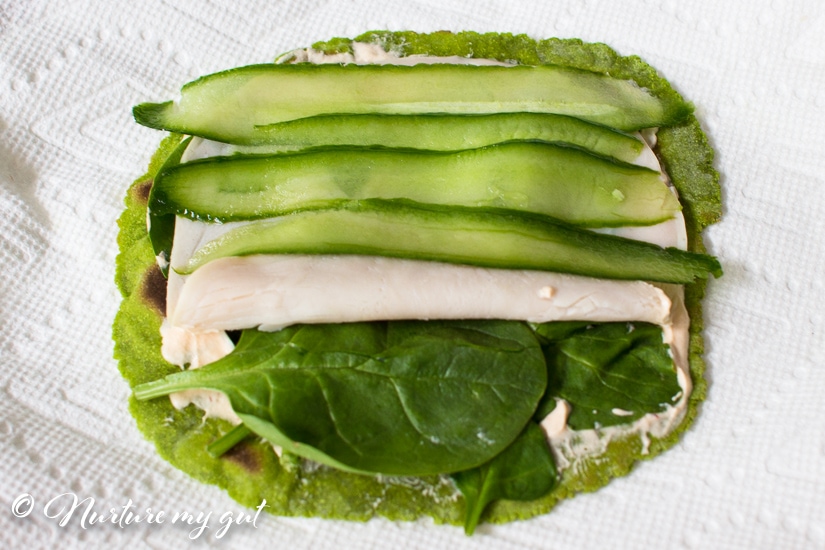 TIP: Make sure to leave a few inches at the edge when wrapping because the ingredients will slide to the edge. As you can see in the above picture, I did not heavily add ingredients to the wrap. I left one side of the wrap free of turkey and cucumber, to make for easier wrapping.
Roll the wrap, beginning with the cucumber side, first. You can leave the wrap whole, cut in half, or cut into spirals. If you are packing the roll-ups, as I did, keep your roll-ups in place by using  Toothpicks, if packing for kids, try these adorable Kids Toothpicks.
Adding the roll-ups to a Stainless Steel Bento Box makes for easy transport and keeps the turkey roll-up ingredients in place. Serve with fresh fruit and vegetables and your kid's will have a healthy, delicious, gluten free lunch!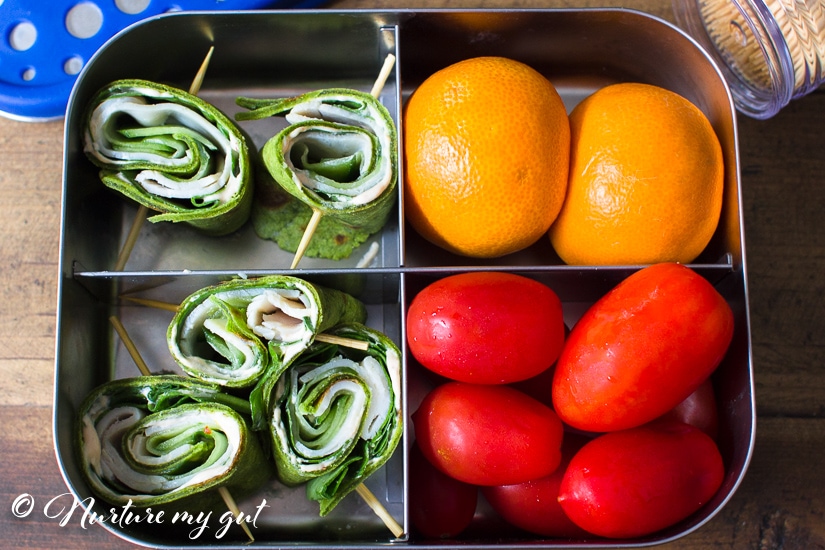 These roll-ups could not be easier, healthier, or more kid friendly! The Gluten Free Spinach, Turkey, Cucumber, Roll-Ups will be a favorite in my kid's lunches all year long!  Hooray for Mom!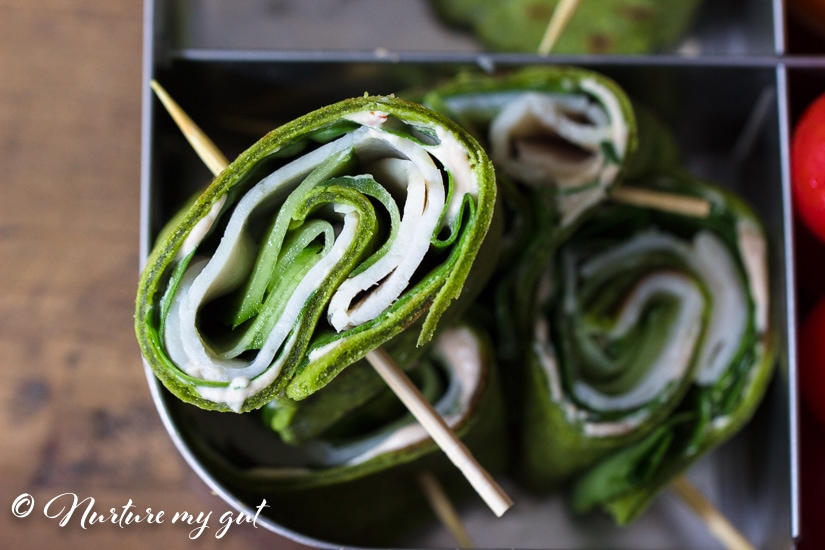 Be sure to let us know how your kids love these roll-ups, too! What other ingredients do your kids love that you could fill the spinach tortilla with? The possibilities are endless! Comment below and let us know!
For more deliciously healthy gluten free recipes, be sure to subscribe below!  You will get my Delicious Paleo Breakfast E-Book as my gift to you!
Print