These healthy Gluten Free Wild Blueberry Lemon Waffles are bursting with blueberries and citrusy flavor in every bite.  Above all, they are crispy on the outside and fluffy on the inside..the perfect waffle texture!  Also, these are gluten free, dairy free, refined-sugar free, soy free and vegetarian.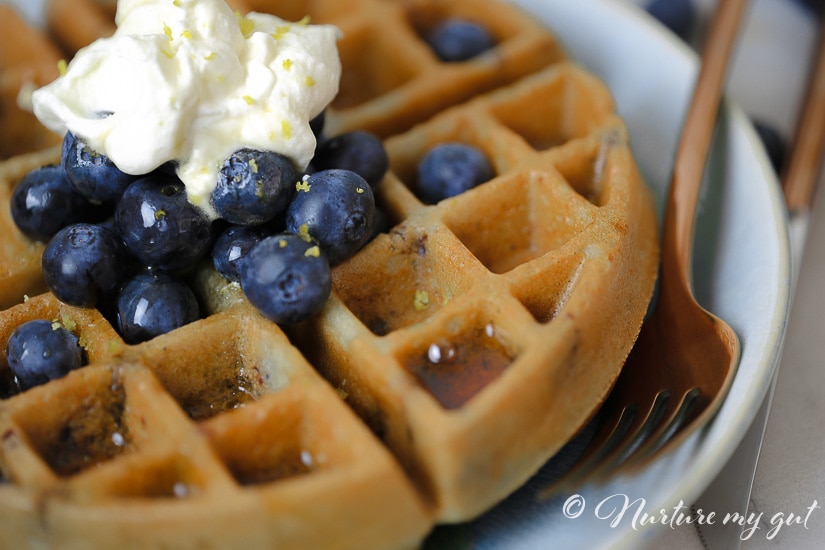 I believe breakfast is the funnest meal to make.  This is the time I give myself permission to play with food and decorate with vibrant colorful fruit!  Above all, food with deep brilliant colors, are actually healthy and full of anti-oxidants!  As a result, food looks pretty and it's good for you!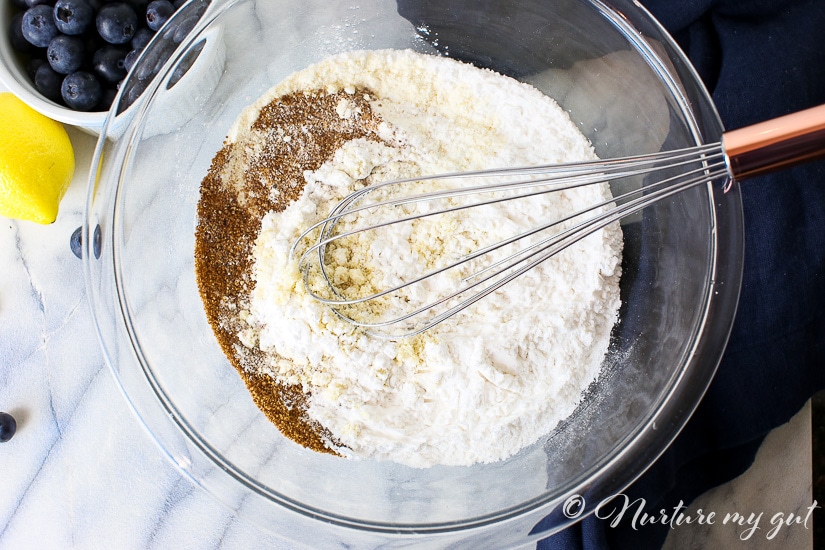 Why Wild Blueberries and Lemon Zest Marry Perfectly in Waffles
Particularly, I use wild blueberries in this recipe because those tiny bits get cooked in all the little crevices of the waffles and each bite explodes with berry-bliss!  Oh yeah! So heavenly.  You get the crispy exterior, the soft fluffy interior, the hint of citrus and then, pow, a bite of wild blueberries explode in your mouth! I think that explains it all!
(This post contains affiliate links for your convenience. Click here to view my full Disclosure Policy.)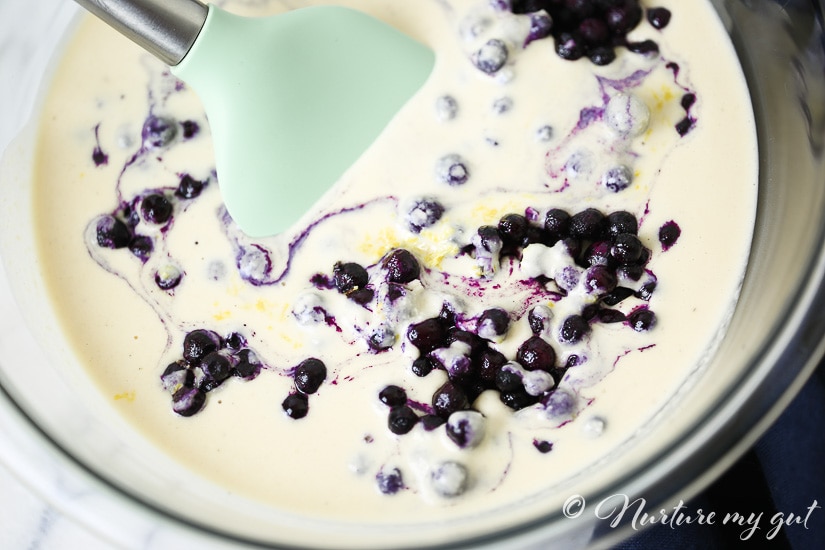 Choosing a Healthy Waffle Maker
For this recipe, I use a Ceramic Belgian Waffle Maker that rotates for even baking.  By the way, this is my favorite waffle iron because it is has a ceramic coating which is PTFE and PFOA free and environmentally friendly.  In addition, ceramic is a healthier version of non-stick cookware.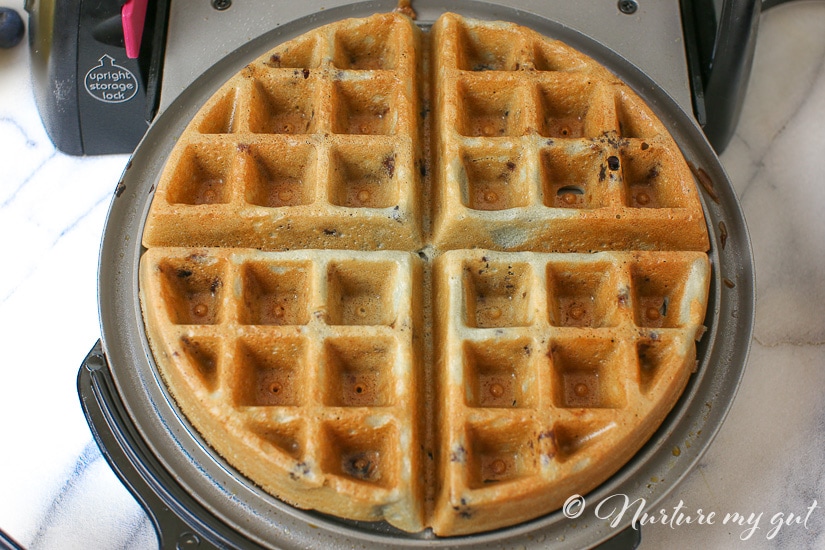 How to Serve Gluten Free Wild Blueberry Lemon Waffles
Serve these Gluten Free Wild Blueberry Lemon Waffles with:
fresh blueberries
lemon zest
coconut whipped cream or homemade whipped cream
maple syrup
…now let the fireworks begin!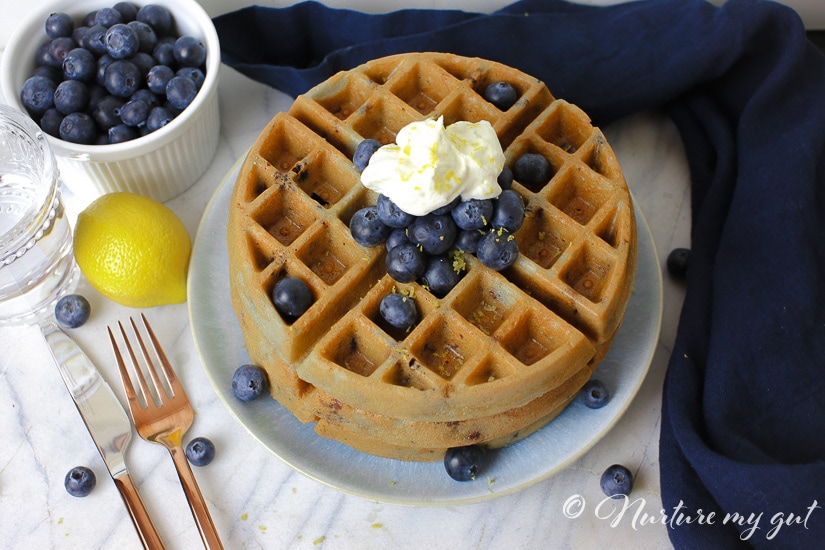 Inspiration for Gluten Free Wild Blueberry Lemon Waffles
This recipe was inspired by my Best Gluten Free Waffles recipe which I have been making for over 4 years and they are still a family favorite!  I make these at least once a week!  Besides, these waffles never fail me, therefore I am always making several variations.  I felt it was about time I shared these delicious recipes that are worthy for guests at brunch time.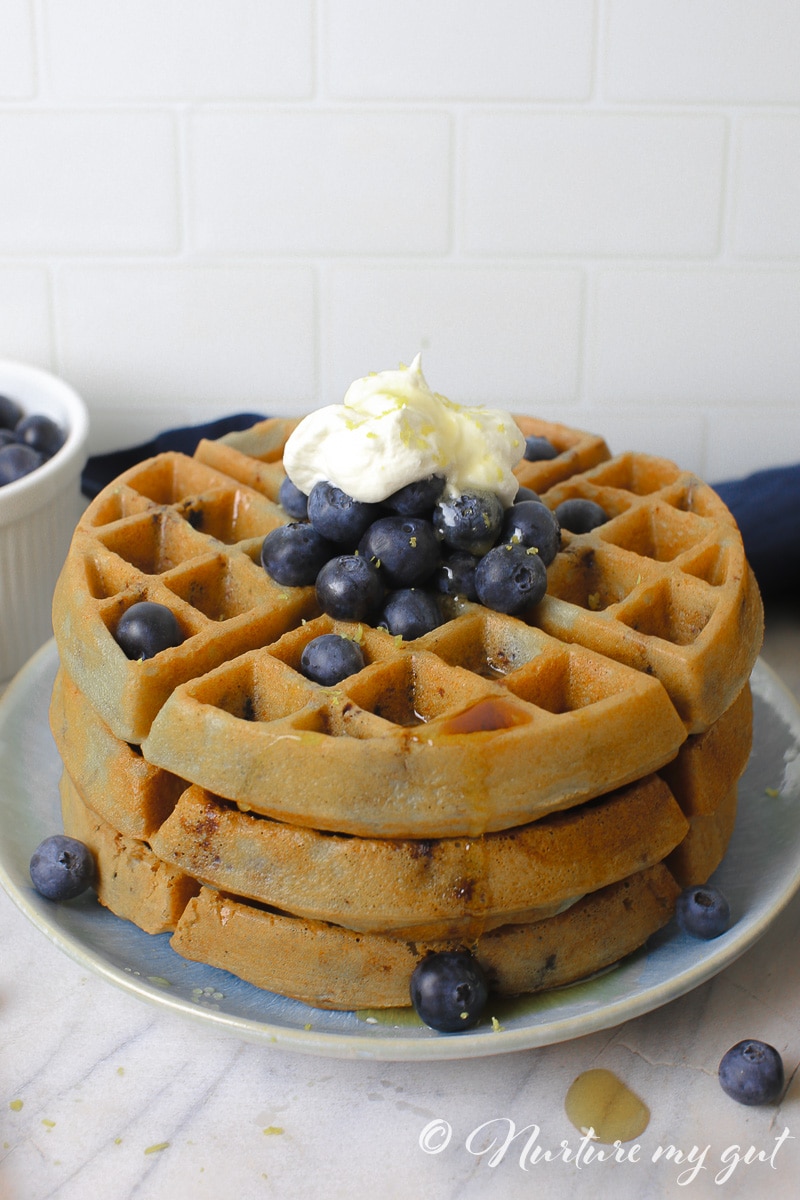 How to Store and Re-heat Waffles
By the way, be sure to make a double batch of these because they are easy to make and hold up really well in the fridge.  As a rule, allow leftover waffles to cool to room temperature so they do not stick together in the fridge.  Afterward, store them in a sealed container separated by parchment paper in the fridge for up to 3 days.
To reheat them,  I just pop them in the toaster oven for 5 minutes and serve piping hot!  They are crispy and oh so delicious!  Oh, it is so lovely to have these as leftovers!
Healthy + delicious breakfast + easy breakfast = super duper happy Mom and kids!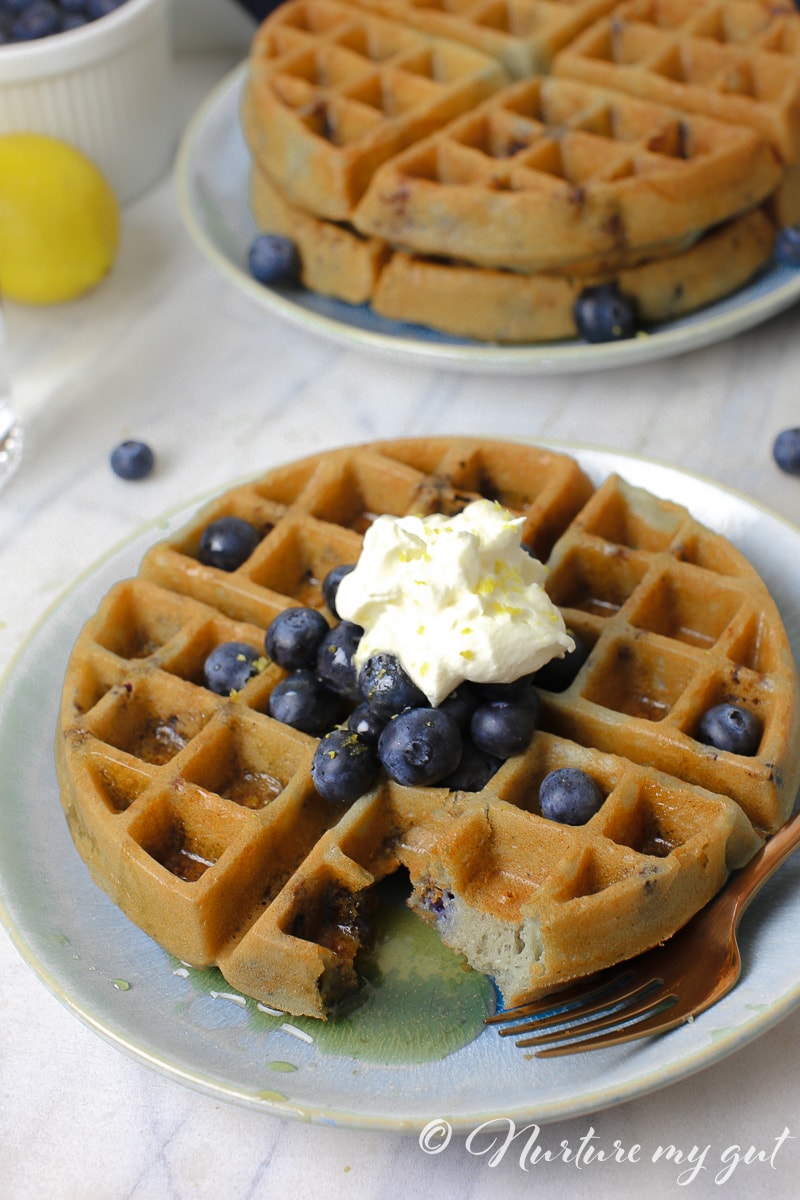 If you try this recipe, let me know what you think! Leave a comment, pin it, and don't forget to tag a picture @nurturemygut on Instagram. I love to see your kitchen skills in action!
Print