Healthy Noodle Sweet & Spicy Crunch Bowl-this healthy vegan noodle bowl combines warm slippery rice noodles, bright colorful crunchy veggies and a sweet and spicy Thai Sauce.  The perfect nutrient dense lunch that is filling, healthy and delicious!  This fast and easy vegan noodle recipe is sure to be favorite! Gluten free and vegan.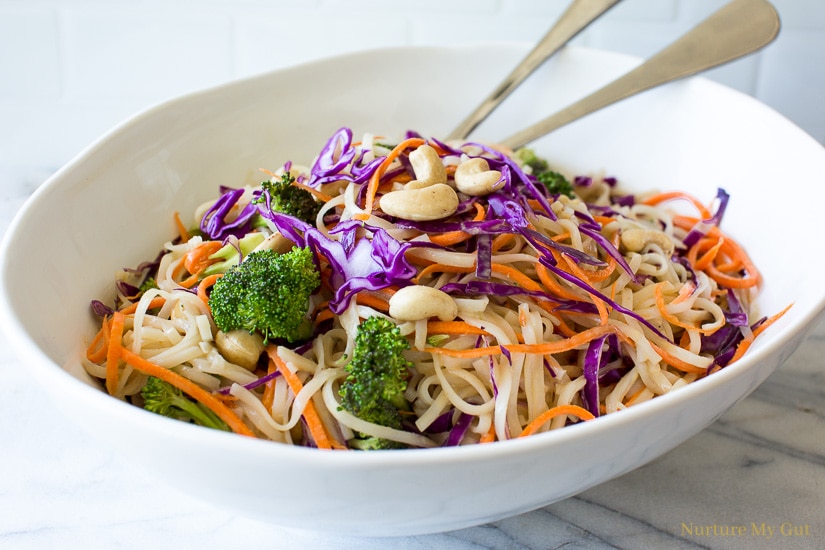 Healthy Noodle Sweet and Spicy Crunch Bowl w/ Maple Miso Dressing
First of all, any dish full of gluten free noodles and crunchy raw veggies is a hit in my house!  We have been giving our kids raw veggies as snacks since they were babies!  Yes, my pediatrician told me to make "Raw Baby Food".  Pretty interesting fact, huh?
So when I whipped up this warm healthy noodle bowl topped with crunchy carrots, raw broccoli and cabbage, my daughter was so excited!  Did I tell you she is vegetarian now?  Yup, she went vegetarian as her New Years Resolution back in January 2018.   She loves animals so much she won't eat them anymore.  So this dish is a staple in my home now.
It is filling, healthy and full of goodness.  I omit the optional toppings for her.  But I love my Noodles sweet AND spicy so I pour a generous drizzle of spicy Siracha, chili flakes and lime juice for mine.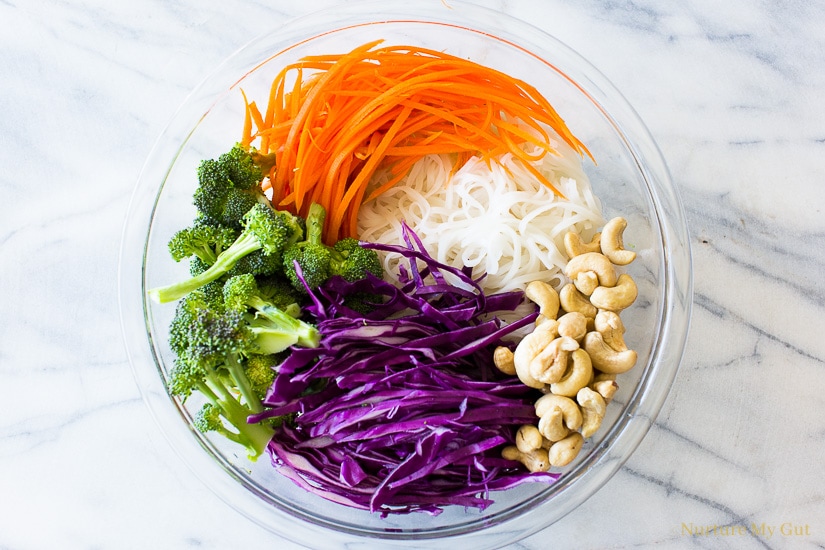 Fast and Easy Healthy Rice Noodle Crunch Bowl
First of all, this dish is it super easy to make.  It takes ingredients that are probably already in your pantry: carrots, cabbage, broccoli, cashews and rice noodles.  The dressing is super easy to whip up too!
Next, it takes just 10 minutes prep time.  In addition, you can pretty much have your veggies and Maple Miso Dressing done the night before.
Then, on the day you make this, just boil your rice and toss everything in!
I guarantee you that this recipe will be making it to my daughter's lunch box for school.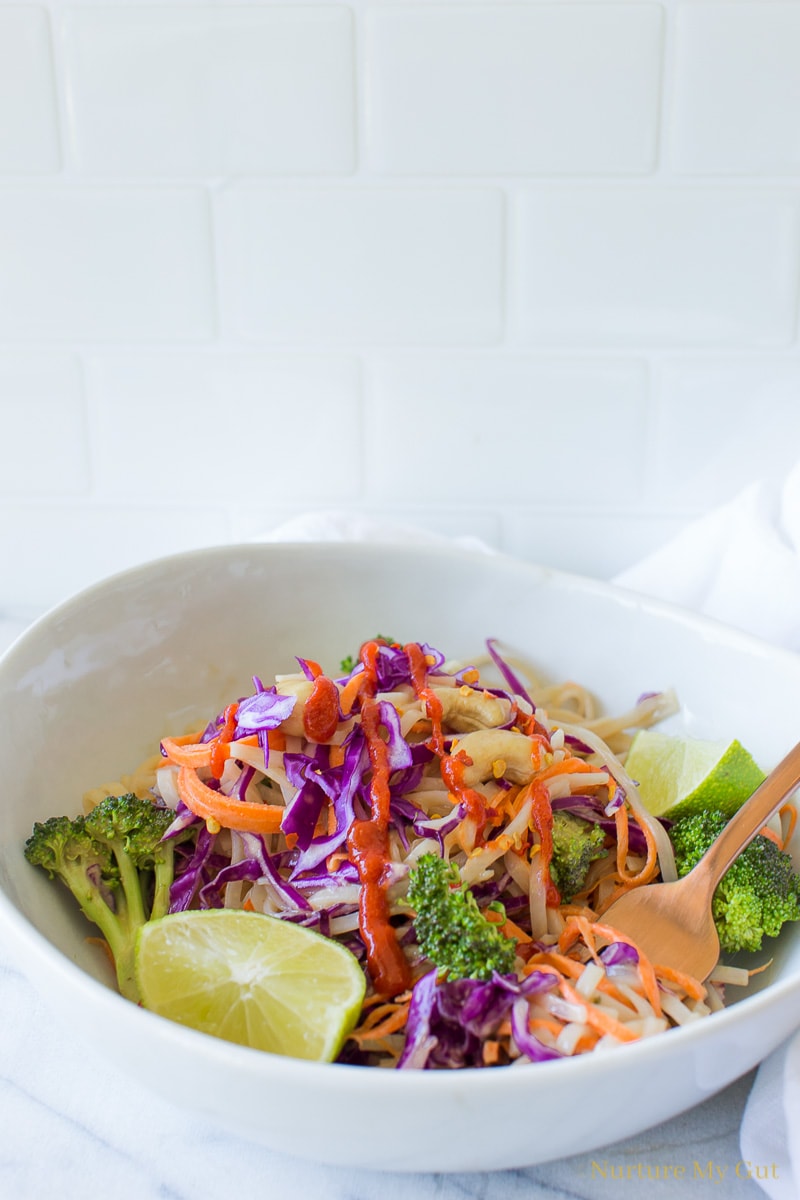 Mostly Raw Vegan Crunch Bowl improves digestion
Now if you are wondering why I don't stir fry these veggies, the reason is, that cooking above 118 degrees kills off vital enzymes.  Enzymes are the worker bees of your body, they help your body to break food down into usable nutrients through the integral role they play in the digestion process. Therefore, consuming more raw veggies in this crunch bowl helps support a healthy digestion.
Now I am not claiming to be a Raw Vegan, I am not, but I can tell you from experience that the more raw fruits and vegetables my family consumes, the healthier we feel, the more energy we have, the better our digestion and immunity.
Here at "Nurture My Gut" my goal is to make food taste great and make you feel great too!  There is no sacrificing flavor!  Everything must pass the taste test of picky eaters and my husband who was once a Sous Chef.
(This post contains affiliate links for your convenience. Click here to view my full Disclosure Policy.)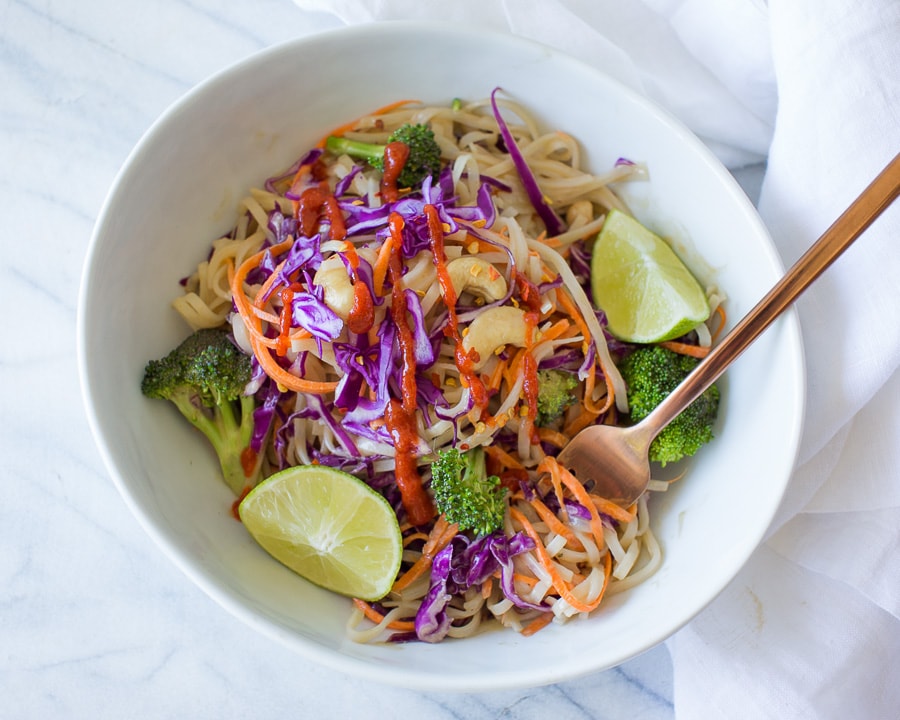 Therefore, do not delay another minute!  Get ready to make the best tasting Healthy Noodle Sweet and Spicy Crunch Bowl that can be made in minutes and make you feel great! Kid approved -without the spicy stuff -wink, wink!)
If you try this recipe, let me know what you think! Leave a comment, pin it, and don't forget to tag a picture @nurturemygut on Instagram. I love to see your kitchen skills in action!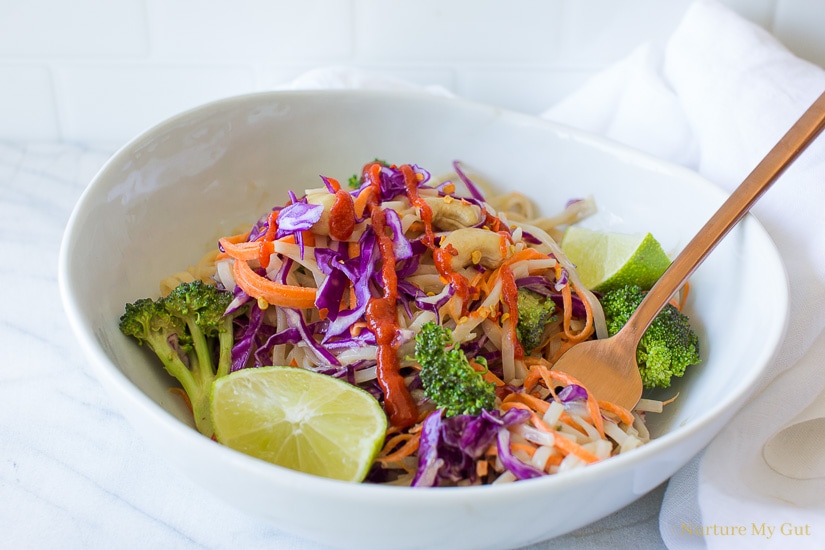 For more delicious healthy gluten free/Paleo-ish meals, please subscribe below.  You will get my free Paleo Breakfast E-Book as my gift to you and new recipes straight to your inbox! All recipes are kid approved!  
Check out these popular yummy gluten free recipes:
Print