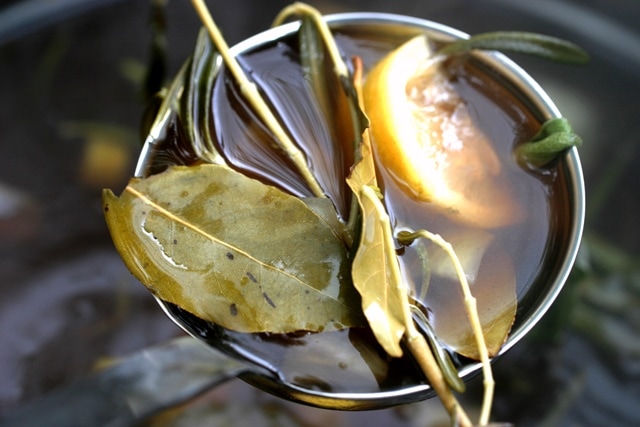 As you learned from my last post, I have been on a mission to make the best roasted turkey.  My last turkey was dry on top, moist at the leg and thighs, but not too flavorful.  It basically was not something I would be serving to guests.
I ended up making turkey pot pies, which were amazing, but it was the homemade gravy and Paleo Pie Crust that made it taste wonderful!
So what is the best technique for roasting a moist and flavorful turkey?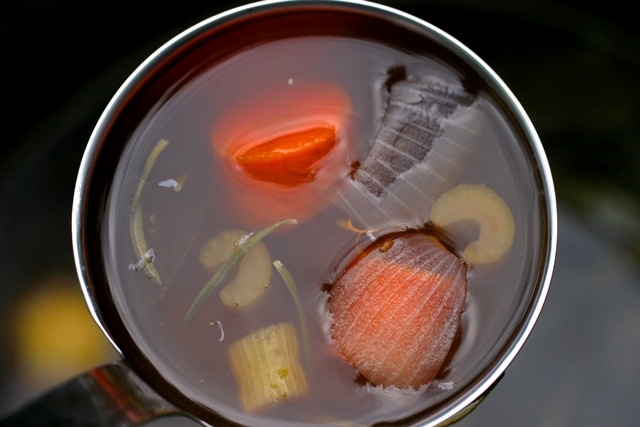 I did my research and what I learned is that brining the turkey the day before roasting produces the juiciest most succulent turkey.
I looked around for recipes and what I found is that many people buy the brine pre-made.  Since I love making my own food from scratch, I decided to come up with a homemade brine recipe.  It was so simple to make and yes, the end product was absolutely flavorful and worth the wait.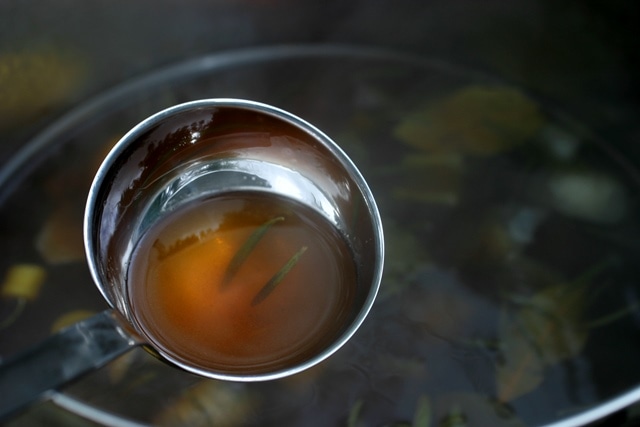 All you basically do is bring some vegetables to a boil with herbs, coconut sugar and salt.  Let is simmer for an hour, allow it to cool and then soak your turkey submerged in this brine for 12-24 hours.  It is simple as that.  Then rinse your turkey, dry it, fill it with aromatics, truss it, baste it and roast it.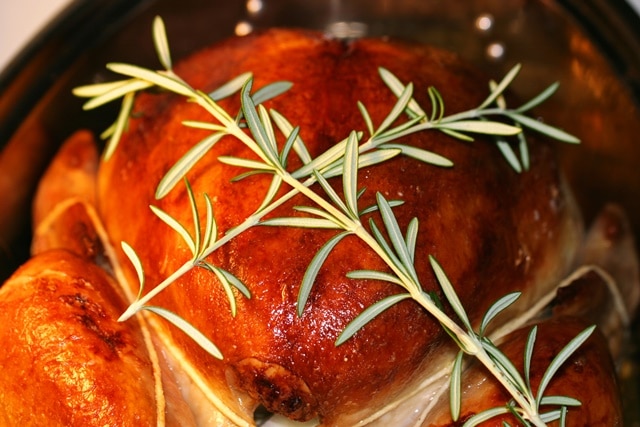 You can see the turkey came out wonderful!  This Homemade Turkey Brine Recipe is something that I will be passing onto my children, it truly is that special.
For more delicious healthy gluten free/Paleo-ish meals, please subscribe below.  You will get my free Paleo Breakfast E-Book as my gift to you and new recipes straight to your inbox! 
Print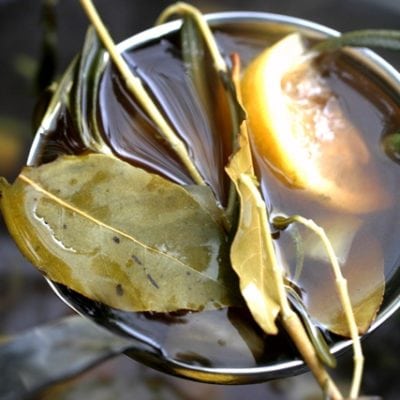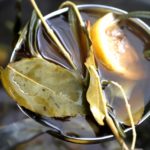 Homemade Turkey Brine Recipe
---
Description
Homemade Turkey Brine Recipe
---
5 quarts

of filtered water

1 cup

of coconut sugar

4

bay leaves

4

carrots, roughly chopped

2

stalks of celery, roughly chopped

2

medium yellow onions, peeled and quartered

12

peppercorns

1

lemon quartered

1 cup

of Himalayan salt ( sea salt works well too)

3

sprigs of fresh rosemary

4

cloves of peeled garlic

1 teaspoon

of ground allspice

4

sprigs of fresh sage leaves
---
Instructions
Add all ingredients to a large stockpot and bring to a boil.
Reduce to lowest setting on heat, cover and simmer for 1 hour.
Turn off heat, allow stock to cool to room temperature.
Strain out vegetables and herbs and add brine back to large stockpot.
Add turkey into stockpot. If turkey is not submerged under the brine, add more water. Cover with lid.
Place stockpot in refrigerator and allow turkey to soak in brine for 12-24 hours.
Drain brine and rinse turkey well inside and out. Pat turkey dry and its time to roast your turkey!

Latest posts by Ester Perez
(see all)