How to Create a Capsule Wardrobe on A Budget with Thred Up
Get tips for creating a capsule wardrobe on a budget through Thred Up. Learn how I created 14 outfits with only $96! That's what I call saving the bank!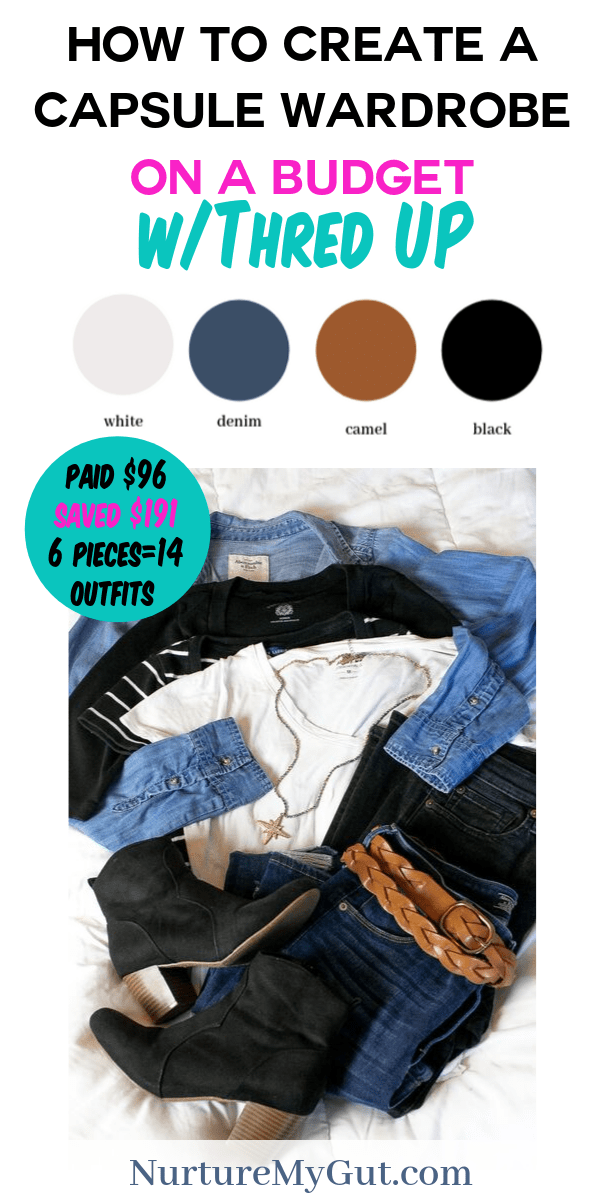 Ever opened up your closet and find nothing to wear?  It's actually, nothing you want to wear, right? If you are anything like me, you probably enjoy shopping, buying new items and wear those clothes religiously for the next few months.  Then, next season, you repeat the same cycle!  The only problem with is, it can get pretty pricy!   
I finally found a solution to this!  A capsule wardrobe!  A  capsule wardrobe is a collection of basic, better yet classic and versatile pieces of clothing that can be mixed and matched to create multiple outfits.  For example, a wardrobe of 30-40 pieces can create over 150 outfits, more if the modules go together.  
Where did the inspiration come to start a capsule wardrobe?
About a month ago, I heard an inspiring Ted Talk by Greta Thunberg on Climate Change titled, "School strike for climate-save the world by changing the rules | Greta Thunberg | TEDxStockholm."
.  I was so blown away and inspired by this young girl, that I wanted to find out ways to reduce my emissions and trash on the planet.  This then led me to watch  Bea Johnson's video called "Zero Waste is not recycling more, but less | Beau Johnson |TEDxMünster".  I completely lit up with what I was learning!  Bea has a capsule wardrobe with 15 items that give her over 50 outfits.  I wanted to take action, minimize my stuff, create a capsule wardrobe and reduce my trash on the planet!
The first thing I decided to do was freeze my shopping of buying new clothes/shoes. I discovered some shocking facts about where our unwanted clothing actually goes.  Did you know that 26 billion pounds of clothing go into the landfill each year?  That is appalling!!!  Many of the clothes we donate actually get thrown away and go into the landfill.
I realized, there is so much beautiful clothes, already out there, gently loved, that we can re-use.
My exception is underwear, for that, I will use an eco-friendly undergarment company when needed.  Eco Warrior Princess wrote a great post about various eco-friendly underwear brands.
So where can we find "gently loved" items?  My first recommendation is to check your local gently used clothing stores.
My favorite online place is Thred Up.  This is the ideal place to to create a capsule wardrobe on a budget.
Thred Up is the worlds largest fashion resale online marketplace.  Thred Up includes over 35K fashion brands like Gap, Anthropologie and Lululemon with up to 90% off retail.  
Shopping on Thred Up saves money and the planet.  By purchasing gently used items, we are reducing our carbon emissions and valuable resources like water.  Plus, you can earn money on Thred Up by selling your own clothing and referring friends and family.  For every friend you refer, they save $10 and you earn $10.  You can find my referral link here—> Thred Up Friend $10 Referral Shopping Link (click here!) 
I have purchased beautiful, "like new" items on Thred up from my favorite brands at a fraction of the cost to create a classic capsule wardrobe.   In my wardrobe below, I saved $191!!!   
Let me show you the steps for creating a beautiful capsule wardrobe that will save you money and create multiple outfits you will love! 
Step 1 to Creating a Capsule Wardrobe:
The first step is to create your color pallete.  This part is really fun because you can create a new color palette for each season.  
First, you want to pick base colors.  
Base color ideas are:

 
black, white and navy

 

brown and white
grey and white
You can also pick accent colors like:
mustard and wine for fall
turquoise and orange for summer
blush and baby blue for spring
red and grey for winter
Below is my "Fall Color Palette" which includes my basic colors of white, denim and black which can be used all year long plus my fall colors which are wine, sand and camel.  

Step 2 for Creating your Capsule Wardrobe are to create Modules
A module includes basic items that can all work together.  A module allows you to create multiple options with the least amount of clothing.  
In order to get the most out of your module, each top must go with each bottom.  A module of 6 pieces will give you a total of 12-14 outfits.  
A Module Includes:
1 outer layer: blazer, jacket, sweater, cardigan
3 tops
2 bottoms
shoes
jewelry
1 belt
Each top must go with each bottom=6-7 outfits
Each bottom goes with each top=6-7 outfits
Total=12-14 outfits
Module Tip:
Take a pic on your phone of your module outfits so you can easily pick out an outfit in the morning.
When starting a module, you can add as much color or as little into your capsule, just note that if you like prints or florals, pick that item first and then add in your other pieces.

 
Additionally, if your second module goes with your first module, then you can create 48-72 outfits out of 12 pieces of clothing.
With 3 modules, which is about 18 pieces of clothing, you can create 162-216 outfits of clothing.  See where I am going with this!  
I recommend purchasing items that are a higher quality and grade so they can last longer and you can use them all year long.  Creating modules in your capsule wardrobe will maximize your value so you can use your money for other things.  Yippee!  
Step 3: Include basics into your capsule wardrobe
First things first, you must have a variety of basics.  This should be according to your lifestyle.  Are you a stay at home Mom?  Do you workout?  Do you need to dress up for work?  Choose basics that work with the attire you will be wearing on a regular basis.  They are the foundational glue to your closet.  
Basic Items include:
basic white tee
jeans (dark jeans look more professional and polished, light colored jeans are more casual)
chambray shirt
black top
blazer
dressy pants
dress skirt, long or short
basic black dress
trench coat
sweater
cardigan
belt
boots
dress shoes

 
How do you determine what basic items you need in your wardrobe?
Basics depend on how you spend your time, do you work or are you stay at home? Do you work out? Think of the basics you need that fit your lifestyle.
Get some really nice accessories that work with all your modules.
Some of you may need 2 capsule wardrobes, one that is professional and one that is casual. 
I work from home so my main module is casual and comfortable (see below color palette and 7 item module).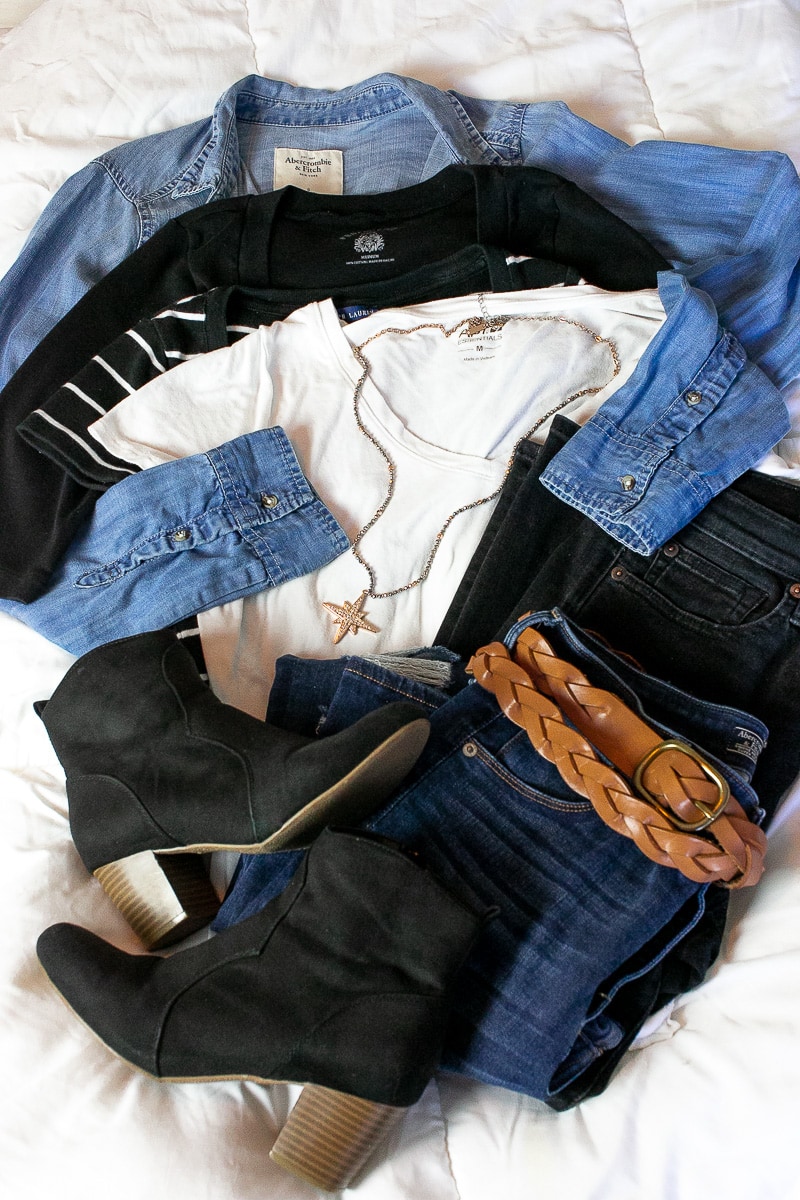 My module contains:
1 chambray shirt

 

1 basic white tee
1 black and white striped top
1 black top
1 pair of dark skinny high rise jeans
1 pair of black high rise jeans
1 pair of black boots
1 brown braided belt
1 long necklace
This module gives me 14 outfits total since I can wear the chambray shirts alone with the jeans.  That is 2 weeks worth of outfits from only 6 pieces of clothing! 
I want you to know that every item of clothing & the shoes in this module is from ThredUp! (excluding the belt & necklace)  I purchased the above module for a total of $96 plus tax.  That is a savings of $191!  Every single item was in excellent condition and very good quality.  I found items from Abercrombie and Fitch, American Eagle Outfitters, Ralph Lauren, GAP and Apt. 9.  All high quality with very nice fabric.  These items will last a very long time.   
Tips for body shapes:
Pear shaped and hour glass figures look best in high rise jeans.
Pear shaped or hour glass figures look best in a stretchy jean.
Thinner figures or rectangular figures or someone with a high waist look best in low rise jeans with minimal stretch.

 
Tips for Creating a Capsule Wardrobe on Thred Up
Create an account on Thred Up

 

Top right click on account
On left hand side, go to Preferences and add your sizes and click "SAVE"
Decide upon your color palette
Search an items: you can customize on the left by adding your favorite brands and color
Favorite your favorite items
Go to your favorites and finalize the items in your module
Items that are closer to your home will ship faster, other items may take longer to ship so be patient!
Once you get your nicely packaged items, try them on.

 

If an item does not fit, you can either print a return label for free and return items for store credit or ship it yourself and get a full refund minus a small restocking fee.

 

It is that simple!

   
Are you ready to create your capsule wardrobe with Thred Up? Create a free account on Thred Up here. By clicking on my referral link, we you earn $10 toward toward your next purchase! ..and so do I, so Thank you ahead of time!  Be sure to share the love too so your friends and family save! 
On Thred Up You will find beautiful clothes on a budget all while helping the planet! 
If you create a module for your capsule wardrobe, be sure to tag me on Instagram!
Latest posts by Ester Perez
(see all)