For some reason my kids have been on a juice strike.  Yes, even in my house, kids will go on strike and want nothing to do with this amazing juice.
I have been offering it to them regularly but they turn up their noses, say "No"!  and run to the other room.
It's been about 2 months that they have been on strike, until this morning.  As I was making my morning green juice, I put aside a concoction of cucumber with kale and added a little stevia.  I put some juice in a little syringe and offered it to my son.
He was so excited to have his juice in a syringe that he wanted to drink the rest himself, with a little cup and syringe of course.  He finished his green juice and said, "Mommy, more!  More!"
I wanted to do a cartwheel, but of course, I composed myself.  Together, we made some more cucumber and kale juice.  Between him and my daughter, they finished 1 1/2 large cucumbers and several leaves of  kale!
Cucumber is excellent for the skin and helps with eczema flare-outs due to its anti-inflammatory properties.  Kale is very good for building strong bones, highly nutritious and detoxifying because it is high in calcium, vitamin A & C, potassium, iron and chlorophyll.  Stevia adds a natural sweetness without raising blood sugar.
I am so excited that they are back into green juice, but I do suspect its because they love the mechanics of using the syringe to drink the juice.
So, if you are having trouble getting juice into your kids, try to be creative and make it fun!  You can use a syringe or a silly straw or something really fun!
For more delicious healthy gluten free/Paleo-ish meals, please subscribe below.  You will get my free Paleo Breakfast E-Book as my gift to you and new recipes straight to your inbox! 
Kid Friendly Green Juice
Ingredients:
Print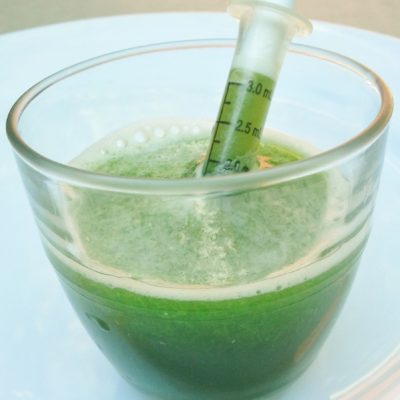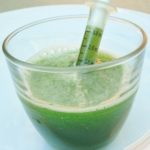 How To Get Your Kids To Drink Green Juice
---
Description
Kid Friendly Green Juice Recipe. How to get your kids to drink green juice. A great creative idea. 
---
Scale
Ingredients
1 large cucumber washed well and unpeeled
2–3 leaves of kale
3 drops of Stevia Concentrate
---
Instructions
Run the cucumber and kale through a juicer.  Add a few drops of stevia and stir.  Serve in a small glass and place a silly straw or syringe for kids to drink up on their own.
---
Latest posts by Ester Perez
(see all)