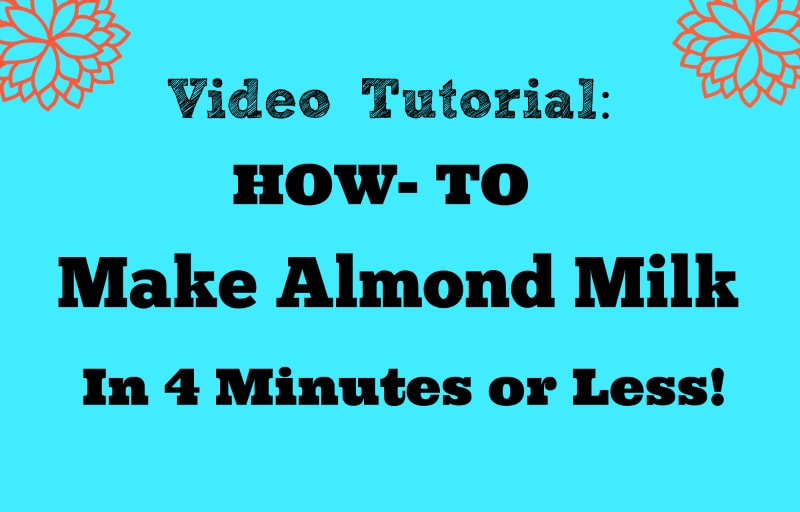 Did you know that top almond milk brands have been sued for false advertisement.  According to this news article, Almond Breeze contains only 2% almonds!  That means you are getting mostly  water, sugar, sunflower lecithin and carrageenan in store bought almond milk.  Pretty absurd right?  Did you also know that you can make almond milk in only 4 minutes or less?  Yes!  In only 4 minutes you can have deliciously healthy almond milk, with much more than 2% almonds!
Watch the video below to see how easy it is to make almond milk at home.
How to Make Almond Milk Video Tutorial:
You can use fresh dry almonds if you are in a hurry but soaked almonds are always best and require very little effort on your part!  Just add almonds to a jar, cover with water and store on counter for 6 hours or even easier, place in the fridge overnight.  Pretty simple, right?  In the morning, rinse out your almonds and make your almond milk!  Yes, it's that easy!
In this video, I am using Ellie's Best Pro Quality Nut Milk Bag
For a FREE Printable recipe, check out my blog Post: How To Make Almond Milk
If you love this recipe, please give it a 5 star review! ⭐️⭐️⭐️⭐️⭐️ Snap a picture of your finished dish and share it with me on Instagram tagging me @nurturemygut. I love to see what you're making! Subscribe below to my newsletter, follow me on Facebook or Pinterest.
Check out these delicious gluten free recipes:
Latest posts by Ester Perez
(see all)