Most deodorants contain aluminum and parabens.  This has been linked to Alzheimer's disease and a host of other horrific health concerns. Plus those anti-persperint ingredients that prevent you from sweating may be causing more harm than good.  We need to sweat to eliminate toxins and cool the body down.  So instead of having a deodorant that keeps us from sweating, I created a deodorant that gets rid of the stinky smell.  This works really great, it's been tried and tested and has a great scent!
Let's check out the tutorial below for how to make a healthy deodorant.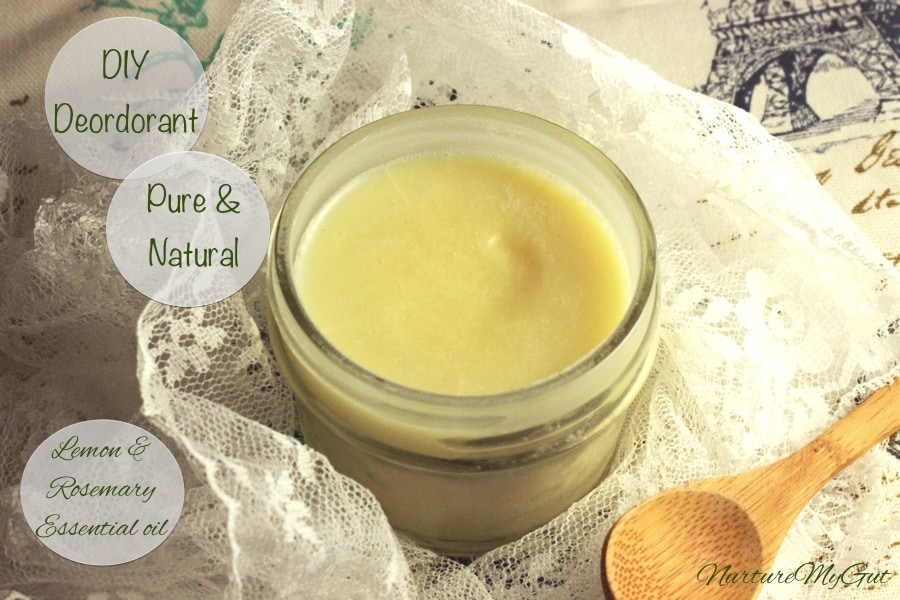 This is super easy to make.  Here is what you will need:
2 Tablespoons Organic Coconut Oil
3 Tablespoons Organic Cocoa Butter
2 Tablespoons Baking Soda
3 Tablespoons Arrowroot Flour
10 drops Lemon Essential Oil
10 drops Rosemary Essential Oil
Directions:
In a small saucepan, add 2 cups of water and put your small jar or bowl on top.  Melt the coconut oil and cocoa butter.  Stir with a small spoon.
Once the oil is fully melted, remove it from the heat and stir in baking soda, arrowroot and essential oils.  Make sure to remove all lumps with the back of a spoon.
Now pour into a small jar, place a lid on top and refrigerate until solid, about 30 minutes.
You can now keep the jar in your restroom or medicine cabinet.  Use your finger or a tiny spoon to scoop desired amount and rub onto armpits.
That's it!  It is super simple and works really great!  Do you have a favorite deodorant that you make yourself?  Please share!  I would love to hear about it.
If you like this DIY Homemade Deodorant and want more on natural living and gluten free recipes, subscribe to my blog and monthly newsletter below.  No spam, promise!!!
When buying essential oils make sure they are certified pure therapeutic grade. If you want to order the brand I trust and personally use, email me at nurturemygut@gmail.com to order or learn where to buy them.
If you love this post, please give it a 5 star review! ⭐️⭐️⭐️⭐️⭐️ Snap a picture and share it with me on Instagram tagging me @nurturemygut. I love to see what you're making! Subscribe below to my newsletter, follow me on Facebook or Pinterest.
Check out these popular delicious gluten free recipes:
Crispy Oven Baked Sweet Potato Fries
Latest posts by Ester Perez
(see all)