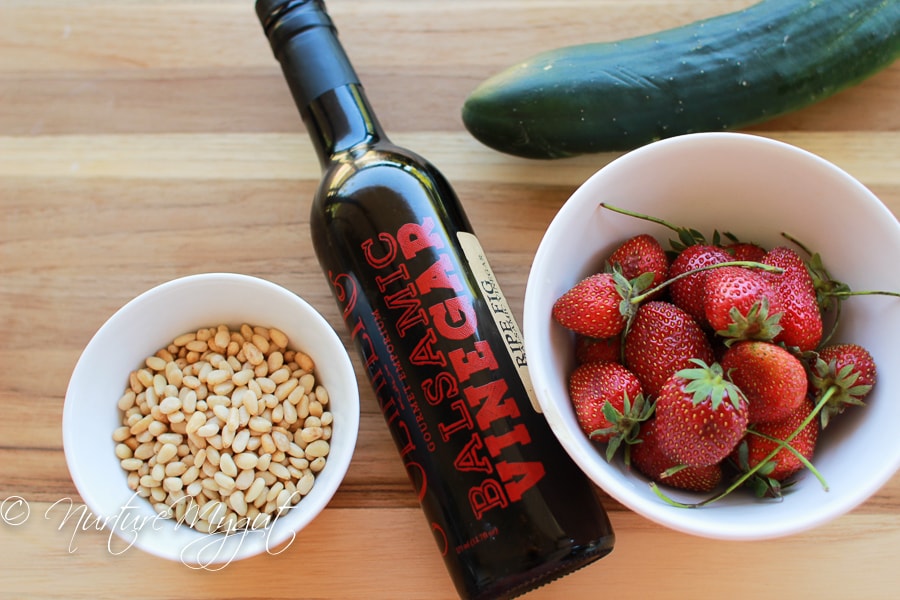 Summer is here and strawberries are in season!  This Nutty Strawberry Cucumber Salad is perfect for summer!  It is made in 5 minutes flat and drizzled with fig balsamic vinegar for a sweet and tangy flavor.  I am using a Hand-Crafted Artisan Olimila Balsamic vinegar.  These are the BEST balsamic vinegars I have ever tasted!  I got these from my local farmers market and got several flavors, my favorite flavors are ripe fig, strawberry and the Unicorn Tears blend.  Wow!  These will bring any salad to life!
The strawberries and cucumbers were hand picked by my kids at a local farm called Underwood Family Farms.  We picked strawberries, cucumbers, blackberries, boysenberries, raspberries, cucumbers, carrots, lettuce and red beets.  It is a very fun trip to make with kids or if you simply want to pick your own fresh produce from the farm.
(This post contains affiliate links for your convenience. Click here to view my full Disclosure Policy.)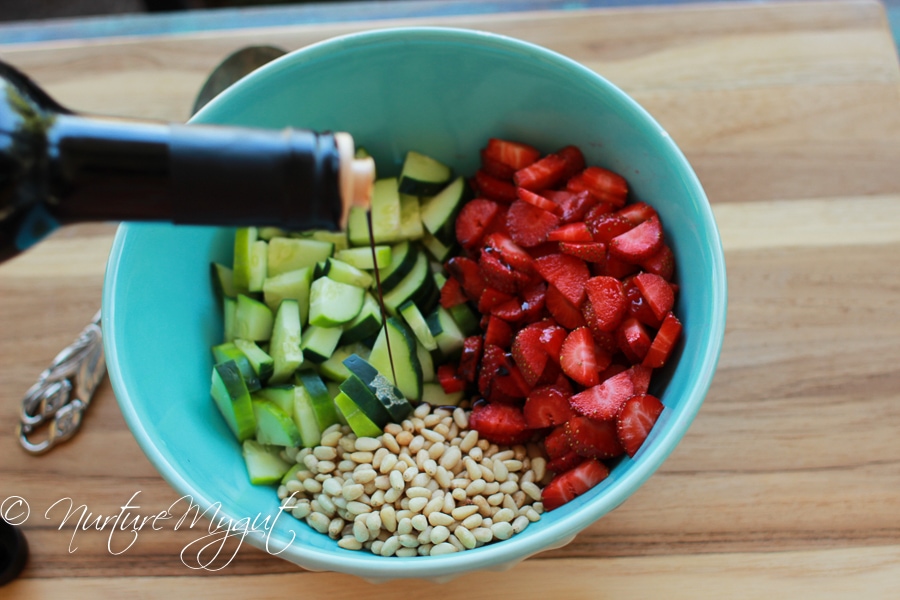 All you will simply do with this salad is slice your strawberries in half and then again in 1/4 inch slices.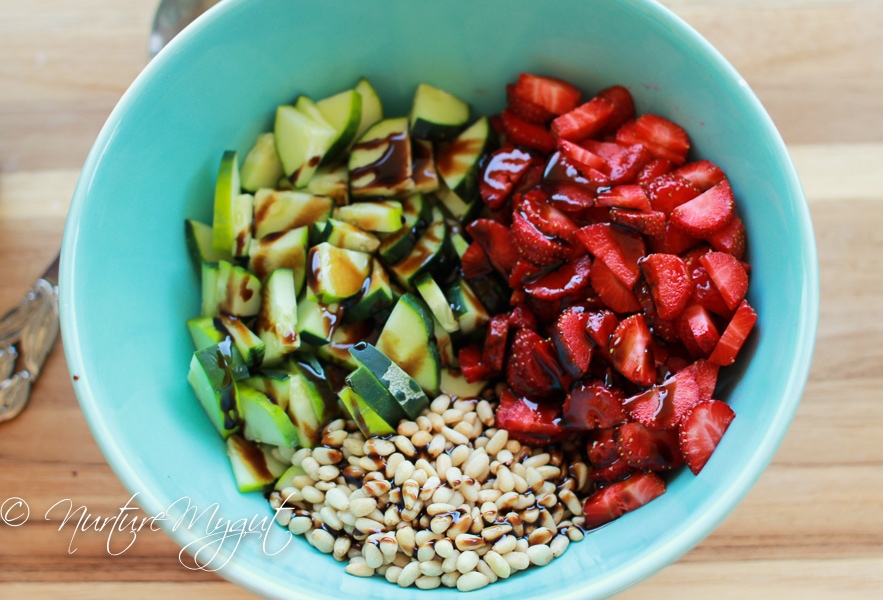 Do the same for your cucumbers, cut lengthwise and then again into 1/4 inch slices.  Put the strawberries and cucumbers in a large mixing bowl, add the pine nuts and drizzle with a good quality balsamic vinegar.  Toss the ingredients together and taste for flavor.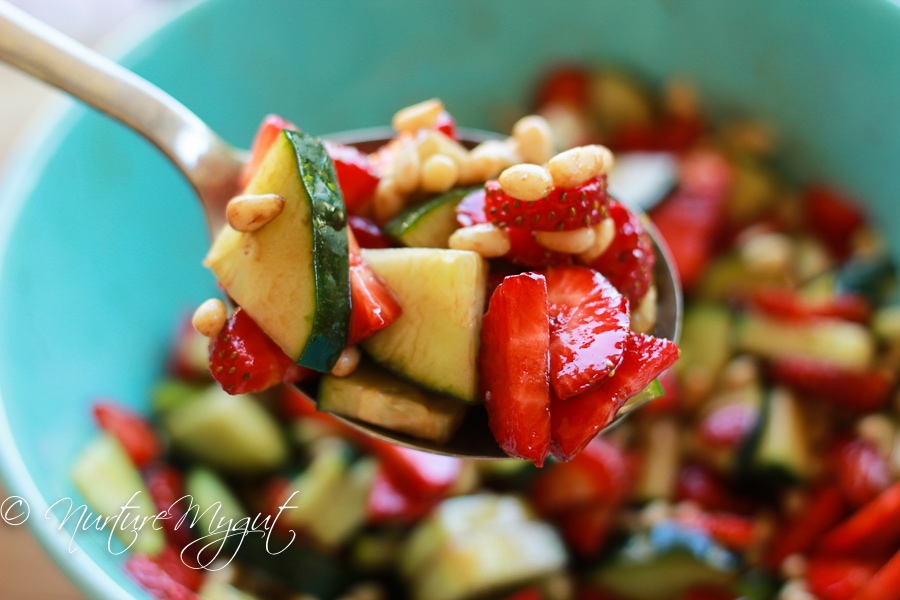 Serve this salad the same day.  The pine nuts will get soft the next day.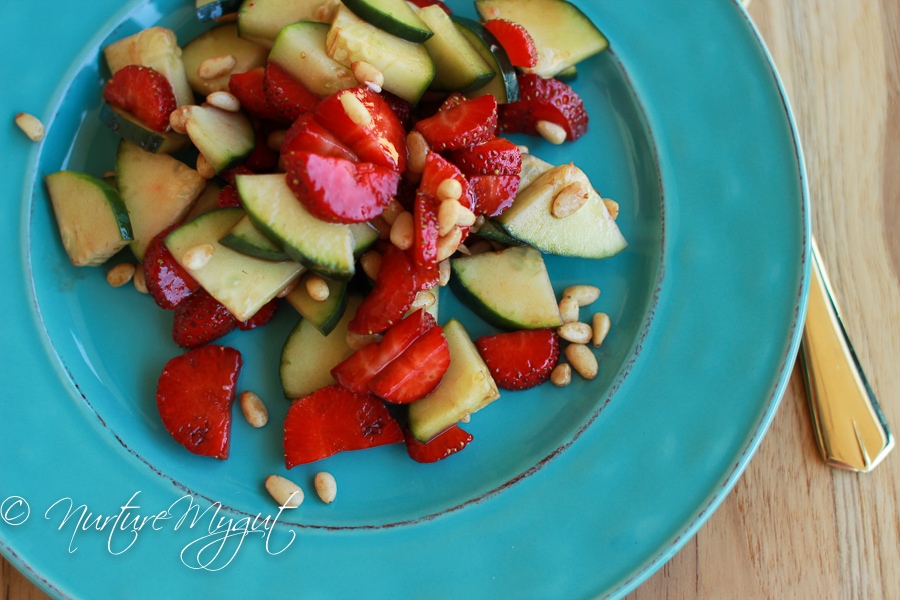 If you want to make it a day ahead, put your pine nuts in before serving so that they are still crunchy.  They add a wonderful flavor to this salad, but if you are allergic to pine nuts, feel free to leave them out or replace with sunflower seeds.  This wonderful summer salad is perfect for potlucks.  It looks lovely and tastes amazing!  I hope you like this Nutty Strawberry Cucumber Salad as much as we do!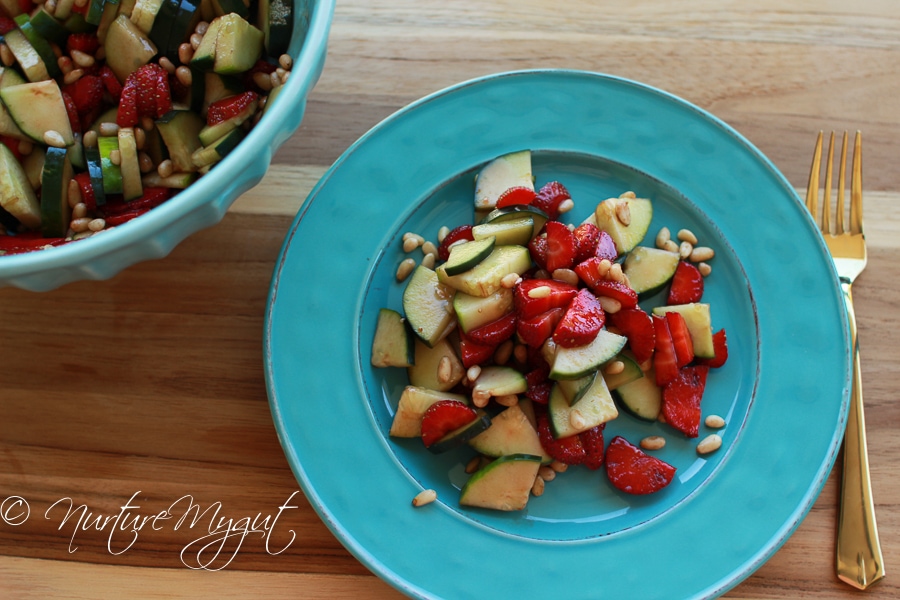 For more delicious healthy gluten free/Paleo-ish meals, please subscribe below.  You will get my free Paleo Breakfast E-Book as my gift to you and new recipes straight to your inbox!
Check out these delicious gluten free/Paleo friendly recipes I know you will love:
Print
Nutty Strawberry Cucumber Salad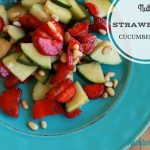 Author:
Prep Time:

5 mins

Total Time:

5 mins

Yield:

6

Category:

salad
Ingredients
2 cups fresh strawberries
1 large cucumber
1/2 cup pine nuts
1-2 Tablespoons fig balsamic (I use Olimila)
Instructions
Slice strawberries in half and then again into 1/4 inch slices.
Cut cucumbers lengthwise and then again into 1/4 inch slices.
Place strawberries, cucumber and pine nuts into a mixing bowl. Drizzle with fig balsamic and toss.
Serves 4-6.
Notes
Tip: If you are making this a day ahead, put pine nuts in right before serving so they do not lose their crunch.

I'm a loving wife, mother of two healthy children, andI am obsessed with teaching people how to make delicious and mouth-watering gluten-free/Paleo friendly foods that nurture your gut!
Latest posts by Ester Perez (see all)