This Paleo Dark Chocolate Ice Cream is rich, creamy and absolutely delicious!  It is made with full fat coconut milk and a classic custard base.  If you have ever wanted to learn to make dairy free ice cream with a french twist, you will love this recipe!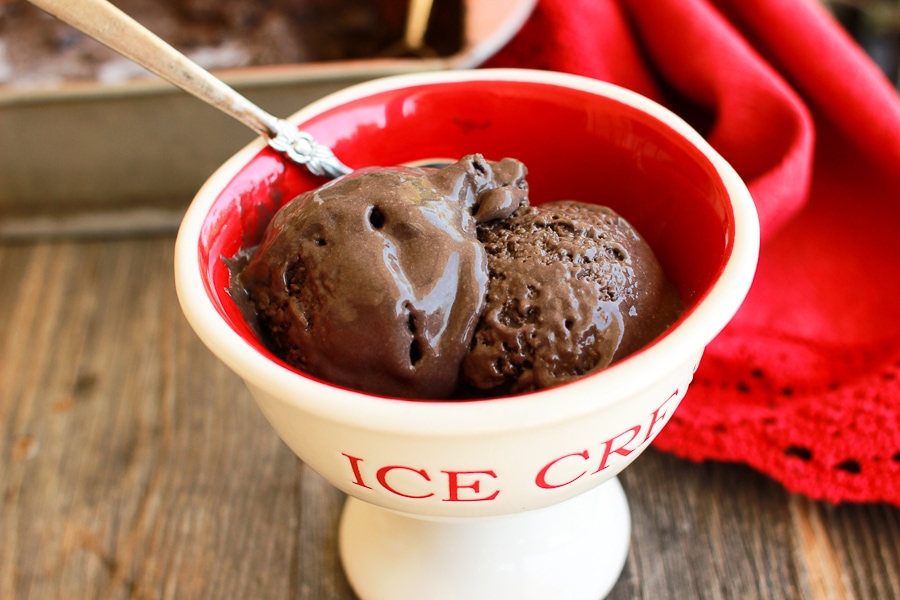 (This post contains affiliate links for your convenience. Click here to view my full Disclosure Policy.)
I promised to teach my daughter how to make ice cream from scratch so we have been experimenting with several recipes.  My favorite technique is to make a custard base.  This is the classic French and Italian way to make ice cream.
I had been putting this technique off for years because I thought it would be too complicated but it is not that hard.  If my 9 year old can master this recipe, so can you!
We have been enjoying homemade Paleo Dark Chocolate Ice Cream and a Classic Vanilla Bean Ice Cream Recipe.  I will be sure to post the vanilla bean ice cream soon!  This recipe would go perfectly with my Gluten Free Waffle Cones that are also Paleo Friendly.
If you cannot tolerate eggs, then try my No-Churn Vegan Strawberry Ice Cream.  You can always replace the strawberries with cocoa powder.
How To Make Paleo Dark Chocolate Ice Cream
You Will Need:
The first thing you want to do for this recipe is get your gelatin ready.  Place your gelatin in a bowl and pour water over it.  Mix it well until it thickens and then remove any hard bits that do not blend.  It is best to remove them because in my first few attempts, I got a few hard pieces of gelatin.  Even in the hot liquid, they did not melt!  So be sure to toss them out!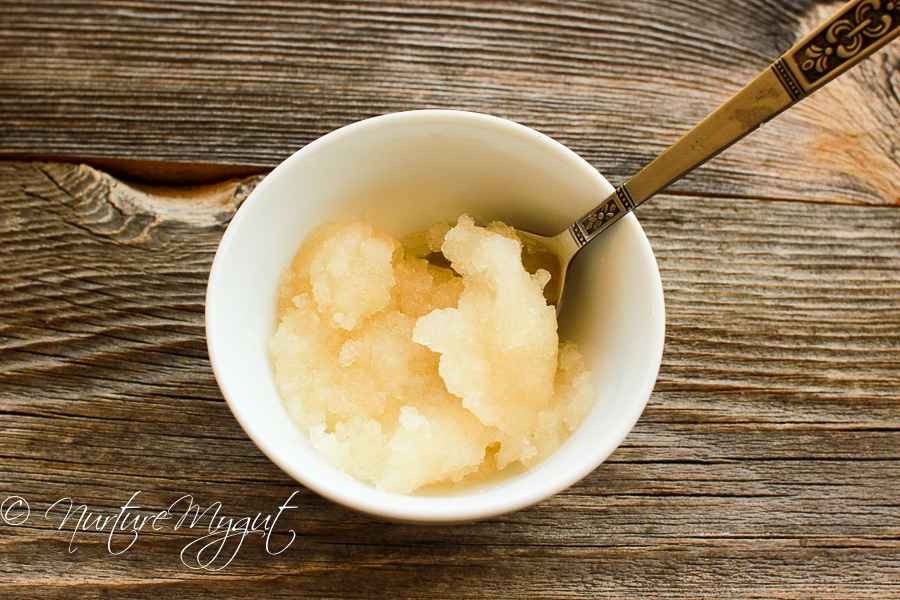 Next, whisk your egg yolks until they are nice and creamy, then slowly whisk in your maple syrup.  Do this in a low steady stream to emulsify it.  Set it aside.
Then, in a saucepan, heat 1 can of coconut milk until it simmers.
Now, you will slowly and I mean slowly, add the hot coconut milk to your egg mixture while whisking vigorously.  If you are lucky enough to have a stand mixer, then this will be very easy to do.  You can also use a stand mixer or handheld hand whisk.  Pouring too fast will scramble your eggs while pouring slowly will help form the base for your custard.  So go slow!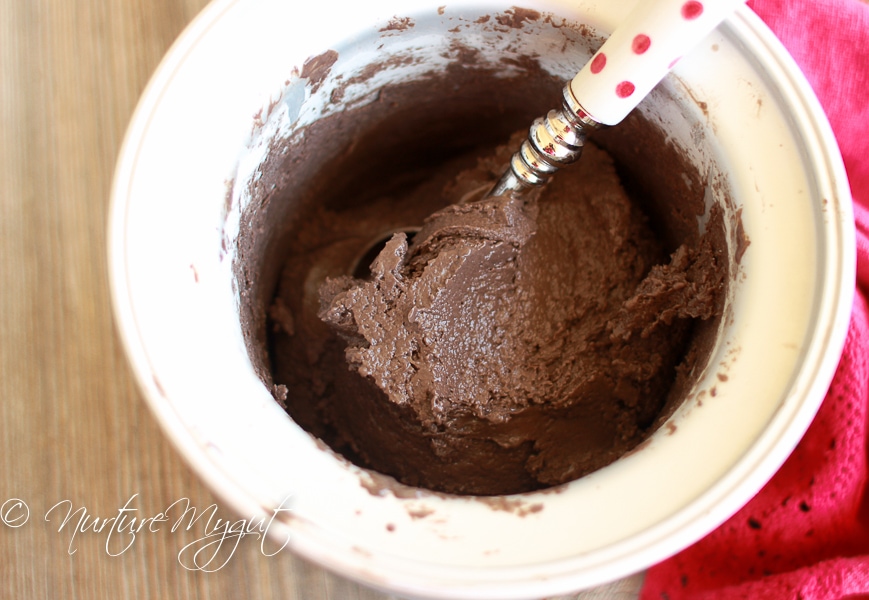 Now pour your egg coconut mixture back into the saucepan to low-medium heat and whisk constantly.  You want this to reach to 175 degrees to thicken the custard and fully cook the eggs.
Once it has thickened, pour it through a fine mesh strainer and back into your mixing bowl.
Now add your gelatin and whisk until it is melted.  Add your vanilla, coconut milk and cocoa powder and whisk well.  Cover bowl with plastic wrap and chill for 4-8 hours or even better, overnight.  Your mixture needs to be fully chilled down to 40 degrees Fahrenheit before pouring it into the ice cream maker or it will not harden.  (You can also let your container sit in an ice bath to speed up the chilling process).  Trust me on this one, I have messed this up one too many times for not waiting long enough!  The colder your ice cream base, the creamier your ice cream will be!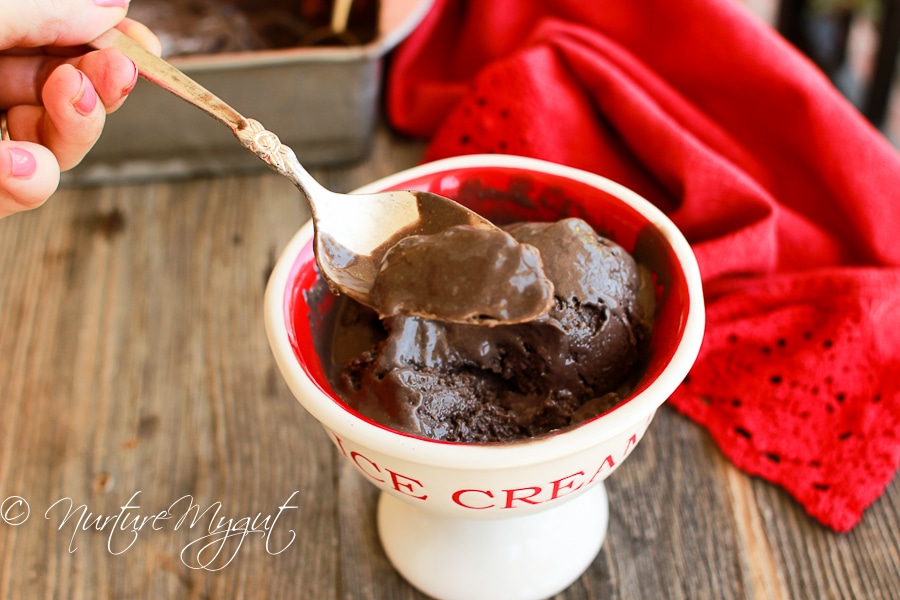 Once your ice cream is chilled, place it in your ice cream maker and watch the magic unfold!  This takes about 25-30 minutes.  You will now have a rich and creamy Paleo Dark Chocolate Ice Cream!  This is so yummy!  If you want it extra firm, pour it into a loaf pan, cover with plastic wrap and chill until firm.
You can even make ice cream sandwiches with my Paleo Chocolate Chip Cookies!  Want to see your favorite ice cream flavor recreated into a dairy free healthier version?  Let me know in the comments below!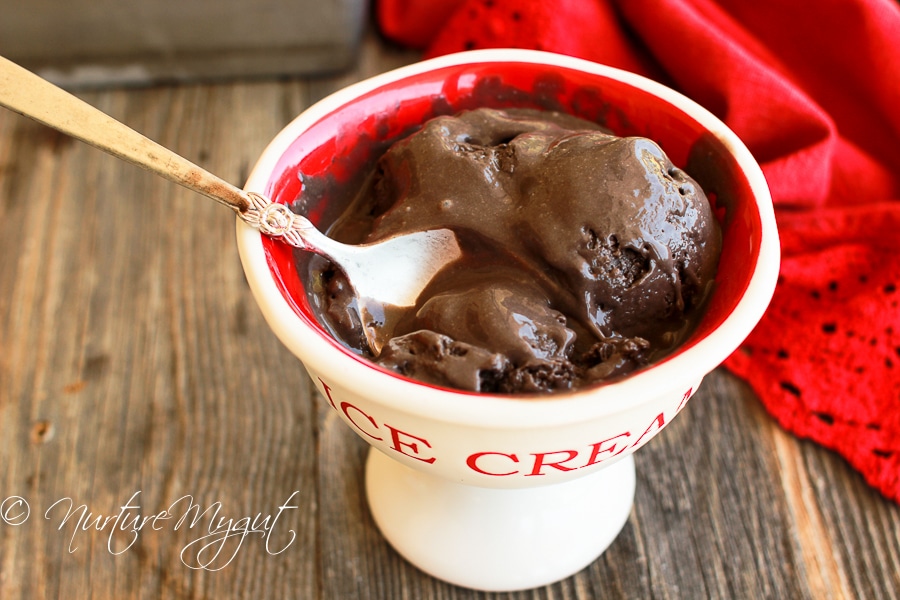 For more delicious healthy gluten free/Paleo-ish meals, please subscribe below.  You will get my free Paleo Breakfast E-Book as my gift to you and new recipes straight to your inbox! 
Check out these yummy gluten free recipes:
No-Churn Vegan Strawberry Ice Cream
Best Paleo Chocolate Chip Cookies
Print
Paleo Dark Chocolate Ice Cream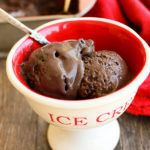 Author:
Prep Time:

5 hours

Cook Time:

5 mins

Total Time:

5 hours 5 minutes

Yield:

4 servings

Category:

Dessert
Ingredients
2 teaspoons grass-fed gelatin
2 Tablespoons filtered water
3 egg yolks
3/4 cup maple syrup
2 cans full fat coconut milk (13.5 ounces each)
2 teaspoons vanilla extract
1/3 cup 100% cocoa powder
Instructions
In a small bowl, add gelatin. Pour water over and stir well. Remove any bits that did not blend. Set aside.
In a mixing bowl, whisk egg yolks until creamy, slowly whisk in maple syrup. Set aside.
In a saucepan, heat 1 can of coconut milk until it simmers.
In a slow steady stream, pour hot coconut milk into egg mixture while whisking eggs fast and constantly. You can use a stand mixer or hand held mixer to make this step easier.
Return egg and coconut mixture back to stove to low-medium heat while whisking constantly. Heat to 175 degrees or until mixture slightly thickens. Run mixture through a large fine mesh strainer and back into your mixing bowl.
Add gelatin and whisk until fully melted. Add remaining coconut milk, vanilla extract and cocoa powder. Whisk well until fully incorporated.
Cover bowl with plastic wrap and chill in the fridge for 4-8 hours.
Place mixture in an ice cream machine following the manufacturers directions. This should take about 25-30 minutes. Serve immediately for soft serve ice cream or chill in a loaf pan covered with plastic wrap for 1-2 hours for a firm ice cream.

I'm a loving wife, mother of two healthy children, andI am obsessed with teaching people how to make delicious and mouth-watering gluten-free/Paleo friendly foods that nurture your gut!
Latest posts by Ester Perez (see all)