Paleo Panini Bread Recipe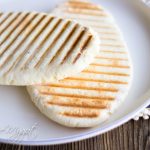 Instructions
Pre-heat Panini Grill for 7 minutes.
Divide Grain Free Everything Dough into 4 balls of dough.  Grab a ball of dough and store the remainder in a zip-lock bag.
Dust the ball of dough with tapioca flour and roll into a disk.  The disk should be 1/2" thick and 7 1/2 " long.  See above photos for reference.
Use a spatula to place panini into panini press.  Close press and allow to cook until light changes, about 2 minutes.  Remove Paleo Panini with a spatula.  Repeat with remaining dough and serve warm.  Use panini as Naan Bread or cut in half for a sandwich.