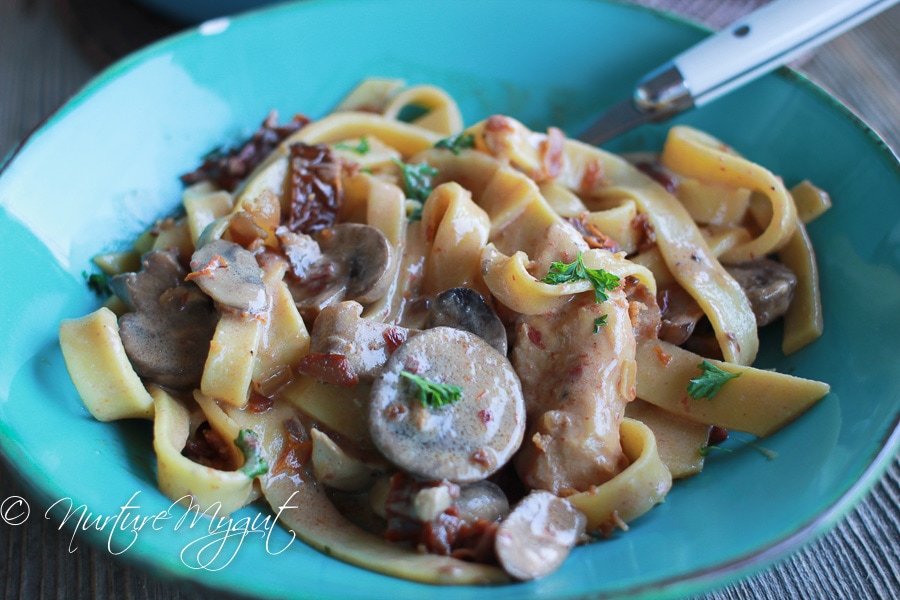 This Paleo Pasta with Tomato Cream Sauce is a classic comfort food.  It is made with a coconut milk base, sun dried tomatoes and tossed with chicken, mushrooms and crispy bacon.  The flavor is absolutely fantastic!  Grain free, Dairy free, gluten free and Paleo friendly.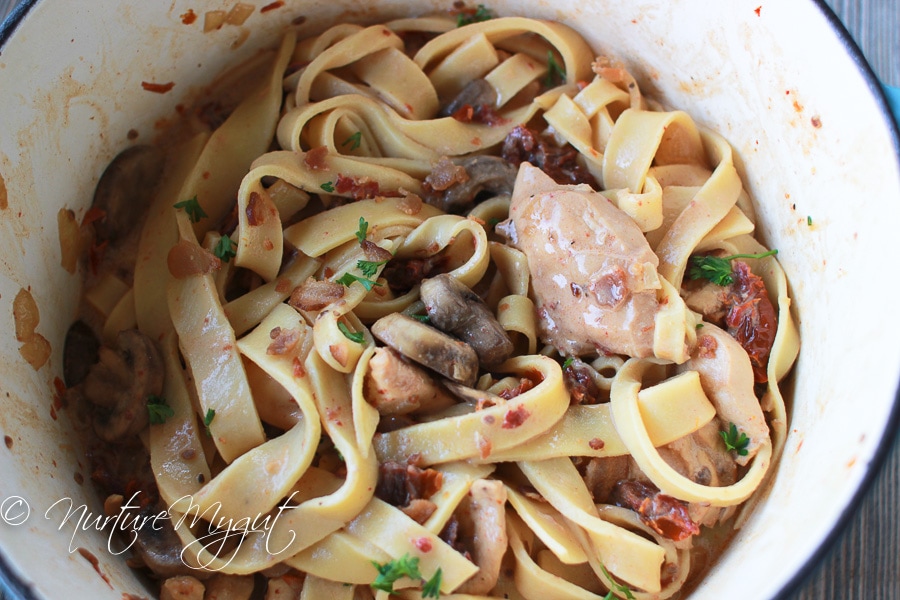 For those of you that have made my Paleo Honey Dijon Chicken with Bacon, Mushrooms & Sun-Dried Tomatoes recipe, let me tell you that the recipe is out of this world!  The recipe creates a deliciously sweet and tangy tomato cream sauce.
One day, while my husband and I were eating the Paleo Honey Dijon Chicken recipe, we both thought, boy, this would be so great with homemade paleo pasta noodles!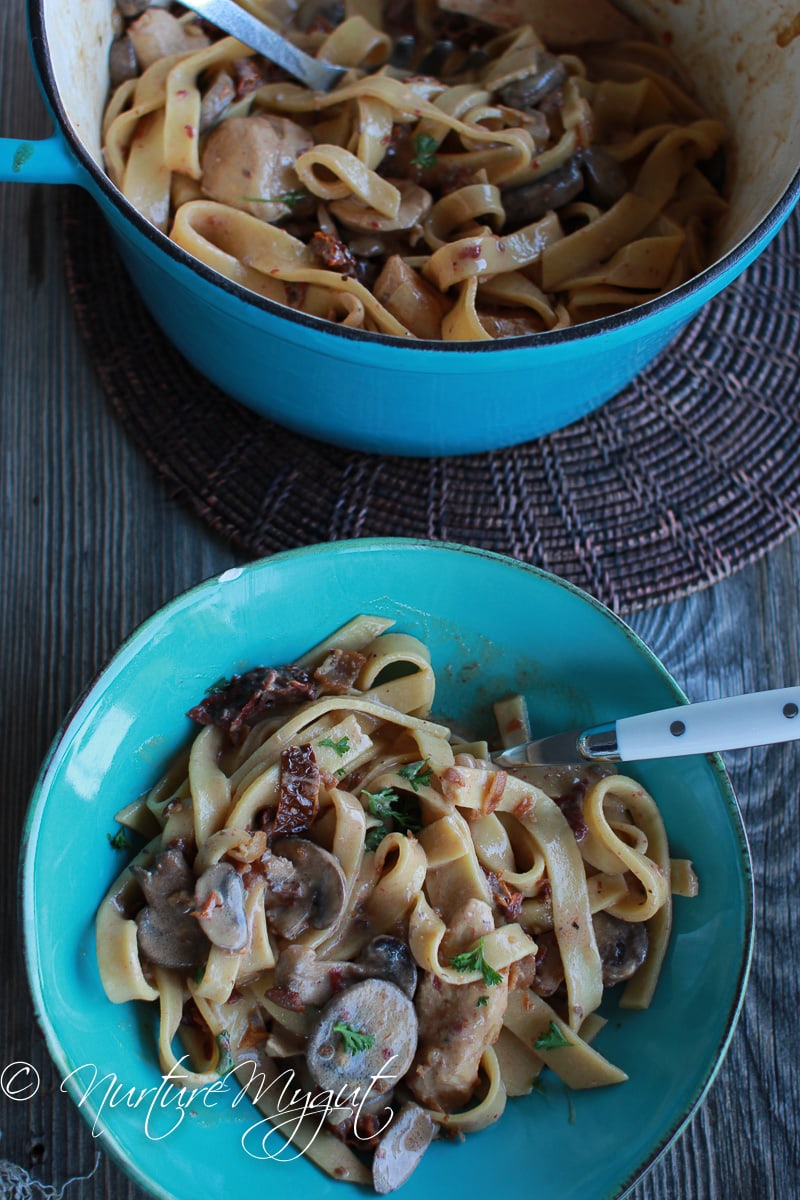 (This post contains affiliate links for your convenience. Click here to view my full Disclosure Policy.)
So the next time I made the Paleo Honey Chicken Dijon recipe, I made homemade paleo pasta noodles and tossed the noodles in the tomato cream sauce.
I saved 20 minutes off of the recipe by making the homemade paleo noodles while the chicken was simmering.  It is a good time saving technique.
The paleo pasta noodles are made with blanched almond flour, tapioca flour, eggs and salt.  They are pretty easy to make and taste like traditional pasta.  My only advice is that the thinner you make them, the better.  They can be run through a pasta attachment on a kitchen-aid saving you even more time in the kitchen!
This whole recipe can be made in about an hour.  This is an extra special Sunday dinner.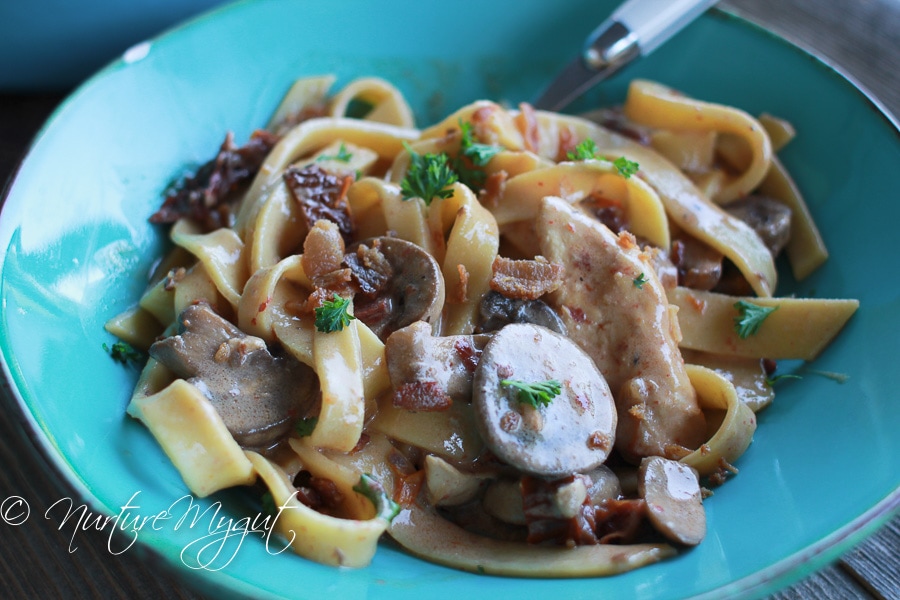 The original recipes completely transformed into these delicious paleo noodles with tomato cream sauce!
It is a pretty complete recipe because you get the chicken, bacon and mushrooms make it a satisfying meal!  It was amazing!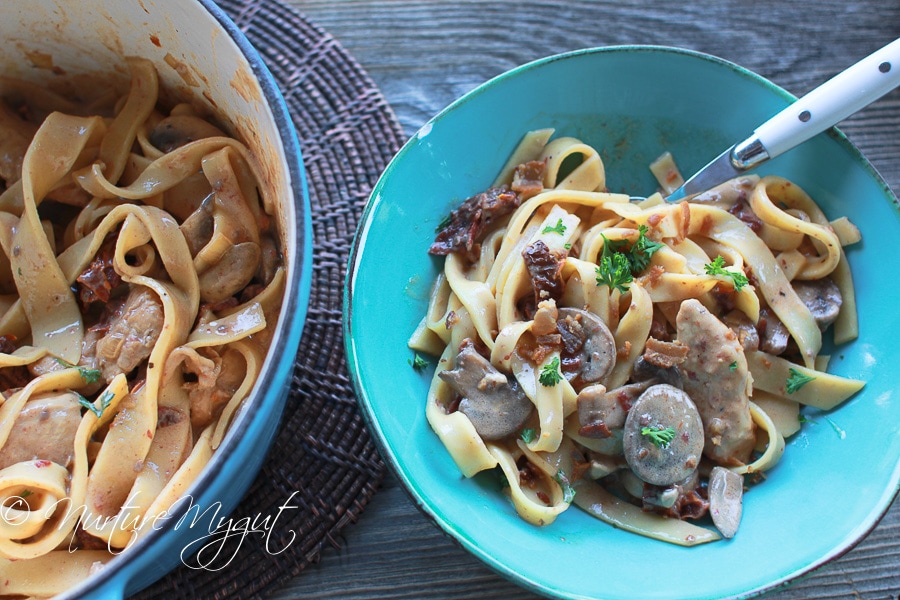 When you are serving the plates, be sure to pour some extra tomato cream sauce over the paleo noodles.  Garnish with crispy bacon and parsley.
Please share your comments below how you like this Paleo Pasta with Tomato Cream Sauce.  I love hearing from you! 🙂
Paleo Pasta Tutorial Video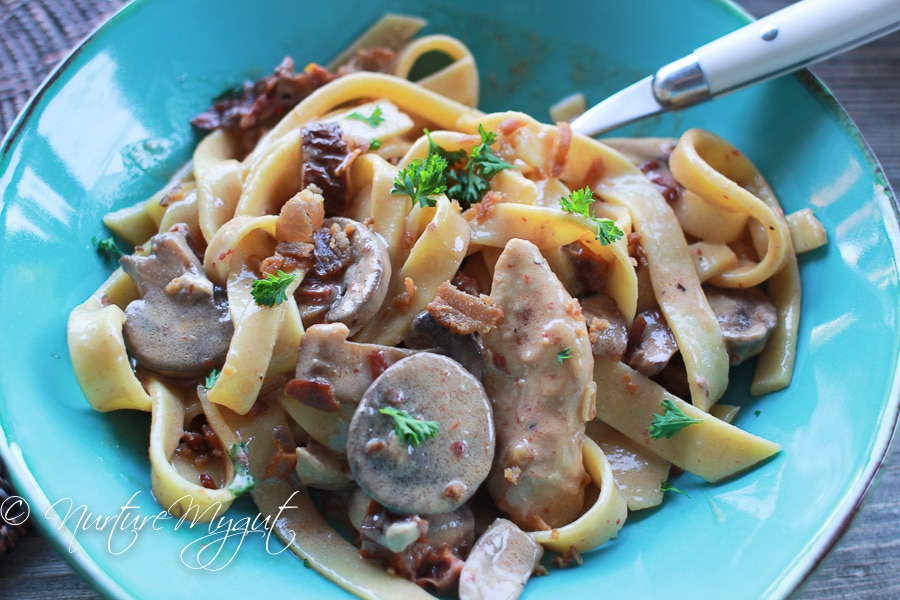 For more delicious healthy gluten free/Paleo-ish meals, please subscribe below.  You will get my free Paleo Breakfast E-Book as my gift to you and new recipes straight to your inbox!
Print