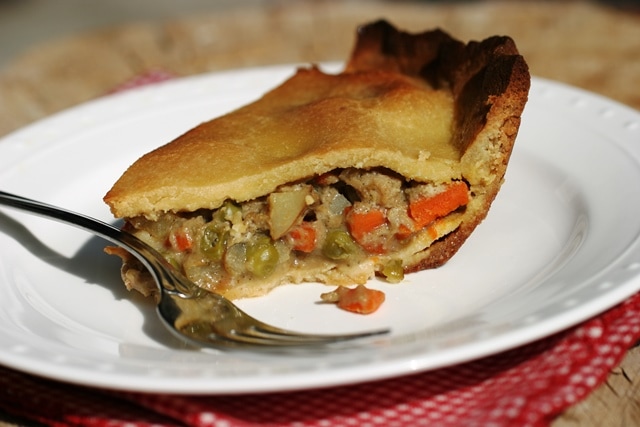 I made a gluten free Turkey Pot Pie yesterday for dinner.  It was absolutely wonderful! Of course I had to share it with you right before the holidays.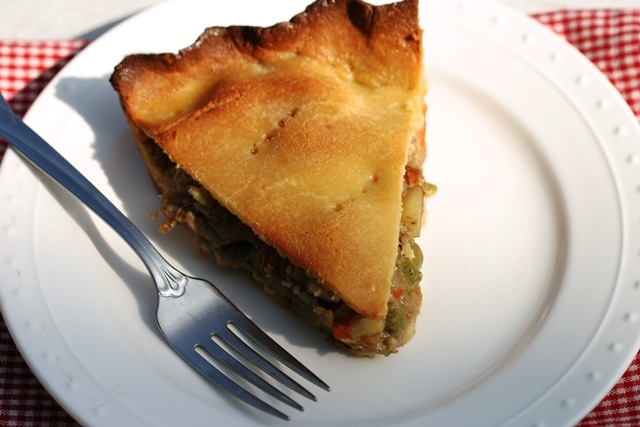 The truth is, this is my first time roasting a turkey.  I always bring dessert for Thanksgiving so I never really had the need to make a turkey.  By the way, how did the turkey come out?  It was okay.  I tried to make a slow roasted turkey by following Nourished Kitchens recipe and it was a bit dry on top, I am pretty sure I overcooked it.  Next time I will try brining.  But I will get it right!
Nevertheless, I love Turkey Pot Pies, and so does my husband, so that is why I decided to make one.  I will admit, making a Turkey Pot Pie, from scratch takes several hours, but, in the end its worth it.  That is why I am just sharing the crust recipe with you.  If any of you request the whole pot pie recipe, I will share it.  If you are up for the challenge.
I actually made two pies and this is the one that I ended up reheating for dinner tonight.  It actually was even more flavorful than the first.    My 6 year old daughter helped make this pie and I am sure that is why it tasted better!  She kneaded the dough and put so much love into it.  It was a special bonding moment that I will treasure forever.
I ended up making two crusts for the Turkey Pot Pie, but a top crust would work just fine.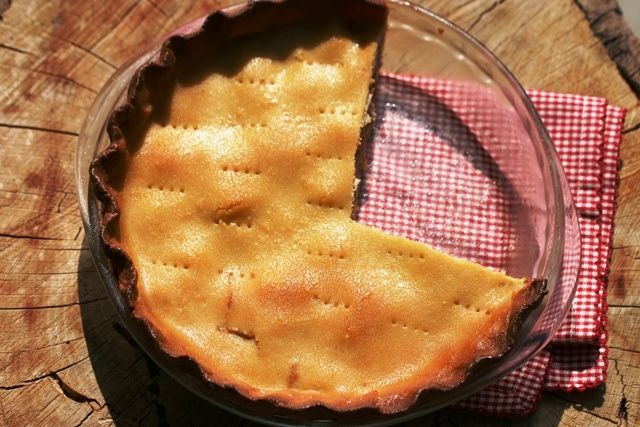 You can use this pie crust to make a pot pie, quiche, pumpkin pie, apple pie, you name it.  It's a basic paleo pie crust.  I think I will make an apple pie with this recipe and serve it with some homemade vanilla bean coconut ice cream, yeah, that sounds good.
For more delicious healthy gluten free/Paleo-ish meals, please subscribe below.  You will get my free Paleo Breakfast E-Book as my gift to you and new recipes straight to your inbox! 
Check out these yummy gluten free recipes:
Paleo Gingerbread Blender Pancakes w/Cranberry Sauce
Best Paleo Chocolate Chip Cookies
Ps. This recipe makes 1 Paleo Pie Crust, please double the recipe if you want to make a top and bottom crust.
Print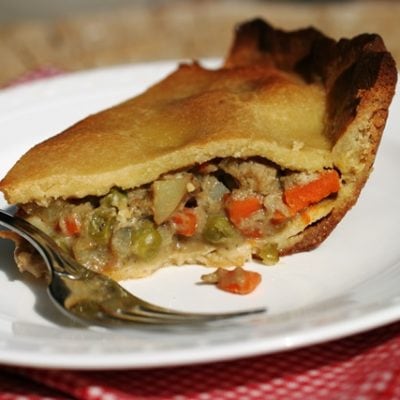 Paleo Pie Crust
---
Description
Paleo Pie Crust
---
Scale
Ingredients
2 cup

s blanched almond flour

3/4 teaspoon

Himalayan Salt

2 Tablespoon

ghee or coconut oil

1

large pastured organic egg

4 teaspoon

s filtered water

1 teaspoon

honey
(1 beaten egg plus 1 teaspoon of filtered water for egg wash only)
---
Instructions
Preheat oven to 350 degrees F.
Add all ingredients to a food processor and pulse several times until well combined and a ball forms.
Remove dough from food processor and knead for 1 minute.
If you are going to form the bottom of a pie crust, place dough in a 9 inch pie plate and press out dough evenly with fingertips. Bake at 350 degrees for 13-15 minutes or until golden brown. Fill pie crust.
If you are going to form pie crust for top of Pie, roll between two sheets of parchment paper until it is 1/8 inch thick and 9 1/2 inches round.
Remove top sheet of parchment paper, flip crust onto a metal cookie sheet and then carefully flip onto filled pie plate. Allow crust to gently lift off of cookie sheet and onto the pie plate. Form edges and prick holes in crust with a fork. Bake in a 350 degree oven for 30 minutes. Cover edges with aluminum foil and bake another 5 minutes. Remove from oven, brush egg wash gently onto crust and bake another 5 minutes or until golden brown. About 40-45 minutes total.
---

Latest posts by Ester Perez
(see all)