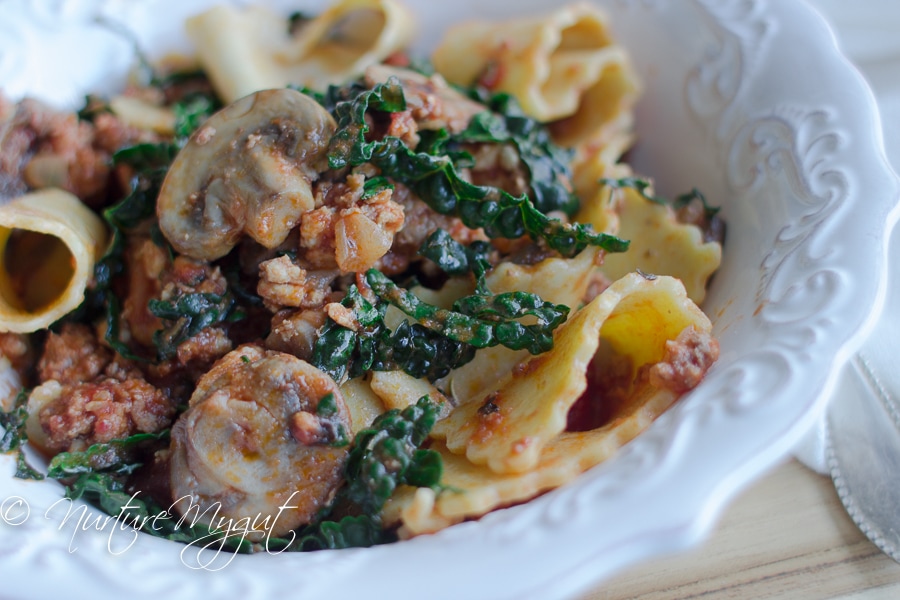 This delicious Paleo Reginette Pasta is made with a kale and mushroom meat sauce.  This handmade pasta is cut into wide wavy edged ribbons with a pastry wheel.
I have been day dreaming of making this pasta for months and it is more beautiful than I even imagined.  My son had his best friend for dinner yesterday and he ate his whole plate!  Kid approved!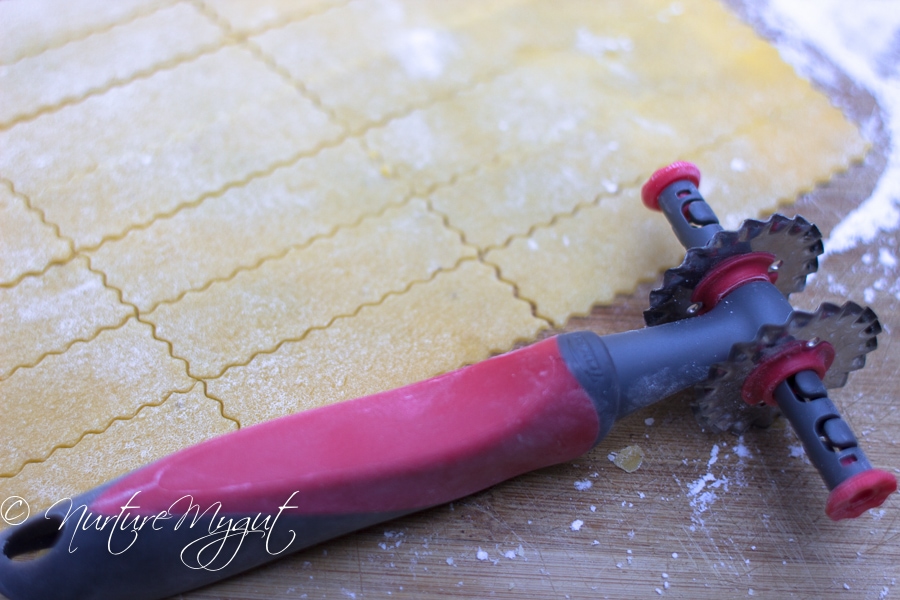 (This post contains affiliate links for your convenience. Click here to view my full Disclosure Policy.)
After rolling the pasta out, I used a Trudeau Pastry Wheel  set to 1" to cut the pasta into wavy ribbons.  Then, I removed one of the wheels and cut the ribbons into 4-6″ strips.  I also trimmed the tops and sides so that there are wavy edges all along the ribbons.
Knead the edge scraps into the next ball of pasta dough so you have minimal waste.  You can see in the photo below how I cut the edges off, it is okay if you do not get a perfect square.  You can cut some of the edges in an angle and that looks lovely too.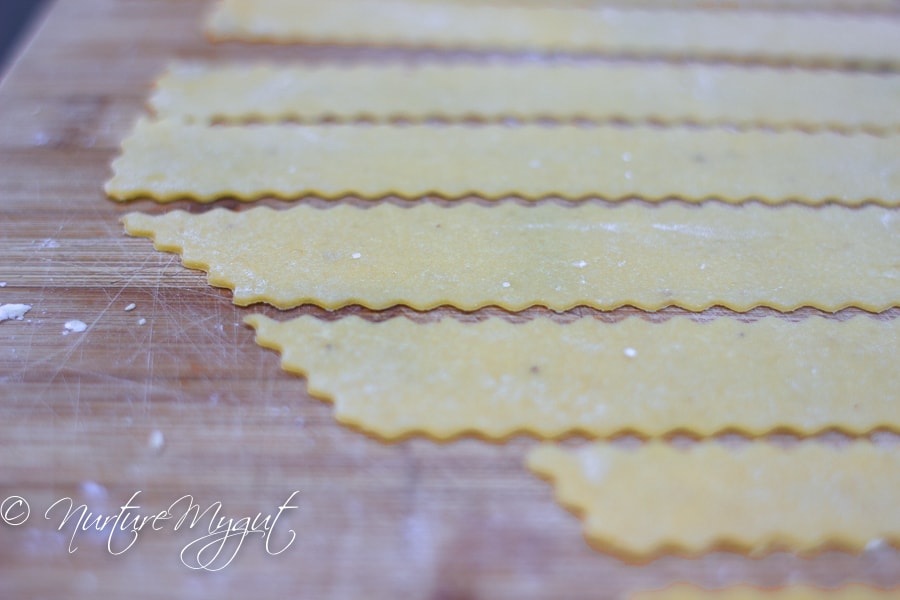 There is a lot going on in this recipe so let me give you some tips for efficient cooking.  The first thing I did was get a big pot of water to boil.
Then, I started on the kale and mushroom meat sauce.  I sautéed the onion, browned the ground beef and turkey and added the remaining ingredients.
Just be sure to add the kale the last 5 minutes so that it does not overcook.
Once the sauce is simmering, make your paleo pasta dough.  I use finely ground blanched almond flour and tapioca flour to make my paleo reginette pasta dough.
My favorite company to order flour from is Anthony Goods.  They have the best prices, top quality, organic flours and bulk discounts.  I also have a cooking video tutorial on my basic Paleo Pasta recipe post.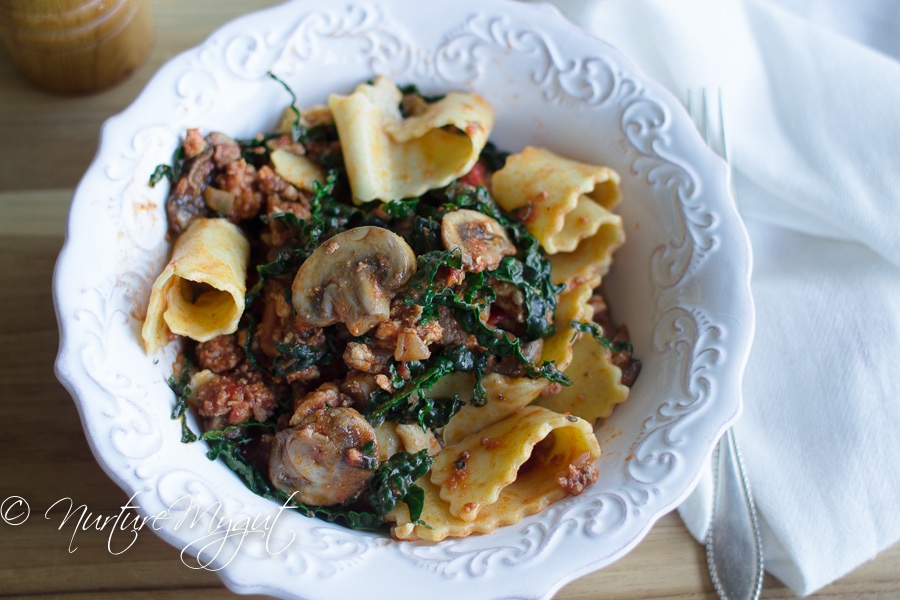 I make my paleo pasta dough in a Kitchen-Aid Mixer, which saves me a lot of time.  But if you don't have one, not to worry!  You can mix this by hand.  I would do all my batter and dough mixing with a Danish dough hand whisk.  It is very handy for mixing dough or batters if you do not have a mixer.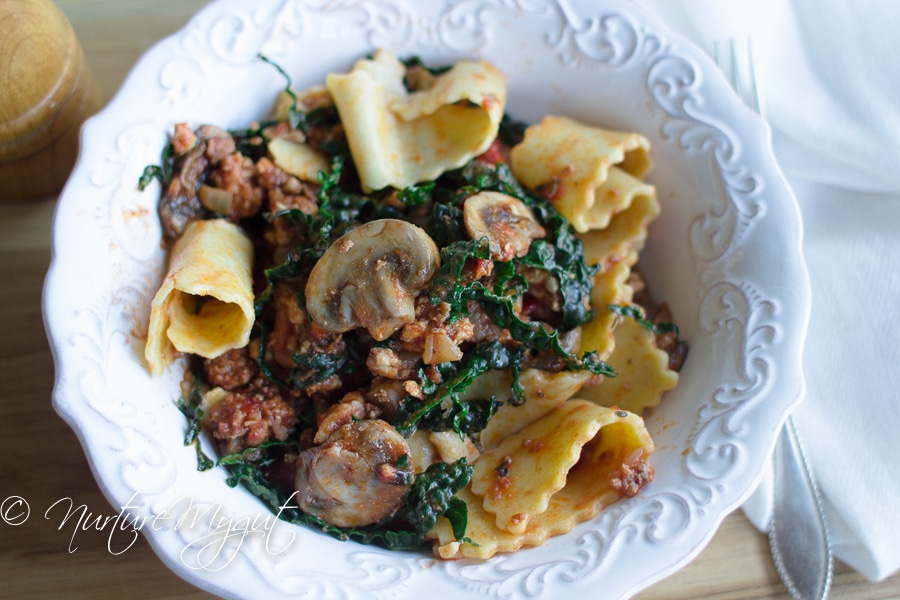 Once your dough is mixed, be sure to knead it for a few minutes.  I had my 6 year old son help me with this part and he had lots of fun!  It is really nice that he loves to help me in the kitchen.  He pretty much made the dough and kneaded it, I did the rest.
I make my kitchen functional so that my kids can help, don't under estimate children, they are fully capable of helping out with meal preparation.   Yes, there are mistakes made in the kitchen, but they are opportunities for them to grow and learn.  Patience is key when bringing kids into the kitchen to help, but once they learn, they are a HUGE help with meal preparation.  You can read my blog post, "Teach Your Gluten Free Kids To Cook" for several tips on this subject.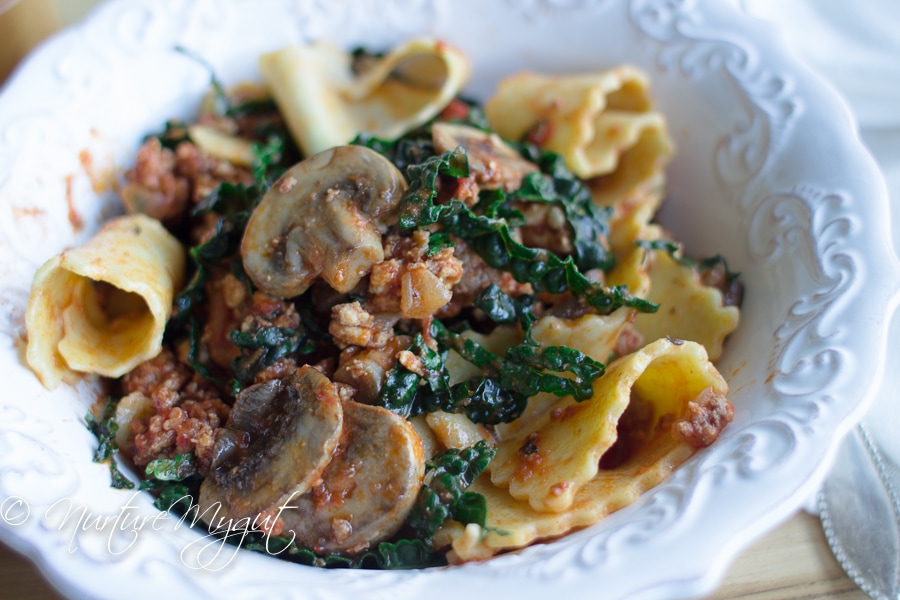 So back to this yummy paleo reginette pasta!  Once you have kneaded your dough, separate it into three balls of dough and place back into your mixing bowl and cover bowl with a towel.  You do not want to leave your dough on the counter because it will dry out.
Dust a large cutting board or a clean counter generously with tapioca flour.  Dust your rolling pins and hands with tapioca flour.  Roll out a ball of dough.  Flip, dust and roll.  Repeat until your dough is 1/8 inch thick.
Now you get to cut it with your Trudeau pastry wheel as mentioned in the steps and photos above. (Refer to second photo and paragraph)
Once your pasta is cut, boil for 3 minutes and drain in a pasta colander.  I roll the dough, cut the pasta and boil it.  Stir it gently to make sure it does not stick and set a timer.  Once it's done, gently scoop out the paleo reginette pasta with a pasta claw and into the pasta colander.  I set a timer so I can roll out the next batch of pasta.  It takes just 3-4 minutes to roll out each ball of dough.  This process goes pretty fast!
Once the pasta is fully cooked and drained, toss it into your sauce and serve.  This will serve 6 bowls.
I reheat leftovers in a toaster oven at 425 degrees for 15 minutes but I am sure you can microwave it too.
I hope you enjoy this Paleo Reginette Pasta as much as we do!  Please share in the comments below and be sure to Follow Me and show me your cooking creations on Instagram!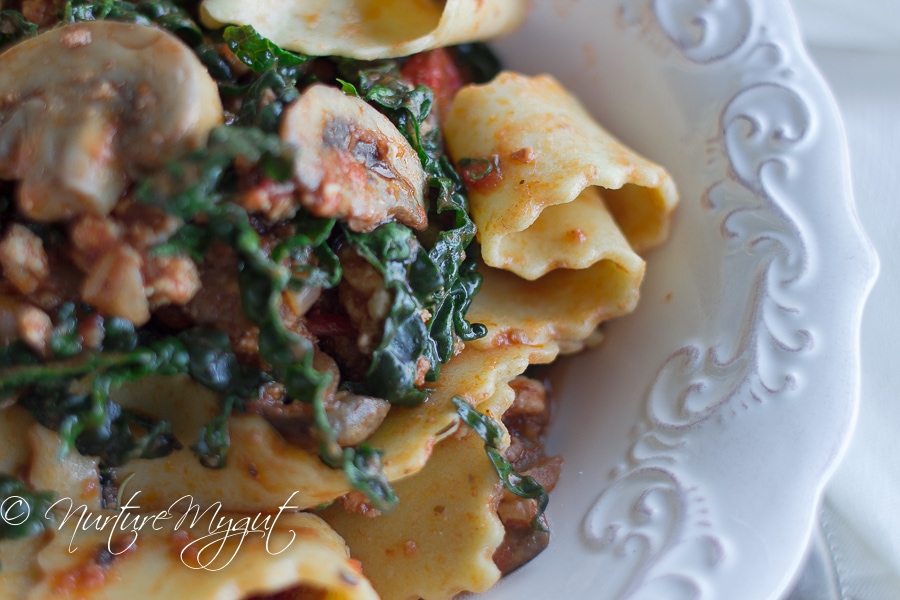 For more delicious healthy gluten free/Paleo-ish meals, please subscribe below.  You will get my free Paleo Breakfast E-Book as my gift to you and new recipes straight to your inbox!
Check out these popular gluten free/Paleo friendly recipes:

Print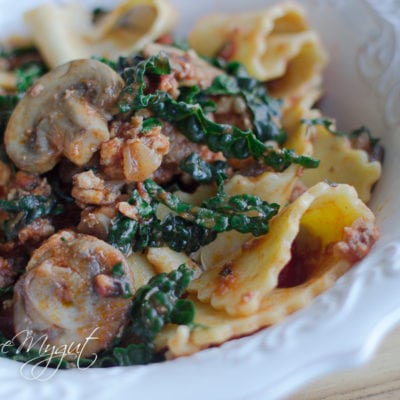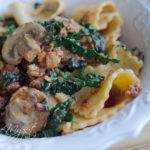 Paleo Reginette Pasta with Kale & Mushrooms
---
Description
This delicious Paleo Reginette Pasta is made with a kale and mushroom meat sauce.  This handmade pasta is cut into wide wavy edged ribbons with a pastry wheel.
I have been day
---
For the Kale & Mushroom Meat Sauce:

2 Tablespoons

avocado oil

1

onion, chopped

1

lb ground beef, preferably grass-fed

1

lb ground turkey

8 ounces

sliced mushrooms

1

15 ounce can tomato sauce

1

14.5 ounce can fire roasted chopped tomatoes, unsalted

1 Tablespoon

gluten free Tamari

1 teaspoon

onion powder

2 teaspoons

Italian seasoning

1 1/2 teaspoons

salt

4

leaves dinosaur kale, cut into ribbons (chiffonade)
---
Instructions
In a large saucepan, heat oil to medium heat. Add onions and saute for 2-3 minutes. Add ground beef and turkey and brown stirring occasionally. Separate meat into smaller pieces. Cook 2/3 ways through.
Add remaining ingredients except kale, simmer for 7-10 minutes. Add kale last 5 minutes and stir. Drain pasta and toss into kale & mushroom meat sauce. Serve warm.
Prep Time:

5 mins

Cook Time:

20 mins

Category:

Main
Paleo Pasta Tutorial Video
Print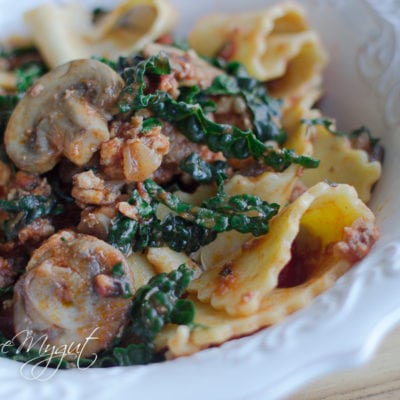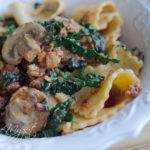 Paleo Reginette Pasta with Kale & Mushrooms
---
1½ cups

blanched almond flour (I buy from Anthony Goods)

1½ cups

tapioca flour (also known as tapioca starch) plus ¼ cup for dusting

1½ teaspoons

Himalayan Salt

2

large eggs

4

egg yolks (total egg mixture equals

¾ cup

)

2 Tablespoons

of avocado oil (added to boiling water)

4 quarts

of water
---
Instructions
Place water and avocado oil in a large pot. Turn heat on high and bring to a boil.
In a large mixing bowl or kitchen-aid, whisk together almond flour, tapioca flour and salt.
Make a well in the center of the flour and add eggs. Whisk eggs with a fork and slowly incorporate flour. Roll dough into a ball.
Sprinkle a large cutting board with a tablespoon of tapioca flour. Knead dough on floured surface for 5 minutes. If dough is too wet, add a bit of tapioca flour. The dough should not stick to your hands and has the texture of play dough.
Separate dough into 3 equal sized balls, place 2 balls in a bowl and cover with a dry towel or plastic wrap so it does not dry out.
Sprinkle tapioca flour onto your surface and place a ball of dough on top. Sprinkle ball with more tapioca flour. Using a wooden rolling pin, roll your ball of pasta out to the size of a 3 inch disk. Flip the pasta and sprinkle with more tapioca flour. If it sticks to your rolling pin, sprinkle with more tapioca flour. Continue to roll, flour and flip. Repeat this step until your pasta is ⅛ inch thick or less. You will now have a large irregular sized square. Using a zig-zag pizza cutter, cut uneven edges off of pasta and set aside. Cut pasta into 1-inch wide ribbons. Cut the long ribbons into 6 inch ribbons so they are easier to handle. Cook for 3 minutes. Use a pasta claw to carefully remove pasta and drain in a pasta colander.
Repeat step 6 with remaining 2 balls of dough. Once all pasta is cooked and drained. Toss into mushroom & kale meat sauce.
Prep Time:

12 mins

Cook Time:

30 mins

Category:

Paleo Reginette Pasta
Latest posts by Ester Perez
(see all)