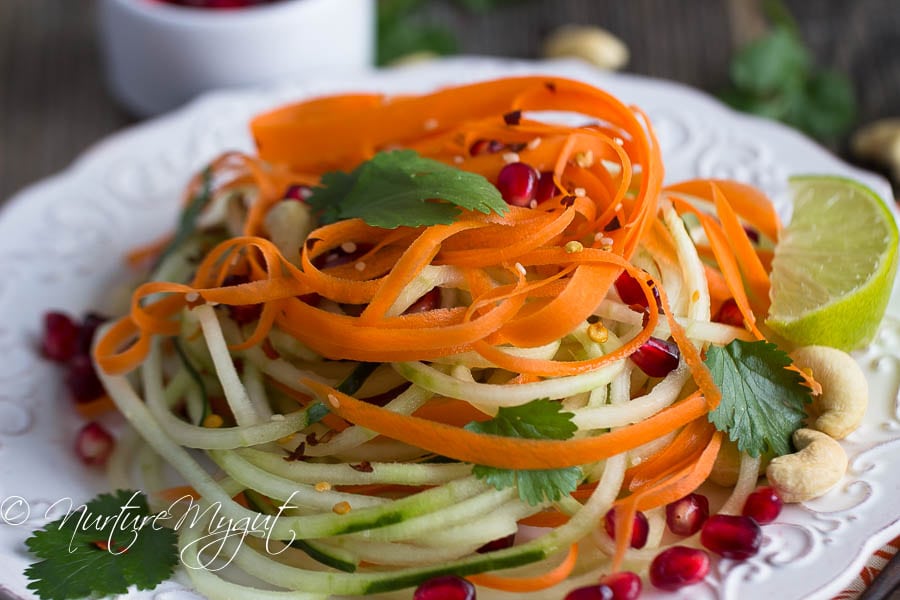 This Easy Thai Cucumber Noodle Salad is tossed in a homemade ginger sesame dressing and garnished with fresh pomegranate seeds, cashews and sesame seeds.  It is made with minimal effort and ready in 15 minutes flat!  Guaranteed to make you make you feel radiant from the inside out!   Gluten free, vegan and Whole30 friendly.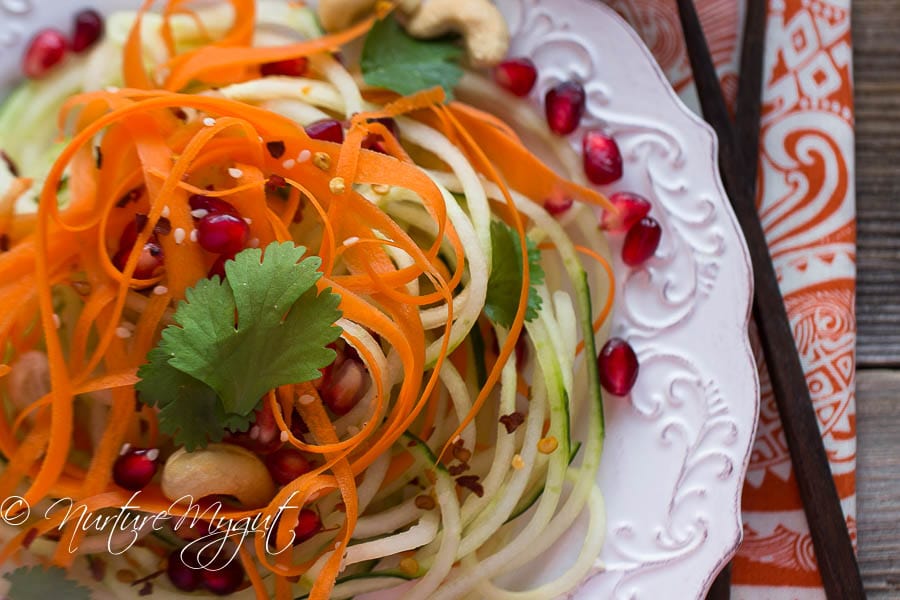 Many of you asked for more quick and easy healthy gluten free meals.  I am here to deliver!  I absolutely am in love with this easy Thai Cucumber Noodle Salad and I know you will too!
You know when you eat something and you feel really good after eating it, I mean, really good?  Well, that is how this salad makes me feel.  It is like eating a burst of radiant energy thanks to all the raw enzymes, vitamins and phytonutrients that this colorful raw meal provides our bodies.
Benefits of Cucumbers
Cucumbers contain multiple B Vitamins.  B Vitamins are known for supporting the nervous system and easing the effects of anxiety and stress.
Cucumbers are great at keeping you hydrated.  They are made up of over 90% water and makes them a perfect food for hot summer weather.  (Wikipedia)
They may also help to "cool" the inflammatory response in your body.  Studies suggest that cucumber extract helps reduce unwanted inflammation, in part by inhibiting the activity of pro-inflammatory enzymes.(Mercola)  This has been my go to food during unwanted eczema breakouts.
Cucumbers also support a healthy digestion since their skins contain insoluble fiber which helps food move more smoothly through your digestive tract.  A lack of fiber in the diet is a huge contributor to constipation.  So basically, eating cucumber noodle salad is not only delicious, but really good for you!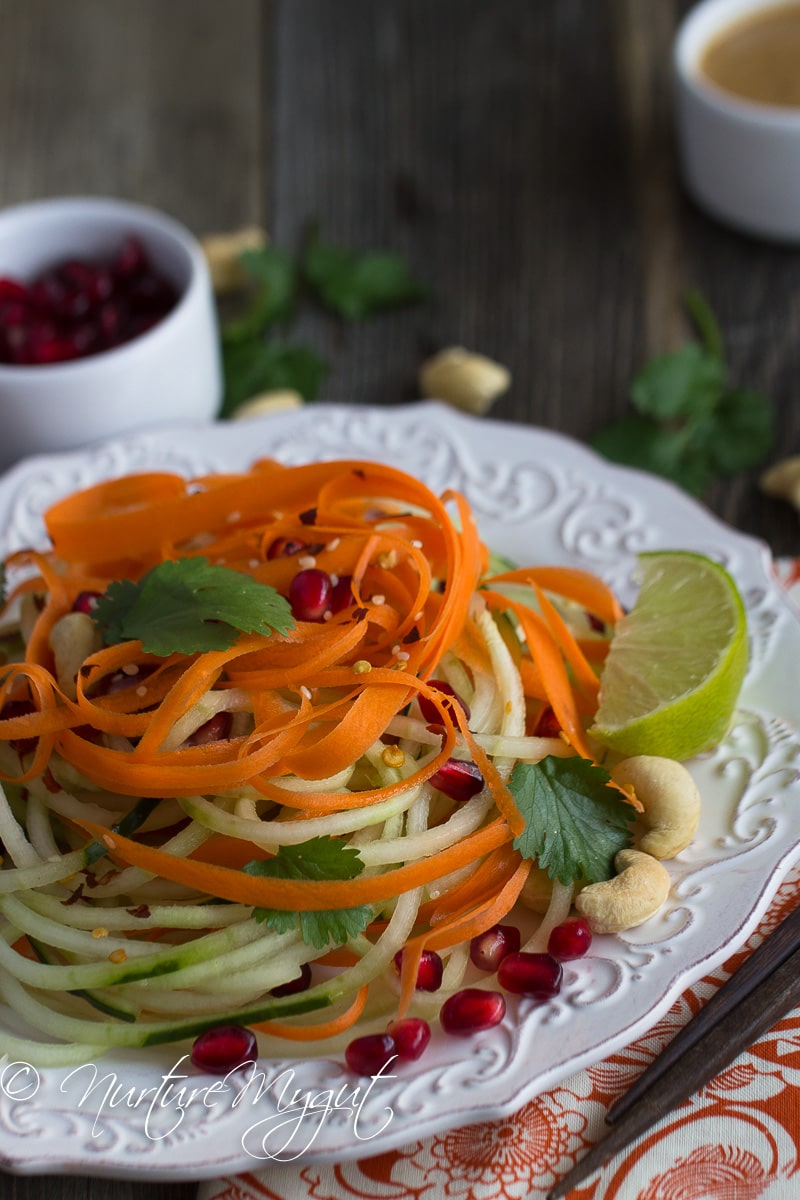 (This post contains affiliate links for your convenience. Click here to view my full Disclosure Policy.)
What I love about this salad is that it is absolutely lovely to look at! You must serve this when having guests over!  They will think that you slaved in the kitchen for hours, but between you and me, you can whip this Thai Cucumber Noodle Salad up in 15 minutes or less!
The cucumber noodles are so easy to make, trust me on this one.  I use a vegetable spiralizer with the smallest opening to make the cucumber noodles.  I just chop of the ends of the cucumbers and put them into the spiralizer, turn the crank and out pops the cucumber noodles!
They literally take about 20 seconds to make.  Yes, I am serious!  Below I share how easy it is to make cucumber noodles.
Cucumber Noodle Tutorial Video: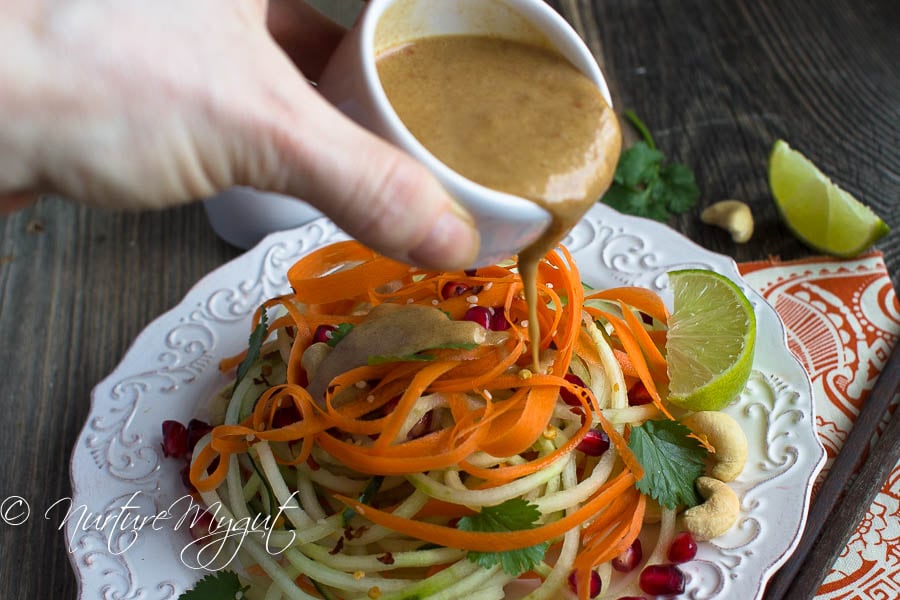 Tips for Making Spiralized Cucumber Noodles
use the widest cucumbers you can find to create longer ribbons (I use English Cucumbers)
cucumber should be at least 1 1/5 inches wide
cucumbers should be firm
no need to peel the cucumbers
cut off ends of cucumber with a sharp knife before spiralizing
use straight long cucumbers, at least 6-8" long
toss any short smaller ribbons into the salad
store cucumber noodles for up to 2 days in a sealed container in the fridge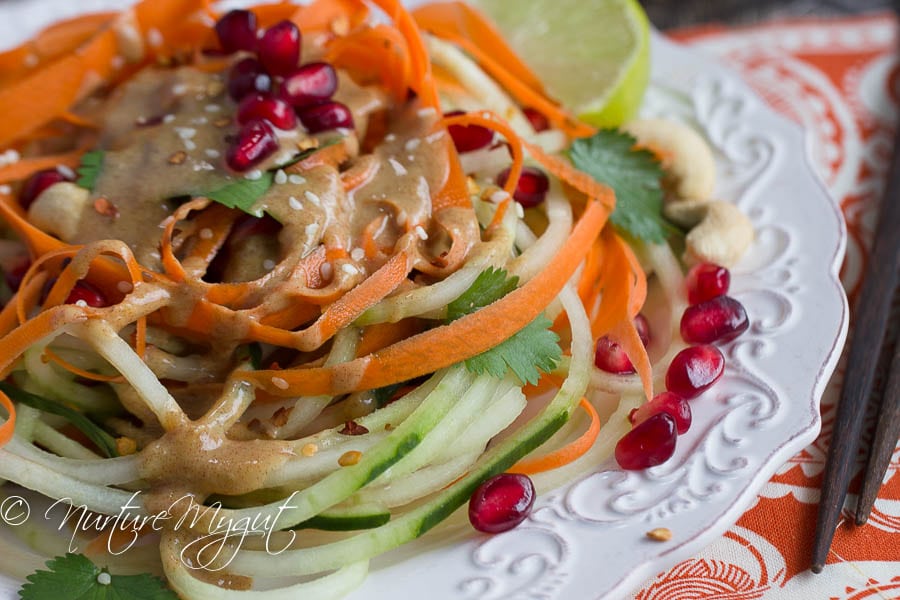 To make the carrot ribbons, I used a Y-shaped vegetable peeler to add a variety of texture into the salad, but you can also spiralize the carrots with the vegetable spiralizer too!
To make the Thai dressing, I use a mini food processor.  I added sesame oil, dates, garlic, water, lime juice, lime zest, ginger, gluten free Tamari, Dijon mustard, red pepper flakes and salt.  Feel free to replace the Tamari with coconut aminos if you are on a Whole30 cleanse.
To make this a balanced Whole30 meal, I would recommend serving this with Cast Iron Grilled Chicken and some sliced avocado.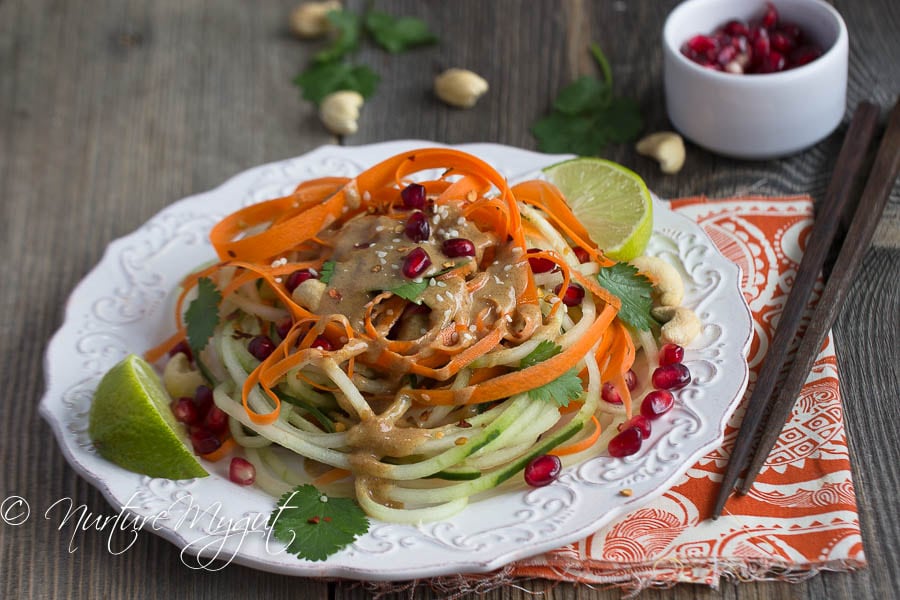 For more healthy gluten free, paleo friendly recipes, be sure to subscribe below!  Plus, you will get my free Paleo Breakfast recipe e-book as my gift to you!
Print