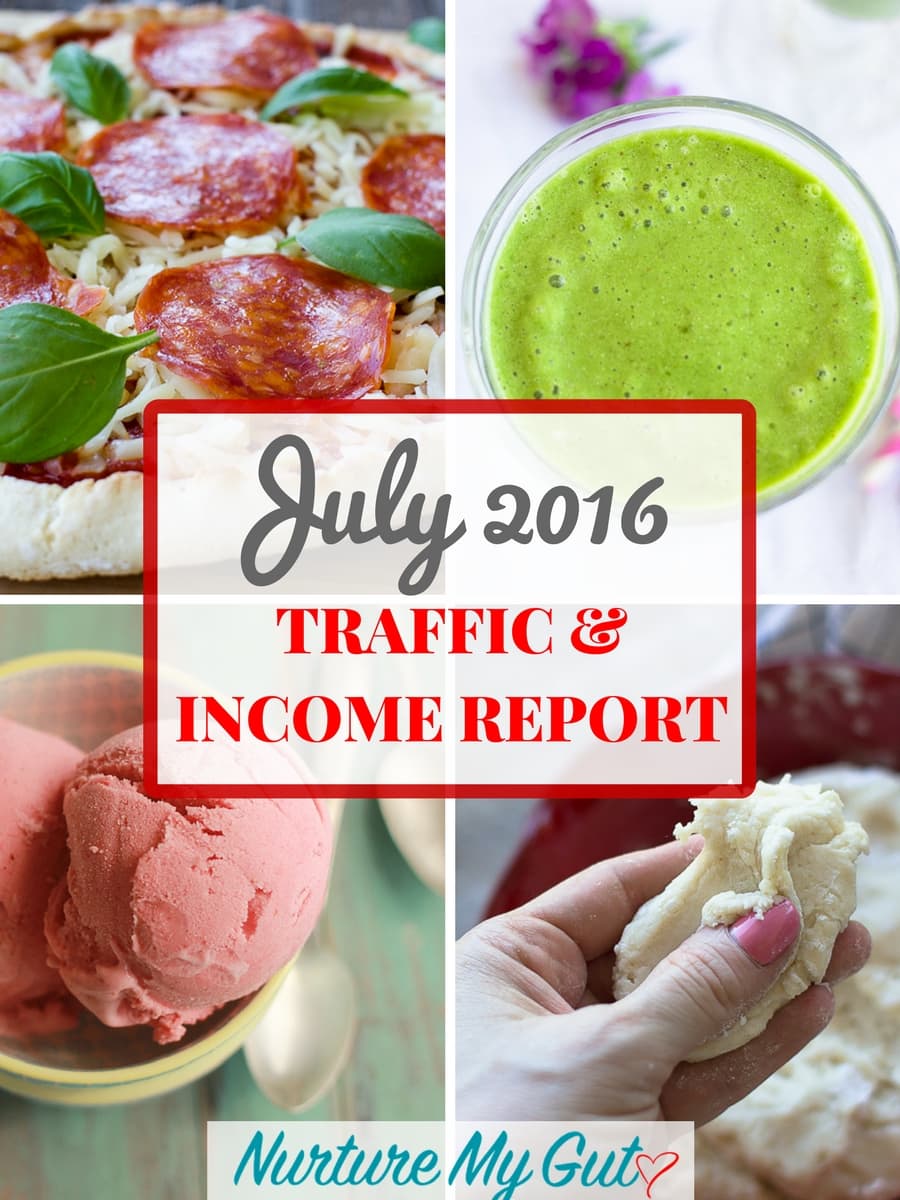 Life as a Mom is already hectic enough!  Raising two active kids, taking kids to sports, maintaining a household, helping out in our home business and living the gluten free lifestyle is enough to drive a woman crazy!  So why add more to the madness?
You know that feeling when there is just something missing?  Like you have a higher calling?  Well, after my kids were out of diapers, I had that feeling.  It took a while to figure it out, but when I did, I knew I had to pursue it!  To teach others how to heal through foods.  So with this knowledge that I have, the burning desire to share it, I decided to become a food blogger.  So between school, cooking, and bedtime, I blog.  I share my family's favorite recipes and teach others how to improve their health.  It is my dream to make a full time income blogging about what I am most passionate about…gluten free cooking, healing foods and gut health.
Is it possible to make a full-time income blogging while raising kids?  To never miss a school event, be by my kids beside when they are sick, to blog after my kids are tucked into bed and I read them a story.  Can I turn my passion into a profit?  My Mom taught me to believe in myself and that  anything is possible if you set your mind to it!
So this is what these income reports are about.  Sharing what is working and what is not working toward achieving my dreams.  I hope that these income reports can help you reach your blogging goals too, or inspire you to start a food blog.  What are your blogging goals?  Please share in the comments below.

I have gone from 3,400 page views in December 2015 — to over 100,000 page views in July 2016!
In the photo below, you can see the tremendous growth my blog has had this year.  I thought it would take me till the end of the year to have 50,000 page views but to my amazement, it happened in just a few months.  I am blown away by the positive response I have gotten from my readers.  You have inspired me to grow in the kitchen and share my best creations with you.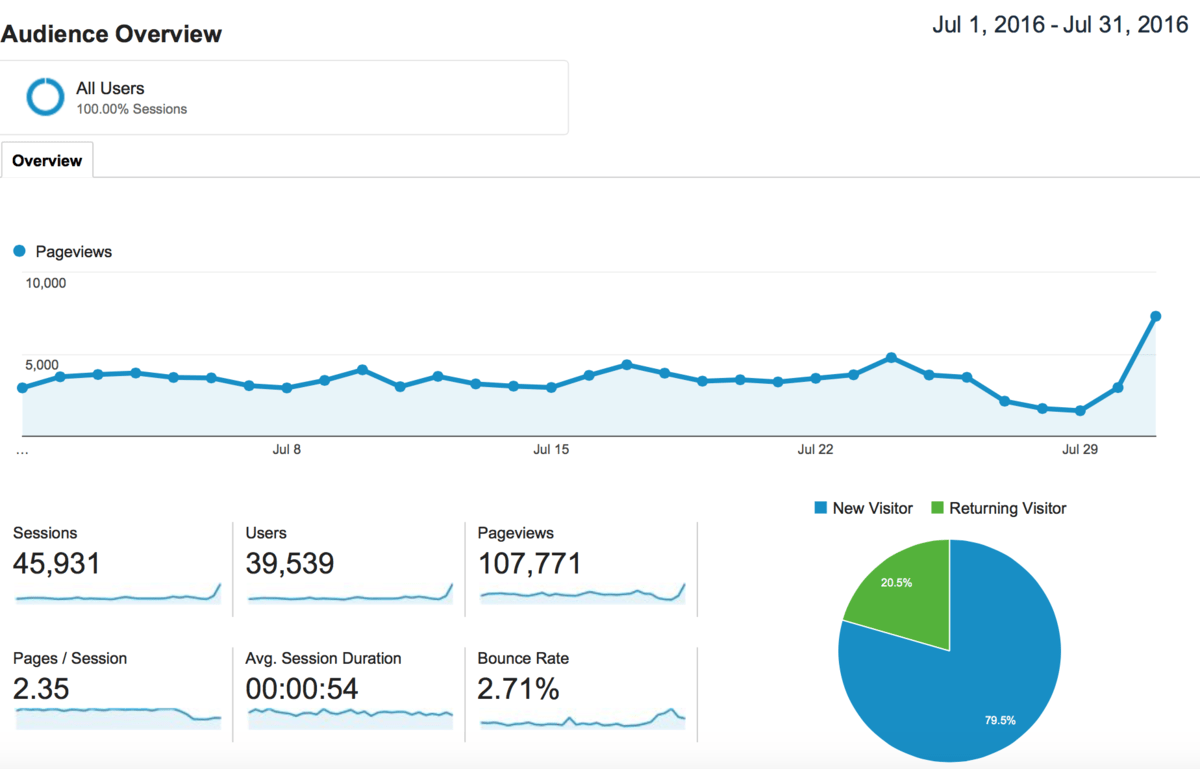 You can see below how Pinterest is my main source for traffic.  Google is slowly increasing but not even close to the traffic I am getting from Pinterest.  I decided to learn everything I can about Pinterest and found the amazing Kate Ahl at Simple Pin Media.  I love her simple way of teaching!
I took her Pinterest Master Course (affiliate link!) in March 2016 and Pinterest has been my main source of traffic ever since!  As you see below, Pinterest is 82% of my traffic.  Her course is the best course I have taken on building traffic to my blog.  I could not speak more highly about it!  You can see it in the numbers, that applying her tools works!  Plus, I was able to finish her course in two weeks!  It has been the best investment I have made in growing my blog traffic!  Look at the graph above and see how my traffic doubled two months after taking her course.  If you have not mastered Pinterest for growing your traffic, I highly recommend you take her course.
Plus, for anyone who purchases this course through my link will receive an exclusive bonus from me!  You will get a free 30 minute 1 on 1 strategy phone call.  I will go through your Pinterest page and blog and give you tips on branding, monetizing and my insider secrets to how I grew my Pinterest to over 6,000 followers.
 
I posted 3 new recipes in June.
They are:
Restorative Banana Ginger Green Smoothie
My Grain Free Everything Dough took me a long time to perfect and I am glad I took my time with it!  It is currently the number two recipe on my blog and it has had over 13,000 pins from Pinterest!

I re-branded my blog.  I re-did my Logo with colors I love, re-did my tagline and my husband took new photos of me.  I went on youtube for hair & make-up tutorials and had my dear friend who is very stylish help me pick out my outfits for the photo-shoot.  I also updated my About Me Page to really show you what my blog is about.
I schedule my pins through Boardbooster and Tailwind.  I use Boardbooster to send my pins to group boards daily, and I use Tailwind to schedule other peoples pins throughout the month and my top pins on the weekend.  Both have been very valuable and do different things but Boardbooster, I can not live without.  It is pretty much automated pinning.  Board booster has secret boards that I copy my top 50 pins to and then schedule those out to group boards.  When I have a new recipe, I just add it to my secret board and it will loop out the recipes in the board throughout the day, week and month.  I set it and forget it.  Its magic!  I get over 3,000 pins per week thanks to Boardbooster.  Of course, taking beautiful images and yummy recipes is important too, but if no one sees them, then what is the point right?  Board booster and Tailwind are ways to get your content out there for people to see the delicious food you make!
I also went through 80% of my blog posts and re-photographed recipes that no longer represented my Brand.  I also deleted blog posts that no longer represent my beliefs, brand or were of no interest to my readers.
I used the Yoast SEO plugin and made sure every blog post had SEO friendly keywords and tags.
I took Kate Ahl's Simple Pin Media Master Course.  It taught me how to increase my following, pin strategically, and increase revenue on my blog.  I was making $5 a month and had around 10,000 monthly page views before applying the tools I learned in her course.  I am now making over $300 a month and have over 100,000 page views.  Its amazing and I highly recommend her course.  See below what this course offers and if its something you could benefit from.    The Simple Pin Master Course empowers bloggers and business owners to create a marketing plan to grow their business, build their email list, and increase revenue.Modules:

Pinterest Foundations
Optimizing Your Website for Pinterest
Creating Pinnable Images Using Three Different Programs (Canva, Pic Monkey and Adobe)
Crafting the Perfect Pinnable Post
Using Pinterest to Build Your Email List
How to Be An Effective Pinner
Evaluting Your Efforts — Pinterest Analytics & Google Analytics
Running a Promoted Pin Campaign
How to Dominate Pinterest!

Mediavine-$302.30
Essentially Gluten Free E-Book-$6.92
Viglink-$66.84
Youtube-$3.15
Total Income-$379.21
Expenses:
MailChimp-$44
Foodbloggerpro-$29
Lightroom-$9.99
Picmonkey-$4.99
Boardbooster-$15
How I Made $40K My First Year Blogging E-Book-$19.95
Virtual Assistant (my amazing & talented Mom!)-$150
Tailwind Course-$47
Total Expenses-$319.93
Profit-$59.28

Lesson one I learned in July is to ask if something is not right.  As I was reading other peoples income reports, I saw that their RPM was way higher than mine and yet they were also using Media Vine to manage their ADS.  This is only my third month with Media-vine but I decided it won't hurt to ask why my RPM was so low.  So I emailed Media Vine and they said it was because I was running two sets of google analytics and I needed to remove one of the codes.   I removed one of the codes and the next day, my RPM doubled!  I am really glad that I asked.  My RPM, was around $2.43 and it is now between $4.53 and $5.5.  I like that Media Vine Ads are fast loading and not as intrusive as the ones I had before.  So please excuse my Ads, as they do help support my blog!
My second lesson is that I see the value of really putting time into my recipes and offering what my audience really needs, which are grain free baking recipes.  It is best to put out less, high quality content than several random recipes that don't bring value to my readers.  I have already gotten positive feedback on my Grain Free Everything Dough!  I am super happy about that!
My third lesson is to focus on what is working which is Pinterest!  I spent a lot of energy and money in June and July getting my recipes out to share sites, building other social media networks and it hardly increased my traffic.  I am going to spend my time and energy building Pinterest since that is my main source of traffic now.  I will be going through the Simple Pin Master Course modules once again to brush up on strategic pinning.