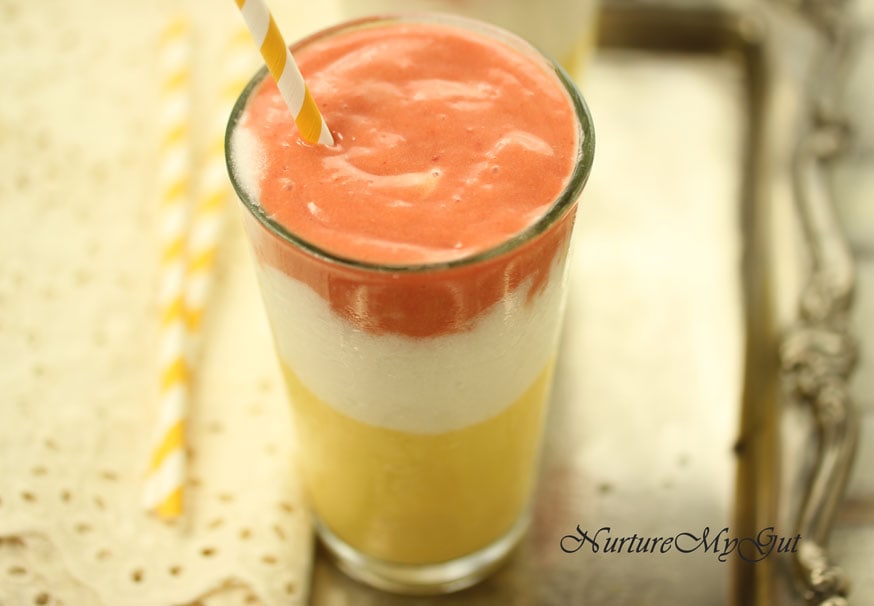 This Tropical Coconut Smoothie is bursting with flavor!  It is layered with tart strawberry, creamy coconut and tropical mango.  The base of this smoothie is made with Young Thai Coconut Meat which is soft and sweet.  Raw coconut meat is high in dietary fiber and rich in medium chain fatty acids, which the body uses as fuel.  That makes this a perfect smoothie before a workout.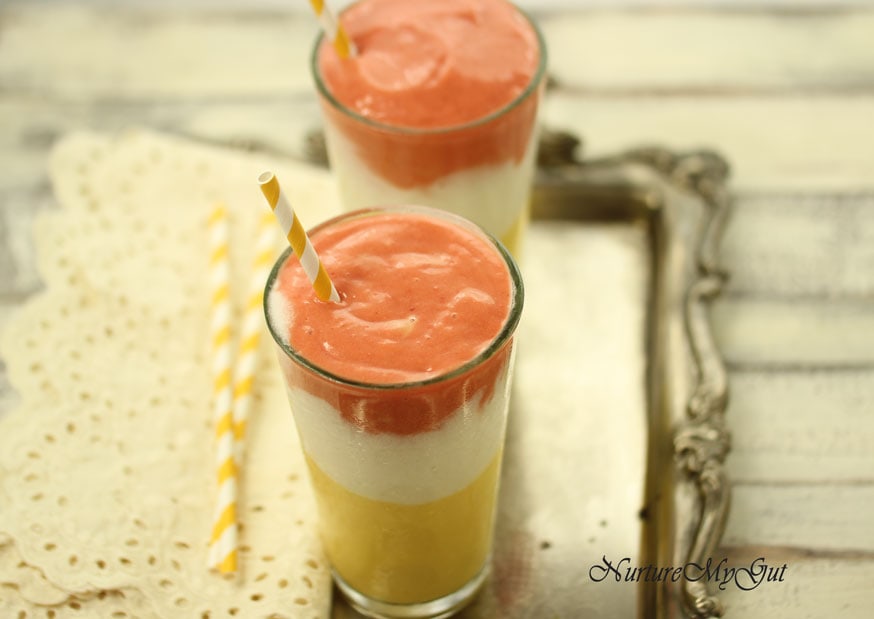 This Tropical Coconut Smoothie is fun to eat!  I served two small glasses to my children and divided the rest between my husband and myself.  I asked my family what their favorite flavors were. My son loved the creamy coconut center, while my daughter loved the tart strawberry, I liked the mango flavor and my husband drank his so fast that it was too late to put his straw in each flavor to see which was his favorite!  I know for sure he loved it because it disappeared in a flash!  If you have leftover smoothie, tropical popsicles will be a huge hit with your kids.  This Tropical Smoothie looks good, tastes good and makes you feel good!!!!
For more delicious healthy gluten free/Paleo-ish meals, please subscribe below.  You will get my free Paleo Breakfast E-Book as my gift to you and new recipes straight to your inbox! 
Check out these yummy gluten free recipes:
Best Paleo Chocolate Chip Cookies
Print
Tropical Coconut Smoothie
Author:
Prep Time:

15 mins

Total Time:

15 mins

Yield:

3-4
Ingredients
Meat from 2 young Thai coconuts (approximately 2 1/2 cups)
6 ice cubes
1/2 teaspoon vanilla stevia
1 Tablespoon coconut oil
1 Tablespoon vanilla extract
1/2 teaspoon almond extract
2 cups water
3 1/2 cups frozen mango (16 ounce bag)
2 cups freeze dried strawberries
Instructions
Add coconut meat, ice cubes, stevia, coconut oil, vanilla extract, almond extract and water to a high speed blender. Blend on high until smooth and creamy.
Pour out 2 cups of the smoothie into a large mason jar and set aside.
Add frozen mango to blender along with coconut smoothie and blend on high until smooth and creamy.
Pour out 2 cups of the mango smoothie into a large mason jar and set aside.
Add freeze dried strawberries to blender and blend until smooth.
Divide mango smoothie among 3 twelve ounce glasses or 4 eight ounce glasses.
Pour mango smoothie on the bottom. Pour coconut smoothie next. Top off with strawberry smoothie. Place a straw in smoothie and enjoy!
I'm a loving wife, mother of two healthy children, andI am obsessed with teaching people how to make delicious and mouth-watering gluten-free/Paleo friendly foods that nurture your gut!
Latest posts by Ester Perez (see all)