Are you going gluten-free due to medical reasons or lifestyle changes?  Did you just find out your child has celiac or a gluten-allergy?  Have you been feeling overwhelmed by the undaunting task of getting rid of gluten in your home?  Here you will learn how to successfully complete the "Ultimate Gluten Free Pantry Clean-out"!
Three steps to successfully complete the Ultimate Gluten Free Pantry Clean-Out:
Remove gluten from your pantry cupboards.
Remove gluten from your fridge.
Remove gluten from your freezer
Use this "18 Foods to Replace When Going Gluten Free" guide to help you along the way.  Most importantly, I will thoroughly guide you through the process of removing gluten from all the different areas in your home and how to identify the different sneaky sources of gluten on labels. Be sure to save this to your phone, print it out or tape it to your fridge!  It will make the next few days a lot easier while you are cleaning out all foods that contain gluten in your kitchen.
Also, when you send your kids to their Grandparents or friends house be sure to forward them this article or image below so they know exactly where all of the sneaky sources of gluten are and NOT give it to your child.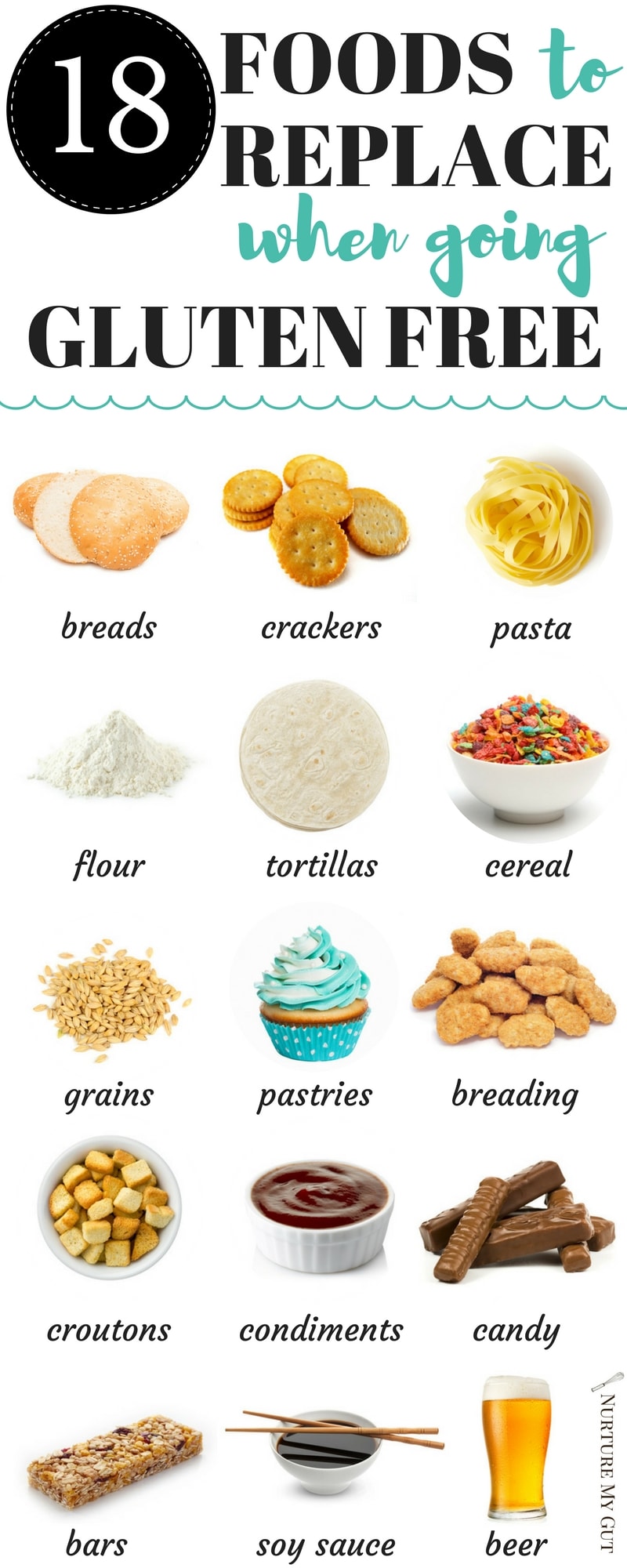 (This post contains affiliate links for your convenience. Click here to view my full Disclosure Policy.)
Gluten Free Pantry Clean-Out:
Go through one shelf at a time, take everything off of your pantry shelf and place onto your kitchen counter.  Wipe down your shelf.  Now go through each item one at a time reading labels.  This is a huge endeavor that will take several hours so you may need to break this work up into a few days, depending how big your kitchen is.  This is a good time to put on your favorite upbeat music to help time go by faster!
Foods that contain gluten will be made of ingredients that contain: Barley, Rye, Spelt and Wheat OR foods made with these grains such as: Barley, Bulgar, Durum Wheat, Einkorn, Faro, Graham Flour, Kamut, Semolina, Farina, Spelt, Triticale, Rye, Wheat, Wheat Germ, White Flour, Enriched Wheat Flour, Whole Wheat Flour, Wheat Bran, Malt, Seitan and anything with wheat extract.  For a printable version of this list, go to: gluten free food list. Labels vary by brand, some will say contains "gluten",  others will say contains "wheat" and some just have the ingredients listed.  If you are unsure if an item is gluten-free, you can always google the ingredient, check the manufacturer's website or call the company directly.
Go through all your pasta, crackers, chips, flour, baking mixes, pancake mix, cereal, grains such as : couscous, barley, wheat, rye, spelt, oats & oatmeal, all canned soups/baked beans,etc, croutons, breading, tempera mix, instant drinks, protein powders, spices, bouillon cubes, vitamins, supplements, energy bars, mixed nuts dusted in flour, candy bars, and baked goods such as: breads, croissants, muffins, pastries, cookies, pie and cake. Check ALL labels in your pantry, yup, each and every item. 
Get a big trash bag ready and a big box.  Opened food containers will go into the trash (remember to recycle packaging & toss out food), unopened containers/packages will go into the box and can be dropped off at your local food bank.  You can find a local food bank HERE.
Now put back items that are gluten-free back onto the shelf.  Repeat with each shelf in your pantry.  If you are ready to re-stock your pantry, visit my Ultimate Guide to Gluten Free Living post.
Note: Oats are naturally gluten-free but are commonly contaminated with gluten so if you are extremely sensitive to gluten, it is best to stick to Certified Gluten Free Oats.
Gluten Free Fridge Clean-Out:
Naturally gluten-free foods are: whole fruits & vegetables, raw nuts and seeds, milk, plain yogurt, hard cheese, eggs and unprocessed cuts of meat, seafood and poultry.  Everything else must be taken out, shelf by shelf.
Go through marinades, salad dressings, condiments such as barbecues sauce and soy sauce, processed meats, cheese sauce, syrups, sausages and chocolate milk.  Look at your shredded cheese label because it may be dusted with flour.  If you keep fresh pasta, crackers, snacks, pastries and bread in the fridge, be sure to go through that too!  Check your beer, shakes, and beverages.  It is always best to remove every item on a shelf and check the label to determine if it is gluten-free or needs to be tossed in the trash or donated.  Reference above item number "2" for all the sources of gluten.
Throw out any leftovers.  Get rid of old sandwiches, pre-made meatballs, chicken nuggets and all take-out food.
Gluten Free Freezer Clean-Out:
Start by removing items off of the door of the freezer, one shelf at a time.   Then move onto shelves and bins.  Have a bowl with hot soapy water and a sponge ready to wipe down each bin/shelf as you go through it. This allows you to feel like you are having a fresh start, because if you are like me, it may have been months since the freezer has had a clean-out.  Frozen unprocessed poultry and meat such as ground beef without seasoning, plain fish, plain seafood( for example raw unseasoned shrimp), frozen fruit, frozen unseasoned veggies are naturally gluten-free.
Go through and read labels of all your seasoned meat, breaded chicken, breaded fish, frozen breads,  tortillas, flautas, pizza, veggie burgers, sausages, meatballs, corn dogs, hot dogs, fries (may be dusted in flour), frozen muffins or pastries, cheesecake, ice cream, popsicles, and all packaged foods.  Most prepared frozen meals such as orange chicken and prepared soups have gluten.  Please refer to the item number "2" under sub-heading, "Gluten Free Pantry Clean-out" for the different sources of gluten.
Throw open frozen items in the trash.  Find out if your local food bank will take unopened frozen foods.  When delivering to a food bank, keep them cold in a cooler  or freezer tote for safe transporting.
Now that you have completed this Ultimate Gluten Free Pantry Clean-out, you will have freed your pantry, fridge and freezer completely of gluten, you will have educated yourself by learning to read labels and learning the different types of ingredients that contain gluten.  Now that you are fully equipped and empowered to identify gluten,  you can keep yourself and your family safe!  If you are ready to re-stock your pantry, fridge and freezer, check out my Ultimate Guide to Gluten Free Living. 
Now, you and your family can eat any item from your pantry, fridge or freezer without worrying of any ill effects!  Congratulations on successfully completing the Ultimate Gluten Free Pantry Clean-out, now if your pantry is looking bare, have fun and re-stock your pantry with some yummy gluten-free items, you can find a list of my favorite Gluten-free Resources here.
Latest posts by Ester Perez
(see all)