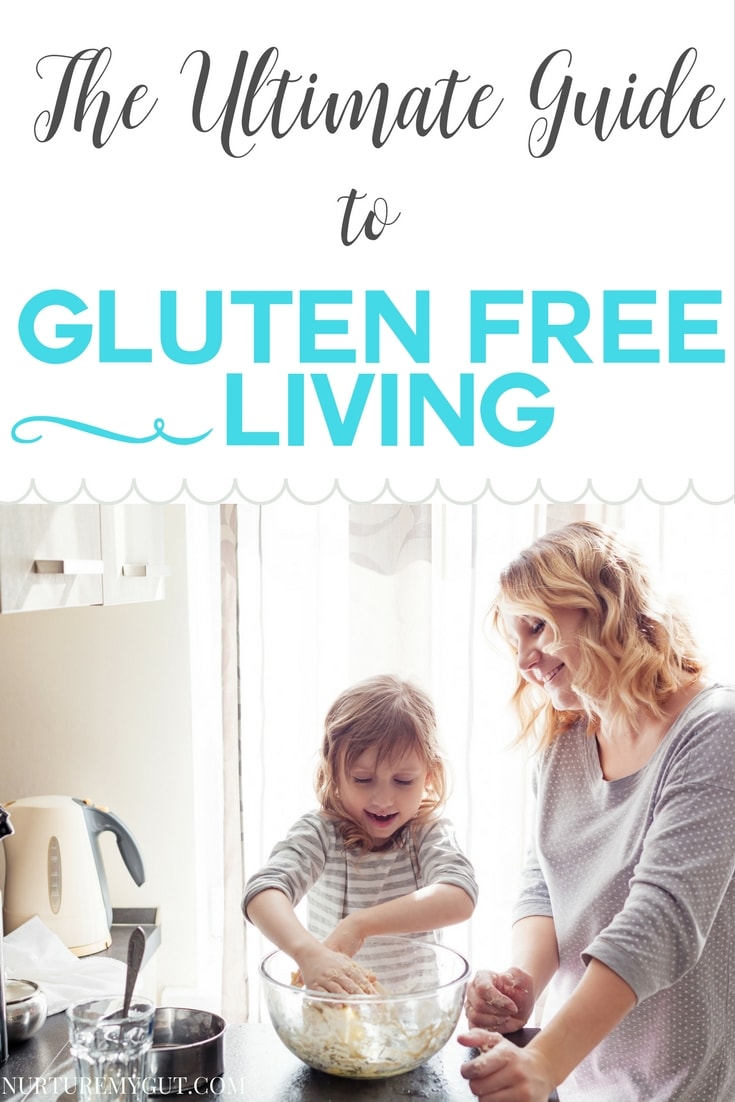 The Ultimate Guide to Gluten Free Living will walk you through the basic fundamentals for going gluten free.  From identifying gluten, why go gluten free to restocking your pantry with gluten free foods.  You will learn which foods are naturally gluten free and which are made specifically gluten free such as gluten free breads, condiments and everything in between!
What is Gluten?
Gluten is a protein found in Wheat, Barley, Rye and Spelt OR foods made with these grains such as: Barley, Bulgar, Durum Wheat, Einkorn, Faro, Graham Flour, Kamut, Semolina, Farina, Spelt, Triticale, Rye, Wheat, Wheat Germ, White Flour, Enriched Wheat Flour, Whole Wheat Flour, Wheat Bran, Malt, Seitan and anything with wheat extract.
What Foods Contain Gluten?
Gluten is found in grains such as : couscous, barley, wheat, rye, spelt, oats & oatmeal (unless labeled certified gluten free), baked goods such as: breads, croissants, muffins, pastries, cookies, pie and cake, pasta, crackers, flour, baking mixes, pancake mix, cereal, croutons, breading, tempera mix, bouillon cubes, and possibly in instant drinks, protein powders, spices, canned soups/baked beans, vitamins, supplements, energy bars, chips, mixed nuts dusted in flour and candy bars.  Check out this blog post for the Ultimate Gluten Free Pantry Clean-Out List. 
Why Eat Gluten Free?
People with Celiac Disease and Non-Celiac Gluten Sensitivity avoid gluten to prevent further damage to their health.  They avoid gluten because they have noticed a significant improvement in their health after eating gluten free.
What is Celiac Disease?
Celiac disease is an auto-immune diseases that is caused by the ingestion of gluten.  When people with Celiac disease ingest gluten, it causes the villi in the lining of the small intestine to become flattened.  These villi are responsible for food absorption.  Therefore, people with celiac disease who consume gluten can have symptoms such as: recurrent abdominal pain, gas, bloating, diarrhea, constipation, weight loss, nausea, anemia, weakness and failure to thrive in children.  There are over 200 symptoms associated with Celiac disease, so it is difficult to diagnose.  Celiac is more frequent in those who have Multiple Sclerosis, Hashimoto's thyroiditis,  Autoimmune hepatitis, Arthritis, Addison disease, Sjögren's syndrome,IgA nephropathy and Idiopathic dilated cardiomyopathy.
Celiac disease affects over 3 million Americans or 1 in 133 people.  A doctor will diagnose Celiac disease by either performing a blood test or by performing biopsy samples.
What is Non-Celiac Gluten Sensitivity?
People with Non-Celiac gluten sensitivity do not test positive for Celiac disease, yet they experience symptoms found in Celiac Disease such as abdominal pain, bloating, diarrhea, constipation, headaches, joint pain, foggy brain and depression.
In 2016, a team of researchers at Columbia University Medical Center study found that people with Non-Celiac gluten sensitivity and Non-Celiac Wheat Sensitivity that are exposed to wheat, can also have a systemic immune reaction and accompanying intestinal cell damage as those with Celiac disease.  For those with Non-Celiac gluten sensitivity, when gluten is removed from their diet, their symptoms are resolved.
This has been the case in my family, my son, daughter and myself have experienced several of the symptoms of Celiac, such as Hashimotos, eczema, anemia, abdominal pain, bloating and joint pain, but the blood tests are normal.  (We did not perform biopsy).  After we all went gluten free, many of the symptoms resolved.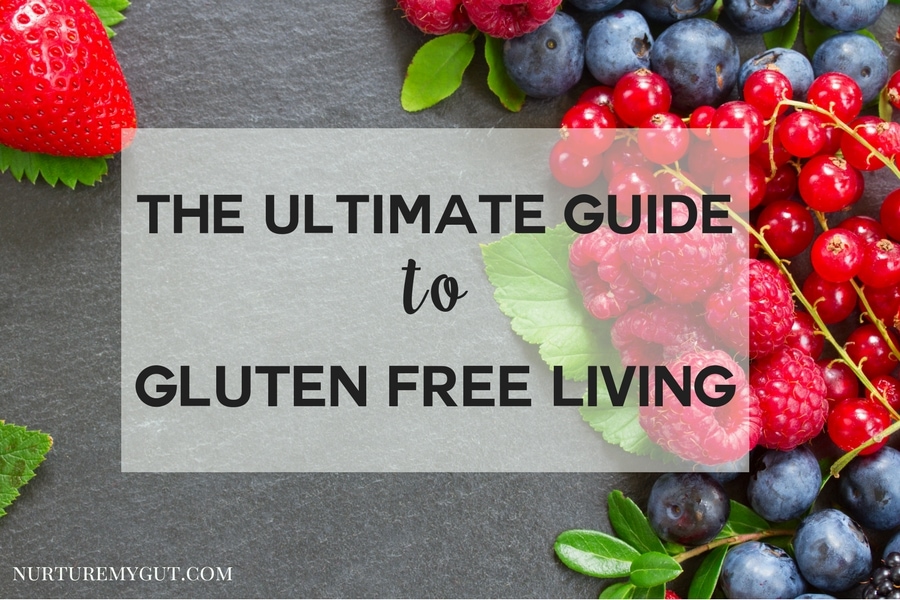 What Foods are Naturally Gluten Free?
ALL Fruits
ALL Vegetables
ALL Leafy Greens
ALL Fresh and dried herbs
ALL Starchy Vegetables such as yams, potatoes, squash
Eggs
Meat
Poultry
Pure Dairy such as (milk, butter, cream, plain yogurt, kefir and cheese)
Fish & Seafood, except Imitation Crab
ALL Beans & legumes
Coconut
Olives
ALL Nuts & Seeds
Rice, comes in short/medium/long grain-popular types are:

Basmati Rice
Jasmine Rice
Brown Rice
Arborio Rice
Sticky Rice AKA glutinous rice (no gluten)
Sushi Rice
Wild rice
Black Rice. Avoid rice mixes unless labeled gluten free since most rice mixes contain gluten.

Quinoa:
Buckwheat groats
Sorghum
Amaranth
Corn (100% corn tortillas, pure corn tamales)
Teff
Oats-must be Certified Gluten Free due to high cross contamination of oats (yet many people with Celiac do not tolerate oats, please see article under Cross Reactive Foods
Gluten Free Flours Such as:

Almond flour-blanched & finely ground
Almond meal
Amaranth flour
Arrowroot
Bean Flour (such as chickpea flour, garbanzo flour, lentil flour, black bean flour, garfava flour, green pea flour, soy flour and white bean flour)
Bran (corn, rice and oat bran)
Cassava Flour
Coconut Flour
Corn Flour (such as cornmeal, corn starch, Masa, polenta)
Potato Flour
Potato Starch
Quinoa Flour (flakes)
Rice Flour (White, Superfine White and Brown Rice)
Sorghum Flour
Soy Flour

Gluten free Baking Gums for binding flour such as: Xanthan Gum & Guar Gum
Oils such as: olive oil, avocado oil, coconut oil, grapeseed oil, etc.
Vinegar (such as balsamic, red wine, white, apple cider)-except malt vinegar
Natural Sweeteners such as:

Agave
Cane Sugar (also powdered sugar)
Coconut Sugar (nectar)
Honey
Maple Syrup
Molasses
Sucanut
Brown Rice Syrup

Beverages such as:

Gatorade
Fruit Juice that is 100% juice is gluten free (don't get fruit "flavored" drinks as those may not be gluten free)
Starbucks Coffee or Certified Gluten Free Coffee (coffee beans can be processed in a facility that manufactures products that contain wheat so there is a risk of cross contamination)
Teas
Kombucha
Soda
Most Wine (double check the label to make sure it is gluten free, avoid desert wines or wines with added flavor as they may contain gluten.  Also, double check with the manufacture if you have a favorite wine since some winemakers use a wheat paste to seal the oak barrels used in the aging process.)
Some Alcohol-Potato Vodka, Rum and Tequila are gluten free
Certified Gluten Free Beer (Beer is made with barley and hops that has gluten, so avoid this unless it is certified gluten free)
Cider (double check the label, most ciders are gluten free)

Condiments:

Ketchup
Mayo
Mustard
Relish
Dill Pickles
Sauerkraut
Kimchi
Hot Sauce (Such as Tapatio, Chalupa, Tabasco and Sriracha are gluten free)
Salsa
Enchilada Sauce
Gluten Free Tamari (replaces soy sauce)
Coconut Aminos (replace soy sauce)
Red Boat Fish Sauce (most other brands have gluten)
Horseradish
Certified Gluten Free Bar-B-Q sauce (check labels, many Bar-B-Q sauces have gluten)
Wasabi
Certified Gluten Free Dressing (most dressings have gluten so check the label.  Usually Vinaigrettes are gluten free)
Most Marinara Sauce (check the label as NOT all are gluten free)
What Foods Need to Be Prepared Specifically Gluten Free?
Baked Goods

Bread
Tortillas
Hot Dog Buns
Hamburger Buns
English Muffins
Bagels
Cookies
Cupcakes/Cakes
Brownies
Donuts
Pie Crust
Pizza Crust
Pizza

Breakfast

Waffles
Pancakes
Toaster Pastries similar to Pop Tarts
Breakfast Pita Pockets
Cereal
Muffins
Granola
Scones
Oatmeal
Cereal

Lunch/Dinner

Chicken Pot Pies
Mac & Cheese

Snacks

Crackers
Bars
Pretzels
Bars

Breaded Foods

Chicken Tenders/Nuggets
Fish Nuggets
Onion Rings

Breading
Pasta

Spaghetti, linguini
macaroni noodles
Ramen

Mixes

Pancake Mix
Cake Mix
Brownie Mix
Bread Mix
Cookie Mix
Biscuit Mix

Multi-Purpose Baking Mix

Grain Free All Purpose Mix
Where to Start When Going Gluten Free?
Now that you know what foods are NOT gluten free and which foods are, you want to start with a Gluten free Pantry Clean-Out.  Remove all gluten from your kitchen.  I walk you through this in my Ultimate Gluten Free Pantry Clean-Out.
Remove any traces of gluten in your home.  Give a good spring cleaning to your dishes, colanders, pots, pans and oven.  If you cannot remove traces of gluten from your toaster, toaster oven, or certain kitchen items, it would be wise to buy a new one.
Stock up on some basic gluten free pantry items, listed above.  Some of my favorite gluten free pantry items are: Canyon Bakehouse Bread, Udi's Gluten Free Tortillas, Bob's Red Mill 1 to 1 Gluten Free Flour, Blanched Almond Flour, Tapioca Flour, Coconut Flour, Udi's Hot Dog Buns and Xo Baking Mixes, specifically their chocolate cake for parties.  Some of my favorite go to homemade gluten free recipes are Grain Free Everything Dough, Gluten Free Tortillas and Gluten Free Waffles.
If you have children, you will want to inform their school and teachers.  Get ready for social events ahead of time.  I have a great blog post on this called, How to Prep my Gluten-Free Child for Birthday Parties and Social Events.
Now that you know how to identify gluten, eliminate it from your home and re-stock your gluten free pantry, you are ready to live the gluten free lifestyle.  This Ultimate Guide to Gluten Free Living will lead you in the right direction toward healthy gluten free living.
Latest posts by Ester Perez
(see all)