Ultimate Instant Pot Pinto Beans-easy, quick and require no soaking.  A gluten free household staple which is used for making burritos, loaded nachos, chili and soups.  Made in an electric pressure cooker to remove lectins which can cause gut distress.  This recipe needs only 5 minutes prep time and 55 minutes cook time.  Absolutely effortless!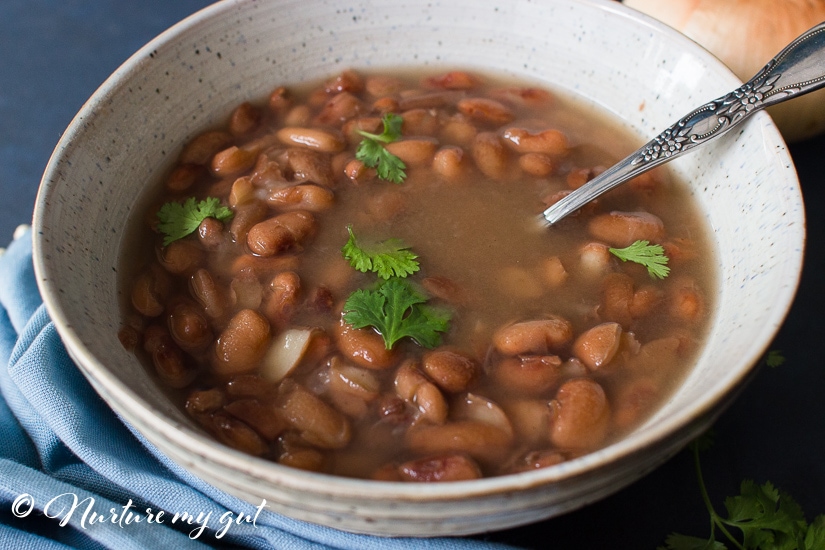 (This post contains affiliate links for your convenience. Click here to view my full Disclosure Policy.)
After reading through Dr. Gundry's Book, The Plant Paradox, I found out that lectins, also known as anti-nutrients are extremely harmful to the gut!  These are the root cause of inflammation and many diseases!  Dr. Gundry has helped thousands of patients reverse joint pain, gut inflammation, auto-immune disease and more through a lectin free diet called The Plant Paradox Program.
Lectins have the ability to tear open little holes between our cells that line our intestines, therefore causing leaky gut.  Once leaky gut starts, then all hell can break loose in our system!  So if you are wondering why it is taking so long to heal your gut, you may be consuming a diet high in lectins!
Beans have lots of lectins, but there is good news!  They can be destroyed!
Lectins in beans are best removed through pressure cooking!  Yay!  You can eat these beans without worry!  Trust me, this is the best way to cook your beans, if you are eating them.
I will show you how easy it is to pressure cook beans in an Instant-Pot Pressure Cooker.  It really is effortless!
If you have never used the Instant Pot before, you can get my "Instant Pot Getting Started Cheat Sheet" in my Free Resource Library.  (Subscribe HERE)
How To Make the Ultimate Instant Pot Pinto Beans in the Instant Pot:
First, set your Instant pot pressure cooker to saute mode. I use a 6 quart one, but you can get the 8 quart if you have a big family. Add your bacon, onions, garlic cloves and bay leaves.  Saute for 2-3 minutes or until bacon looks mostly cooked.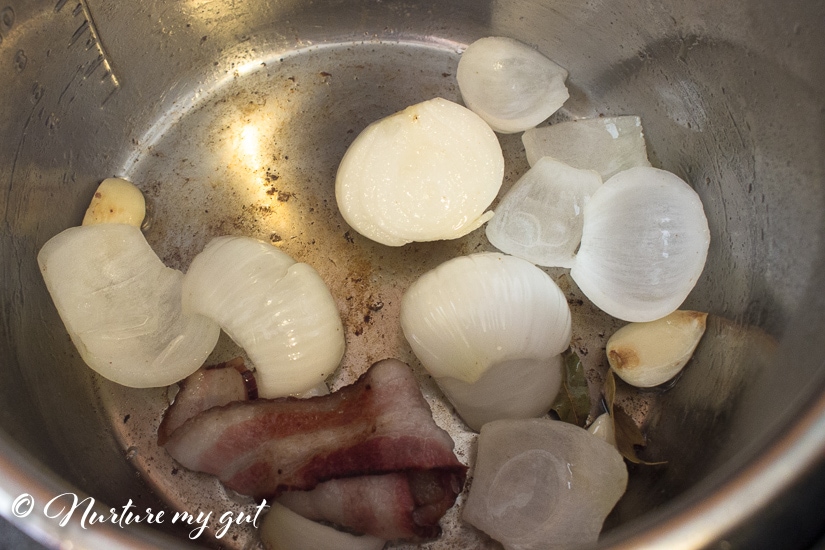 Next, sort through and rinse your pinto beans and add to pressure cooker.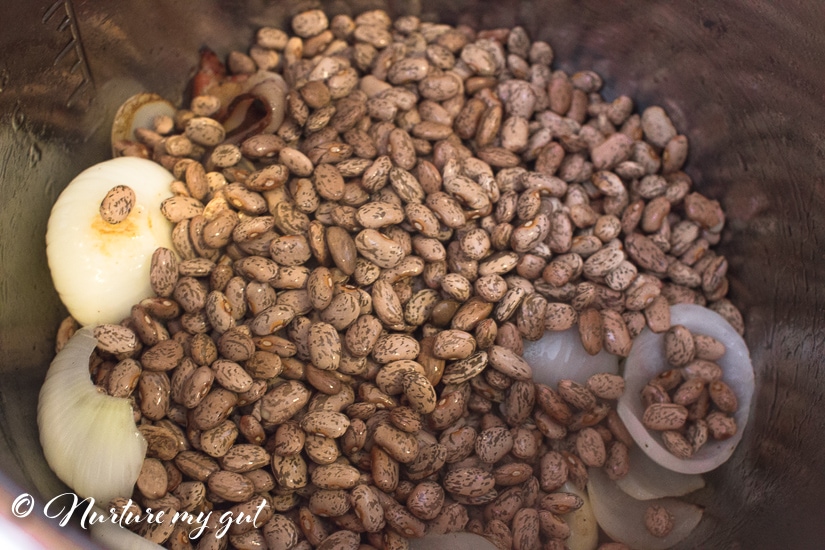 Add half of your salt, seal with your lid and set Instant Pot to high pressure for 55 minutes for mushy beans and 45 minutes for firmer beans.  My family loves them mushy since we make burritos so I use 55 minutes.  These Ultimate Instant Pot Pinto Beans are very light and flavorful!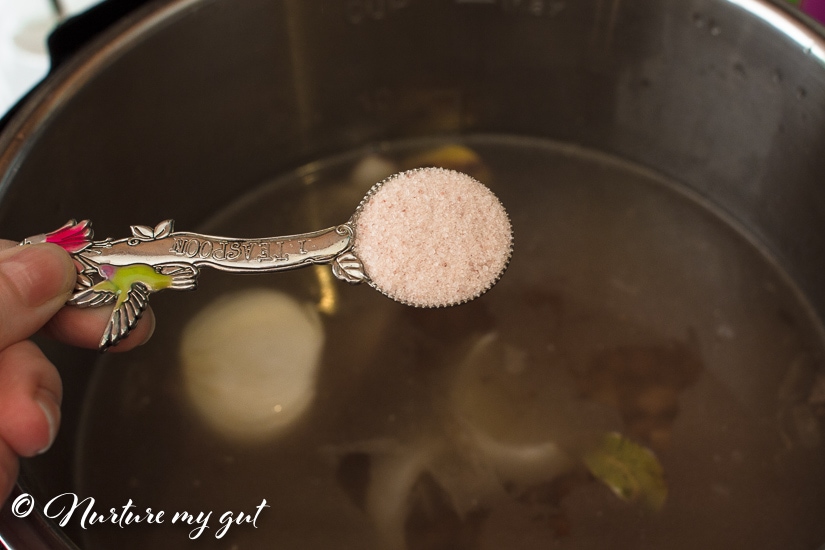 After your timer goes off, DO NOT release pressure,  allow pressure to release naturally.
I opened mine after 15 minutes (with a 55 minute cook time), you can allow it to go for 25 minutes for a 45 minute cook time for firmer beans.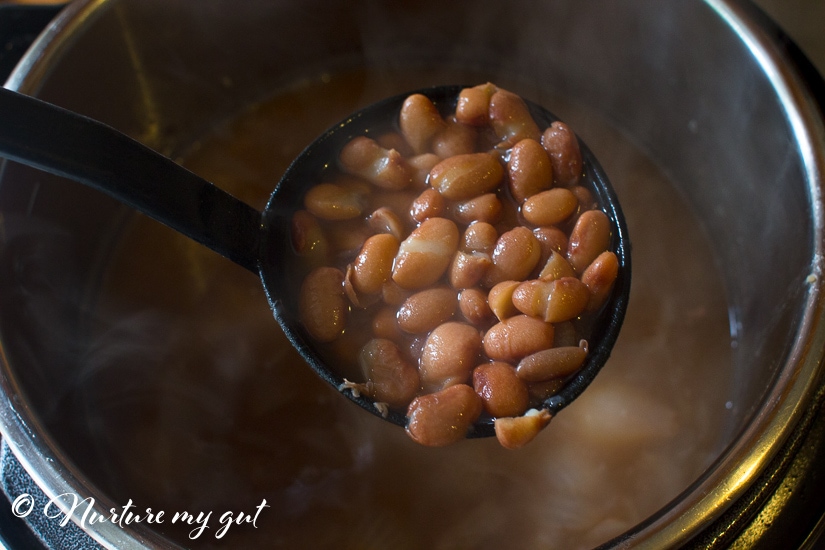 Finally, using an oven mitt, just in case, release the valve and remove the lid.  I add the remaining salt here.  I like to scoop out the bacon, garlic and onions before storing or serving.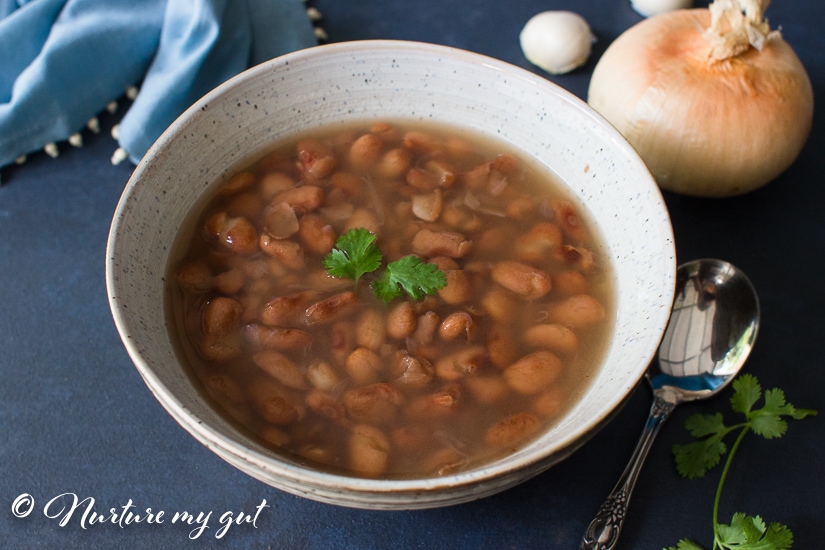 Serve beans in a bowl and top with cubed avocado, minced onion and chopped cilantro.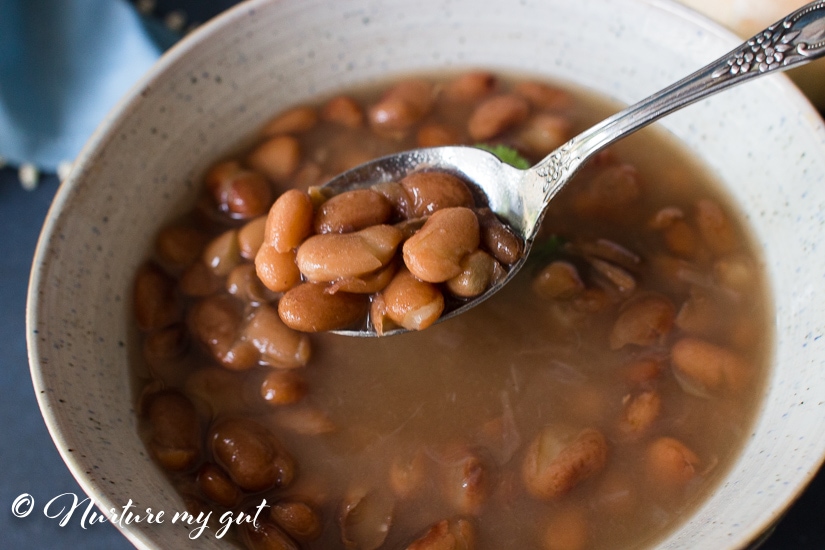 Pinto beans are my kids favorite lunch box meal when served mashed in burritos made with my Paleo Tortillas 2.0 .
If you want tortillas that are similar to flour tortillas, then you will want to make my  Homemade Gluten Free Tortillas.  These can be made while the beans are cooking.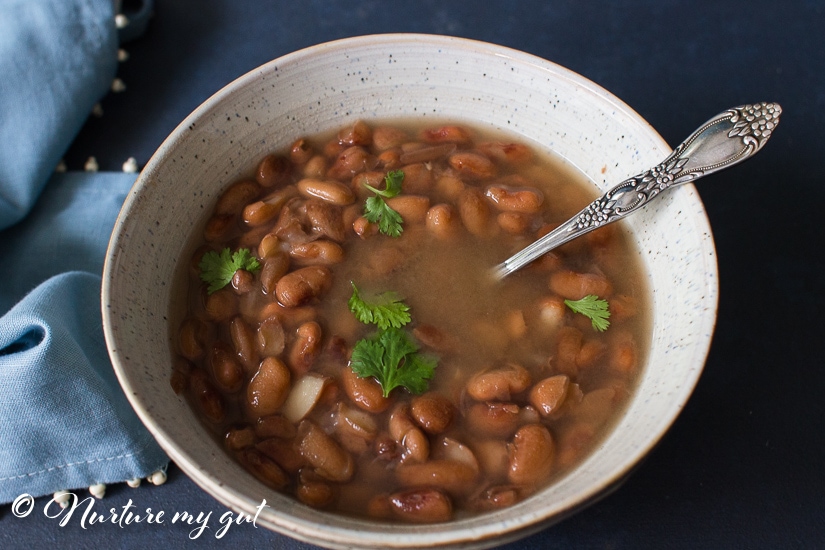 How to Store Pinto Beans:
Pinto Beans can be stored in a sealed container in the refrigerator for up to 5 days.
Store in the coldest part of the fridge.
Freeze in a sealed container or freezer zip-lock bag for up to 3 months.
I sure hope you enjoyed this Ultimate Instant Pot Pinto Bean Recipe as much as my family has.  Let us know how your body handled these beans.  If you are still having a hard time tolerating beans, you may want to look into The Plant Paradox Program which is a program designed to heal the gut.
In the Plant Paradox program, one eliminates beans and all lectin containing foods for a period of time,  and re-introduces them (pressure-cooked beans) later once the gut has healed.  Speak to your health practitioner to see if this is a good fit for you.  I myself have been reducing lectins in my diet so you will be finding more pressure cooked recipes on my blog.
For my Instant Pot Getting Started Cheat Sheet & Instant Pot Soups, Stews & More ebook, be sure to subscribe to my free Resource Library Below.
You will get all of my gluten free ebooks, meal plans, cheat sheets & more!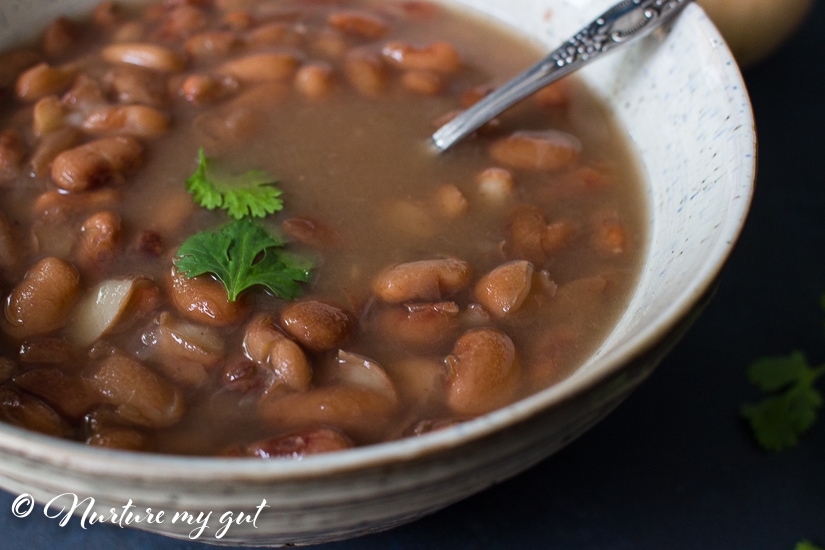 Print