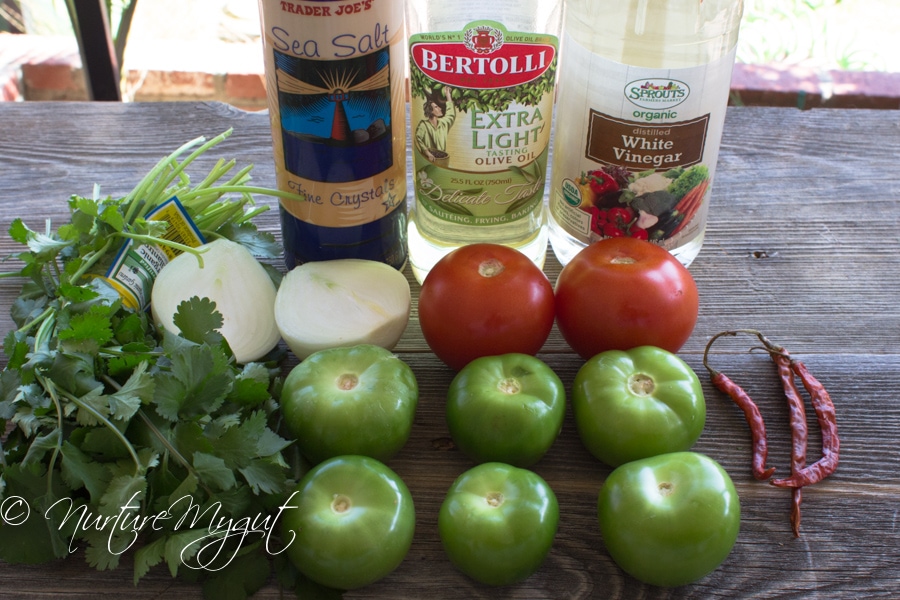 This Ultimate Salsa Verde Recipe adds the perfect kick to carne asada tacos, burritos and corn chips.  It is easily roasted in a cast-iron skillet and blended to perfection.  The combination of tomatillos and vine-ripened red tomatoes balances the flavors in this tangy salsa.
It will be perfect for game day!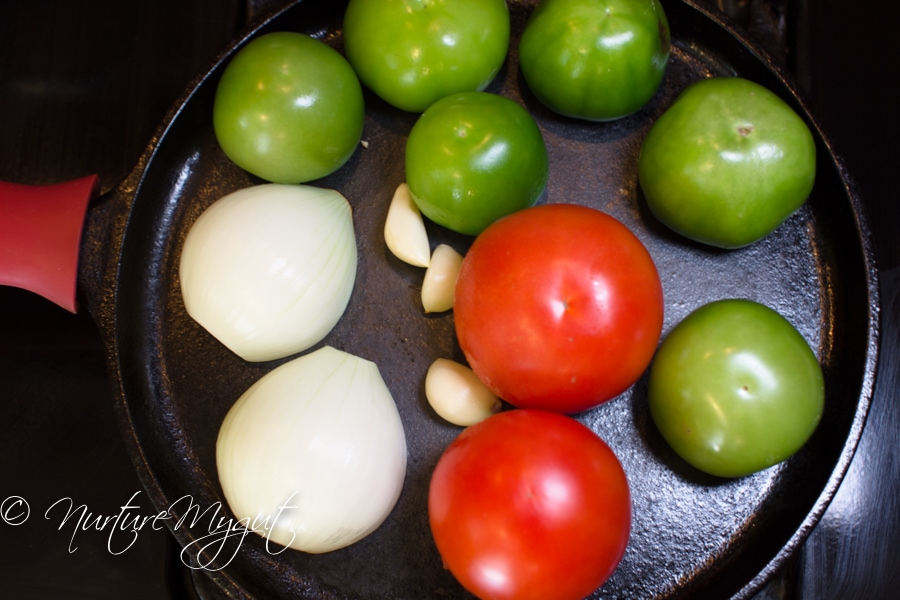 (This post contains affiliate links for your convenience. Click here to view my full Disclosure Policy.)
Growing up, both of my Grandmas would make the most delicious salsa verde.  This recipe is inspired by the types of salsas both of my Grandmas made growing up.
My Grandma Laura tends to make a "chile de arbol" based salsa and since she has a sensitive stomach, she taught me to add light olive oil so that it is gentle on the stomach.
My Grandma Anita taught me to use both tomatillos and large ripe red tomatoes that creates a rounded out flavor.  She chars her tomatoes on cast-iron skillet to give it a smokey flavor.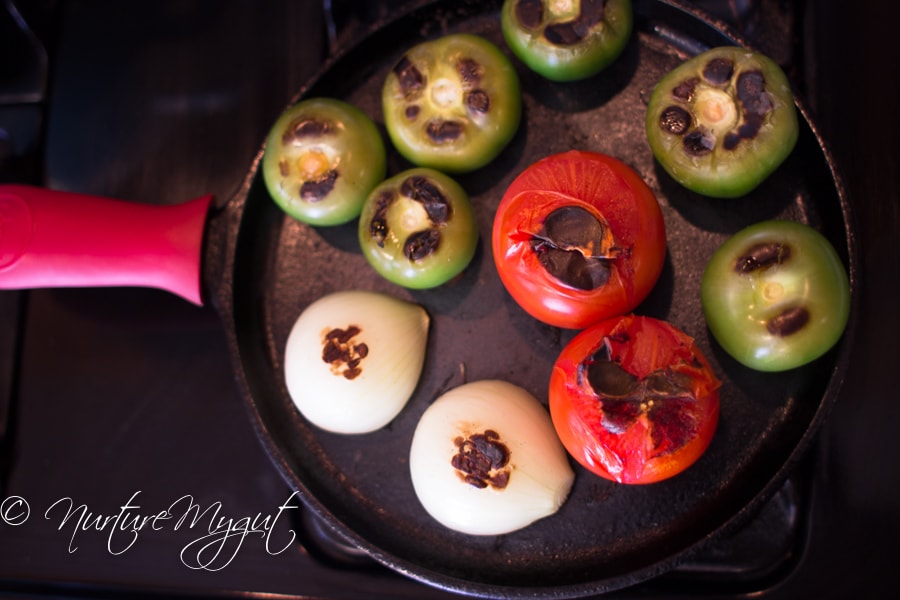 I combined the best of both salsas to create the Utimate Salsa Verde.  I add some light flavored olive oil so the salsa is gentle on the stomach and I char both tomatillos and red tomatoes to give a delicious rich and tangy flavor.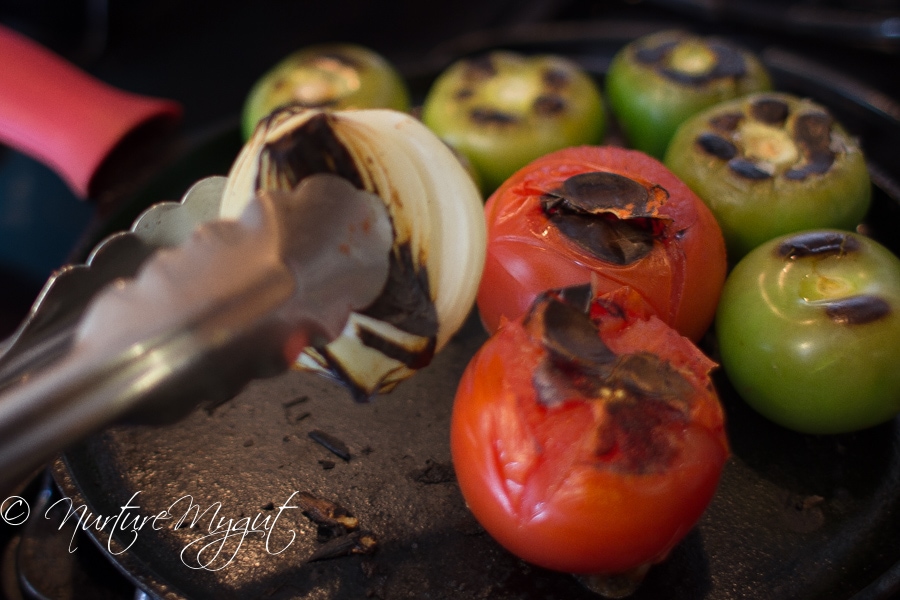 I also love how vinegar lifts the flavor of this salsa and allows the tanginess to linger in your mouth!  It is an amazing flavor!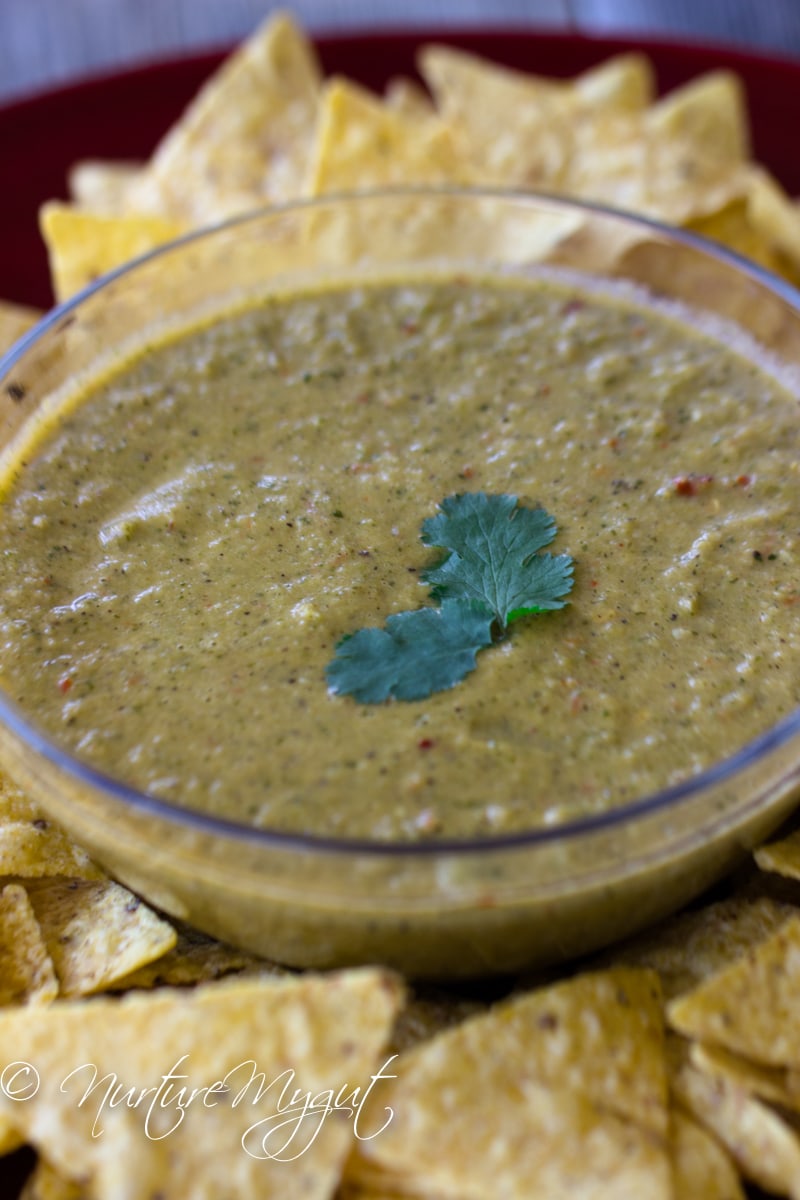 This salsa is super easy to make!  All you do is place the onion, tomatillos, tomatoes and garlic on a hot cast iron skillet and char on each side for 7 minutes.  Just let the magic happen!  This salsa practically makes itself.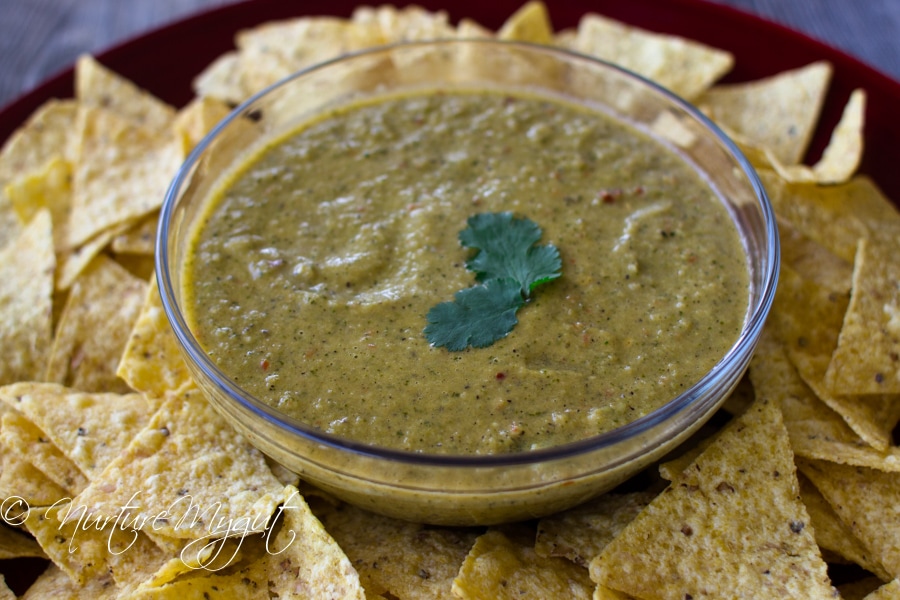 Just make sure you remove the garlic after the first 7 minutes and add to a blender.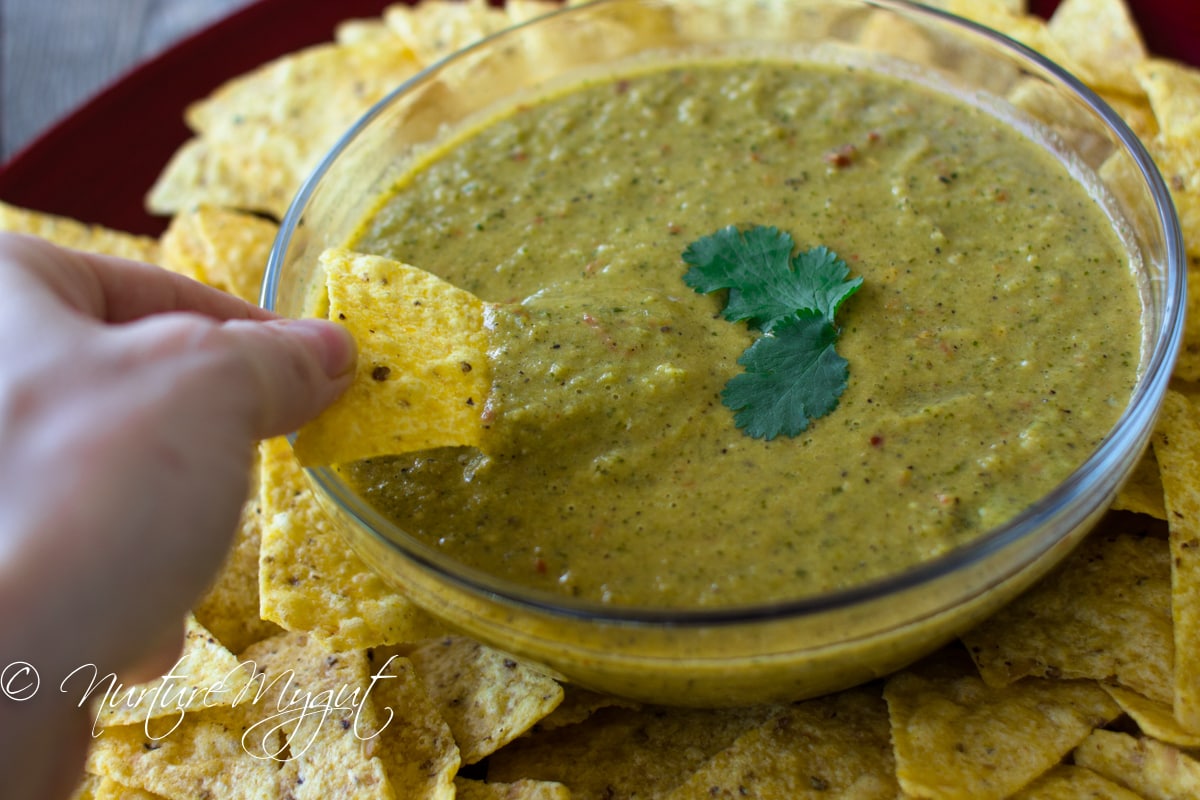 Next, add more raw garlic, dried "chile de arbol", chopped cilantro, white vinegar, olive or avocado oil and salt to the blender with the charred onion, tomatillos and tomatoes.  Lightly blend and adjust the salt and heat as needed.
I ended up adding 6 dried "chile de arbol" to create a medium heat based salsa.  You can add less for a mild salsa and more if you like your salsa really spicy.
Try not to over blend the salsa.  You want to be able to see flecks of dried red chili in the salsa.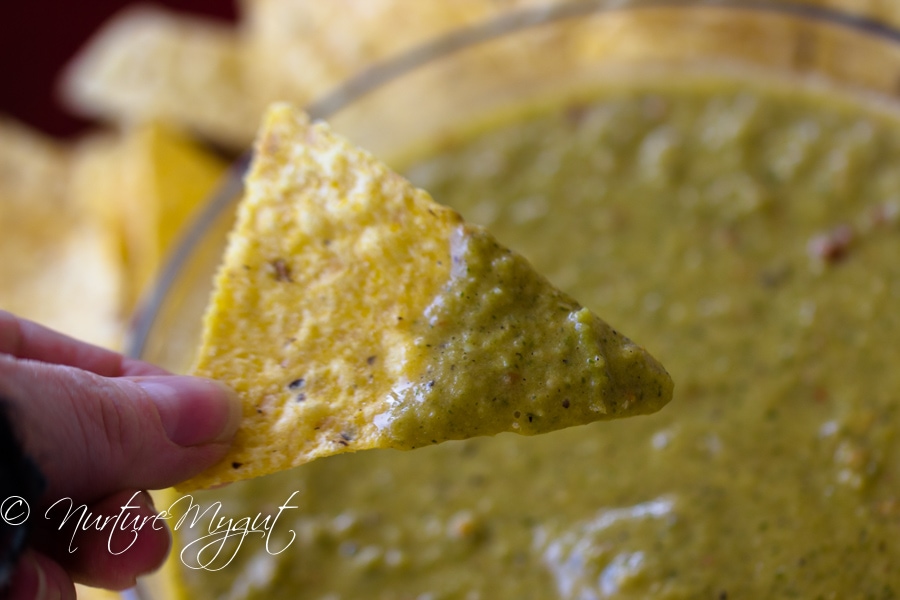 I love to bring this Ultimate Salsa Verde to potlucks and bar-b-q's.  It is always a hit with carne asada tacos, which is what we have had for dinner the last few days 🙂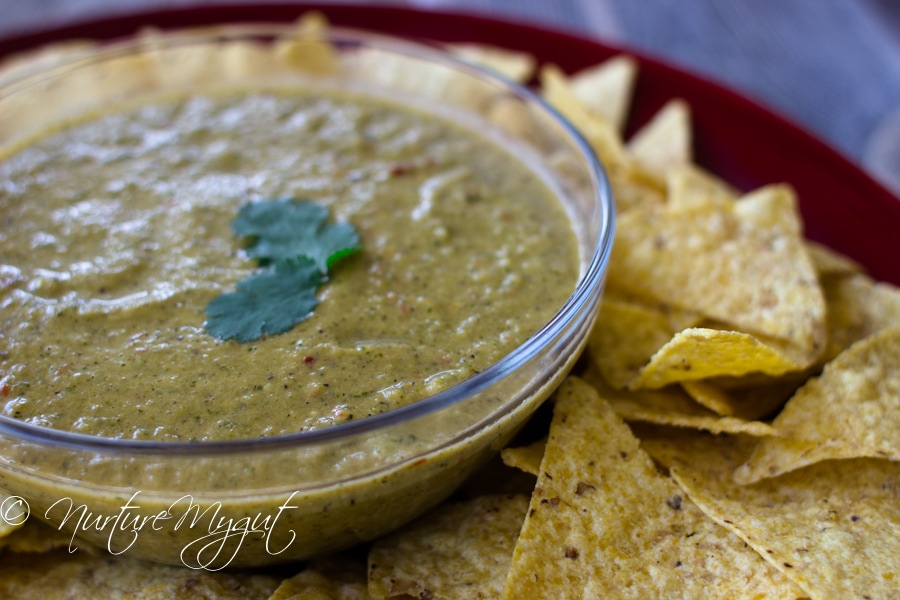 To your carne asada tacos, add your meat, shredded cabbage and a few tablespoons of this Ultimate Salsa Verde.  Try them with my homemade gluten free tortillas!  They will be perfect!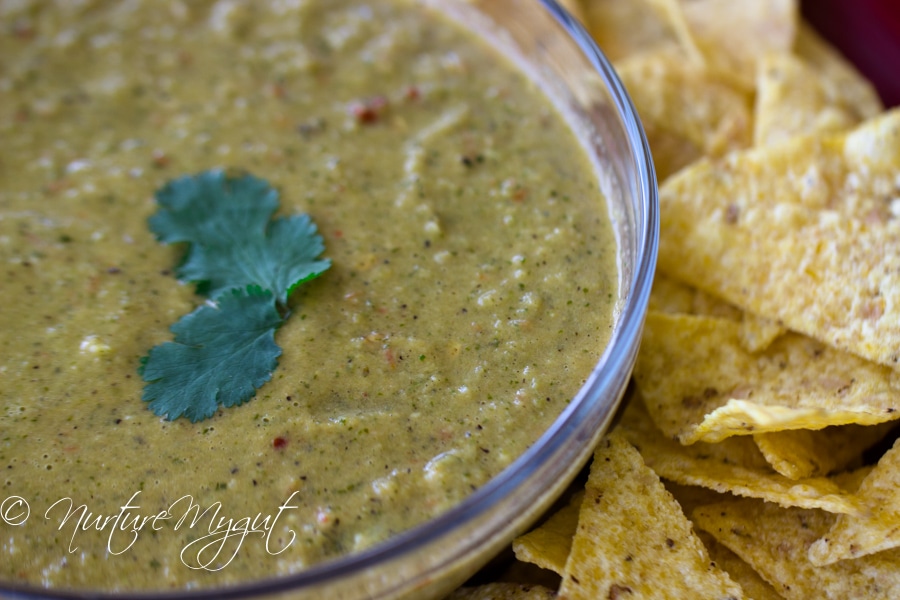 This Ultimate Salsa Verde will also be fabulous with beer battered fish or grilled shrimp tacos.  Yum!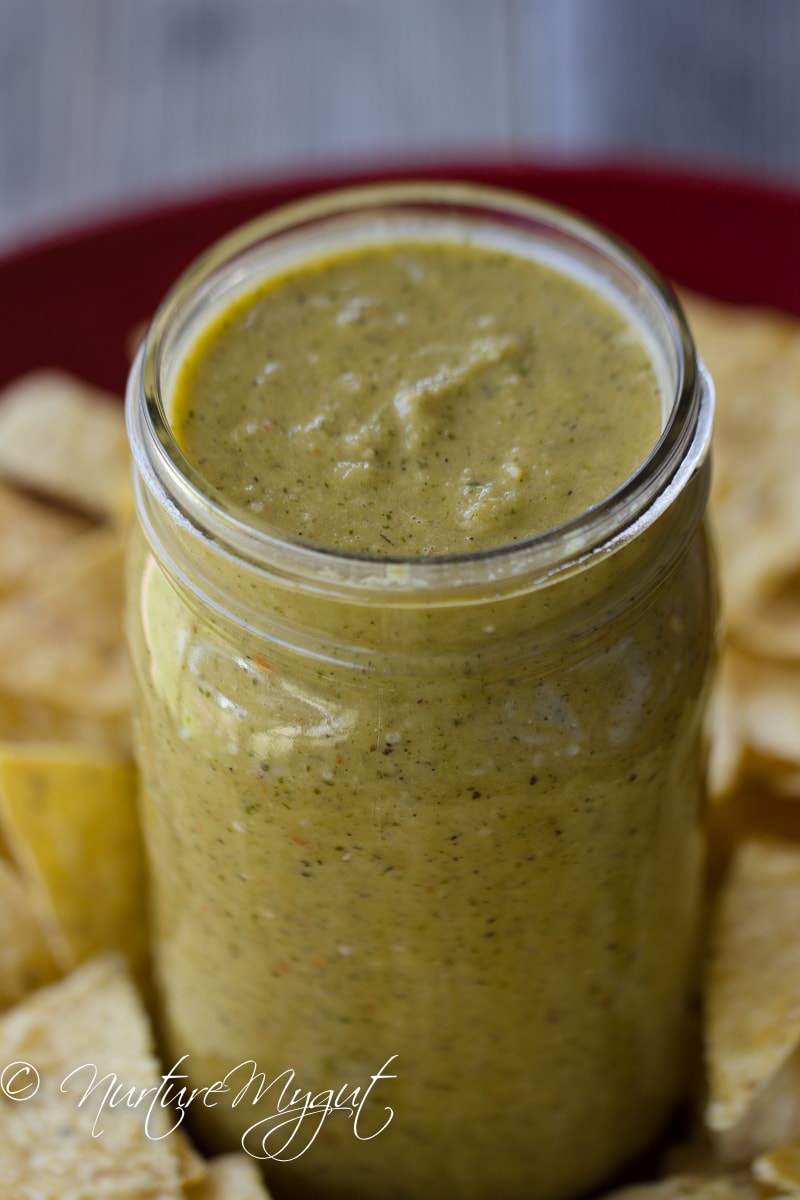 For more healthy delicious recipes, please subscribe below.  You will receive my Free Paleo Breakfasts e-book as my gift to you.
Print
Ultimate Salsa Verde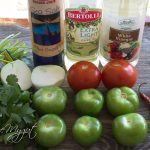 Author:
Prep Time:

7 mins

Cook Time:

14 mins

Total Time:

21 minutes

Yield:

4 cups
Ingredients
1 medium onion, peeled and cut in half
6 garlic cloves
2 large tomatoes
3-6 dried "chile de arbol"
1 bundle cilantro, chopped
1 teaspoon white vinegar
1/2 cup avocado or light flavored olive oil
salt to taste, about 2 1/2 to 3 teaspoons
Instructions
Heat a cast iron skillet to medium-high heat. Onto hot skillet, place onions face down, tomatoes, tomatillos and 3 of the garlic cloves. Roast until charred, about 7 minutes.
Turn over onions, tomatoes and tomatillos. Place charred garlic in blender or food processor. Roast another 7 minutes.
To blender: add charred onions, tomatoes and tomatillos. Next, add additional raw garlic cloves and dried "chiles de arbol". Add 3 chiles for a mild salsa, 6 for a medium salsa and 9 for a very hot salsa. I used 6.
Next, add chopped cilantro, white vinegar and 1/2 cup avocado or light flavored olive oil. Start by adding 2 teaspoons of salt. Blend on low for 10 seconds and then pulse on high for 10 seconds. Do not over blend.
Taste salsa and add more salt or "chiles de arbol" if needed.
Store in a large container in the fridge to chill before serving. Serve with chips or in tacos or burritos.

I'm a loving wife, mother of two healthy children, andI am obsessed with teaching people how to make delicious and mouth-watering gluten-free/Paleo friendly foods that nurture your gut!
Latest posts by Ester Perez (see all)