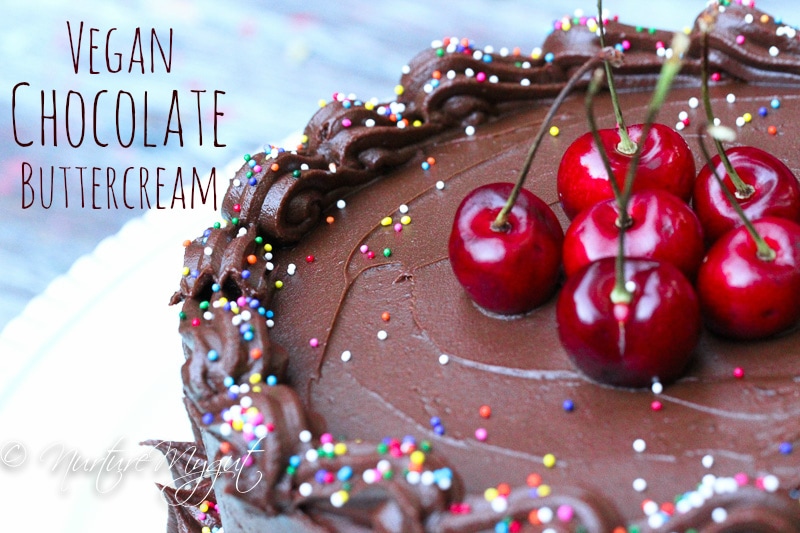 This is a recipe I have been wanting to share with you for a long time!  It is my all time favorite Vegan Chocolate Buttercream Frosting that I have used at my children's birthday parties for the last several years.  It is super easy to make, using only 4 ingredients.  It is decadent, pipes edges beautifully and is completely dairy and egg free.  Plus, it takes 5 minutes of prep time.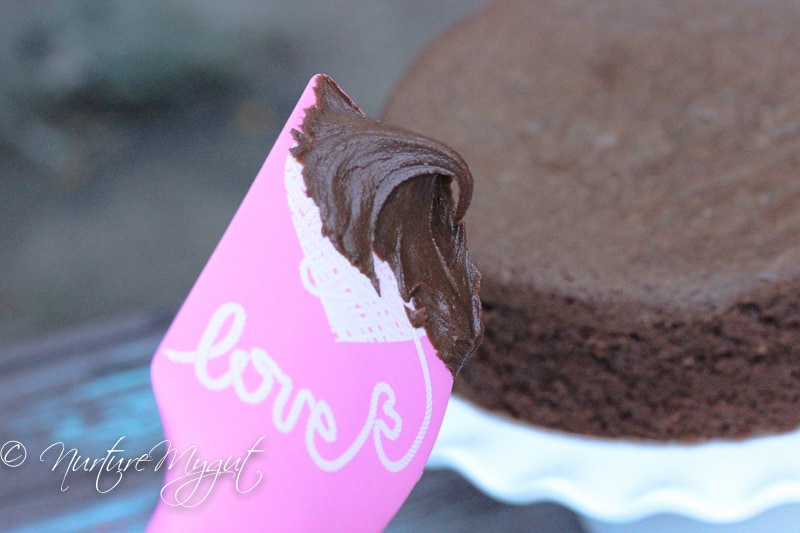 Every year a make a huge gluten free cake with Vegan Chocolate Buttercream but this year, I took a short cut.  I ordered a large regular chocolate cake for everyone without food allergies and made this small gluten free vegan cake for my family and those who want a healthier cake.  It turned out perfect.  I made the 6 " cake from one of my favorite cookbooks called My Paleo Patisserie by Jenni Hulet.  She blogs over at The Urban Poser.  This cake has the texture of a light brownie…yum!  Also, I doubled the recipe below and had about 1/2 cup of frosting left over.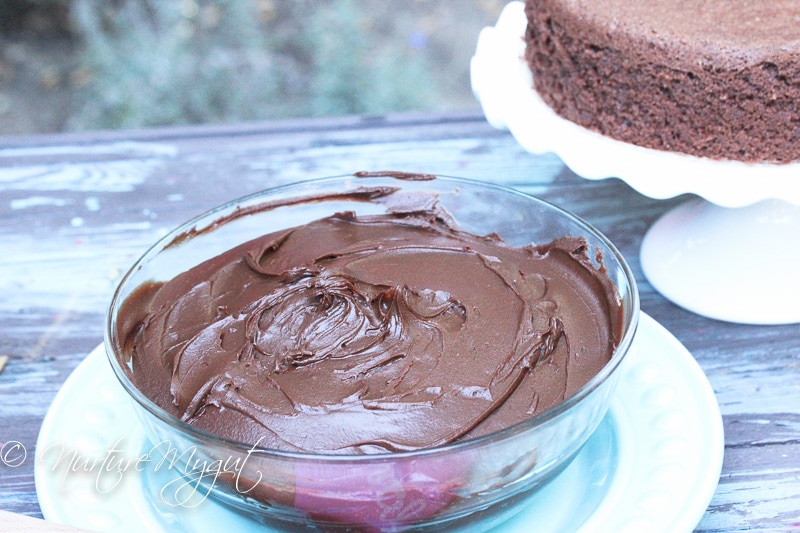 My first step in decorating this cake was to divide the cake into two layers.  I piped an edge around the bottom layer so my filling doesn't slide out the sides, then I added raspberry jam and placed the top layer on gently.  Then, I frosted the cake with a crumb coat.  That is a very thin layer of frosting.  Next, I added a second coat of frosting to hide all the imperfections and make the cake look even.
I used a 1M tip to do the edge on the bottom and then went ahead and added a border on the top.  I followed a video tutorial by Sweetapolita to pipe my border.  She is a true artist on decorating cakes.  (FYI, her site is not allergy free).
I put some cherries in the center and added sprinkles.
I am not fond of using dyes in my food, but on birthday parties, if my kids make the request, I make an exception.  I am on the hunt for pretty dye-free sprinkles.  I found some at Whole Foods but the colors are not as brilliant, let me know if you have a brand your kids like.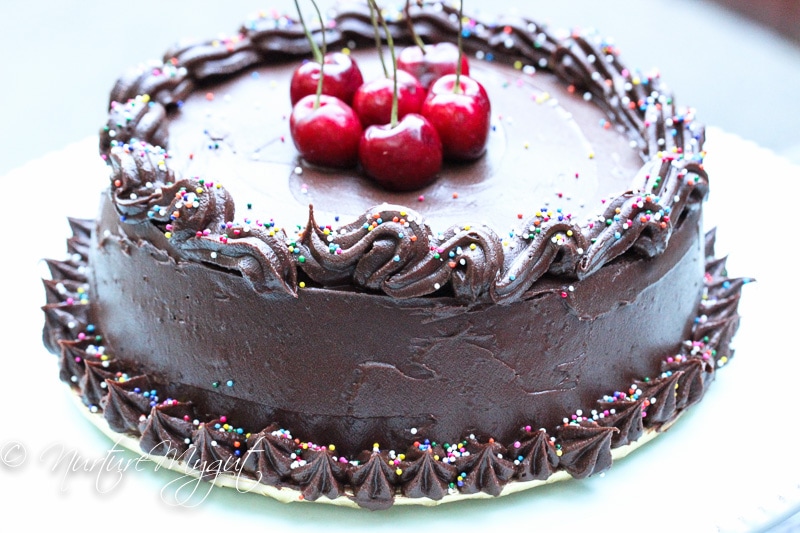 My son was really happy with the end result!  He was having so much fun he did not even ask for cake until we got home.  When he finally sat down to eat his slice of chocolate cake, he loved every bite and asked for another slice…but there was no more!  Uh-oh!  He handled it pretty well and went to go play, but, I will make a 9 inch cake next time for sure!
For more delicious healthy gluten free/Paleo-ish meals, please subscribe below.  You will get my free Paleo Breakfast E-Book as my gift to you and new recipes straight to your inbox!
Check out these yummy gluten free desserts:
Gluten Free Chocolate Cake Pops
Best Paleo Chocolate Chip Cookies
Print
Vegan Chocolate Buttercream Frosting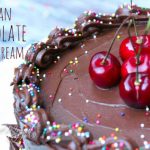 Author:
Prep Time:

60 mins

Cook Time:

5 mins

Total Time:

1 hour 5 minutes

Yield:

approximately 2 cups

Category:

Dessert
Ingredients
1 1/3 cups melted semi-sweet vegan chocolate chips (I use Enjoy Life)
2/3 cups organic vegetable shortening ( I use Spectrum)
1 Tablespoon vanilla extract
3 Tablespoons Maple Syrup Grade B
Instructions
Add all ingredients to a saucepan and whisk on lowest heat setting until all chocolate chips are melted. About 5 minutes.
Pour ingredients into a tupperware or glass container and allow frosting to cool at room temperature until mixture has set. Depending on the temperature of your home, this can take 1-2 hours to thicken. You can whip this up with a stand mixer or hand mixer to make this even fluffier.
You can now frost a small 6 inch cake with this. If you want to make decorations on the top and bottom edges or frost a 9 inch cake, make a double batch recipe. Use a 1M tip to make stars on the edges.

I'm a loving wife, mother of two healthy children, andI am obsessed with teaching people how to make delicious and mouth-watering gluten-free/Paleo friendly foods that nurture your gut!
Latest posts by Ester Perez (see all)