Paleo Cinnamon Swirl Pancakes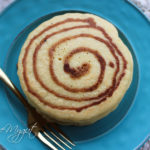 Author:
Prep Time:

8 mins

Cook Time:

24 mins

Total Time:

32 minutes

Yield:

12 pancakes

Category:

Breakfast
Ingredients
For the Cinnamon Swirl:
1/3 cup coconut sugar
1 tsp ground cinnamon
2 Tablespoons coconut milk
1/2 teaspoon vanilla
For the Pancakes:
1 cup blanched almond flour
1 cup tapioca flour
3 Tablespoons coconut flour
2 teaspoons baking powder
¼ teaspoon sea salt
2 eggs
¼ cup avocado oil plus more for skillet
1 teaspoon apple cider vinegar
1 cup almond milk or water
½ teaspoon vanilla
Instructions
In a small pot, pour coconut sugar, cinnamon, coconut milk and 1/2 teaspoon vanilla. Heat on low for 3-4 minutes until coconut sugar is melted. Set aside.
Place almond flour, tapioca flour, coconut flour, baking powder and sea salt in a mixing bowl and whisk until all lumps have been removed.
Add eggs, avocado oil, apple cider vinegar, almond milk and vanilla to dry ingredients. Whisk for 2 minutes or until batter has thickened.
Slowly add 1/3 cup of batter to cinnamon sugar mixture, stirring constantly until well incorporated. Pour cinnamon sugar mixture into a zip-lock bag and cut a very small hole at one of the corners. Set aside.
Heat a skillet to low heat. Lightly oil pan and pour 1/3 cup pancake batter onto center of pan.
Make a swirl of the cinnamon sugar mixture using the tip of the zip-lock bag. Point the tip of your baggie in the center of the pancake, gently squeeze and quickly work your way out in a circular motion. (See Photo above)
Cover pan for 1 minute. Remove lid and flip pancake and cover for one more minute or until pancake is heated through.
Repeat steps 4-7 with remaining pancakes. Serve with maple syrup.