Flakey Paleo Biscuits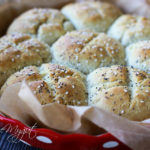 Author:
Prep Time:

20 mins

Cook Time:

28 mins

Total Time:

48 minutes

Yield:

8 rolls
Ingredients
1 TBSP. YEAST
1/4 CUP HONEY
1/2 CUP WARM WATER
2 CUPS BLANCHED ALMOND FLOUR
1 1/2 CUPS TAPIOCA FLOUR + 2 TBSP. FOR ROLLING
1 CUP POTATO STARCH
2 TSP. XANTHAN GUM
1 1/4 TSP. SALT
1 TSP. BAKING SODA
1/2 CUP SHORTENING
3 LARGE EGG WHITES
1 TSP. APPLE CIDER VINEGAR
1 BEATEN EGG FOR EGG WASH
SESAME SEEDS & POPPY SEEDS
Instructions
PREHEAT OVEN TO 350 DEGREES.
IN A SMALL BOWL, STIR YEAST, HONEY AND WARM WATER. SET ASIDE.
WHISK TOGETHER ALMOND FLOUR, TAPIOCA FLOUR, POTATO STARCH, XANTHAN GUM, SALT AND BAKING SODA.
ADD SHORTENING AND MIX.
ADD EGG WHITES, YEAST MIXTURE AND APPLE CIDER VINEGAR. BEAT UNTIL SMOOTH. DOUGH WILL BE STICKY.
DUST SURFACE AND HANDS W/TAPIOCA FLOUR. 7. SCOOP DOUGH OUT ONTO DUSTED SURFACE. DIVIDE INTO 8 EQUAL BALLS, AND PLACE INTO A PARCHMENT PAPER LINED 9" BAKING DISH.
BRUSH EACH BALL WITH EGG WASH AND SPRINKLE WITH SESAME & POPPY SEEDS.
BAKE FOR 25-28 MINUTES OR UNTIL BISCUITS ARE GOLDEN BROWN & A TOOTHPICK INSERTED IN THE CENTER COMES OUT CLEAN.
SERVE WARM.