Ultimate Salsa Verde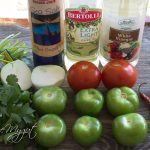 Author:
Prep Time:

7 mins

Cook Time:

14 mins

Total Time:

21 minutes

Yield:

4 cups
Ingredients
1 medium onion, peeled and cut in half
6 garlic cloves
2 large tomatoes
3-6 dried "chile de arbol"
1 bundle cilantro, chopped
1 teaspoon white vinegar
1/2 cup avocado or light flavored olive oil
salt to taste, about 2 1/2 to 3 teaspoons
Instructions
Heat a cast iron skillet to medium-high heat. Onto hot skillet, place onions face down, tomatoes, tomatillos and 3 of the garlic cloves. Roast until charred, about 7 minutes.
Turn over onions, tomatoes and tomatillos. Place charred garlic in blender or food processor. Roast another 7 minutes.
To blender: add charred onions, tomatoes and tomatillos. Next, add additional raw garlic cloves and dried "chiles de arbol". Add 3 chiles for a mild salsa, 6 for a medium salsa and 9 for a very hot salsa. I used 6.
Next, add chopped cilantro, white vinegar and 1/2 cup avocado or light flavored olive oil. Start by adding 2 teaspoons of salt. Blend on low for 10 seconds and then pulse on high for 10 seconds. Do not over blend.
Taste salsa and add more salt or "chiles de arbol" if needed.
Store in a large container in the fridge to chill before serving. Serve with chips or in tacos or burritos.