Best Gluten Free Flour Tortilla Recipe-soft, flexible and perfect for packing burritos for school lunches!  These gluten free flour tortillas are easy to make. I will show you step by step how to make the gluten free flour tortillas.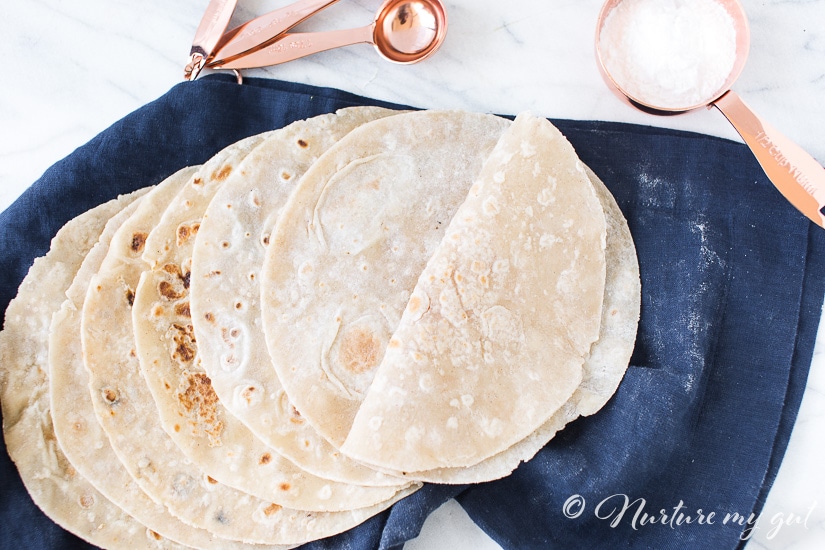 After mixing together your gluten free flour and wet ingredients, divide your dough into 7 ball of dough.  Dust generously with tapioca flour.
For thinner tortillas, divide dough into 8 balls.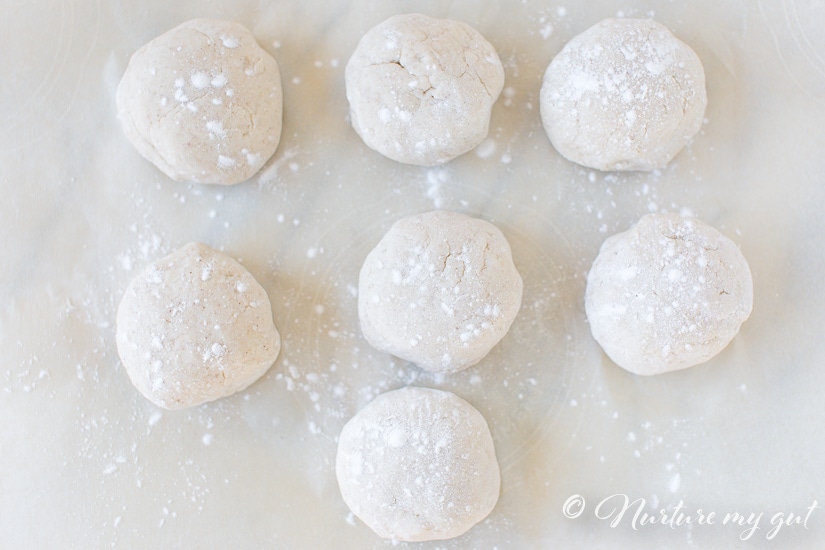 Roll the dough out and place a 9" plate on top and cut out with a sharp knife.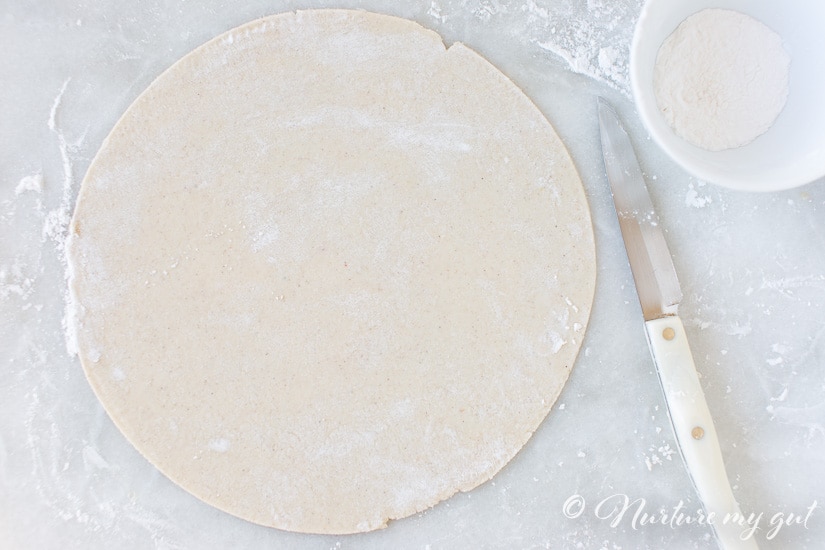 Place onto a hot cast iron skillet.  I keep my flame on low-medium heat.  When you see bubbles begin to form, flip over.
(This post contains affiliate links for your convenience. Click here to view my full Disclosure Policy.)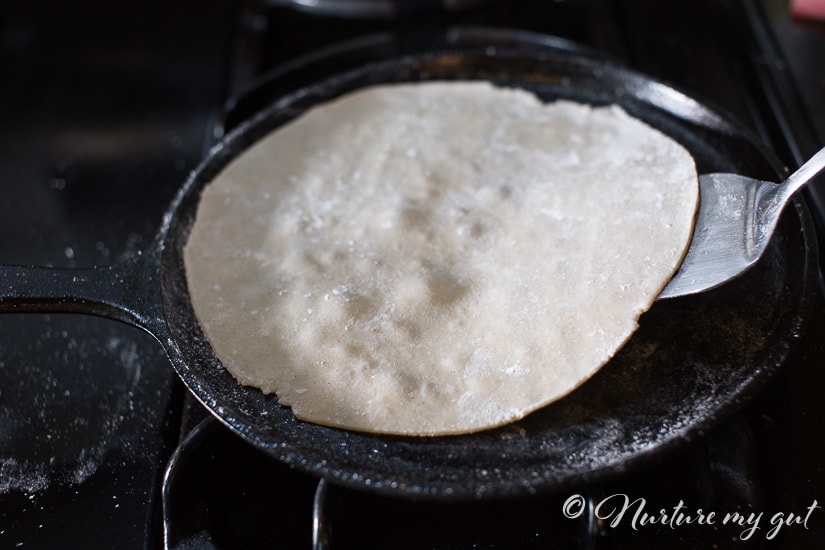 Once flipped, gently press on the tortilla. This helps the gluten free tortilla steam through and create more bubbles.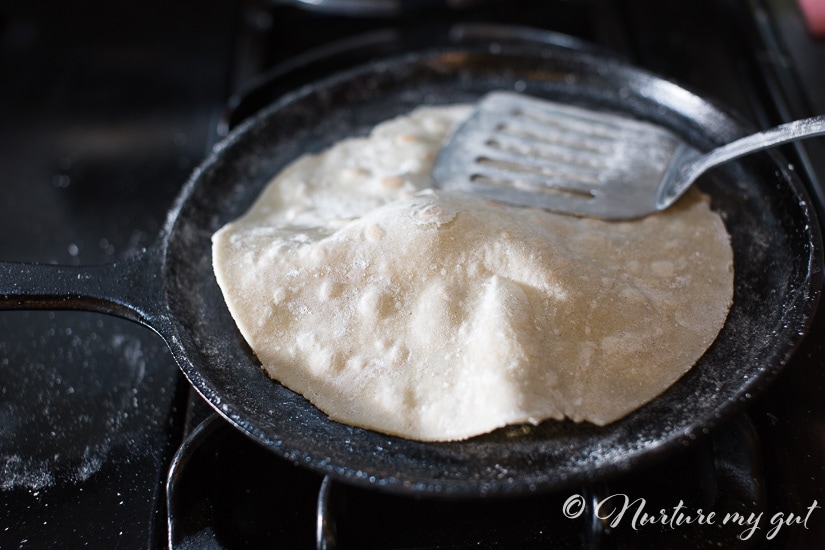 I used a lot of tapioca flour so I dusted some off with a pastry brush.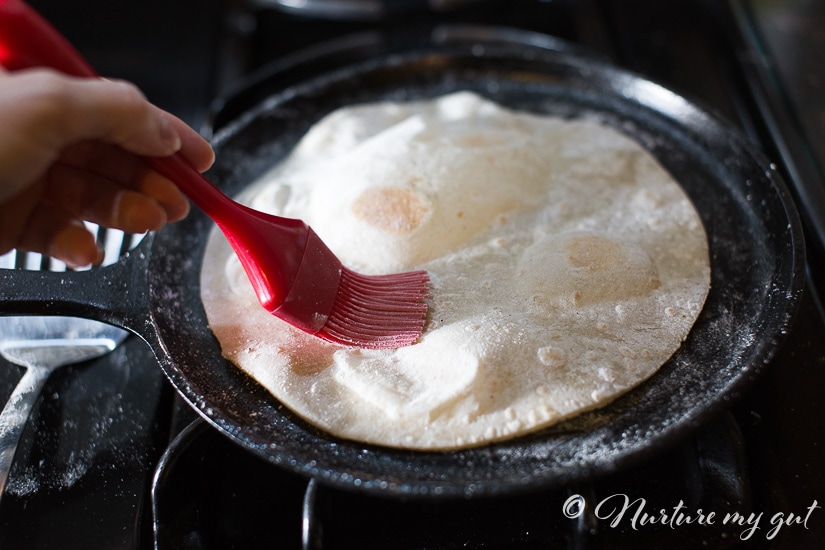 These gluten free flour tortillas are nice and golden.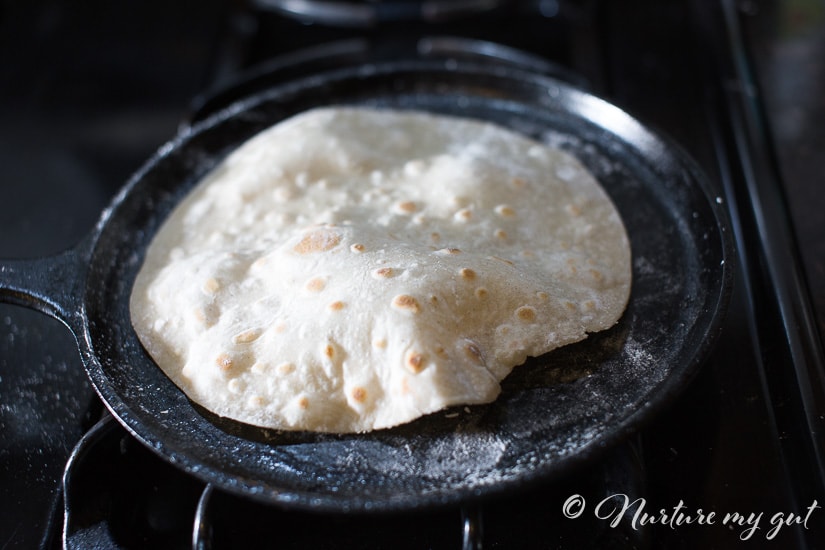 What I like about these tortillas is that they are HUGE!  Which makes them perfect for school lunches.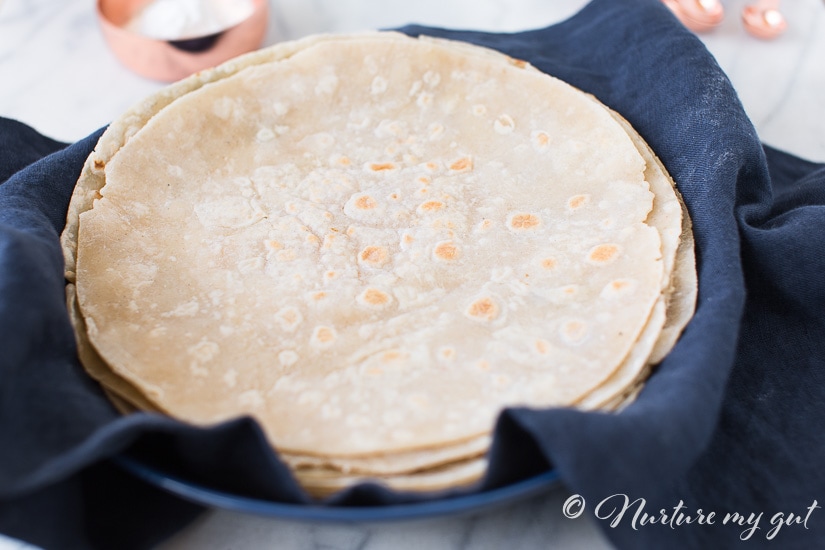 Oh what have a nice flavor these gluten free flour tortillas have!  The addition of honey gives them a hint of sweetness that my kiddos really enjoy!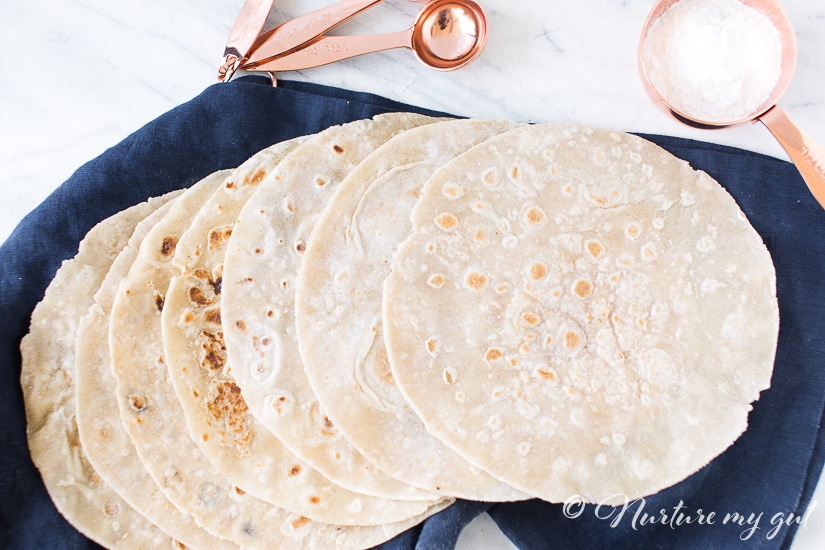 These gluten free flour tortillas are soft and flexible, perfect for tacos, enchiladas, burritos and more!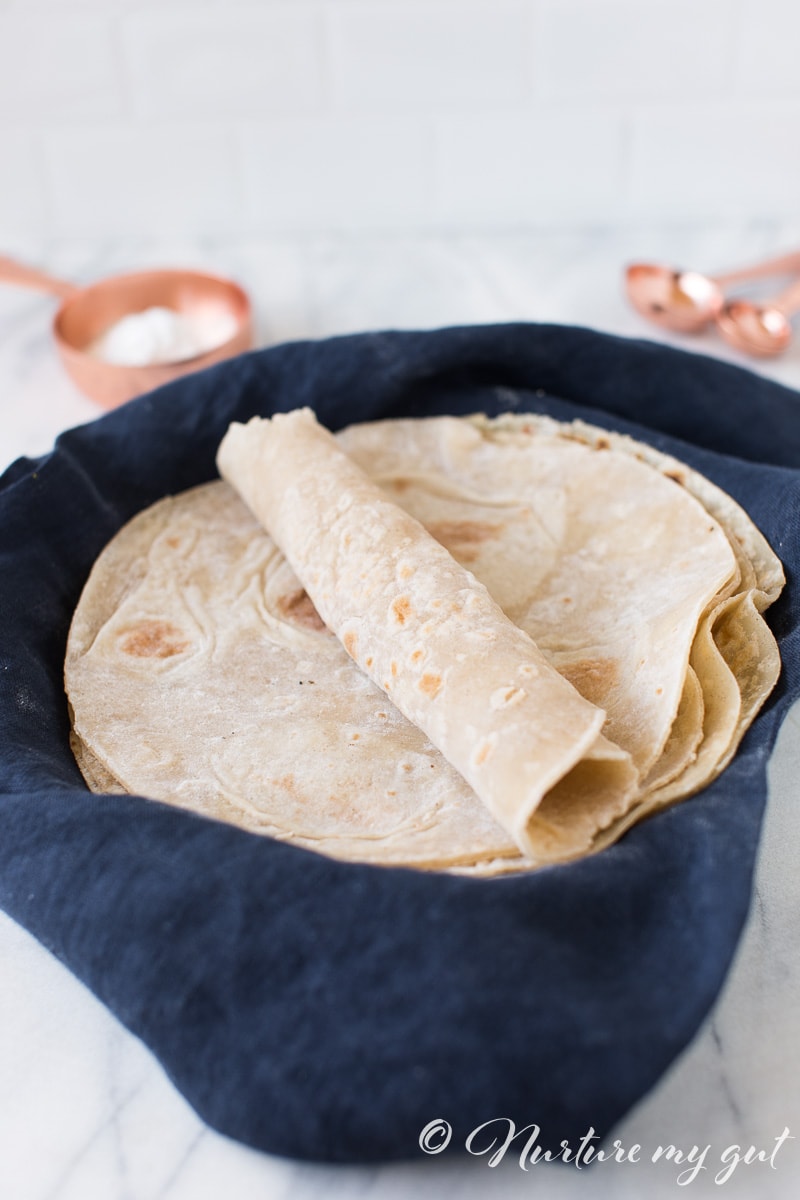 They can hold a lot of food inside!  Feel free to load them up!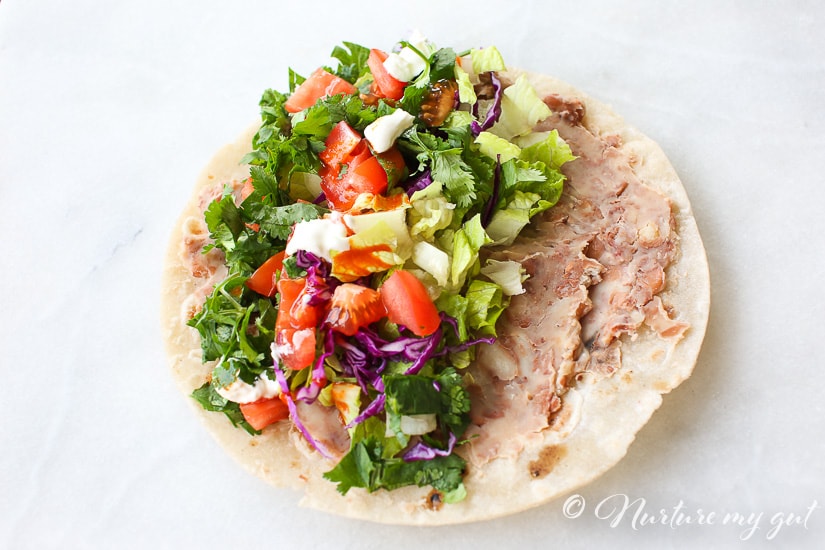 No more missing out on burritos!  Gluten free burritos here I come!
Making gluten free tortillas is my specialty, check out my other 3 tortilla recipes which are also grain free:
Gluten Free Tortilla Recipe (Grain Free), Paleo Tortilla's 2.0 (Nut Free/Gluten Free/Dairy Free), Homemade Gluten Free Spinach Tortillas
If you try this recipe, let me know what you think! Leave a comment, pin it, and don't forget to tag a picture @nurturemygut on Instagram. I love to see your kitchen skills in action!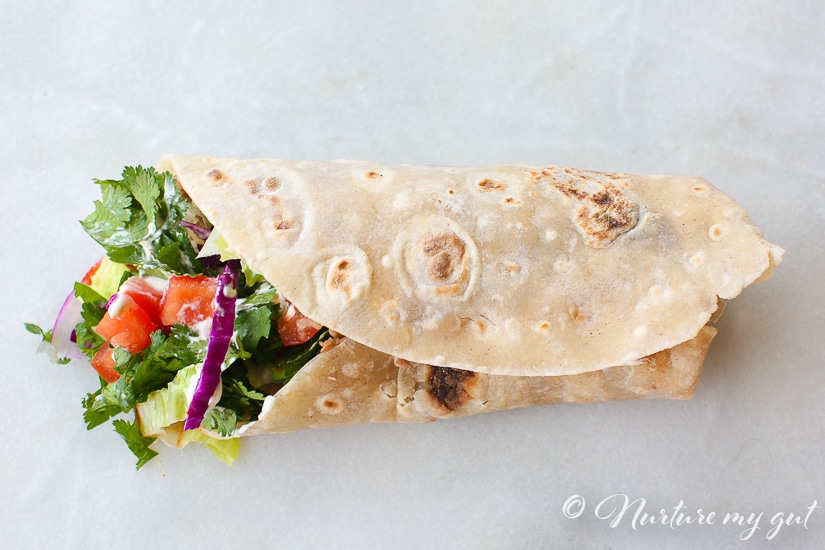 For more delicious healthy gluten free recipes, please subscribe below.  You will get my free Paleo Breakfast E-Book as my gift to you and new recipes straight to your inbox!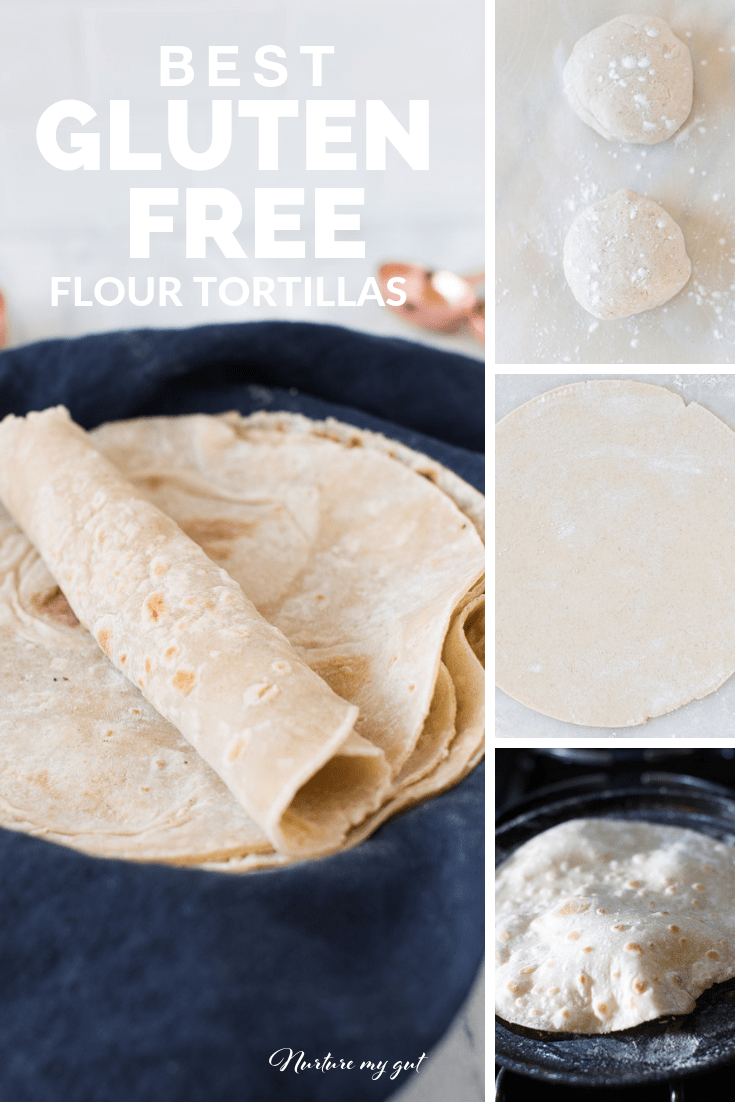 Print
Best Gluten Free Flour Tortilla Recipe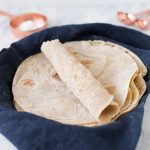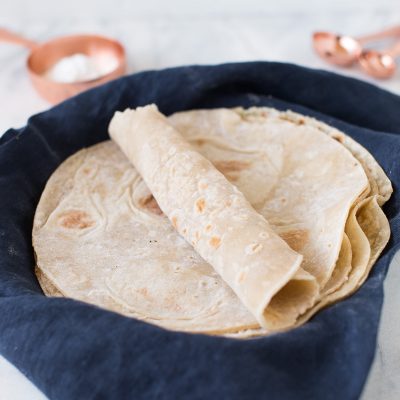 Best Gluten Free Flour Tortilla Recipe-soft, flexible and perfect for packing burritos for school lunches!  These gluten free flour tortillas are easy to make. I will show you step by step how to make the gluten free flour tortillas.
Author:
Prep Time:

23 mins

Cook Time:

7 mins

Total Time:

30 minutes

Yield:

7

nine inch tortillas

1

x
Scale
Ingredients
2 teaspoon

s xanthan gum

1 1/2 teaspoon

s salt

1 teaspoon

baking powder

1 cup

hot water

3 Tablespoon

s avocado oil or light olive oil

3/4 Tablespoon

honey or coconut nectar
tapioca flour for dusting about 3 Tablespoons
Instructions
Heat cast iron skillet to medium low heat.
Heat water until it is simmering.
Whisk together gluten free flour, xanthan gum, salt and baking powder.
Measure water and stir in oil and honey.
Slowly add hot water to flour while mixing.  I use a stand mixer, a dough whisk will work too.
Mix dough well, it will be slightly sticky.
Flour your hands with tapioca flour and separate dough into 7 balls for thicker tortillas and 8 balls for thinner tortillas.
Generously flour surface and rolling pin with tapioca flour.  Roll out tortillas to 9" round. Dust with tapioca flour during rolling and flip so tortillas do not stick to surface. I use a 9" plate to cut out the shape of the tortillas.  Then add remaining dough to next ball.
 Place tortilla onto hot griddle. When bubbles form, flip with a spatula.
Gently press on tortilla with spatula so large bubbles form.  Flip.  Tortilla is ready when both sides have light brown spots.  Dust off tapioca flour with a pastry brush.
Place tortilla in a tortilla warmer to keep warm.
Repeat steps 8-11 until all tortillas are cooked.
Store leftovers in a large ziplock bag at room temperature and reheat on a cast iron skillet.
Notes
Dough can be made ahead of time and stored in the fridge up to 3 days.  That way you can have hot tortillas when needed.
If tortilla begins to burn while cooking, reduce the flame, it is too hot.
If tortilla sticks to the pan while cooking, add more tapioca flour while rolling and reduce heat.
If you see translucent parts on the tortilla, press down with a spatula so it cooks through, flip and press on same spot.
If dough is too sticky, work in a little tapioca flour with your hands a teaspoon at a time.
When packing burritos for lunch, wrap in parchment paper and then in another layer of foil. This will keep the tortillas soft and warm. We use these for bean and rice burritos for kids lunches and they hold for several hours.
Nutrition data is for 1 tortilla based on 7 nine inch tortillas plus the 3 Tablespoons of tapioca flour for dusting. If you make 8 tortillas out of this recipe, then the carbs reduces down to 14.4 grams and the sugars reduce down to 1.6 grams per tortilla.
These tortillas are best made fresh so I recommend keeping dough in the fridge until ready to use.
Use a tortilla warmer to keep tortillas warm during a meal. I prefer the round insulated fabric tortilla warmers.
I'm a loving wife, mother of two healthy children, andI am obsessed with teaching people how to make delicious and mouth-watering gluten-free/Paleo friendly foods that nurture your gut!
Latest posts by Ester Perez (see all)