Homemade Gluten Free Vegan Bread Recipe
Finding Gluten Free and Vegan Bread that tastes great is a challenge.  Gluten Free Bread without eggs tends to be dry and fall apart easily.  This gluten free vegan bread is moist, full of flavor and goes perfect with soup.  You can slice it for a sandwich and even toast it.  It's homemade, free of gums and can be made with most flours you have on hand.
I have been on the hunt for a yummy gluten free, egg free bread recipe.  If you see my Gluten Free Vegan Pinterest Board, you will find several gluten free vegan bread pins.  I made two bread pins which came out really good!  But of course, I rarely ever follow a recipe.  I almost always end up changing the original recipe and making it my own, or just improvising with whatever I have on hand.  
Gluten Free Vegan Bread Recipes I tried
I ended up trying the Soft Gluten Free Vegan Bread by A Little Insanity which was really great to eat with soup and had a great flavor.  Then, I made the Gluten Free, Vegan Homemade Bread by 86 Lemons.  (Shown in the photos below.)  I found that the recipe by 86 Lemons was originally made by Alissa at Nourishing Meals blog. 
The winner?
I am a sucker for big loaves of bread that remind me of the farmers market freshly baked bread.  So the winner is the recipe by Nourishing Meals and 86 Lemons!  Whether it be ciabatta or a nice big round loaf like this, it feels rustic and traditional.  Oh how I miss the farmers market fresh bread loaves!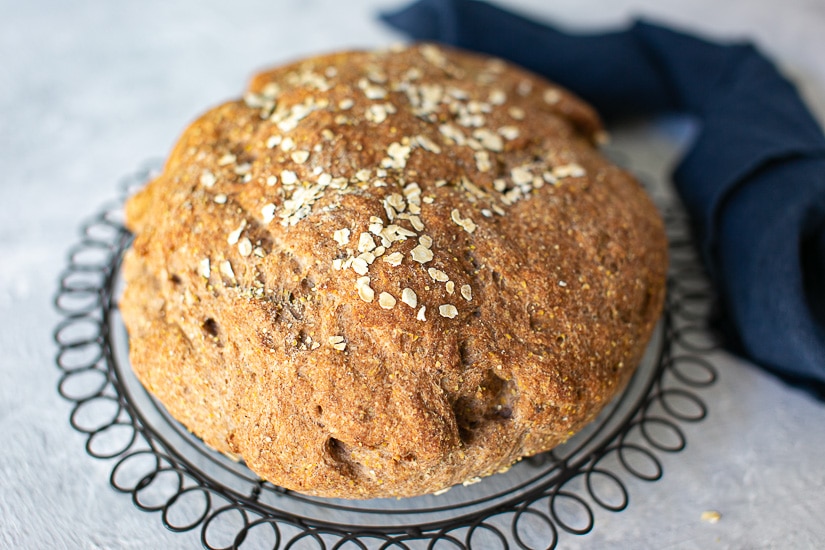 My Modifications to Original Recipe:
Please note that I did not follow the original recipes found by Alissa's Farmhouse Seeds Bread Recipe at the "Nourishing Meals" blog. I slightly modified the original recipe.  If you haven't checked out her blog, it has wonderful healthy gluten free recipes.   This bread was pretty easy to make.  Her recipe has over 100 comments with lots of positive feedback so I decided to give it a try.  I used what I had on hand plus made some minor adjustments like:
add baking powder
swap out teff and sweet rice flour for white rice flour

swap out maple syrup for honey

swap out olive oil for avocado oil
 The results came out great! This tastes like a honey wheat dense bread.  And yes, I know, honey is not vegan so please swap that out for maple syrup if you have a problem with honey.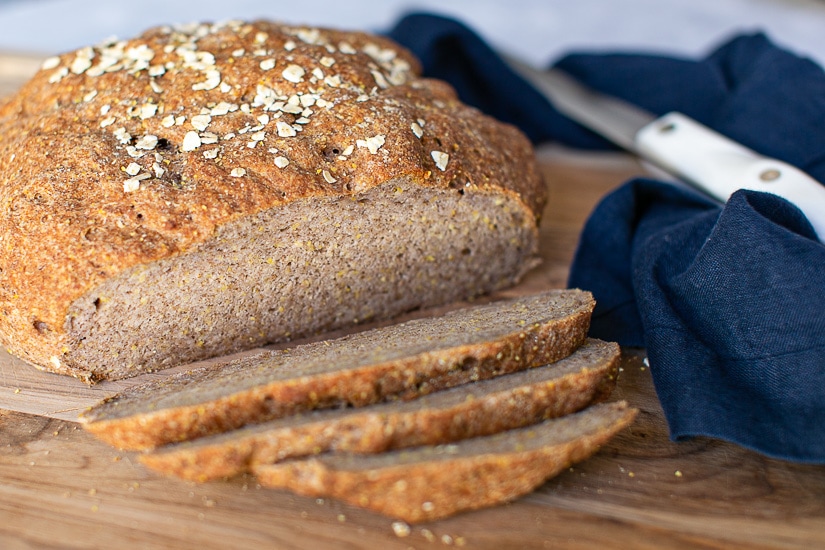 The Pro's and Con's of this Gluten Free Vegan Bread
The pro's about this bread is that you can slice it thin, toast it, put butter on it and have it with soup (my favorite) and even make a sandwich.  Plus, it is pretty healthy! If you want a healthy bread to serve alongside soup, this is definitely a wonderful choice.  
The cons is that it is very dense, like a whole grain wheat bread and the sandwich gets a bit soggy if you are trying to store it in a lunchbox for four hours or more. 
So if you are looking for a light bread, this one isn't it.  If you are looking for a bread to pack for kids lunches, just be sure they are eating their sandwich within an hour or two.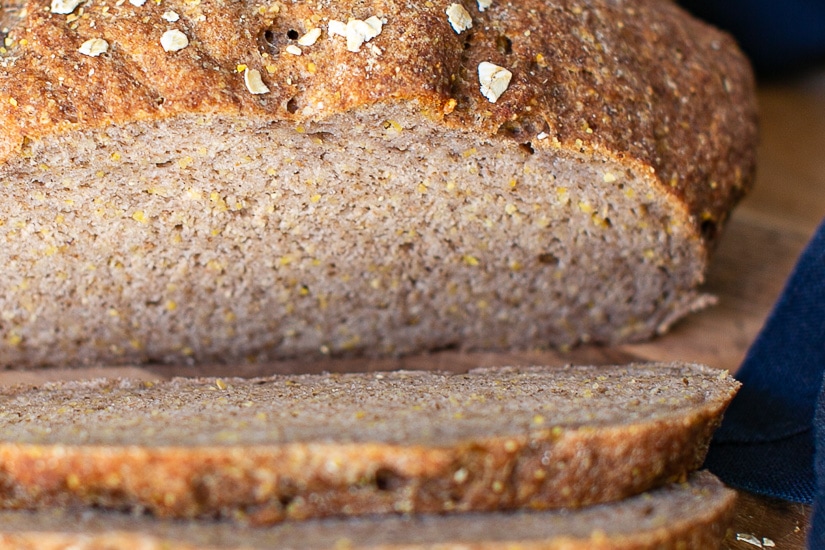 How I simplified the Recipe
The original recipe calls for kneading and two yeast rises, but I skipped that.  I allowed this to rise for 50 minutes and then baked it.  Maybe it would have been lighter if I let it rise a second time, regardless I think this gluten free vegan bread came out great and I will definitely be making this again!  I am going to attempt to make this into smaller sized bread loaves. 
Get more tips at the Original Recipe
I would suggest you check out the Nourishing Meals original recipe bread recipe for more pictures and tips which can be found here.
If you try this recipe, let me know what you think! Leave a comment, pin it, and don't forget to tag a picture @nurturemygut on Instagram. I love to see your kitchen skills in action!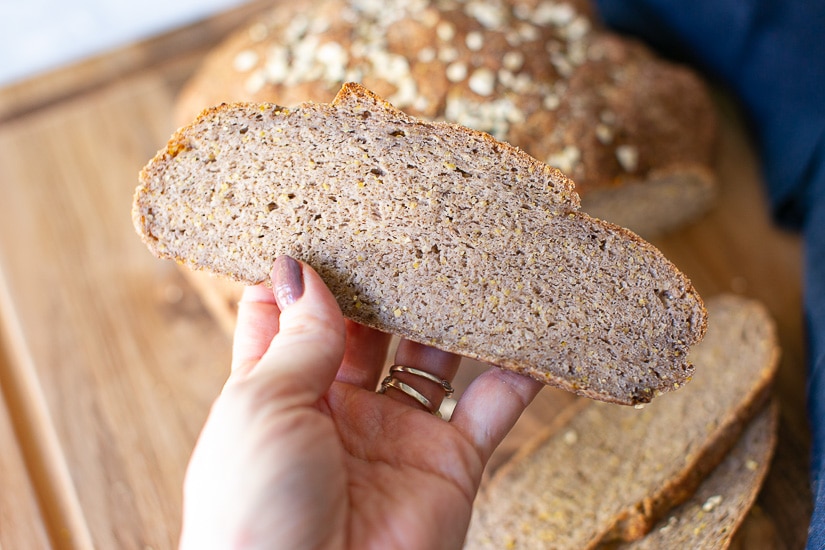 For more delicious healthy gluten free/Paleo-ish meals, please subscribe below.  You will get my free Paleo Breakfast E-Book as my gift to you and new recipes straight to your inbox! 
Print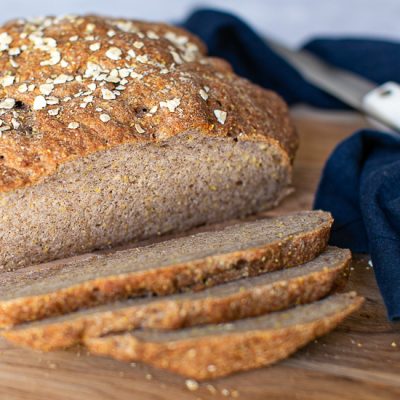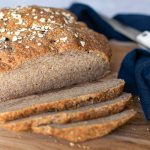 Gluten Free Vegan Bread Recipe
---
Author:

Ester Perez

Total Time:

2 hrs 10 mins

Yield:

1

loaf

1

x
Description
This gluten free bread is moist, full of flavor and goes perfect with soup.  You can slice it for a sandwich and even toast it. 
---
2 1/2 cups

warm water (

105

–

115

degrees Fahrenheit)

1

packet Active Dry Yeast

2 1/4 Tablespoons

honey (or maple syrup for vegan option)

1/3 cup

ground chia seeds

1/3 cup

psyllium husks powder

2 Tablespoons

avocado oil

1 cup

sorghum flour

1 1/2 cups

white rice flour

1/2 cup

cornmeal

2 teaspoons

baking powder

1 1/2 teaspoons

sea salt
---
Instructions
To a mixing bowl, add warm water, yeast and honey.

 

Allow to sit for 10-15 minutes until frothy.

 

In the meanwhile, whisk together sorghum flour, white rice flour, cornmeal, baking powder and sea salt.
Once yeast mixture is frothy, add avocado oil, chia seeds and psyllium husks powder.

 

Mix well in a mixer and allow to sit for 1 minute.
Add dry mixture to wet mixture.

 

Form a ball and cover with a towel.

 

Allow to rise for 1 hour.

 

Place a dish filled halfway with water on the bottom rack of the oven.

 

Place a pizza stone on the center rack and heat oven to 400 degrees Fahrenheit.
Place bread dough on a parchment paper and sprinkle dough with quick oats.

 

Once oven is preheated, carefully slide dough onto pizza stone, bake for 40-50 minutes.
Remove bread and allow to cool completely on a wire rack before slicing.

 

Store in a sealed container in the fridge for up to 5 days or at room temperature for 3 days.

 
Prep Time:

1 hr 20 mina

Cook Time:

50 mins
Latest posts by Ester Perez
(see all)