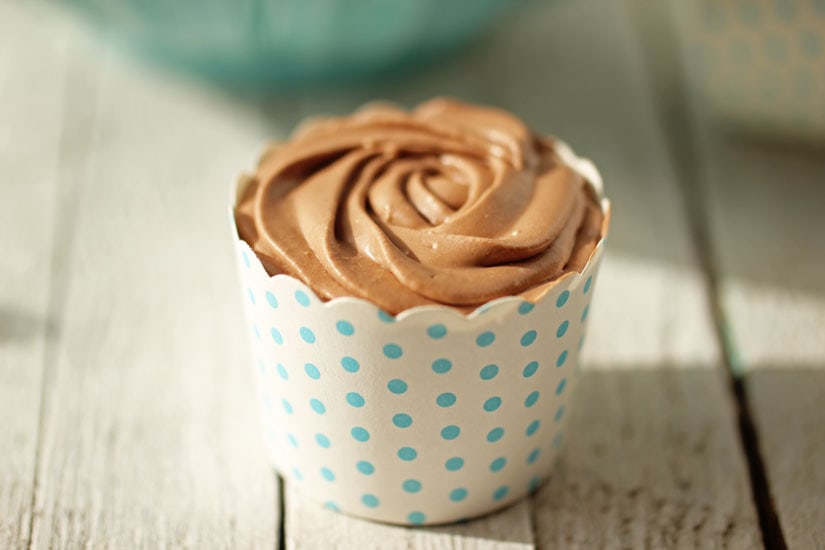 I love this Chocolate Coconut Whipped Cream!  It is creamy, rich and chocolaty, yet, not too sweet!  I used this for a Chia Pudding Parfait!  It was SO good!!  My kids kept sneaking in the fridge and sticking their fingers in the bowl and saying.."YUM!"  To be honest, I kept getting a spoon and making my rounds too!  This is that good!  It is absolutely heavenly!!!!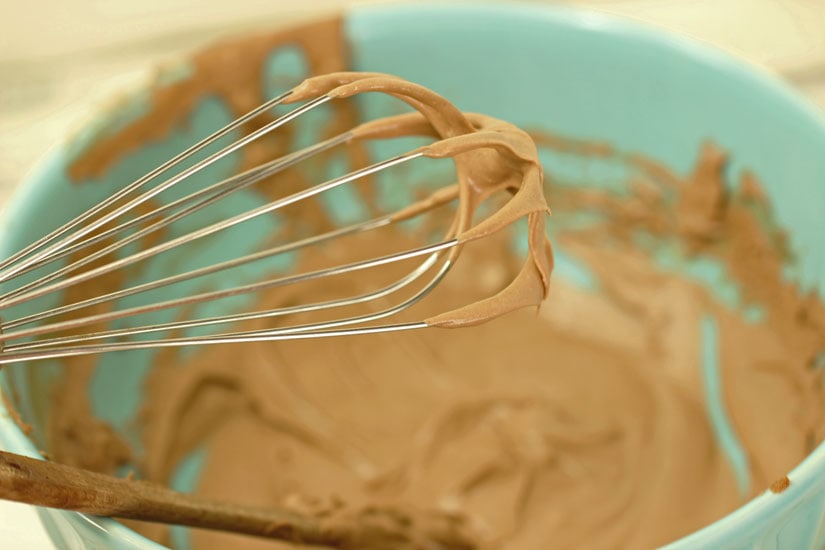 FYI this Chocolate Coconut Whipped Cream is a frosting that you want to serve right away because it loses its body in warm temperatures.  It is best served immediately and cold.  It can be served over my "Best Gluten Free Chocolate Cupcakes"-just be sure to serve the cupcakes immediately.
If you want a dairy free frosting for a dessert you are making for a potluck, check out my Easy Raspberry Vegan Frosting HERE.  That one keeps its shape for several hours.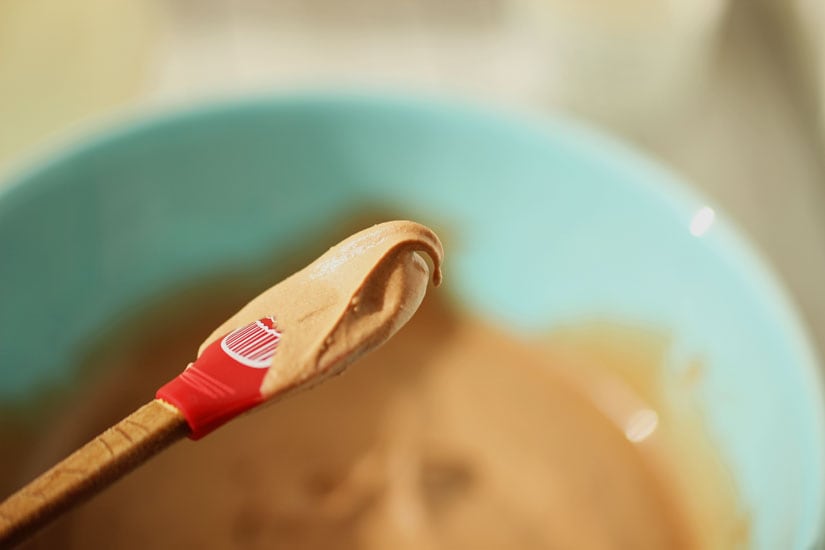 In this recipe, I used the cream from 2 cans of coconut milk and it made a lot of frosting.  I will be using this Chocolate Coconut Whipped Cream Frosting to make ice cream cakes, popsicles, ice cream and parfaits.  It was really easy to make!  If you are looking for a plain Coconut Whipped Cream Frosting, check out my recipe HERE.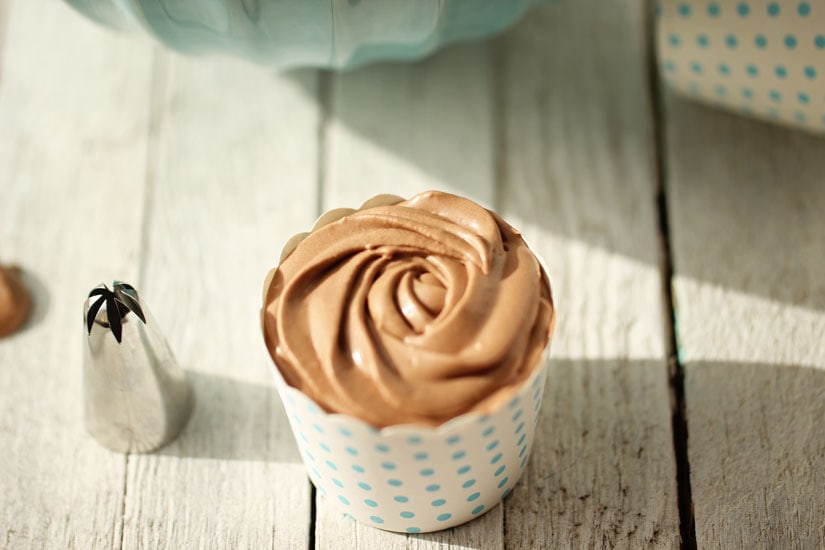 It is great to have several cans of coconut milk in the fridge.  You never know when you are going to have company and want to make a quick special treat.  You can put some fruit in a bowl, top with chocolate coconut whipped cream and cacao nibs.  It will look so elegant and your guests will be really impressed!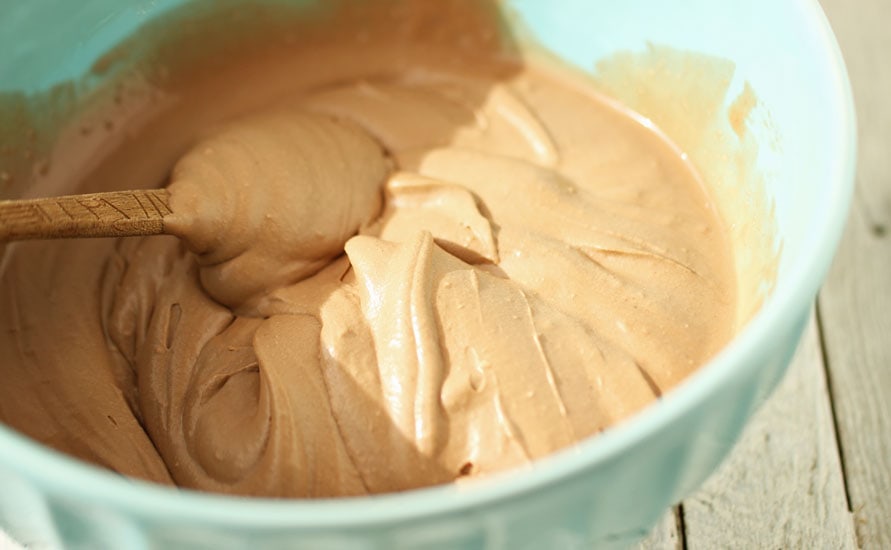 I did use a lot of cocoa powder in this recipe because it helps give the frosting more body and a deep rich flavor.  The chocolate also cuts out the coconut flavor.  This tastes like real whipped cream!!!  Your taste buds will never know the difference!!!
For more delicious healthy gluten free/Paleo-ish meals, please subscribe below.  You will get my free Paleo Breakfast E-Book as my gift to you and new recipes straight to your inbox! 
Check out these yummy gluten free recipes:
Best Paleo Chocolate Chip Cookies
Print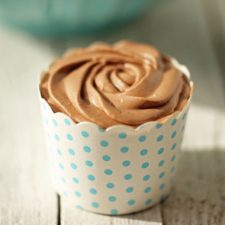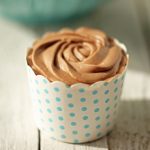 Chocolate Coconut Whipped Cream
---
Description
I love this Chocolate Coconut Whipped Cream!  It is creamy, rich and chocolaty, yet, not too sweet!
---
Cream from

2

cans of coconut milk, refrigerated overnight (about

2 cups

coconut cream)

1/2 cup

unsweetened cocoa powder

1 teaspoon

vanilla extract

1/2 teaspoon

vanilla stevia

1/4 teaspoon

almond extract

2

–

3

Tablespoons maple syrup ( I prefer 2, use

3

if you like it sweeter)
---
Instructions
Carefully open chilled coconut milk cans, do not shake.
Scoop out thick cream and pour into a large mixing bowl, preferably chilled.
Whip coconut cream on high speed with an electric hand mixer until soft peaks form. Add cocoa powder, vanilla extract, stevia, almond extract and maple syrup and continue whipping until ingredients are well incorporated. Serve immediately or store in the fridge in a sealed container. Use Chocolate Coconut Whipped Cream within 2-3 days.
Prep Time:

10 mins

Category:

Dessert

Latest posts by Ester Perez
(see all)