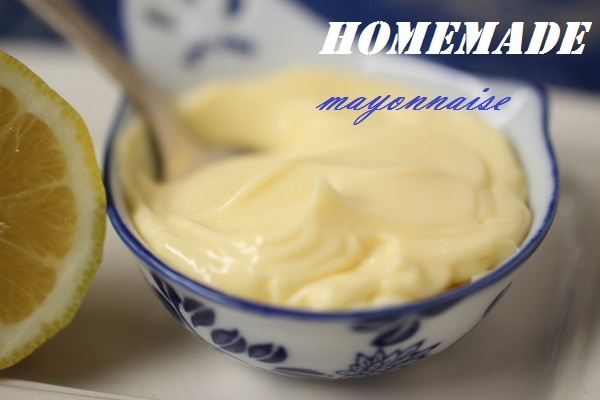 I am into my 1oth day of my Whole30 cleanse and boy has it been a huge change!  Not using sweeteners in everything is new.  Including this mayonnaise recipe.  I normally add a teaspoon of raw honey into my homemade mayonnaise but this one is unsweetened and tastes amazing!  Sometimes I make this with a little melted coconut oil and it adds a natural sweetness.  My whole family loves this mayo, it is absolutely delicious and made in less than 10 minutes.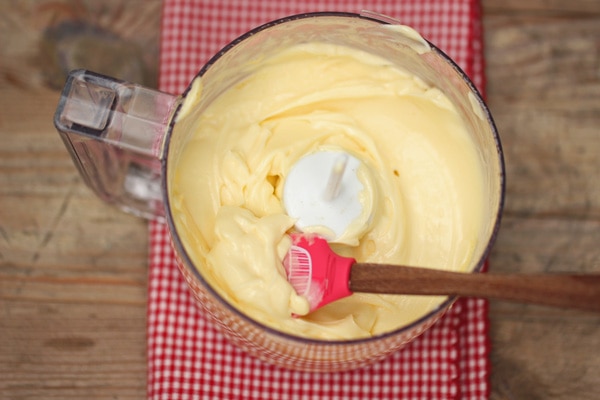 I started making homemade mayonnaise when I started the GAPS diet several years back.  I did the diet for 3 months and got some really great cooking habits.  I got into making almond bread, coconut bread and basically everything was from scratch.  I even came up with a kid friendly grain free cookbook called Essentially Gluten Free:30 grain free recipes your kids will love.  Now that I am doing the Whole30, I am grain free again.  My digestion has never felt better!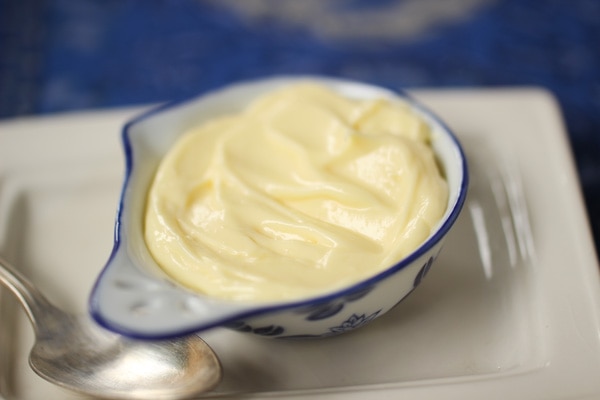 I wonder what I am going to do when my 30 days are up??  I will wait to tell you!  Taking out sweeteners out of my diet has been the biggest challenge.  I realized I used natural sweeteners in just about everything!  From chili beans, to stir fries to this homemade mayonnaise.  After taking it out, the congestion I had cleared up in just 2 short days.  It is not normal to have congestion and blow your nose in the morning.  You should be healthy and have clear breathing.  The food you eat should make you feel healthy and energized.  My hormones are doing so good!  In the morning, I wake up energized and hungry.  That is the sign of a good metabolism.  If you want to find out about the Whole30 diet, click here.  Now let's get back to this delicious mayo shall we??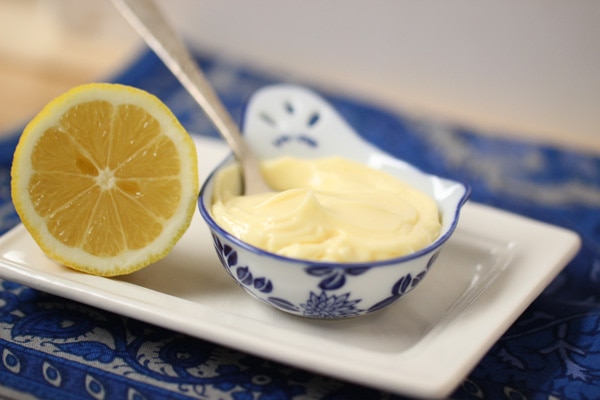 I have made homemade mayonnaise in many different ways.  I have made it in the blender, not my favorite way.  The immersion blender, pretty awesome but I burnt out the blender after 2 months, ugh!  Then, my true favorite is the mini food prep processor.  There are 2 holes in the top of the lid to pour the oil into so it drips slowly on it's own.  The key to making a good homemade mayonnaise is that there is a proper emulsion, if not, the mayonnaise will not get thick and creamy.  So make sure you blend away and DO NOT STOP blending while you are pouring that oil, or NO EMULSION will occur  Blend!  Blend!  Blend!
Also, using the right type of oils makes a nice flavored mayonnaise.  I suggest you use avocado oil, my favorite as your base.  You can also use parts macadamia nut oil, melted coconut oil, or extra-virgin olive oil.  I don't recommend using pure olive oil unless you can find a high quality light flavored olive oil.  My local farmers market has amazing flavored olive oils that I would use because the flavor is light and fruity.  Once your mayonnaise is made, you can use it in tuna salad, a lettuce wrapped burger, as a dip, a goddess dressing with avocado, tarter sauce, a chipotle mayo, OH the recipes are endless!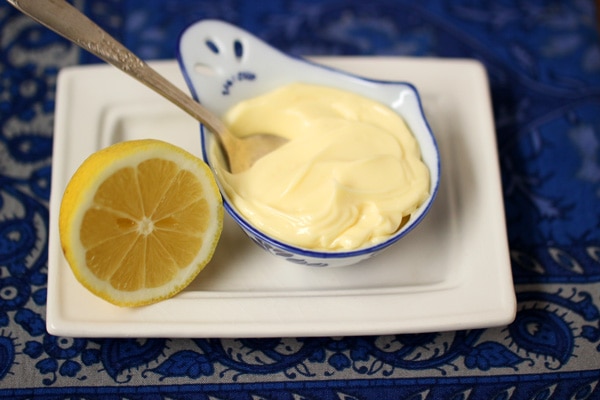 Just be sure to use organic pastured eggs because the eggs are raw.  If you cannot find good quality organic eggs, use pasteurized eggs.  This mayonnaise will last in the fridge in a sealed glass container for about a week and a half but mine is always devoured in a week.  I am sure yours will be too!
For more delicious healthy gluten free/Paleo-ish meals, please subscribe below.  You will get my free Paleo Breakfast E-Book as my gift to you and new recipes straight to your inbox! 
Check out these yummy gluten free recipes:
Best Paleo Chocolate Chip Cookies
Print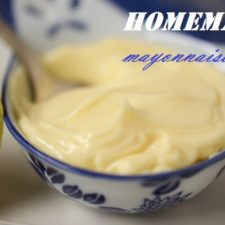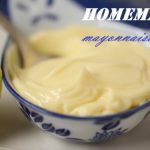 Homemade Mayonnaise
---
Author:

Ester Perez

Total Time:

7 minutes

Yield:

1 2/3 cups

1

x
Description
Whole 30 organic homemade mayonnaise.
---
1

whole organic pastured egg

1

organic pastured egg yolk
Juice from

1/2

lemon (

1 Tbsp

plus

1 tsp

.)

1/2 teaspoon

mustard powder

1/4 teaspoon

salt

1 1/2 cups

mild vegetable oil (I use avocado oil)
---
Instructions
To your food processor, add whole egg and egg yolk. Blend for 30 seconds.
Add lemon juice, mustard powder and salt. Blend for 30 seconds.
Turn food processor on and in a slow steady stream add, vegetable oil while food processor is running until all oil has been slowly added. If you are using a mini food prep food processor, slowly add oil to top lid of food processor where holes are. The oil will slowly drip through the holes. When oil drains, refill and keep adding oil until you have used up all the vegetable oil. Taste for seasoning and adjust accordingly.
Prep Time:

7 mins

Category:

Condiments

Latest posts by Ester Perez
(see all)