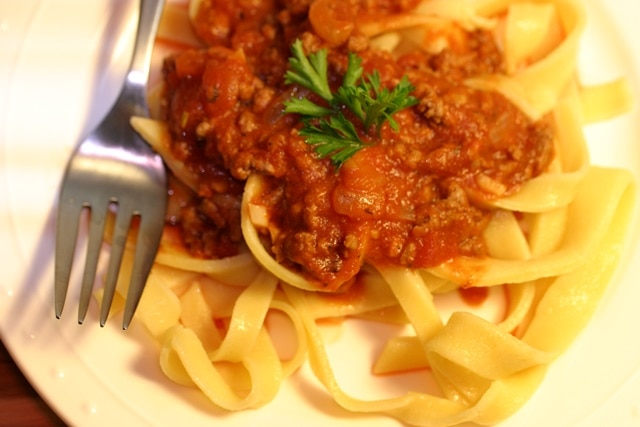 I have been wanting to learn to make gluten free pasta for several years and have postponed it until recently.  This is so simple and delicious that I will never want to eat any other pasta ever again!  For all of you visual learners, you can watch my Paleo Pasta Tutorial Below.
Paleo Pasta Tutorial:
(This post contains affiliate links for your convenience. Click here to view my full
Disclosure Policy
.)
How to Make Gluten Free Pasta
You will need:
large eggs
olive oil for pasta water and for drizzling on pasta
large pot with water for pasta
pizza cutter or pasta maker for cutting pasta, you can also use the pasta attachment for your Kitchenaid
I saw an add for Capello's Gluten Free and Grain Free Pasta in the Dec/Jan 2012 Paleo Magazine that looked delicious and made me a little skeptical.  Really?  A grain free pasta made with almond flour…hmmm…could that really work???
I took a look at the ingredients.  Their fettuccini is made from blanched almond flour, cage-free eggs, tapioca flour, xanthan gum and sea salt.  The ingredients look pretty simple so I decided to try and make my own.
I looked for a recipe online and stumbled upon a wonderful blog called Paleo Cupboard.  I made her recipe and even though it was delicious, I wanted to increase the protein and fiber content by adding more almond flour, reducing the starch content and using less salt.  Thank you Amy for inspiring me with this Gluten Free Pasta Recipe.
Since not all almond flours are made equal, I use Anthony Goods Blanched almond flour and organic tapioca flour.  The almond flour is finely ground so that your pasta comes out smooth.  They have the best price, top quality and wholesale discounts.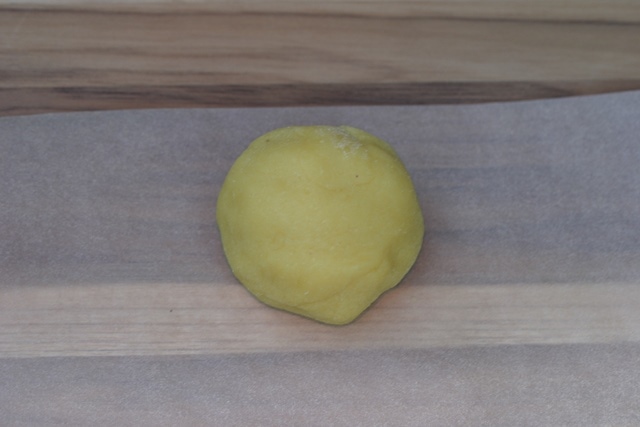 My daughter helped me make this pasta and she had a great time rolling, cutting and getting full of flour.  I actually had a hard time getting in on the fun because she was having so much fun making this gluten free pasta.  I see this as an opportunity for her to love cooking so I step aside and guide her along.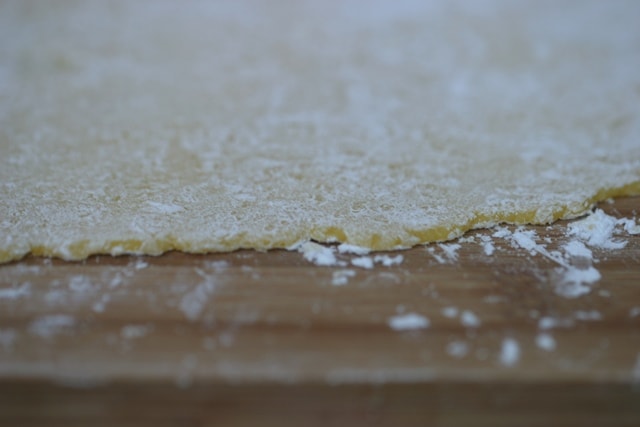 I do not have a pasta maker so this we rolled this pasta by hand.  I don't think I would do this any other way.  I love the process of getting my hands dirty in the food.
I feel the less equipment I have in the kitchen, the more opportunity I have to put love into the food I am making.  We used a classic wooden rolling pin to roll this pasta out to just under 1/8 inch thickness.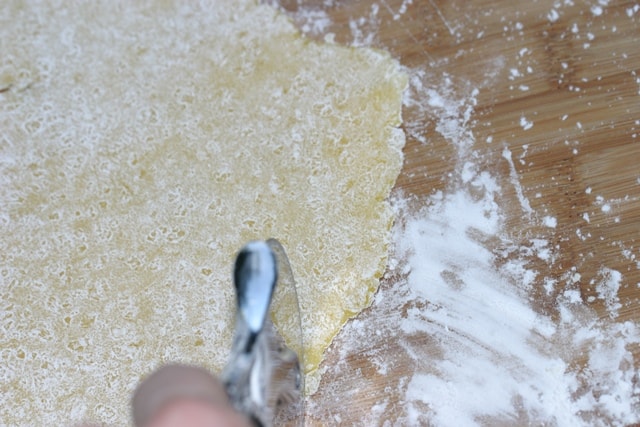 We used a pizza cutter to cut out 1/4 inch strips.  I trimmed off the edges all around so I all the pasta had a nice straight edge.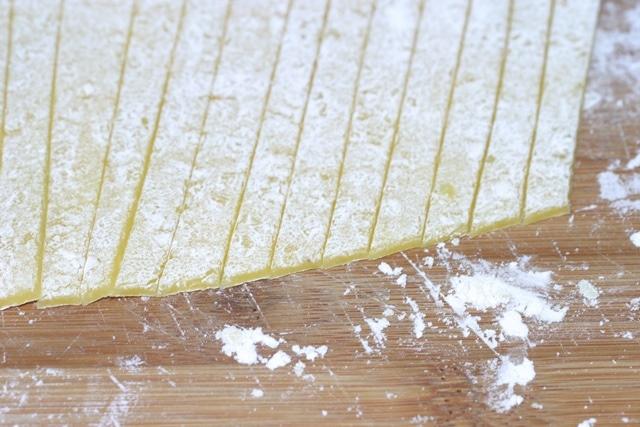 Well maybe it is not a perfectly straight line, but did anyone complain at the dinner table?  Absolutely not!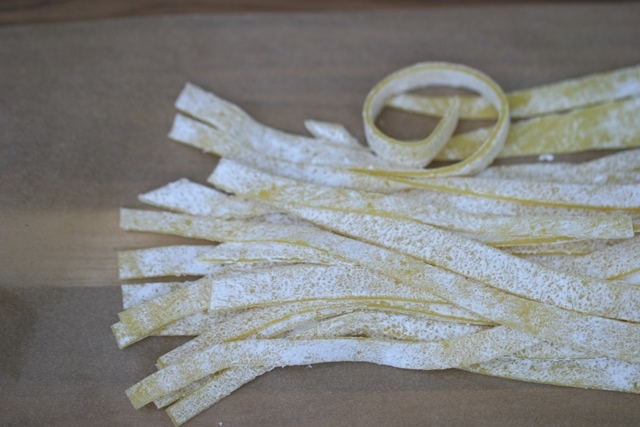 My husband who is NOT 100 % gluten free said that this gluten free pasta recipe is better than any other pasta he has eaten.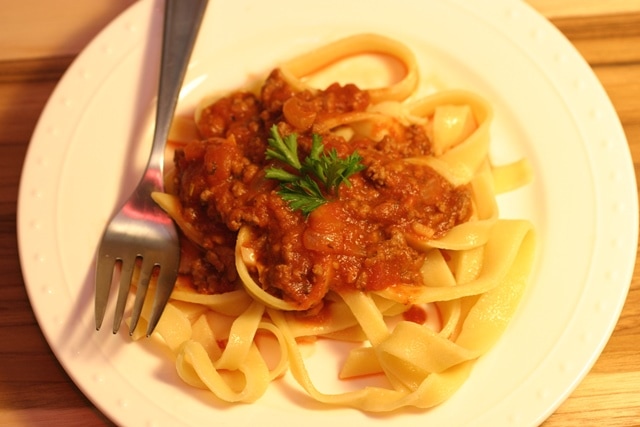 At the dinner table, my kids were so happy with this recipe that it has become our family favorite.  Our new tradition is my husband makes his delicious meat sauce from scratch and my daughter and I make the pasta.  Food is bringing us together and building lifelong memories.
This recipe goes wonderfully with my Best Paleo Meat Sauce or Easy Garlic Cilantro Meatballs and your favorite homemade marinara.
For more delicious healthy gluten free/Paleo-ish meals, please subscribe below.  You will get my free Paleo Breakfast E-Book as my gift to you and new recipes straight to your inbox! 
Check out these yummy gluten free dinner recipes (click link below):
Paleo Reginette Pasta w/Kale & Mushrooms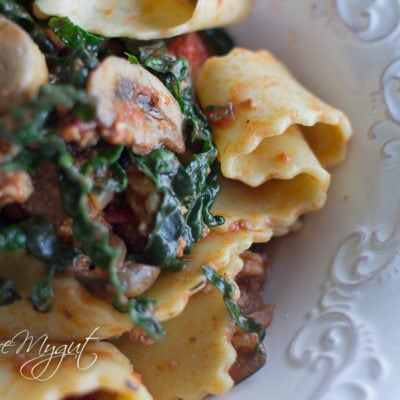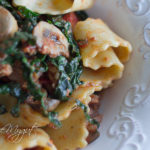 Loaded Sweet Potatoes w/Cowboy Chili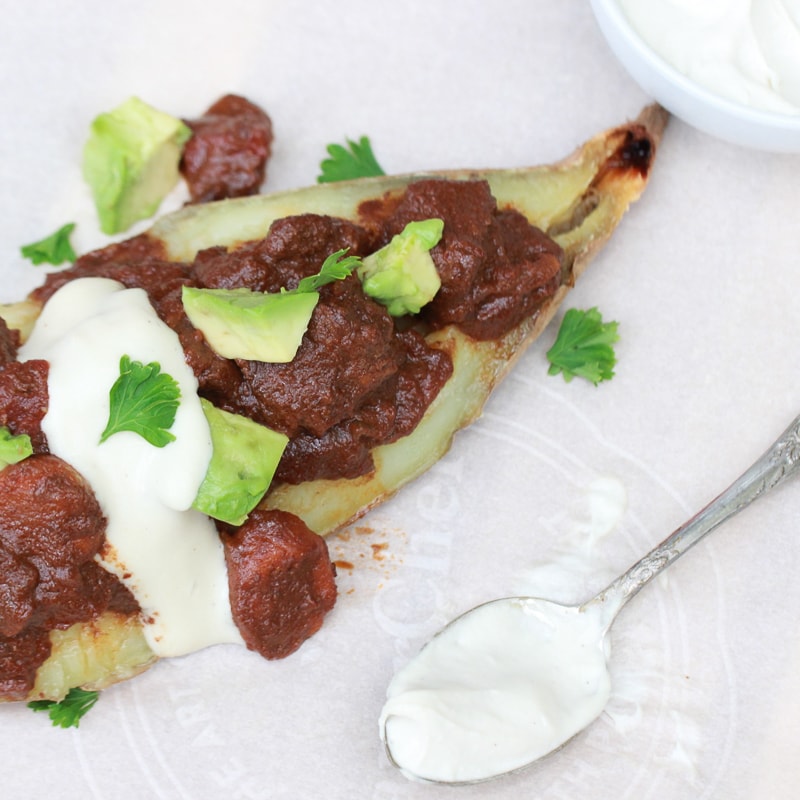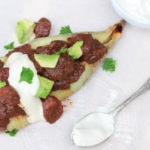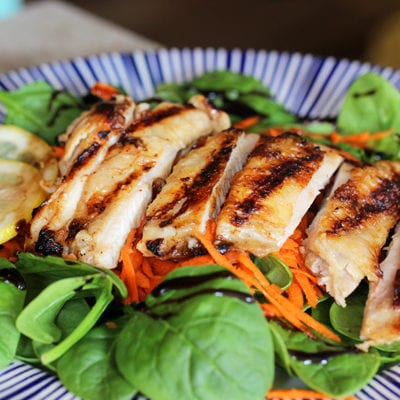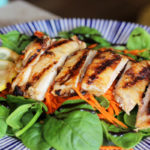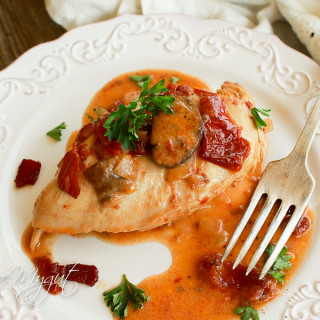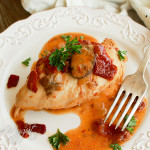 Print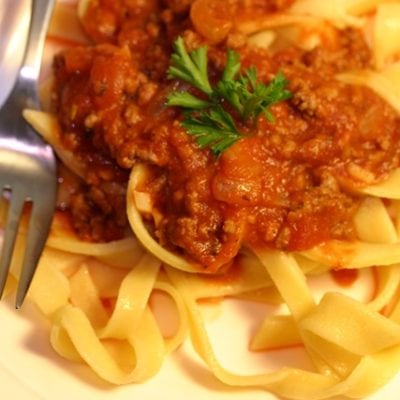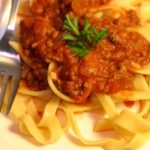 Gluten Free Pasta
---
---
1 1/2 cups

blanched almond flour

1 1/2 cups

tapioca flour (also known as tapioca starch) plus 1/4 cup for dusting

1 1/2 teaspoons

Himalayan Salt

2

large eggs

4

egg yolks (total egg mixture equals

3/4 cup

)

2 Tablespoons

of coconut oil (added to boiling water)

4 quarts

of water
olive oil for drizzling onto cooked pasta (about 2 teaspoons)
---
Instructions
Place water and coconut oil in a large pot. Turn heat on med-high heat and bring to a boil.
In a large mixing bowl, whisk together almond flour, tapioca flour and salt.
Make a well in the center of the flour and add eggs. Whisk eggs with a fork and slowly incorporate flour. Roll dough into a ball.
Sprinkle a large cutting board with a tablespoon of tapioca flour. Knead dough on floured surface for 5 minutes. If dough is too wet, add a bit of tapioca flour. The dough should not stick to your hands and has the texture of play dough.
Separate dough into 4 equal sized balls, place 3 balls in a bowl and cover with a dry towel or plastic wrap so it does not dry out.
Sprinkle tapioca flour onto your surface and place a ball of dough on top. Sprinkle ball with more tapioca flour. Using a wooden rolling pin, roll your ball of pasta out to the size of a 3 inch disk. Flip the pasta and sprinkle with more tapioca flour. If it sticks to your rolling pin, sprinkle with more tapioca flour. Continue to roll, flour and flip. Repeat this step until your pasta is 1/8 inch thick or less. You will now have a large irregular sized square. Using a pizza cutter, cut uneven edges off of pasta and set aside. Cut pasta into 1/4 inch strips. Set aside on a large plate.
Repeat step 4 with other 3 balls of pasta.
Gently pick up a quarter of the pasta and add to pot of boiling water. Cook for 3 minutes. Gently remove pasta with a pasta claw and place into a stainless steel colander. Drizzle with olive oil and gently toss.
Repeat step 9 with remaining pasta.
Serve hot with your favorite meat sauce. Bon Appetit!
Notes
Be sure to use a finely ground blanched almond flour. I use Anthony Goods. http://www.anthonysgoods.com/#_l_1n
Prep Time:

30 mins

Cook Time:

12 mins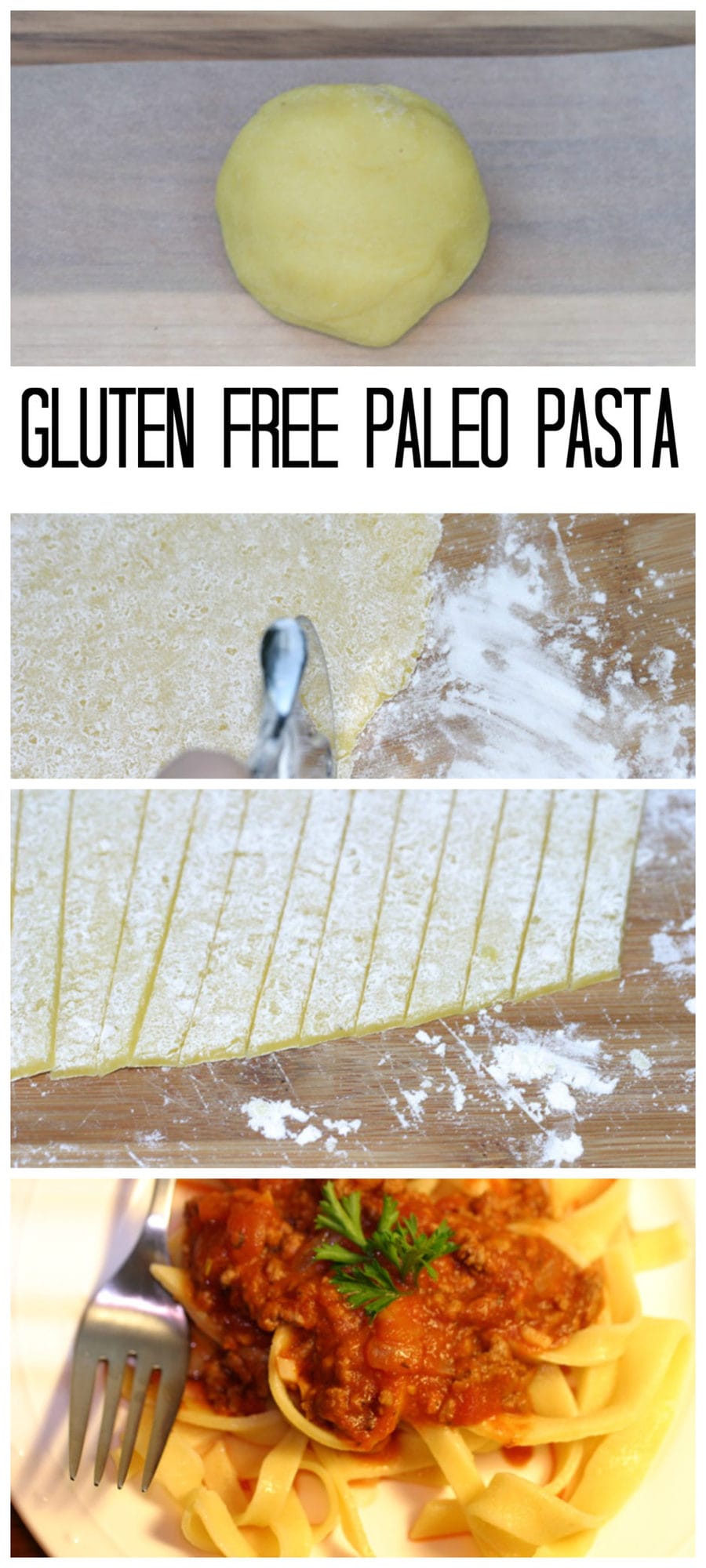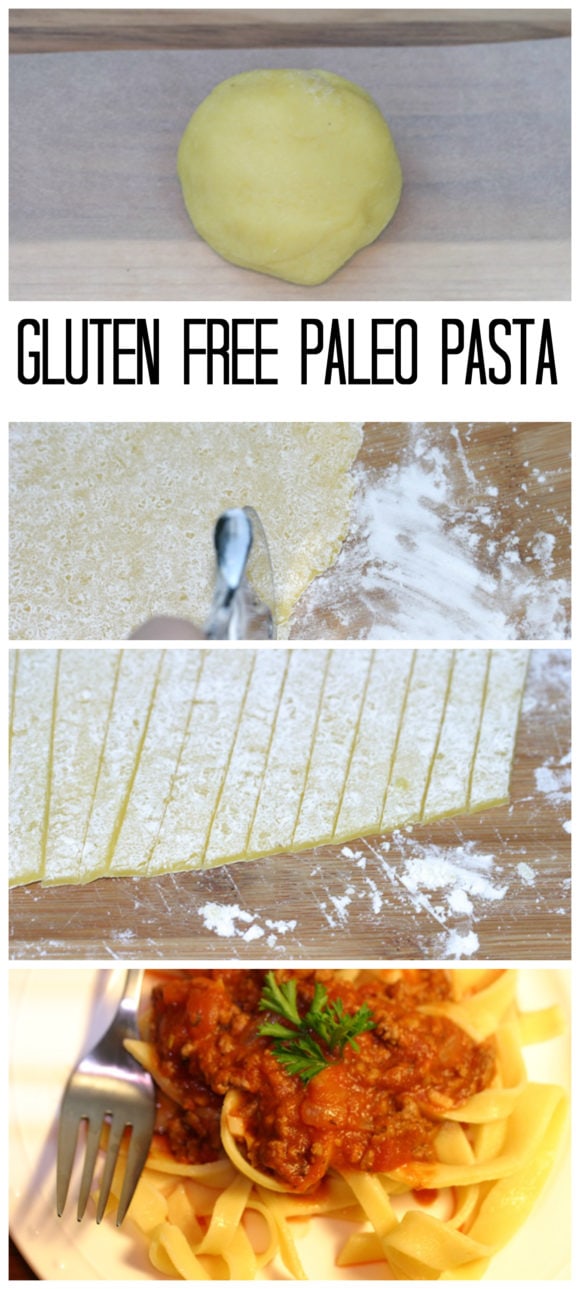 Latest posts by Ester Perez
(see all)