Best Instant Pot Chili Beans that are Gluten Free
Have you been wanting to make Instant Chili beans for your family and don't know where to start?  Making Chili Beans in the Instant Pot is so easy and takes very little prep time.  You can have a delicious batch of homemade flavorful chili beans ready in no time.  Here you will learn what cooking time to use, ingredients needed and best storage/freezing techniques to make the best Instant Pot Chili Beans successfully.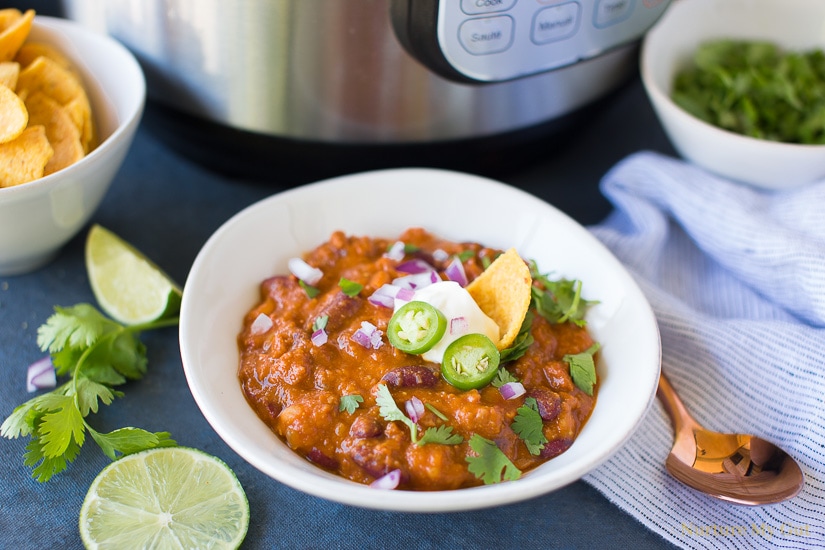 (This post contains affiliate links for your convenience. Click here to view my full Disclosure Policy.)
What Instant Pot size is needed for making Chili Beans?
For this recipe, I am using a 6 Quart Instant Pot. Additionally, a 3 quart Instant Pot would work in this recipe too.  If you are going to quadruple this recipe, which I have done may times, then I like to use my 8 Quart Instant Pot.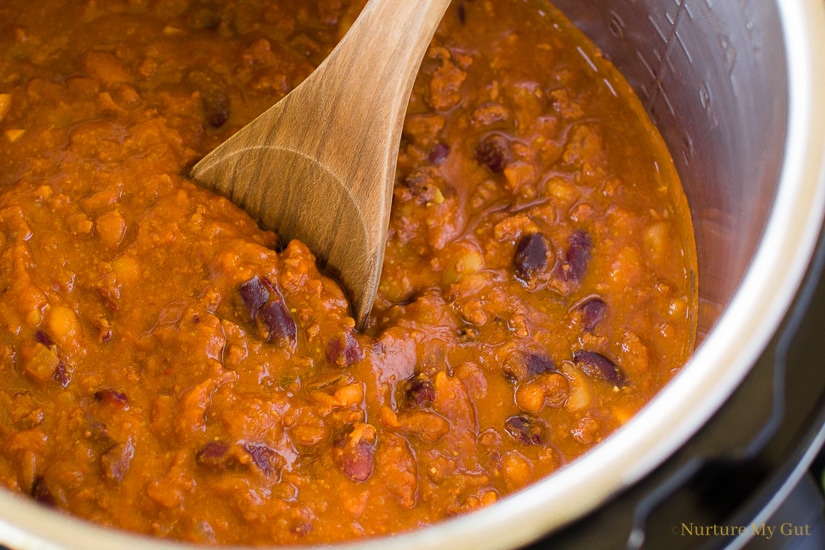 A large batch is great for taking to potlucks, having guests over, or freezing in containers.  Let me tell you, this Instant Pot Chili Bean recipe is a huge life safer for those hectic days when I am too busy with kids activities or feel to exhausted to cook!     
Ingredients Needed for Instant Pot Beef Chili with Beans
So you know, this recipe is inspired by my original Homemade Recipe with Chili Beans and Pioneer Woman's  Simple Perfect Chili which can be found on Food Network or in her cookbook, The Pioneer Woman Cooks Dinnertime (one of my all-time favorite cookbooks).  
My original recipe is a more soup type of chili and my son requested a chunkier, stick to your ribs chili.  Therefore, I combined the best of both recipes by keeping my flavor base of my original recipe and the chunkiness of Pioneer Woman's Recipe,  tweaked them for the Instant Pot and made the Best Tasting Instant Pot Beef Chili Recipe! 
Here is what you need to buy (scroll below for full recipe):
avocado oil (mild cooking oil)
yellow onion
ground beef (preferably grass fed or organic)
tomato sauce
Trader Joes Taco Seasoning Mix or favorite chili powder
ground cumin
onion powder
garlic powder
molasses
kidney beans
great northern beans
salt

 

corn flour or masa harina
Instant Pot Chili Bean Video Tutorial
Tips for Making Instant Pot Chili Recipe with Canned Beans
Making Instant Pot Chili Beans is very easy.  Here are some tips below so you are successful in making your first batch of Instant Pot Chili Beans:
Have all your ingredients ready near your Instant Pot.

 

Open your cans first so everything is ready.

 

Before pressing the sauté button, have your onion and garlic minced.

 

Once you hit the sauté button, the Instant Pot gets really hot and it goes really fast from here so having everything prepped is a smart idea!
When cooking the ground beef, break up all the pieces of meat into bite sized pieces with a wooden spoon.
While Instant Pot is cooking, prep your toppings (see below for best chili bean topping ideas ).
After adding ingredients, put on your lid and turn it to the lock position. Then, make sure the pressure release handle needs to be in the sealing position.
When your cooking time is done, let it sit for at least 10 minutes before moving the pressure release (steam release) handle to the venting position.

 

When doing this, use an oven mitt or wooden spoon so the steam does not burn your hand.

 

When releasing the pressure handle, make sure that steam release vent is away from a cabinet.

 

It will release steam and make your cabinet moist.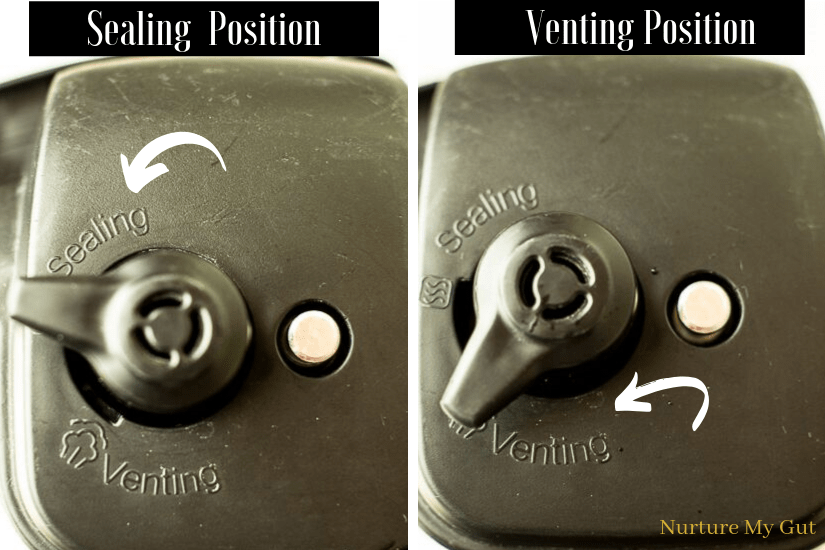 How long to cook Instant Pot Chili Beans?
There are 2 settings for cooking Instant Pot Chili Beans.  The first way is to manually set the timer.  First, press the manual mode button, then push the + sign until the timer reaches 15 minutes.  Once the timer is done, allow the pressure to release naturally, or release it after 10 minutes. 
On the other hand, you can just push the bean/chili button, and press the – button until the timer gets to 15 minutes and let it cook.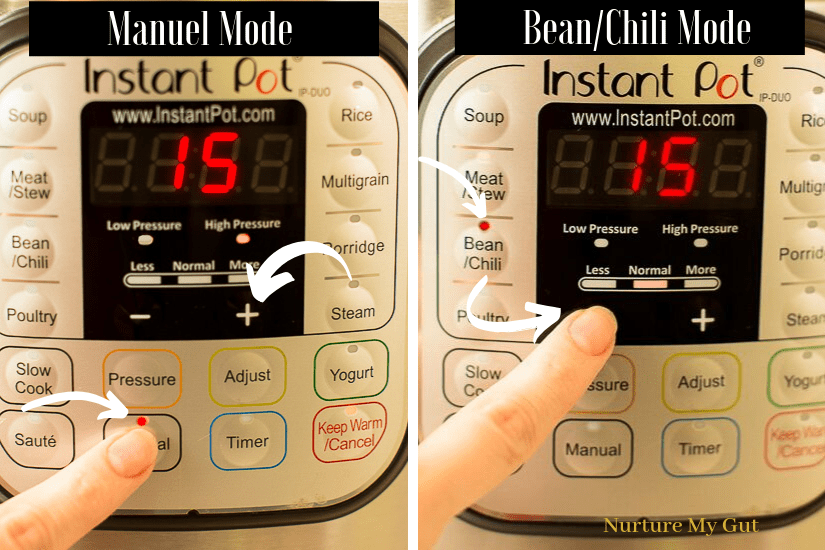 Best toppings for Instant Pot Beef Chili
Toppings are the best part when eating chili.  I like to make a topping bar so everyone can serve themselves what they like.  Here are some of my family's favorite chili toppings:
organic sour cream or

 

chopped cilantro
sliced serrano chilis or jalapeños
Trader Joes Organic Corn Dippers
minced red onions
lime wedges
cubed avocado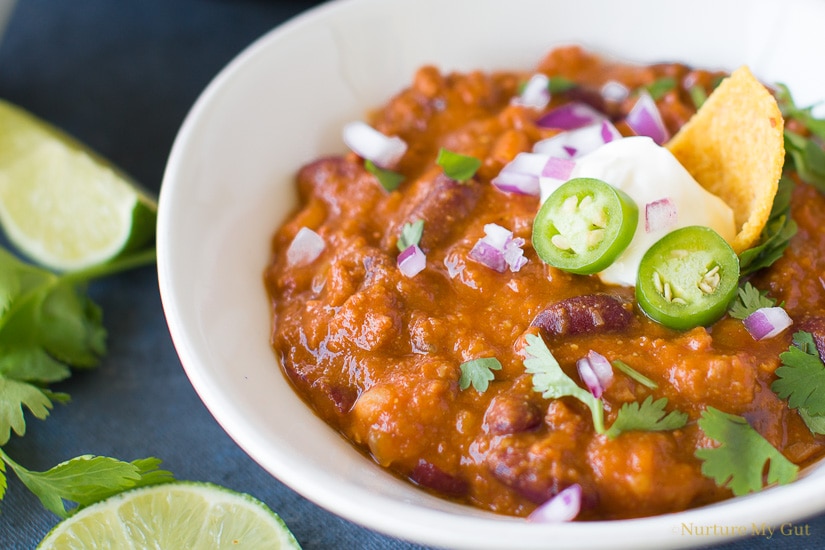 What recipes go well with Instant Pot Chili Beans?
Gluten Free Vegan Cornbread (cornbread is always a great idea!)
Paleo Harvest Muffins (great alternative to cornbread muffins)
Flakey Paleo Biscuits (like KFC style biscuits)
Grain Free Death by Chocolate Zucchini Bread (excellent simple dessert)
How to store Instant Pot Beef Chili Beans
Chili Beans always taste better the longer they sit in the fridge so making a double or even quadruple batch is always a great idea.  The extra time in the fridge allows the flavor of the spices to soak into the meat, allowing the mixture to develop a thicker, more sumptuous texture.
Refrigerate chili within 2 hours of bringing it to room temperature
Store your chili beans in glass storage containers, plastic absorbs the smell and color of chili, plus, glass keeps food fresh longer.

 

Your chili beans will keep fresh up to 4 days in the fridge
Instant Pot Chili Beans can last 4-6 months in the freezer
Defrost chili beans in the fridge over night and add chicken broth when re-heating if it is too thick.

 
For more delicious healthy gluten free/Paleo-ish meals, please subscribe below.  You will get full access my gluten free resource library including my free Instant Pot Soups/Stews ebook as my gift to you and new recipes straight to your inbox! 
If you try this recipe, let me know what you think! Leave a comment, pin it, and don't forget to tag a picture @nurturemygut on Instagram. I love to see your kitchen skills in action!
How To Make Instant Pot Chili Beans (Recipe Below)
Print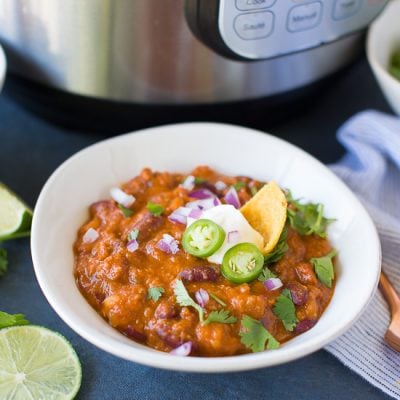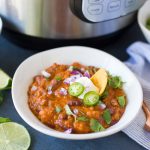 Instant Pot Chili Beans Recipe
---
Author:

Ester Perez

Total Time:

25 mins plus time to come to pressure and release

Yield:

6

servings

1

x
Description
Have you been dying to make Instant Pot Chili Beans? This delicious Instant Pot Beef Chili Recipe is fast and easy to make! Get tips, cooking times & more!
---
2 Tablespoons

avocado oil (mild cooking oil)

1

small yellow onion, minced

3

garlic cloves, minced

1

lb ground beef (preferably grass fed or organic)
One

8 ounce

can tomato sauce

1 teaspoon

Trader Joes Taco Seasoning Mix or favorite chili powder (add more if desired)

1 teaspoon

ground cumin

1 teaspoon

onion powder

1 teaspoon

garlic powder

1 Tablespoon

molasses

1 Tablespoon

Gluten Free Tamari
One

15 ounce

can kidney beans
One

15 ounce

can great northern beans

2 1/2 teaspoons

salt

 

2 Tablespoons

corn flour or masa harina
Optional Toppings: 
organic sour cream or

 

chopped cilantro
sliced serrano chilis
Trader Joes Organic Corn Dippers
minced red onions
lime wedges
---
Instructions
First open all your cans so they are ready to go, get all your ingredients next to the Instant Pot. Next, chop your onion and garlic.

 

Add oil to Instant Pot, press sauté mode and add onion and garlic.

 

Sauté 2-3 minutes.

 

Add ground beef and cook through, breaking up any big chunks into bite sized pieces.

 

Add tomato sauce, taco seasoning, cumin, onion powder, garlic powder, molasses, gluten free Tamari, kidney beans, great northern beans and salt. Stir well.

 

Place lid and turn to seal. Place pressure release handle to SEALING POSITION.
Press MANUAL button to high pressure.

 

Press the + button to 15 minutes.

 

While the chili beans are cooking, prep your toppings.

 

Slice lemon wedges, Serrano chilis, mince you onion and chop the cilantro.

 

I place these in small bowls with spoons so everyone can serve themselves. Place your corn chips in a big bowl.

 

Once the Chili Beans are done cooking, allow them to naturally release for 10 minutes. With an oven mitt, release the pressure handle to the VENTING POSITION. Make sure the steam is not facing your cabinet because it may release a lot of moisture and get your cabinets wet.

 

When opening the lid, be sure to open it AWAY FROM YOU.

 

A lot of steam will come out and you want it to avoid your face.

 

Now place the chili back to sauté mode. To thicken chili, add corn flour and chicken broth to a small bowl, stir and add to chili beans.  Stir until it thickens, about 3 minutes.  Turn off sauté mode and place chili on KEEP WARM setting.
When plating, serve with a large plate on the bottom and a small bowl on top.

 

That way everyone can put their corn chips around the bowl.

 
Notes
(See blog post for tips and topping ideas)
Prep Time:

10 mins

Cook Time:

15 mins
Latest posts by Ester Perez
(see all)