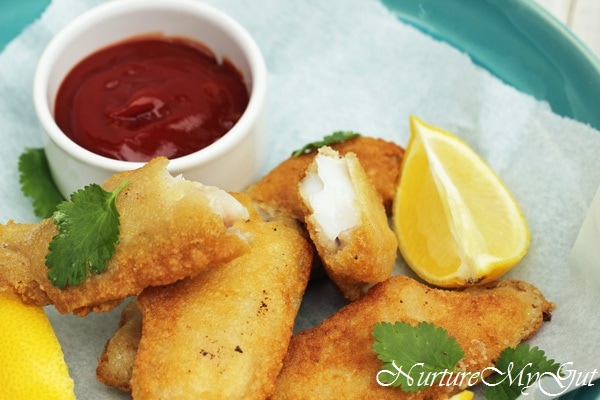 I ask my 5 year old son; "What would you like for lunch?" "Fish nuggets" he says.  Always, always, always he wants fish nuggets!  Let me tell you that I have made dozens, no hundreds of fish nuggets in my home and many times he says, "Mom, I don't like it!"  Ugh, how frustrating!  Finally, I am proud to say that this Gluten Free Beer Battered Fish Recipe is THE ONE!  It is light, crispy, golden brown, absolutely perfect!  It is also super easy to make!  My son had his gluten free beer battered fish with ketchup, and my husband and I dressed them as fish tacos!  Oh how I've missed beer battered fish tacos!  Now I can enjoy them since they are completely gluten free!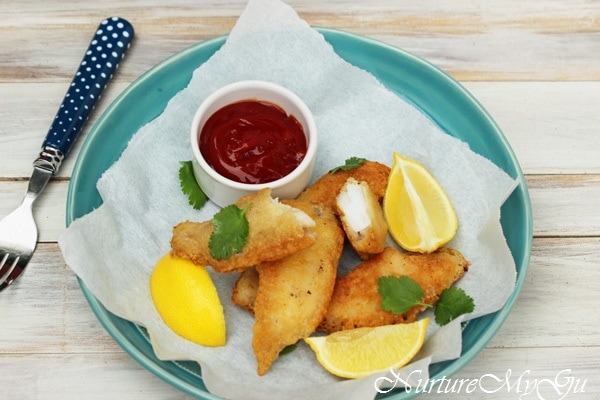 I get my fish from FarmBoxLA.  I get fish delivered to my door weekly and it is literally the freshest fish I have ever had, and light and buttery.  I get either cod, rockfish or dover sole, all perfect for making nuggets weekly.  It's also sustainable and local.
These Gluten Free Beer Battered Fish Nuggets go great inside a gluten free burger, as fish tacos or on their own.  I think I will try making onion rings next!  Oh my, I can't wait!
For more delicious healthy gluten free/Paleo-ish meals, please subscribe below.  You will get my free Paleo Breakfast E-Book as my gift to you and new recipes straight to your inbox! 
Check out these yummy gluten free recipes:
Best Paleo Chocolate Chip Cookies
Print
Gluten Free Beer Battered Fish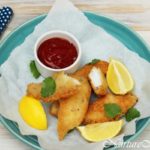 Author:
Prep Time:

10 mins

Cook Time:

5 mins

Total Time:

15 minutes

Yield:

4-6
Ingredients
1 lb of rockfish or cod cut into strips. (Roughly 3 inches long by 2 inches wide)
3/4 cup tapioca flour
1/2 cup blanched almond flour
1 teaspoon baking soda
1 teaspoon sea salt
1/2 teaspoon garlic powder
pinch of black pepper
1 egg
1/2 cup gluten free beer (I used Omission)
sunflower oil for frying fish
Instructions
Add tapioca flour, blanched almond flour, baking soda, sea salt, garlic powder and black pepper to a mixing bowl and whisk until well combined and all lumps are removed.
Add egg and beer and whisk until batter resembles a thick pancake batter. Add fish strips to batter and coat all over.
Heat a skillet to low medium heat and add 3/4 inch of sunflower oil.
Line a plate with paper towels and set aside.
When oil is hot, gently drop in fish nuggets onto skillet one by one allowing 2 inches between each nugget. Batter will slightly expand.
When fish is golden brown, about 1 minute, flip over.
When bottom is golden brown and crispy, place on paper towels to drain.
Repeat with remaining fish.
Serve immediately with lemon wedges and ketchup.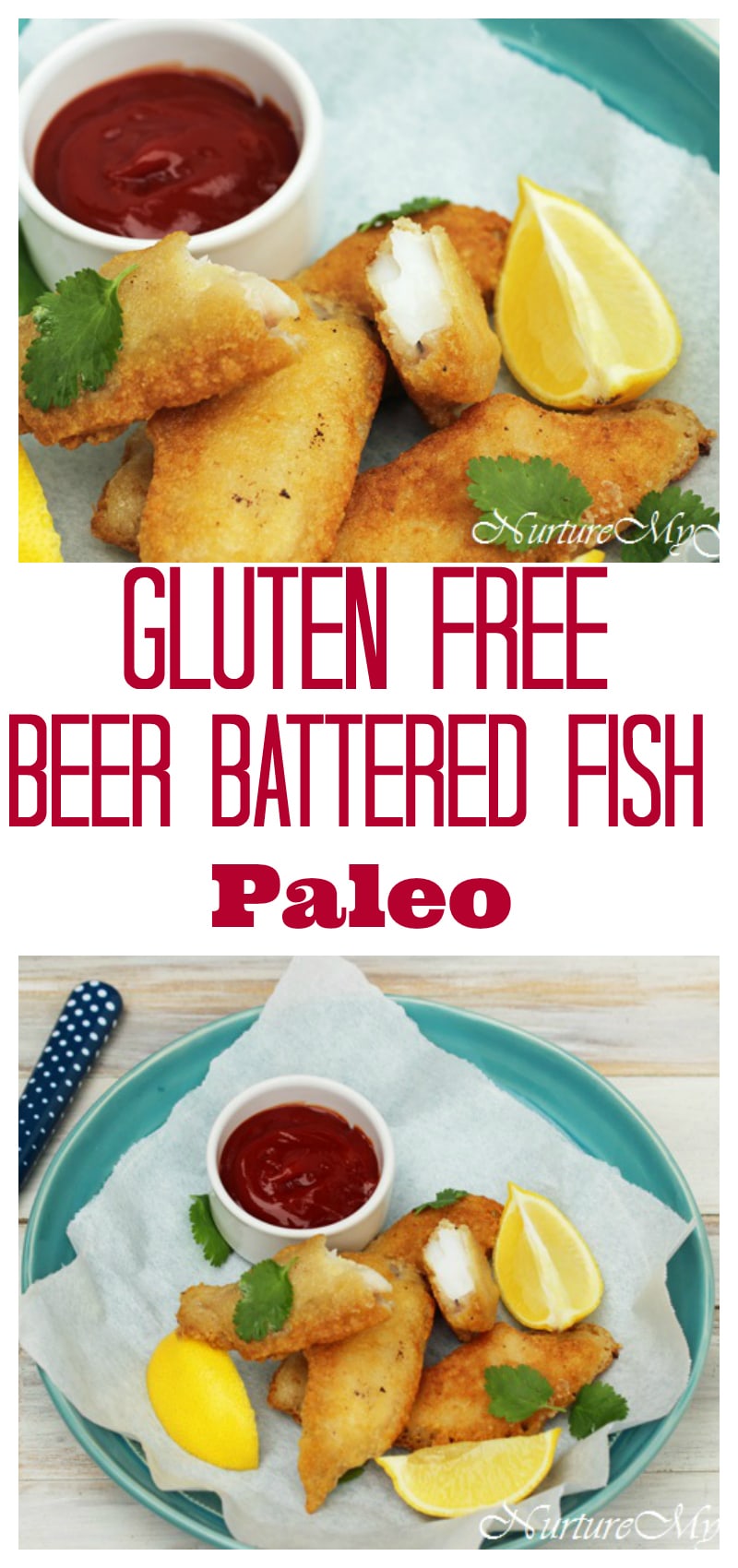 I'm a loving wife, mother of two healthy children, andI am obsessed with teaching people how to make delicious and mouth-watering gluten-free/Paleo friendly foods that nurture your gut!
Latest posts by Ester Perez (see all)